When you carry your EDC firearm, you must have a secure holster that ensures it remains safely under your control while quickly and readily at hand. But what about when you are not carrying? Say you arrive home and would like to remove it from your person, but still want to have access to it quickly — while also storing it safely?
Say you have a safe at home for this purpose. Let's take this question to next level: how do you store your EDC firearm when you are traveling? You would need something that is safe and tough, readily accessible, but also compact and easily portable. Well, I might have just the solution.
The Answer
The Vaultek V10 Safe is a pretty awesome little safe that I use every day now. If you are checking this safe out as a potential purchase, here is some information you might find useful.
First of all, it comes in a very nicely branded box. It has two keys, a steel tether cable, a charging cable, the battery for the safe, and four screws so that it can be mounted.
It also has removable foam padding on the inside. It will have an instruction manual with a Vaultek App pairing manual, provided you get a model with Bluetooth. We will cover the app later in the video you can watch at the top of the page.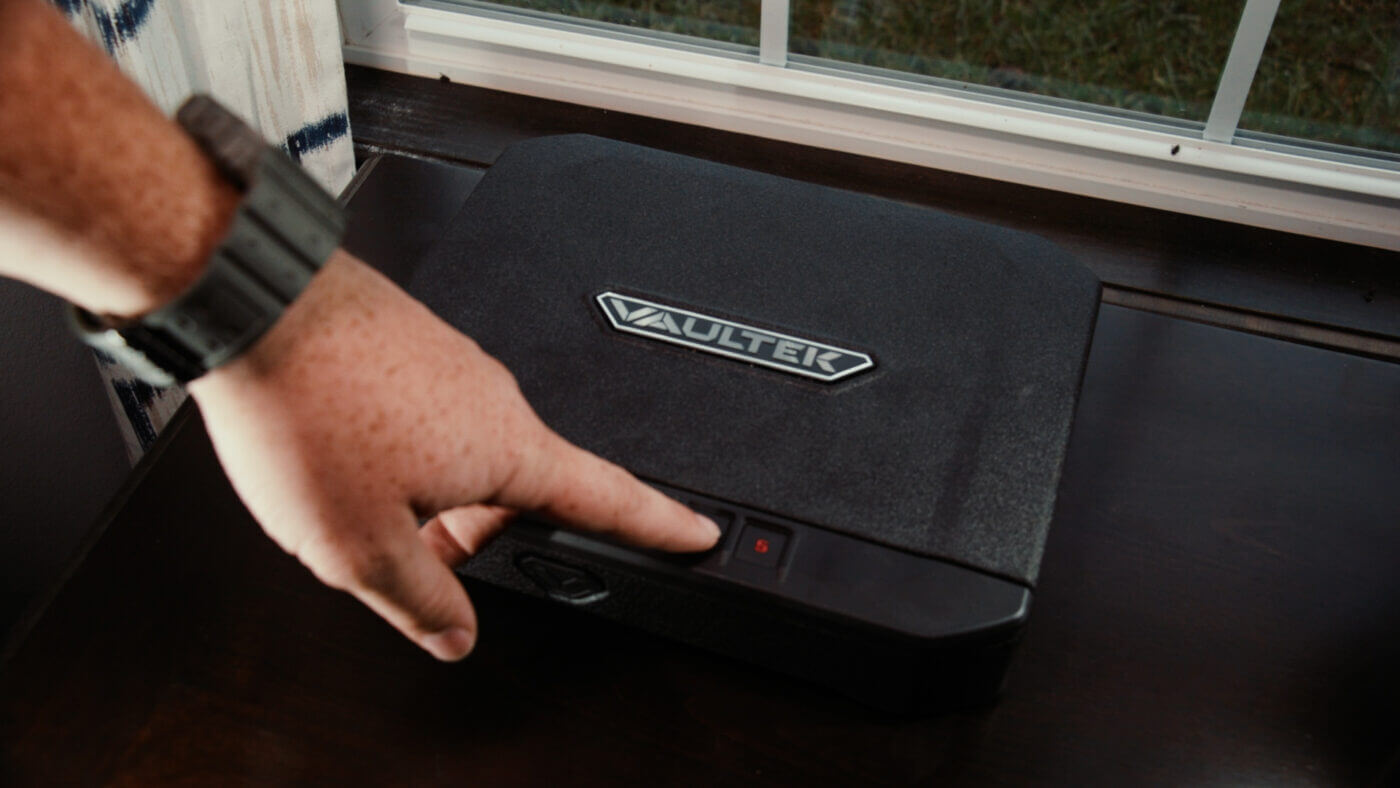 Breadth of Options
There are three models of the V10 available:
VE10
VT10 (Bluetooth)
VT10i (Bluetooth + Biometric)
Features You Need
The safe has an internal light, A light-up keypad, a key for manual unlocking and a USB charging port. You can recharge the safe or leave it plugged in continuously if you choose.
The safe is constructed from 18 gauge steel with very sturdy hinges and latches. It meets TSA airline firearm guidelines and appears to me like it can stand up to some abuse.
This safe has exterior dimensions of 10.5" by 8.5" by 2 1/8", with interior dimensions of 10"x 5½" by 1½". The result is a safe small enough to be reasonably portable, but big enough to store a gun and some gear. I can fit my Hellcat, Tulster Oath Holster and my flashlight in this safe.
Digital Connection
The Bluetooth version of the safe can work with the Vaultek Bluetooth app, but not the Vaultek Wifi app. So, be sure you're using the right one. If you follow the instructions, it's super easy to connect your safe. Vaultek always has really well put together manuals with all their safes, so don't worry there.
Within the app, you will have your own security code to get in. Then you can rename your safe if you want. I titled ours "GunSpot VT10". You can also adjust the interior light brightness and view the history log of what's happened with your safe. On the app, you can also manage some aspects of the saved fingerprints if you have the biometric scanner version.
Hands-On
Despite its size it does have some pretty hefty weight to it, coming in at around 5 lbs. If you need a travel safe but you're not an adventurer and you don't need the waterproof and dustproof features of the LifePod, I would recommend you get this one. It's steel construction is going to make it more secure than the plastic LifePod, but still have around the same footprint.
The essential VE10 version of this safe with no Bluetooth comes in at $139. The bluetooth version is $164, and if you add the biometric scanner, the price is $245. It comes in black or a really sleek white option.
Conclusion
I highly recommend this safe. It's going to be the one I continue to use when I travel and at my bedside. You never know when a home invasion may happen. When it comes to safety and security that I can trust — and easily lug around with me on trips where legally applicable — this is the safe for me.
Affiliate Disclosure: In the video, GunSpot mentions joining the United States Concealed Carry Association and requests you click the link in this article. The link is an affiliate link meaning GunSpot earns a commission on each member that signs up using its link. The Armory Life does not earn any money from this link. Affiliate link: USCCA membership.
Editor's Note: Please be sure to check out The Armory Life Forum, where you can comment about our daily articles, as well as just talk guns and gear. Click the "Go To Forum Thread" link below to jump in!
Join the Discussion
Featured in this video
Continue Reading
Did you enjoy this video?
47