Review: Blue Force Gear Vickers 221 Sling
January 4th, 2023
5 minute read
I think I have found the perfect carbine sling. Recently, we decided to give the Vickers 221 Sling from Blue Force Gear a try. About a year ago, Grant and I filmed a video discussing what the ideal "perfect" carbine sling would be.
Our list of traits consisted of a few big points. The first thing was that it would have to be a convertible sling, specifically a sling capable of transforming from a one- to a two-point sling. The sling also had to be able to quickly adjust, either loosening or tightening against the shooter's body. Preferably, the adjustment material on the sling would be large enough to grab swiftly, but not so long that it resulted in undesirable tangle.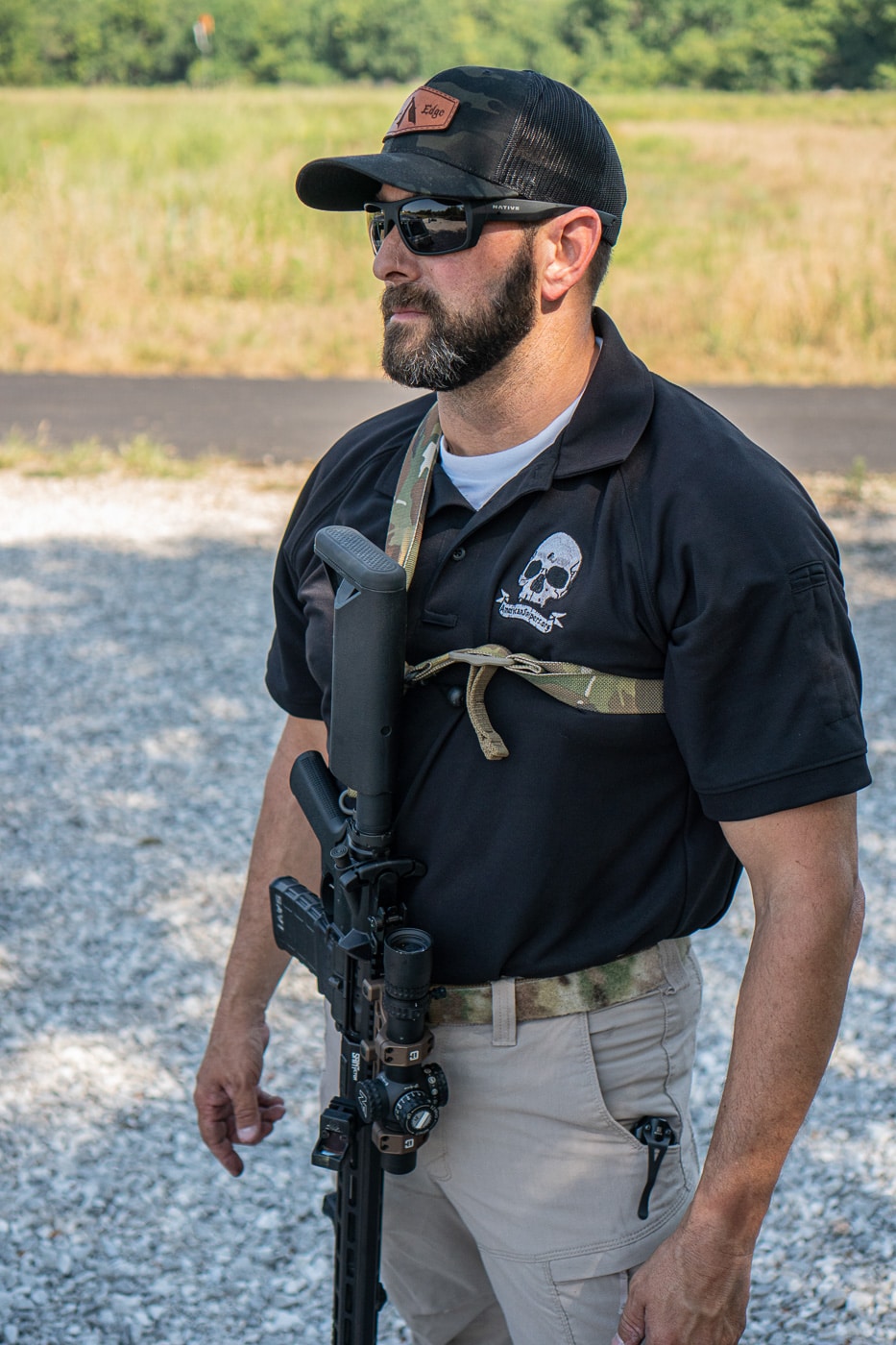 And of course, it would have to be able to quickly attach to the rifle. For example, that would require either smash hooks or the QD push-button swivels.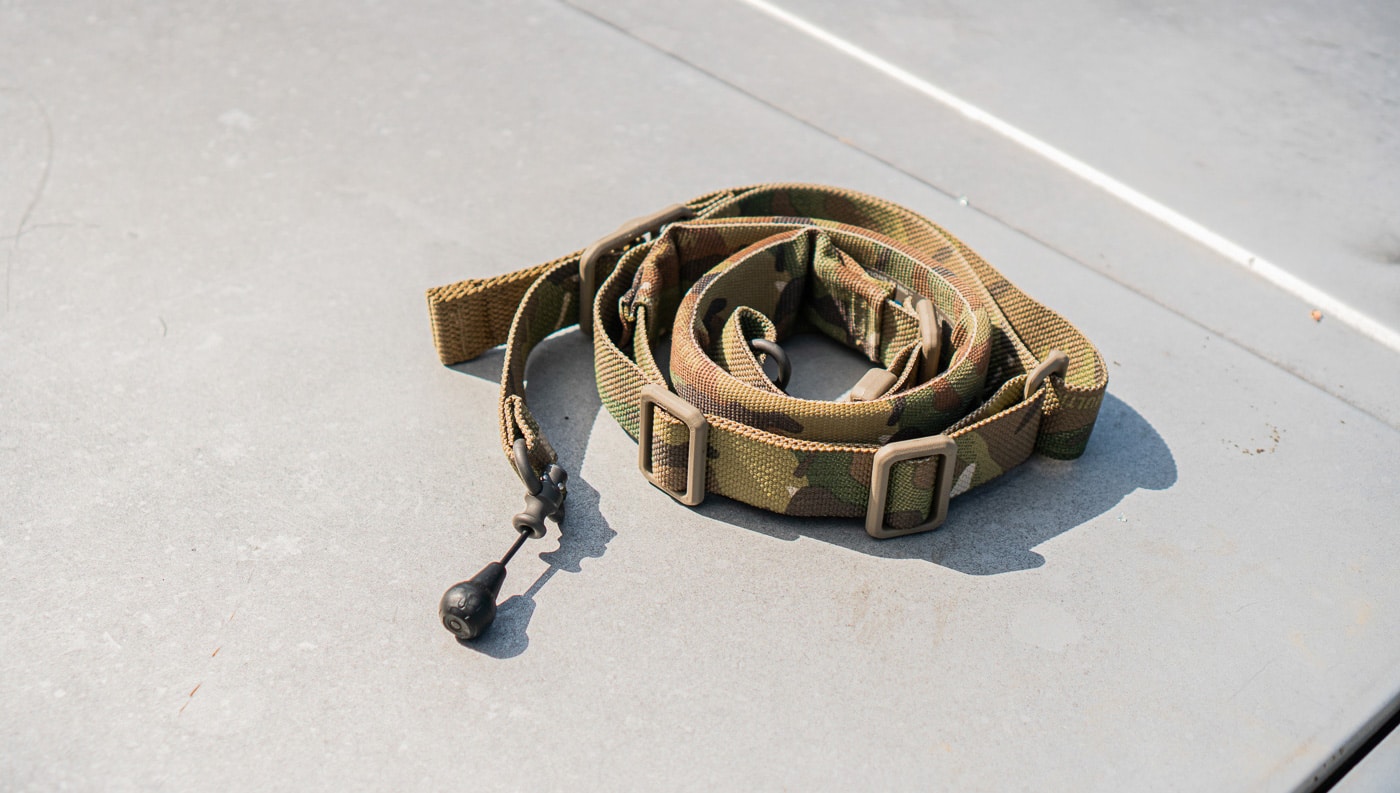 It would also have to be a comfortable sling, which is extremely important because, after all, if the sling causes discomfort chances are you won't ever use it. Comfort really comes from a mixture of two features. The first feature that contributes to comfort is the width of the sling.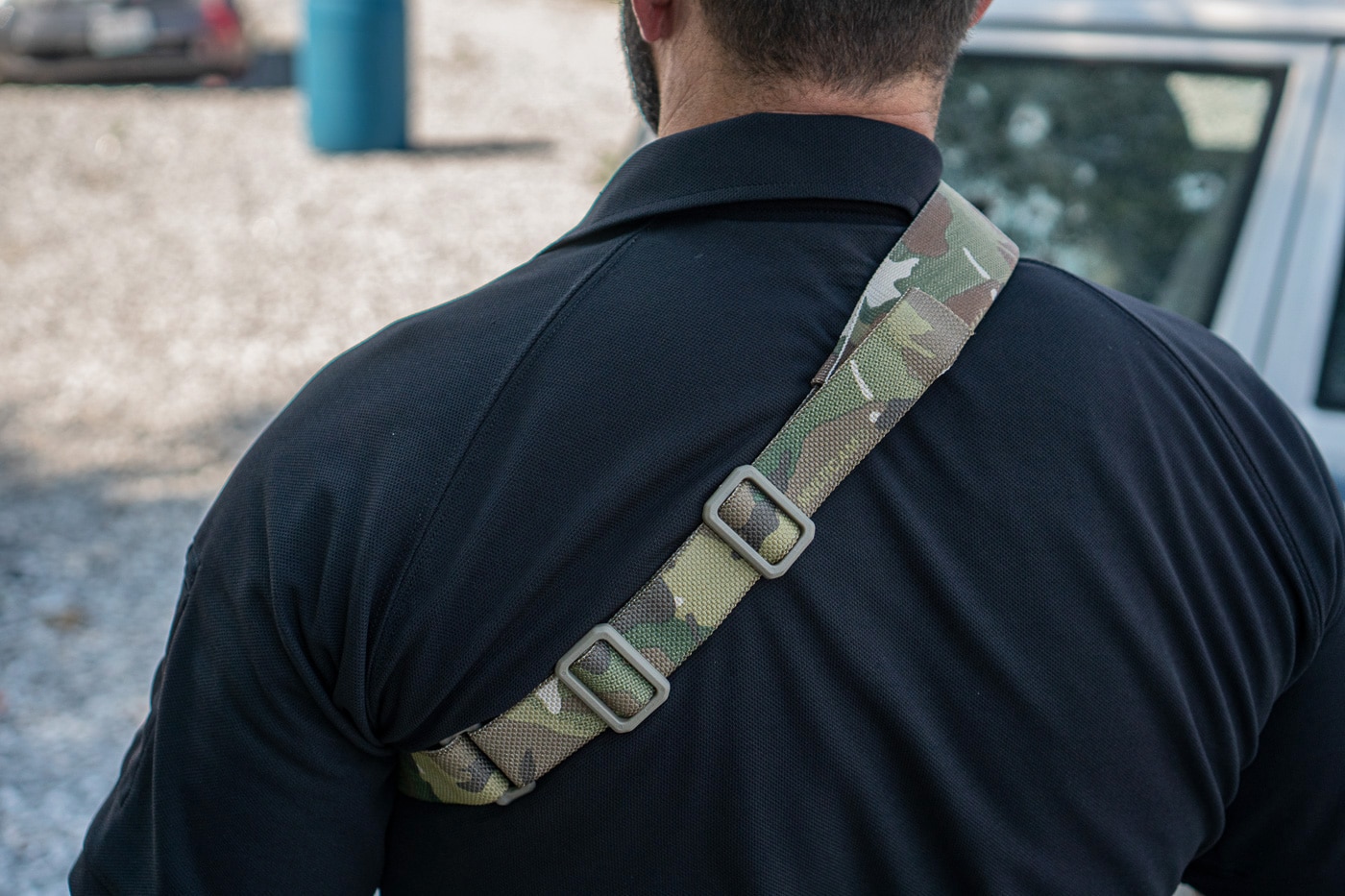 The wider the strap, the more comfortable it is since the weight is dispersed. But obviously, if it is too broad, it can be cumbersome. The second factor that contributes significantly to comfort is the material itself. For example, padding and bungee sections make slings more comfortable against the shoulders.
The Blue Force Gear Solution
Which brings us to the sling we are considering here today — the Vickers 221 Sling from Blue Force Gear. It literally has all of our requirements rolled into one fantastic package. The designer of this sling, Larry Vickers, seems to have thought of everything.
If you don't know who the designer of the sling is, we'll give you a little background. Vickers has a long career full of achievements and accolades. He is a retired Delta Force soldier, firearms instructor, founder of Vickers Tactical, co-founder of the International Pistol Defense Association and Firearms Traning Association, and a firearms expert.
It seems Vickers has a wealth of knowledge on practically every firearm that has ever been made. He has books detailing popular guns like the venerable 1911, and videos all across the internet covering almost every gun imaginable. Long story short, Vickers' military career and expanded knowledge of weapons allows him to offer valuable input on all things firearms, including this sling.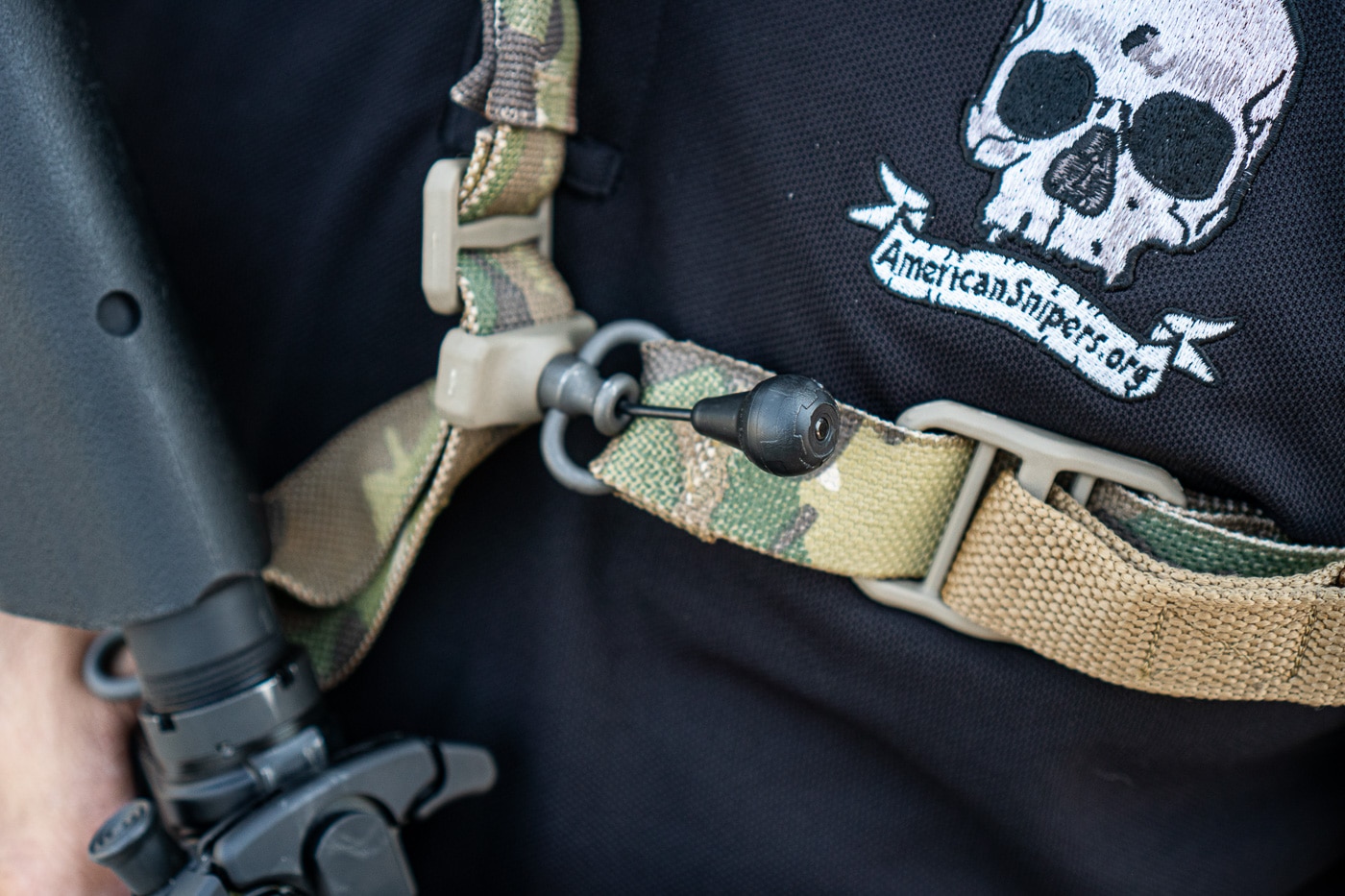 The Vickers 221 Sling on Blue Force Gear's website is listed at a starting price of $77.95 in Kryptek Typhon color, with a $15 upcharge for black, coyote brown, multi-cam, multi-cam arid, OD green or wolf gray. For $20, you can get Kryptek Highlander. You can select it either with or without the "Red Swivel", and can get it unpadded (or padded for an extra $10). While this sling is not "cheap," it is a quality piece of gear.
Vickers 221 Sling: Hands-On
The Vickers sling could very well be the one-and-only sling you would ever need. The material is thick, tough as nails nylon that screams "heavy duty." The sling is so versatile that we found it seems to fit in just about any situation.
When deploying from a vehicle or CQB, the sling can be set up and used in its single-point position. This sling on its own as a single-point sling is genuinely remarkable. It is still rapidly adjustable with the pull tab, and the whole sling rides quite high for a single point. This is 1000% percent better than a single-point that hangs low. With this sling, you can say goodbye to a rifle that dangles around your shins.
Using the sling in two-point mode is just as impressive. If you need a more secure sling set-up for your carbine, just move your QD swivel out and place one on the stock for a snug fit. Of course, the sling can be rapidly adjusted using the pull tab, cinching it up to help create a stable shooting position or so the user can wear the rifle close to the body. Frankly, using the sling in the two-point position is simply fantastic.
A piece of gear on this sling that is genuinely awesome, despite the fact I had initial doubts about it, is the Blue Force Gear Red Swivel. The Rapid Emergency Detachment (RED) Swivel looks like a QD push button with a hot air balloon-shaped handle sticking out. The way it works is that this swivel handle can be pulled straight out, and when it is, it will release the QD attachment, freeing the shooter from the rifle.
This swivel is also not just easy to remove from the rifle with one hand, but is extremely easy to mount to the rifle with one hand as well. Many slings will have plastic buckles attached to the sling to be able to quickly detach the rifle. I think this is a much better-looking option, not to mention easy to use in a high-stress scenario. It would be much easier to detach than a buckle.
Conclusion
I can't praise this sling enough. We were all impressed with it here at GunSpot. It is a great sling that can be the one-size-fits-all sling for almost any gun. While the price tag might sound steep to you, I promise this sling is an investment that will serve you well.
Editor's Note: Please be sure to check out The Armory Life Forum, where you can comment about our daily articles, as well as just talk guns and gear. Click the "Go To Forum Thread" link below to jump in and discuss this article and much more!
Join the Discussion
Featured in this article
Continue Reading
Did you enjoy this article?
76