What is "California Compliant"?
April 22nd, 2020
5 minute read
Ah, California. The Golden State. 39.5 million Americans call California home. That's a bit north of eight percent of the U.S. population. California has a gross state product of $3 trillion. If California was a free-standing nation it would have the fifth-largest economy in the world, beating out the likes of the UK, France and India.
I've been through California a time or three, and it is indeed a gorgeous place. With beautiful mountain vistas, preternaturally massive trees, untold thousands of acres of cultivated farmland and 840 miles of Pacific coastline, California should be a genuine paradise. However, for a red-blooded freedom-loving American patriot like me, there yet lurks a darker side to California. The Golden State has what are arguably the most draconian, freedom-averse gun laws in the country.
Let's Talk About Rifles
Let's just say the leadership in California found the 1994 Federal Assault Weapons Ban inspirational. California law attempts to codify what it deems an "assault weapon", whatever that really is, by a list of scary cosmetic features. Here they are:
A prohibited "assault weapon," per California law, is any semi-automatic rifle that accepts a detachable magazine and includes any of the following features:
A pistol grip that protrudes conspicuously below the stock
A thumbhole, telescopic or folding stock
A grenade or flare launcher
A flash suppressor
A forward pistol grip
A fixed magazine holding more than 10 rounds
An overall length shorter than 30 inches
This means, distilled down to its essence, that conventionally configured rifles like the Springfield Armory M1A can be owned in California with minimal fuss. CA-compliant M1A rifles include a fixed stock, a ten-round magazine and a perforated muzzle brake in lieu of a flash suppressor, but are essentially unchanged from the same guns sold in free states.

Spookier-looking iron like the SAINT line of Modern Sporting Rifles (MSRs) would be otherwise prohibited based solely upon appearance. However, Americans living in California want to exercise their Second Amendment rights just like the rest of us. As a result, Springfield Armory has you longsuffering Californians covered.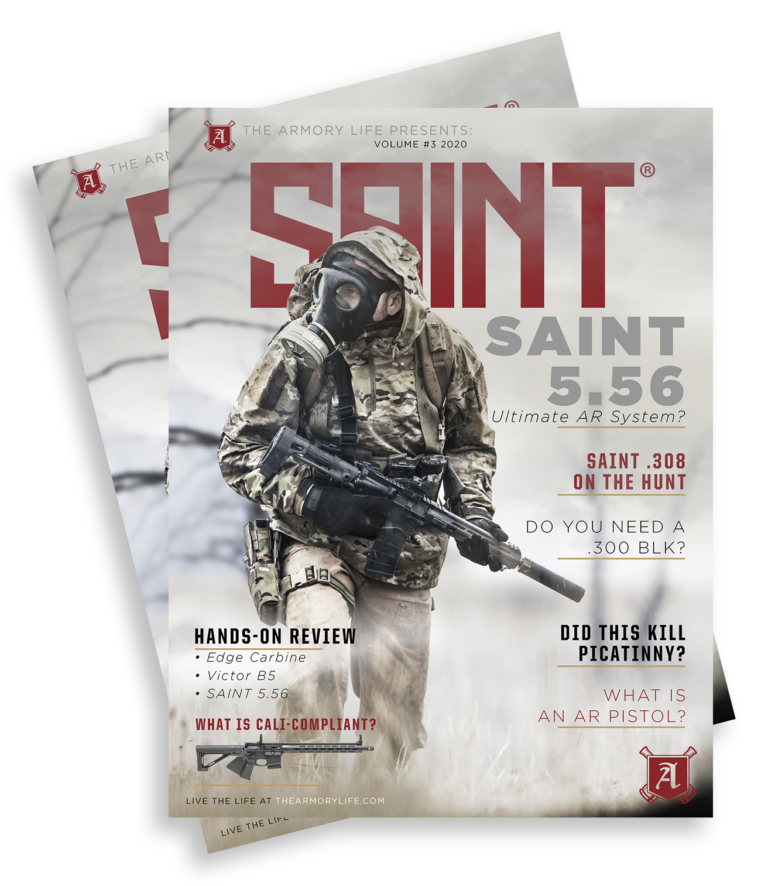 Springfield Armory's California-compliant versions of their SAINT line of MSRs feature muzzle brakes in lieu of flash suppressors, fixed stocks that keep the overall length in compliance with California standards, and a Strike Industries grip with an extension that closes the gap between the base of the grip and the stock. This looks a little weird but does not adversely affect the functioning of the rifle. These guns also come with California-compliant 10-round Magpul PMAGS.
Handguns
Believe it or not, the situation gets murkier with handguns. Any handgun legally offered for sale in California has to pass firing, safety and drop tests as stipulated by the California Department of Justice. Every gun has to be evaluated based upon its unique merits.
It's not nearly enough that a gun might simply be a 1911, for instance. Each model or variation has to be evaluated and approved individually. The same gun by the same manufacturer cut from carbon steel or stainless has to be evaluated as two distinct firearms. The 10-round magazine limit applies to handguns as well.
All new candidate handguns must have a loaded chamber indicator and a magazine disconnect safety. As of January 1, 2020, all new models must also include a microstamping capability that imprints a unique mark on every fired case in two places. Specific models already on the list are grandfathered, but all subsequent candidates must include this stuff. As you can guess, developing a handgun with features such as unique dual microstamping of every fired case to meet these requirements would be daunting.
Could This Get More Complicated?
The point is clearly that the state government of California really doesn't trust its citizens with weapons. The regulatory scheme they have contrived in support of that goal represents death by a thousand cuts. The approved handgun list shrank by seventy grandfathered guns last year. During the same period they didn't add any. The current list has 814 approved handguns, with 57 of those being Springfield Armory models.
Of course, there's more. Transfers of firearms between individuals must involve a background check and be undertaken through a licensed dealer. There is a 10-day waiting period for all firearm transfers, even the person-to-person sort, and you can only transfer one handgun per month. You also have to undergo a background check to buy ammunition. Wow.
But don't get too discouraged. The CA-compliant Springfield Armory M1A looks just like everybody else's in dim light and offers the same accuracy and reliability you would find in an M1A rifle sold in the free states. Likewise, anybody packing a Springfield Armory 1911 Marine Corps Operator in .45 ACP, a remarkably capable pistol that is on the California DOJ list, will never be accused of bringing too little gun.
Ruminations
The labyrinthine details of California firearms law can admittedly be tough to digest. Fortunately, Springfield Armory has a function on their website that helps cut through the administrative white noise. Pick the gun that tickles your fancy and go to the right side drop-down "State Compliant" click box. Click "Yes" and the site will display any special variants configured for the more restrictive states that are available.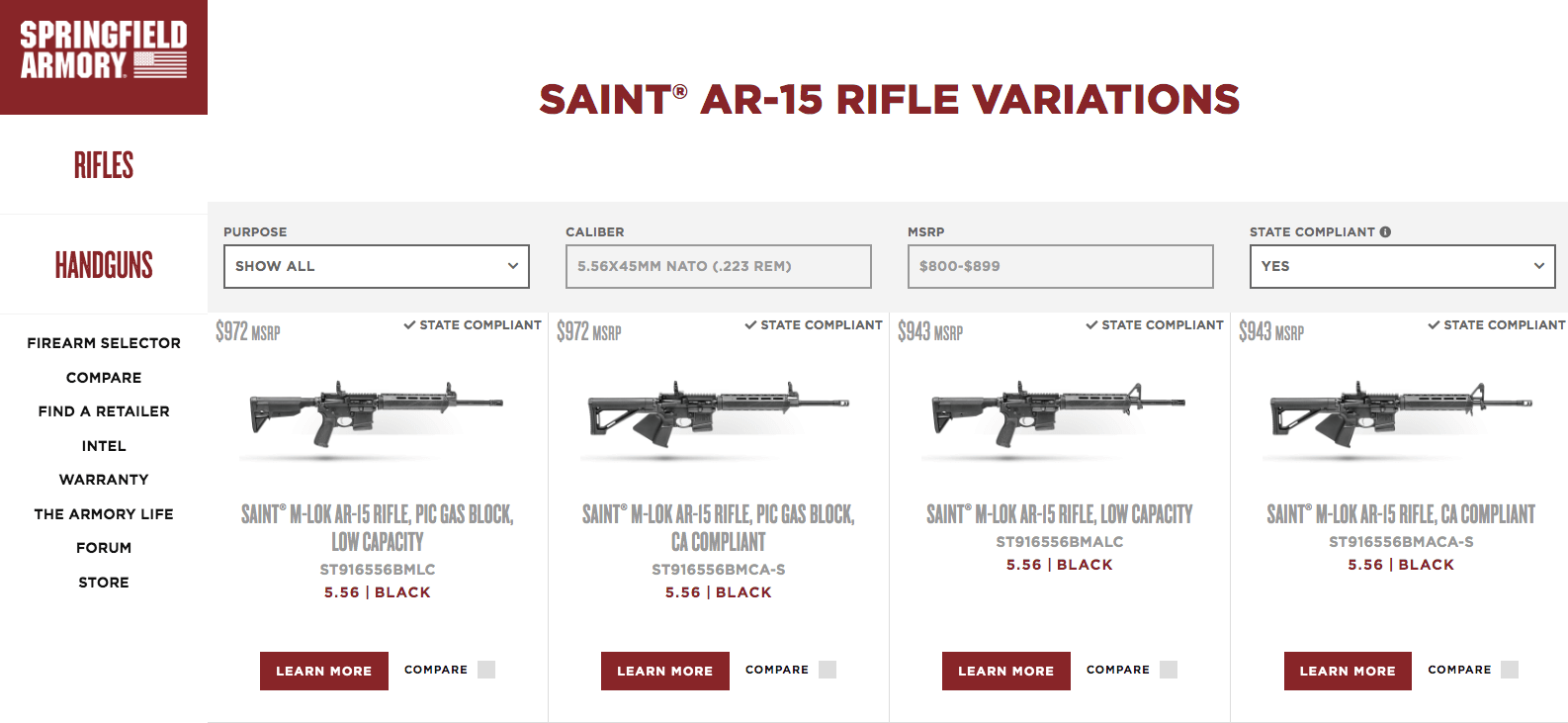 The shame of it is that all these convoluted gun regulations clearly just don't work. California ranks fourteenth in the nation for violent crime per unit population. California beat out Texas (17th) and New York (25th). My own home state of Mississippi, with a 19.7% poverty rate, constitutional carry without a permit and literally no state gun laws, is 38th on that list.
Regardless, Springfield Armory still provides California citizens with quality reliable defensive firearms. Their spectrum of California-compliant guns is refreshingly expansive. Stay strong, my brothers and sisters. And, be sure to vote to protect and promote your Second Amendment rights.
Editor's Note: This content is the opinion of the author and should not be construed as legal advice. Research your local and state firearms laws regarding any purchases you may make.
Also, please be sure to check out The Armory Life Forum, where you can comment about our daily articles, as well as just talk guns and gear. Click the "Go To Forum Thread" link below to jump in!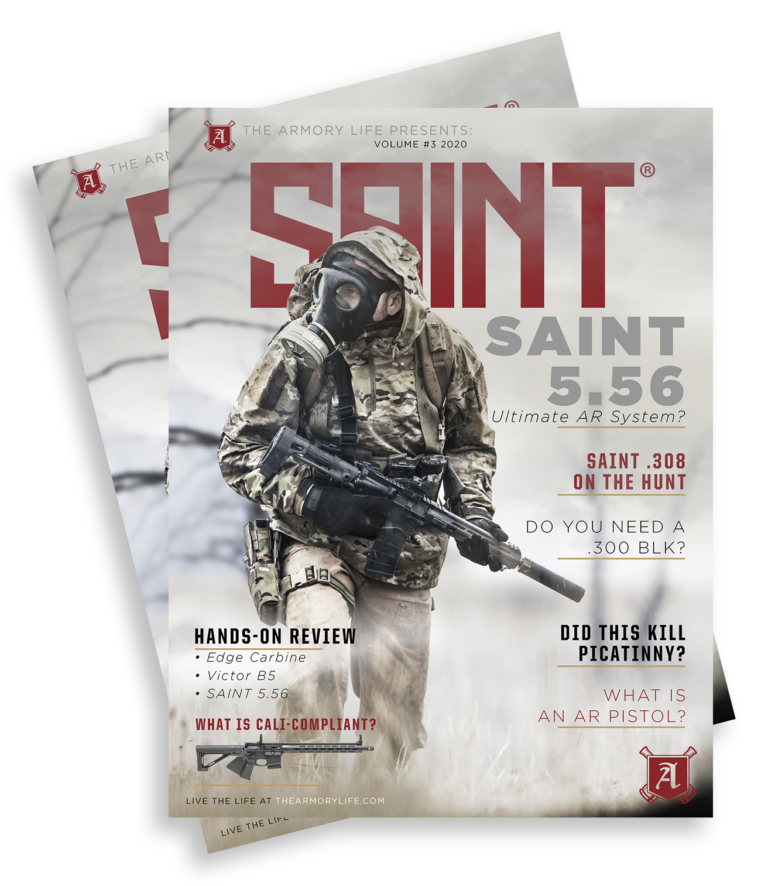 Join the Discussion
Featured in this article
Continue Reading
Did you enjoy this article?
282