Editor's Note: This is the first part in a two-part series by GunSpot on running your guns while wounded. Part II covers shooting a rifle with one hand. Also, do not practice any of these drills with live ammunition, but rather with an empty gun.
The worst day of your life is the day you have to use your handgun in a gunfight one-handed with just your support hand. If you're up for a challenge, why don't you try working in one of the worst-case scenarios into your pistol training.
What I'm talking about is practicing the hypothetical situation where your strong hand is out of the fight, whether it be injured or restrained. Even the most advanced shooter can, for lack of a better term, suck once they switch to using just their support hand. After all, it's one thing to do things one-handed, and it's another thing to work your gun with strictly your weak hand.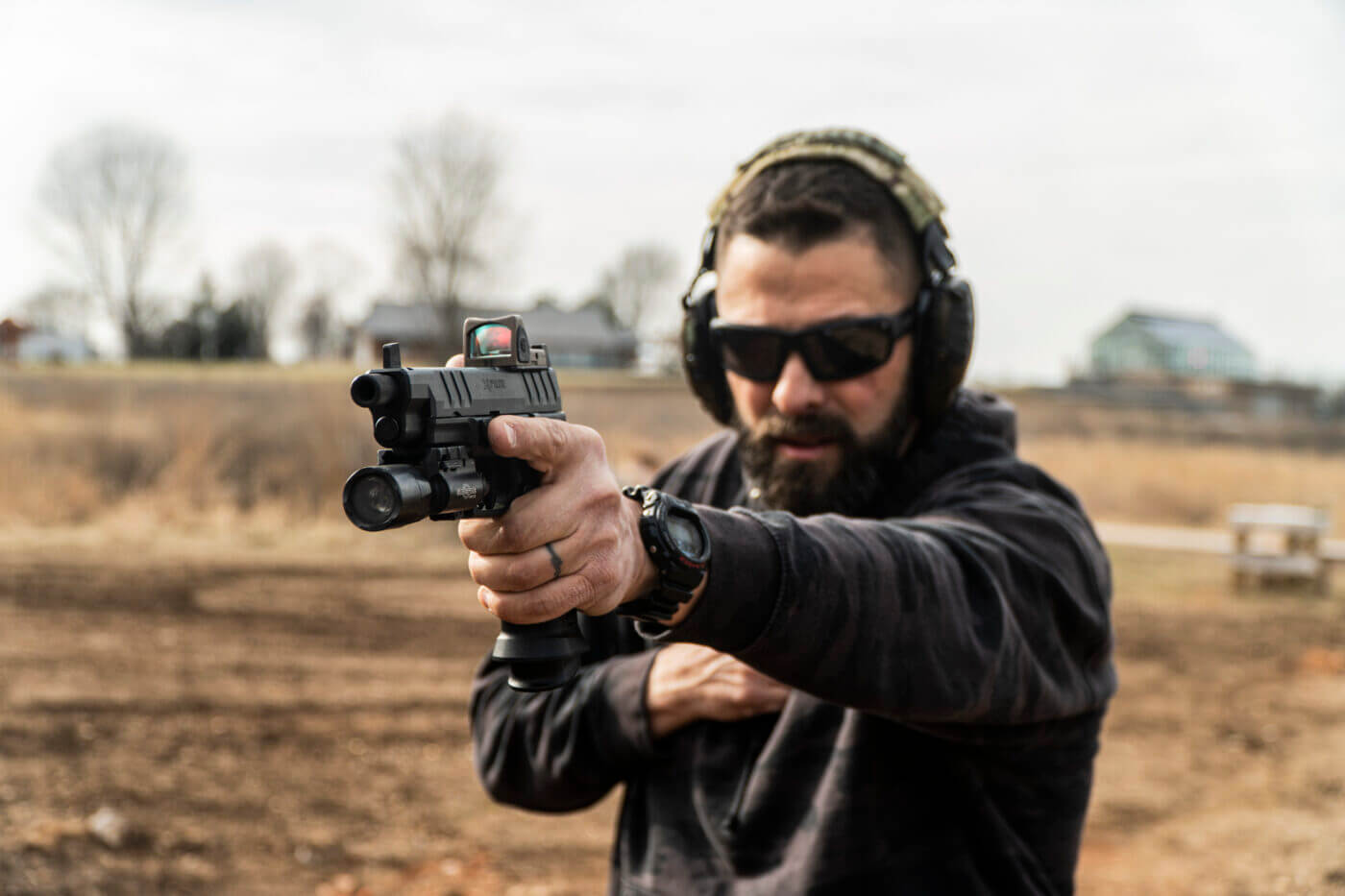 Even though being completely one-handed may not be likely, why not be prepared? To be honest, being able to work your defensive handgun with either hand is definitely something you should add into your practice. That being said, let's work our way though some of the skills used to shoot and manipulate your pistol one-handed.
The Complications
First of all, let's talk about shooting. What eye will you use? Even with the gun in your weak hand, you can still use your dominant eye very easily. But if you have a stigmatism or other eye issue, it might be amplified if you're shooting from your weak side. Other than that, trigger control and recoil management might be an issue, but that will just take time and practice. We recommend you do dry fire practice over and over and over again to get stronger at this.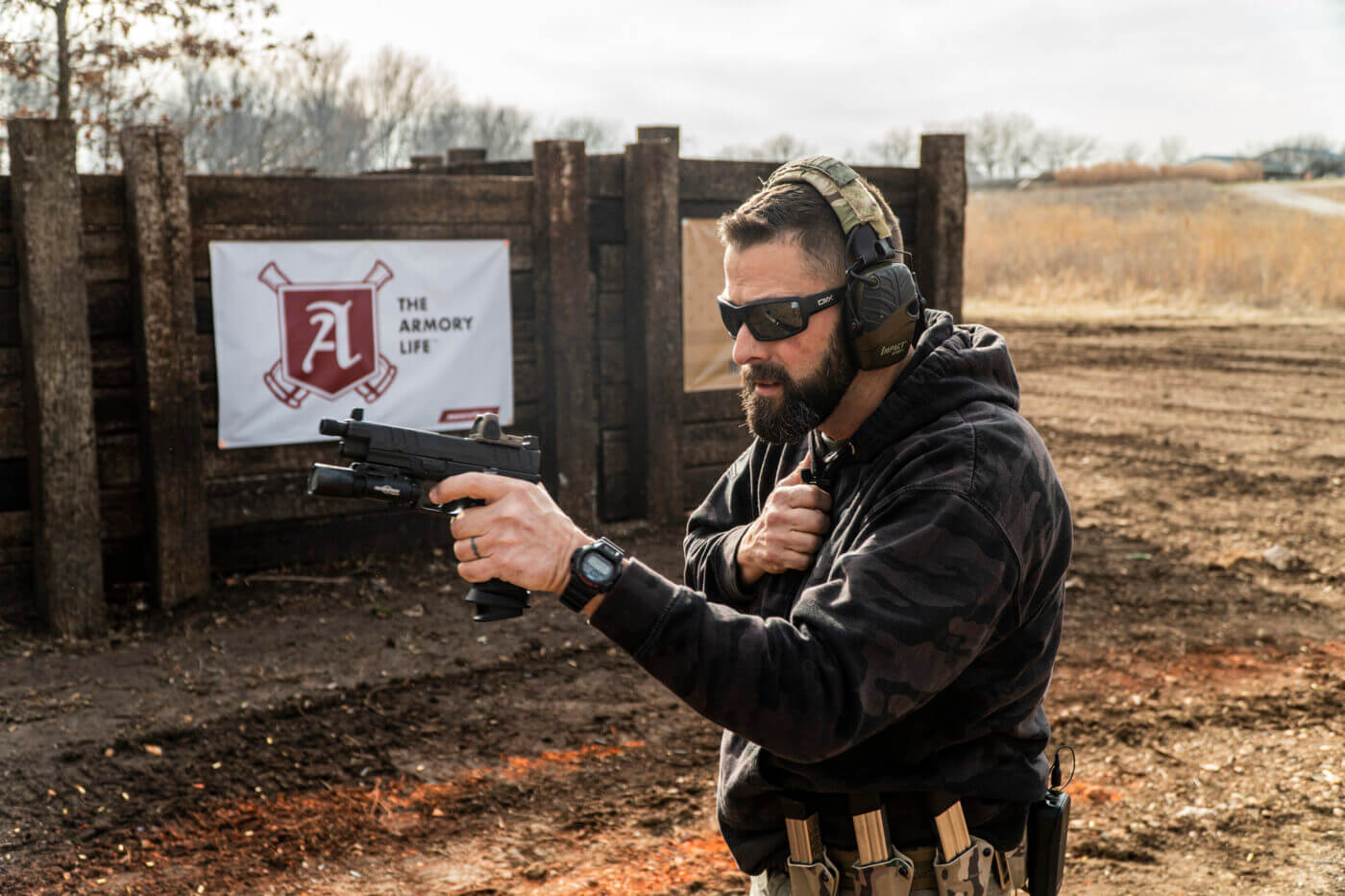 More than likely your holster will still be on your strong side, so you may have to draw and re-holster your pistol across your body. Luckily for you, we teach this in our video at the top of the page. This is something that can be pretty dangerous, so please don't practice it with a loaded gun and live ammo.
To draw, you will have to reach across your body and wrap all your fingers around the grip of your pistol, keeping them around the grip and out of the triggerguard. Then you need to draw it from the holster. At this point the gun will be upside down, so we have to get it right side up so that you can get it into the fight. There are two popular and safe methods to do this.
The first, and fastest way to do this is to stay standing and put the pistol between your knees with the grip up, just keeping the muzzle pointed away from your body parts and in a safe direction. Then, use your knees to hold it and flip your grip over. The second way to flip your grip would be to crouch down and pinch the gun in the bend of your leg and then grip it right side up. Obviously, these methods could possibly allow something into the trigger guard, which is not safe. So, keep that muzzle pointed somewhere safe as best you can.
When it comes to reloads, it's actually most of the same that I mentioned above. Either trapping the gun between your knees or in the bend of your leg is the best way to hold the gun and allow you to insert a new mag. In your practice steps, make sure you make a habit of getting behind cover before you reload; with one hand, you're going to be a sitting duck for a moment.
We recommend you take a look at Massad Aoob's article on drawing a pistol one-handed for additional techniques that you can use.
Worst Case…
Malfunctions are almost our worst possible case scenario. If you are one-handed in a gunfight using your weak hand and your gun jams, it is almost certainly the worst day of your life. So how do you clear a malfunction and get back in the fight?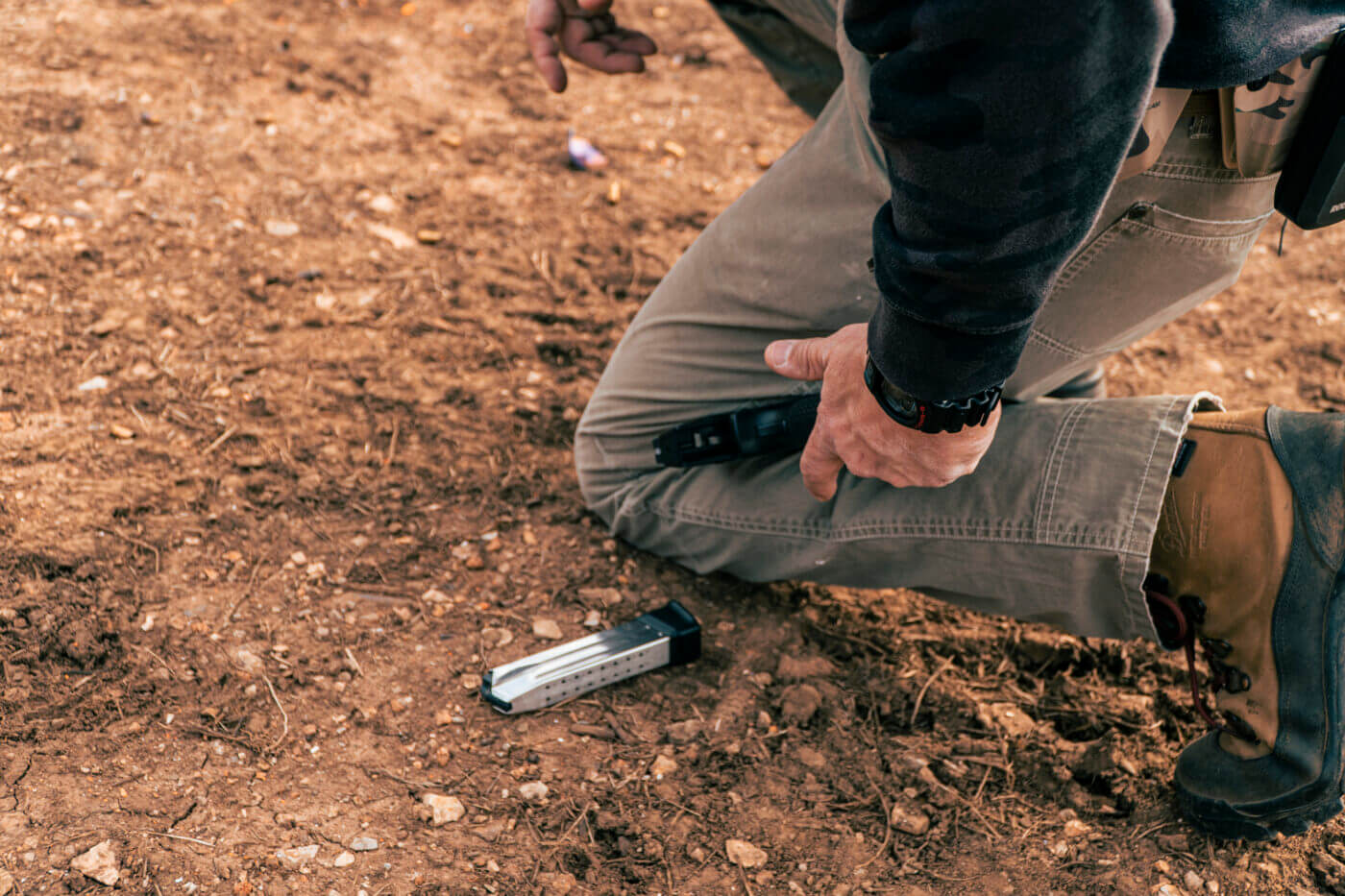 The fastest way is to perform this "tap, rack and bang" malfunction clearance. To do this one-handed quickly, you would need to hit the bottom of the magazine with your thigh or knee, making sure the mag is seated properly. Then use your rear sight, or the face of your optic, and rack the slide off of your belt, heel or anything sturdy nearby. That will clear your bad round and get you back into the fight again.
Now, let's talk about the actual worst day of your life. That would be if your malfunction were a double feed. This is no doubt harder to clear because tap rack bang will not fix this malfunction. To clear this malfunction, you will have to charge your slide but hold it all the way back while pushing up your slide lock lever.
This will lock your slide back and then you can drop your mag to clear the double feed. Now, you may really have to shake the gun hard to get the mag to drop; it depends how bad your jam is. After the mag drops, you will have to clear the bad round that's stuck in the chamber. Now we go back and rack the slide to clear the bad round. Then you have to perform a reload and charge the gun or release the slide if you locked it back from your jam earlier. That is a lot to do with one hand, but it can be done. And if you're in a firefight, you better find good quality cover first.
Conclusion
One-handed manipulation isn't easy by any means, but it is something for you to think about and practice. Why? Because your practice could determine whether or not you walk away from the worst day of your life.
Editor's Note: Please be sure to check out The Armory Life Forum, where you can comment about our daily articles, as well as just talk guns and gear. Click the "Go To Forum Thread" link below to jump in and discuss this article and much more!
Join the Discussion
Featured in this video
Continue Reading
Did you enjoy this video?
44