XD-M

Elite 3.8: Best EDC 9mm?
April 1st, 2020
5 minute read
I carry a gun because cops are too heavy. There's a great deal of truth imbedded within that silly little ditty. We typically pack heat because we wish to wander through life without concern for the criminals who walk among us. However, this means we might have to stand on our own, at least for a time.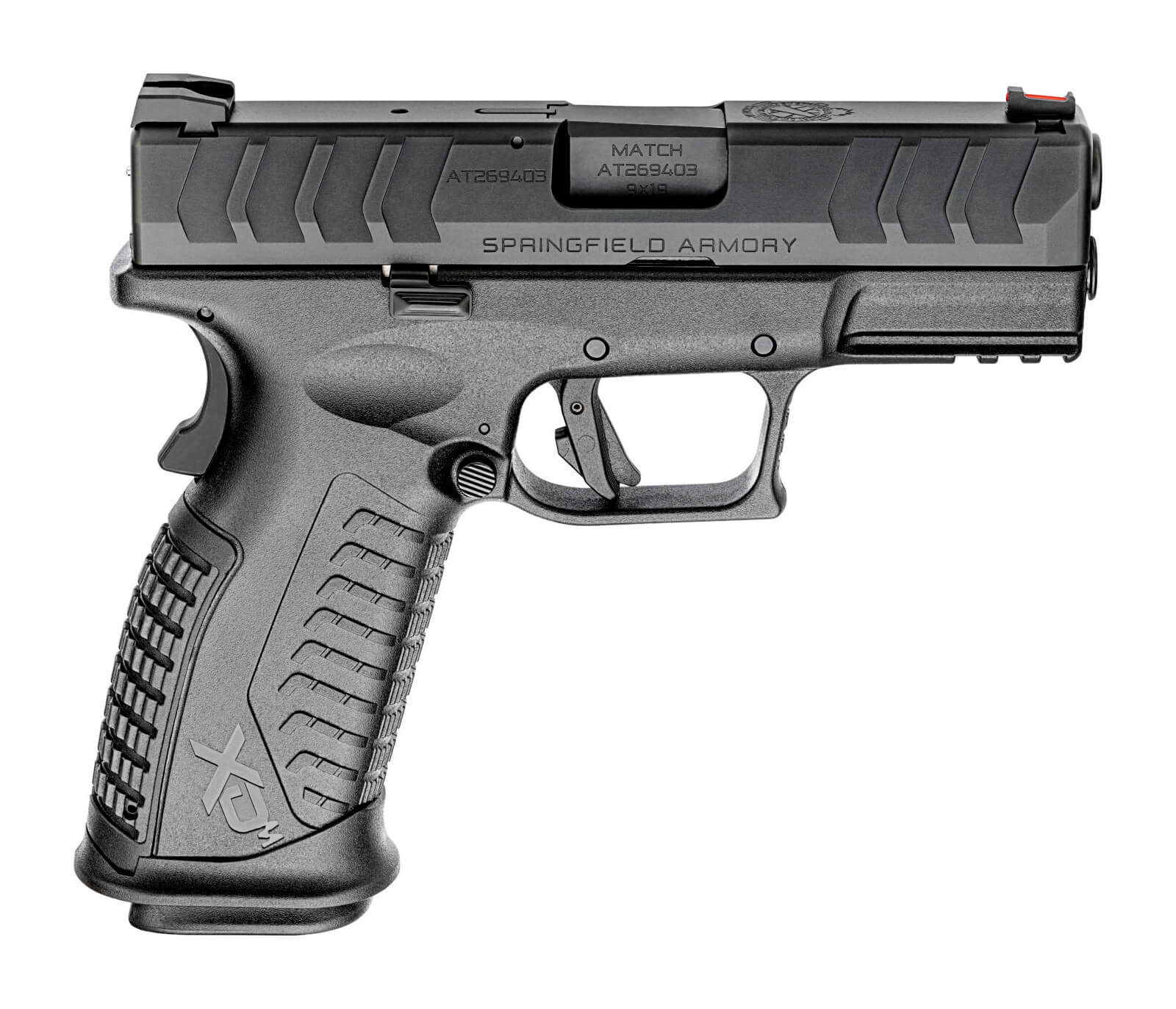 When I flew helicopters for Uncle Sam, we knew that we would leave a downed aircraft with what we had affixed to our persons and little more. This same timeless axiom also applies to more terrestrial pursuits. Any real defensive encounter will be a come-as-you-are party.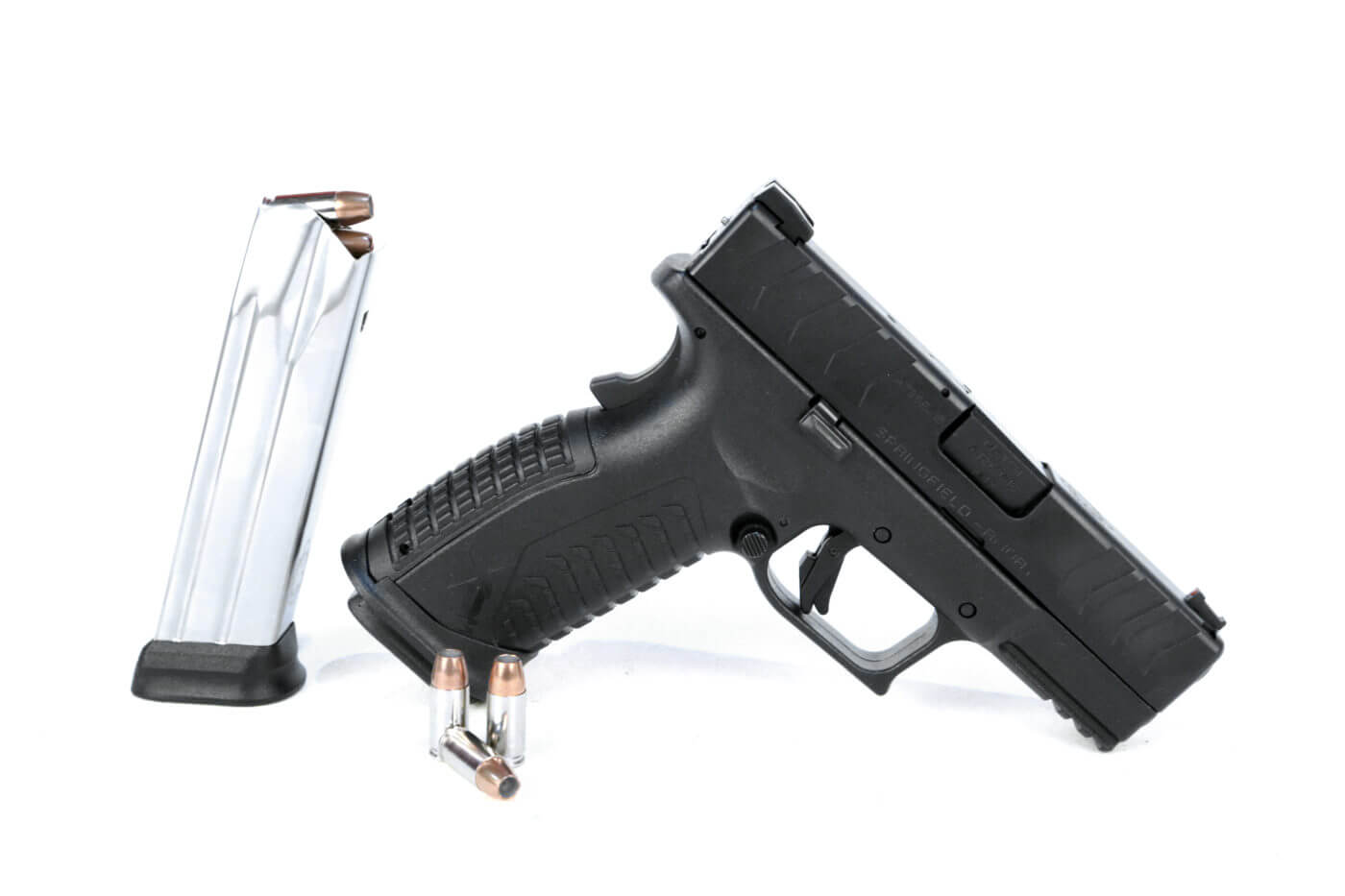 The long gun locked up back home, the case of hollowpoints hermetically sealed in your basement, or law enforcement support that is a quarter hour distant all might just as well be on the moon for the good it will do you when life goes sideways. That's the reason Springfield Armory developed the 9mm XD-M Elite 3.8.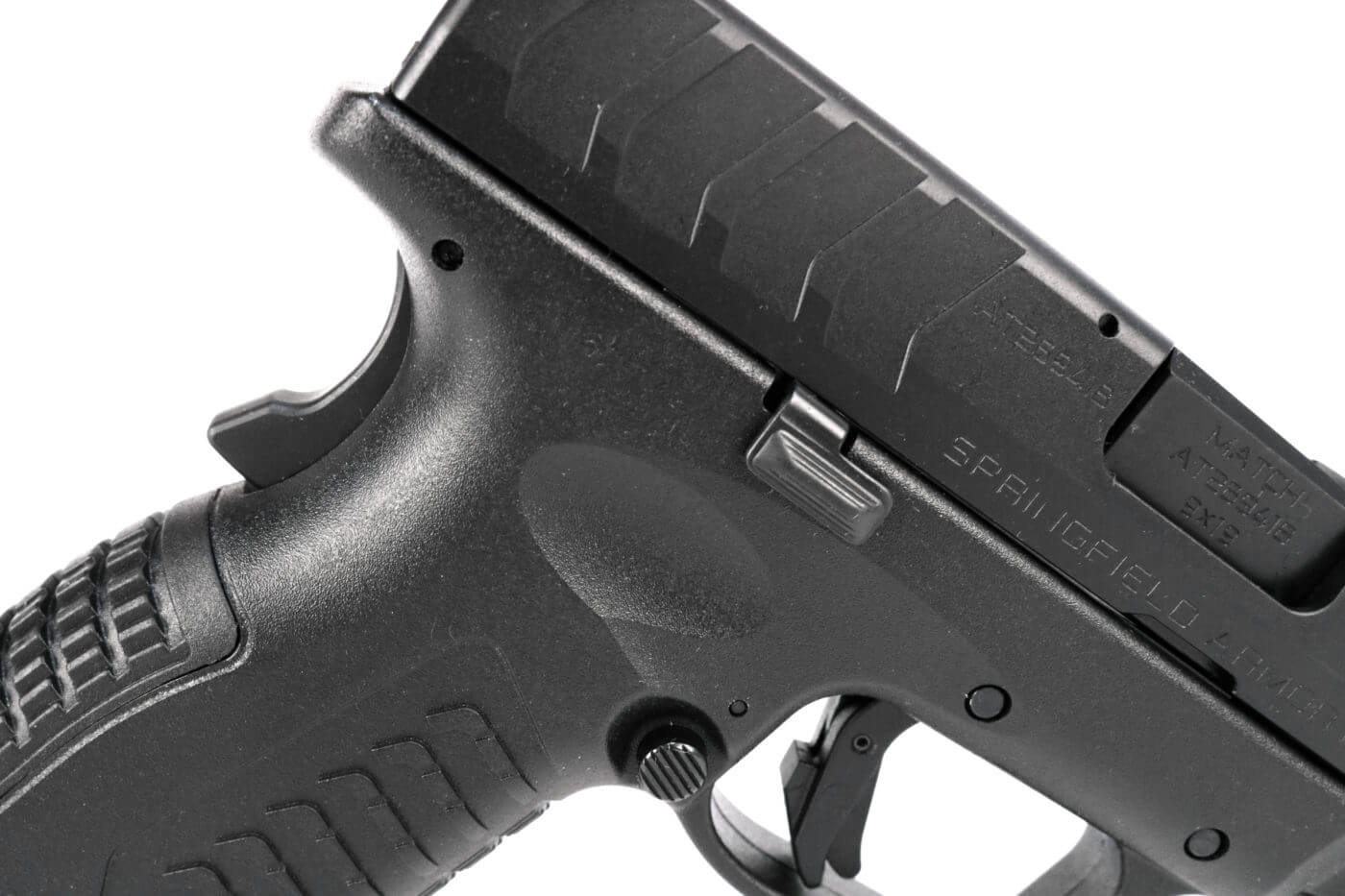 Pertinent Particulars
The new line of XD-M Elite pistols from Springfield Armory consists of several different models. The XD-M 4.5 is a service-style pistol. This is the gun that would ride in a cop's holster or live secured within your beside table. The XD-M Elite 5.25 Precision is a longslide competition gun. The XD-M Tactical OSP (Optical Sight Pistol) is intended for high-octane close combat applications with its threaded barrel and optic-mounting capability. The XD-M Elite 3.8, however, is built for something altogether different.
All models feature the XD-M Elite upgrades over the standard XD-M of an ambidextrous slide lock, the exceptional META (Match Enhanced Trigger Assembly) system, removable flared and extended magwell and increased capacity magazines, enhanced cocking serrations, and more.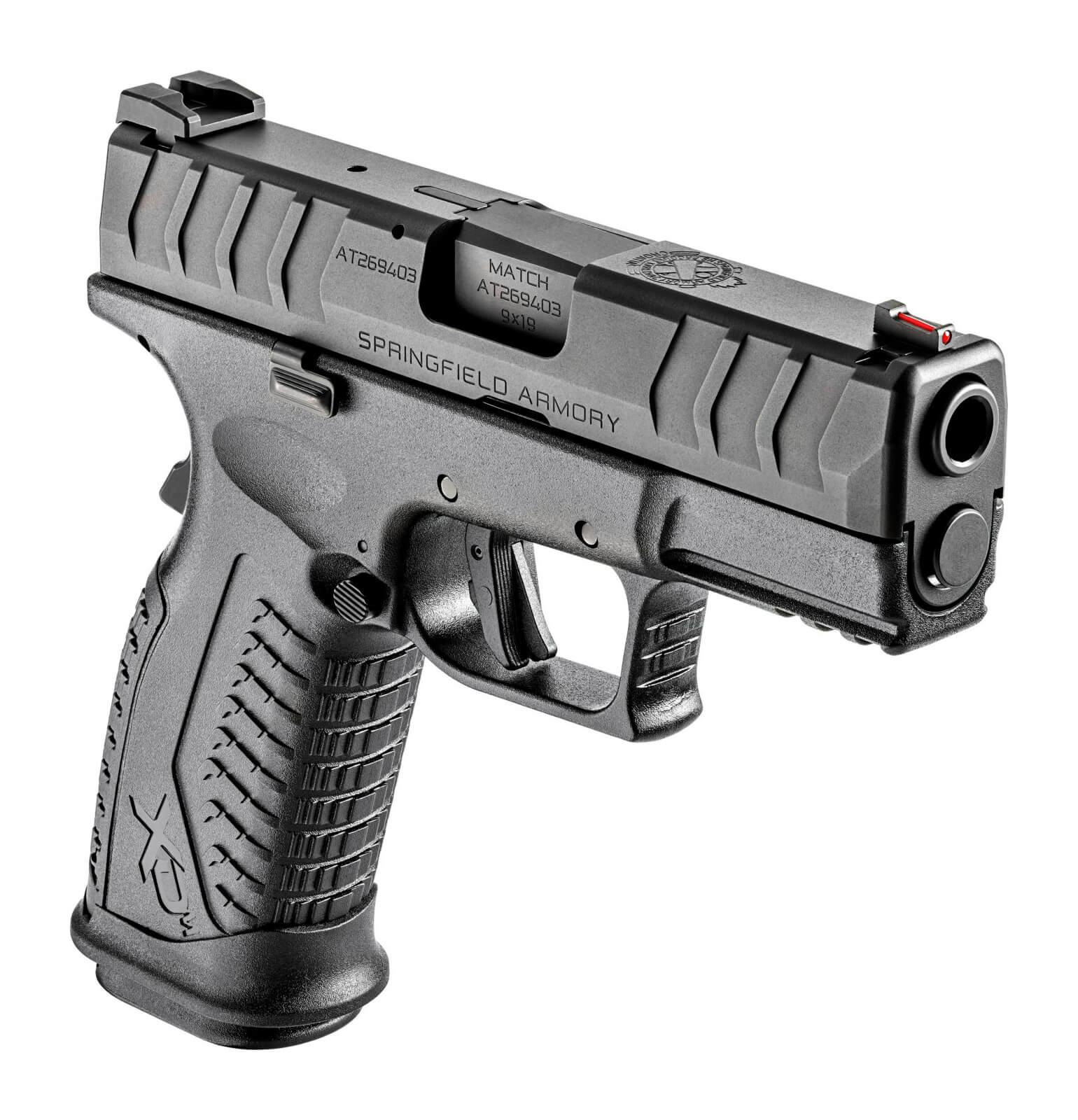 The XD-M Elite 3.8 is first and foremost a practical defensive pistol you can hide underneath light clothing. Featuring a stubby 3.8″ hammer-forged Melonite-finished barrel, a tactical rack U-Dot rear sight, and a one-piece full-length guide rod, the XD-M 3.8 offers something no other concealed carry handgun does. In addition to its purposely packable architecture, the XD-M 3.8 feeds from a flush-fitting 20-round magazine.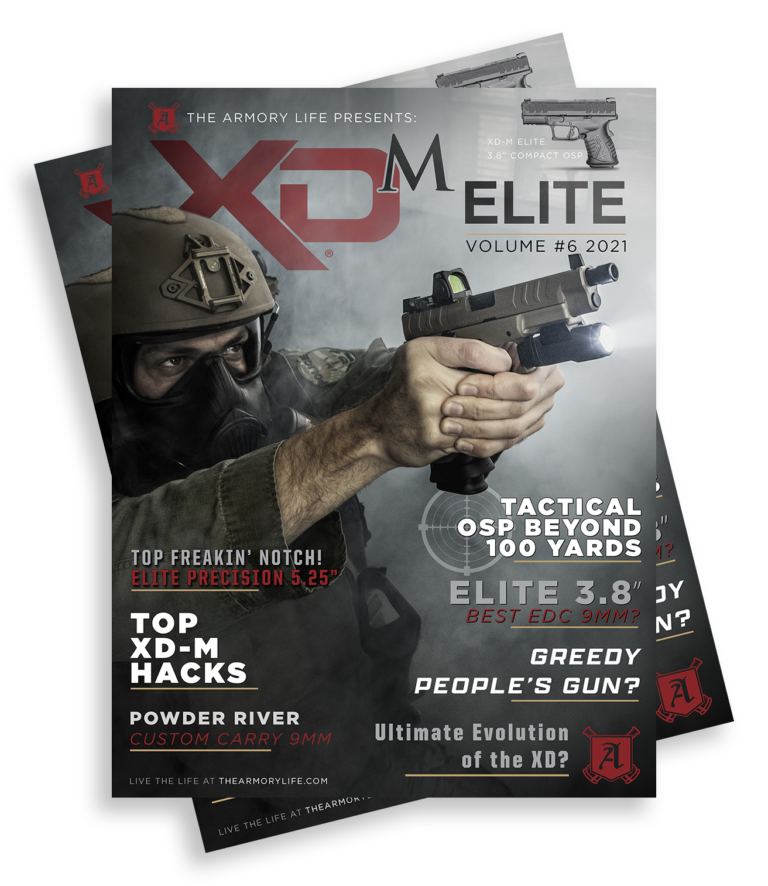 Yes, you read that right. That's twenty-one rounds total on tap for those times when life gets extra sucky. Tote the spare mag that comes with the gun, and you have forty-one rounds. If that won't solve your problems you've got bigger fish to fry.
The slide stop is replicated on both sides of the pistol, and there are deep slide serrations arrayed both front and rear. The extended magazine rides inside a removable magwell funnel that facilitates lightning-fast magazine changes. The front sight includes a fiber optic insert, and there is a dedicated loaded chamber indicator that is accessible both visually and by feel. The magazine release is a genuine bilateral pushbutton.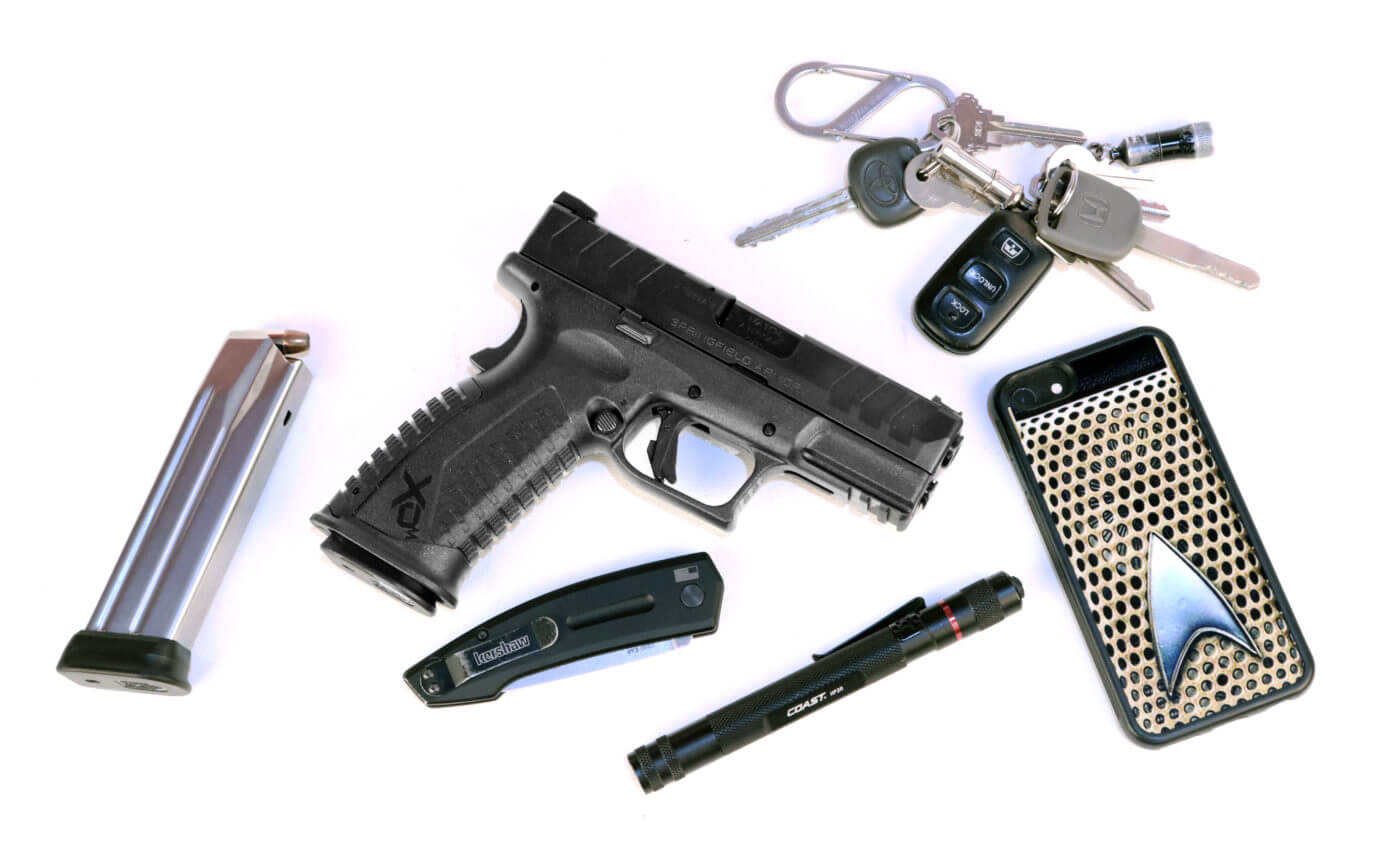 The XD-M 3.8 features three separate safety systems. The grip safety includes a memory bump and operates automatically when you grasp the gun. The internal firing pin block will not release the firing pin to contact the cartridge until and unless the trigger is pulled. The blade safety located within the trigger face deactivates as soon as your finger touches the trigger. All three safety systems function automatically without conscious thought.
The beating heart of all four XD-M Elite pistols is the META trigger system. Designed as the result of a generation of experience tweaking striker-fired systems, the flat-faced META trigger features an integral overtravel stop and an unparalleled crisp personality. The META trigger is the top of the heap in tactical handgun ignition systems.
How Does She Run?
I wear surgical scrubs to work every day, and I'm a pretty skinny guy. Whenever possible I try to pack a full-figured combat handgun. While pocket pistols are great for certain applications, a full-sized grip makes for better control, improved accuracy and more rounds available. The XD-M 3.8 offers all that and more.
This is indeed a full-figured gun, so it is undeniably bulky. Additionally, with nearly half a box of 9mm stuffed into the grip there is weight to consider. However, with a proper belt and some refined carry gear I can pack the XD-M 3.8 all day long without alerting anybody around me or inducing lumbago.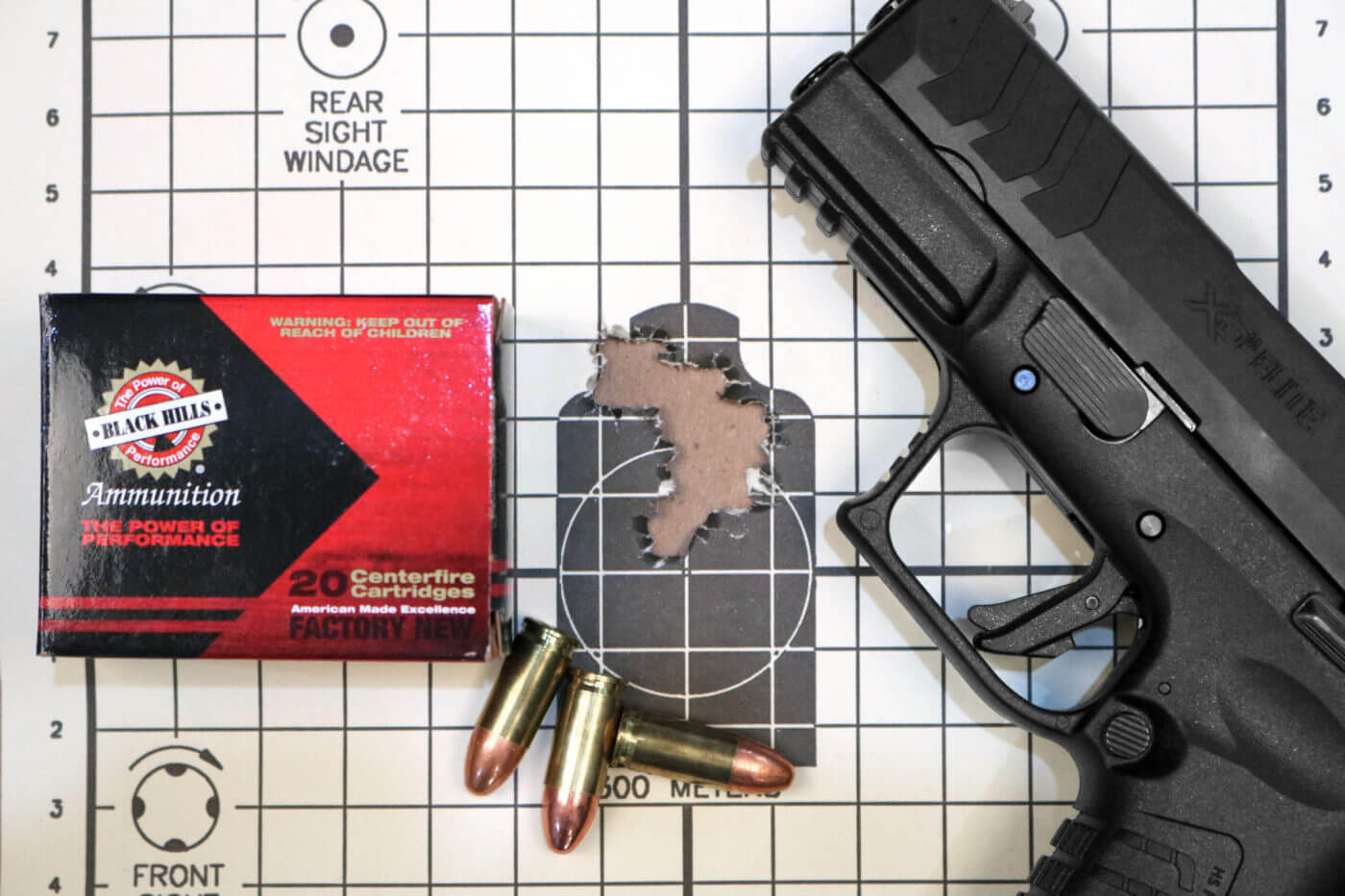 On the range the XD-M Elite 3.8 is indeed the best of both worlds. The gun presents quickly, points naturally and runs like a proper service pistol. The META trigger and match-grade barrel offer accuracy potential well beyond that of your conventional concealed carry handgun. At a typical seven-meter engagement range you can easily empty a full 20-round magazine and print a single ragged hole. In the unlikely event twenty-one rounds won't do it, then magazine changes are as fast as mechanically imaginable.
Conclusion
In a real defensive encounter you will likely be on your own, at least for the critical first few minutes. With the XD-M Elite 3.8 you get packability, accuracy, unparalleled reliability, and enough onboard ammo to keep the monsters at bay until the cavalry arrives. The XD-M Elite 3.8 is the future of serious concealed carry pistols.
Editor's Note: Be sure to check out The Armory Life Forum, where you can comment about our daily articles, as well as just talk guns and gear. Click the "Go To Forum Thread" link below to jump in!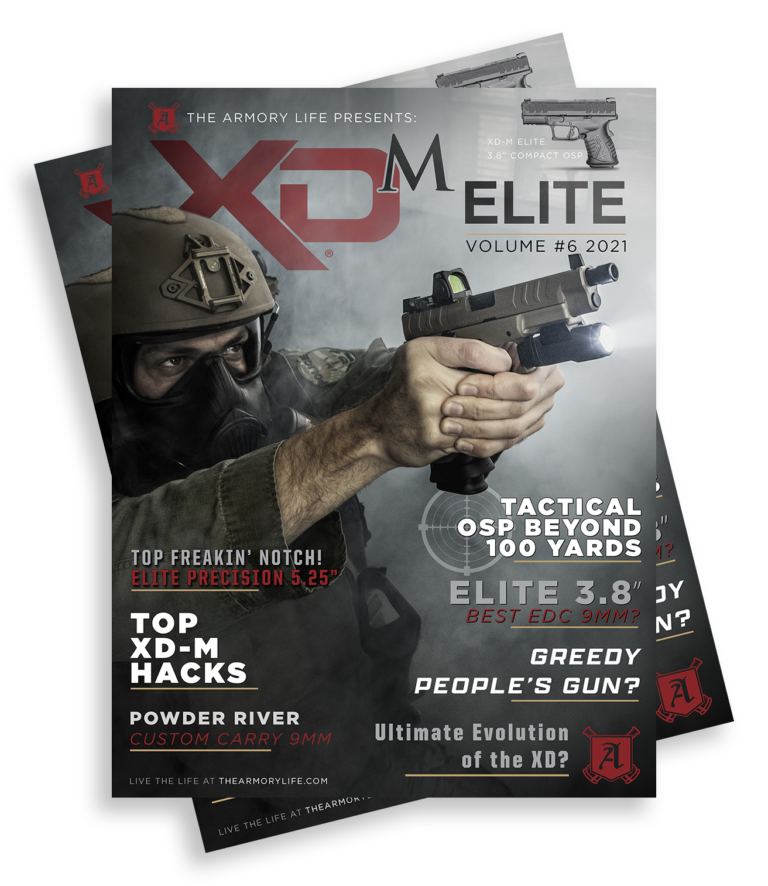 Join the Discussion
Featured in this article
Continue Reading
Did you enjoy this article?
240