Scott Conditt returns to The Armory Life to offer a 5.11 LV10 2.0 Sling Pack review. This bag offers a deep bench of features while remaining compact. Does the sling nature of the bag work? Conditt's real-world field testing of the LV10 2.0 is documented below.
Chevy versus Ford. 1911's and single-stack mags versus polymer-framed double stacks. Chocolate versus vanilla. Life is full of choices, and for every set of choices, there will be those who adhere almost dogmatically to their staunch preference, one way or the other.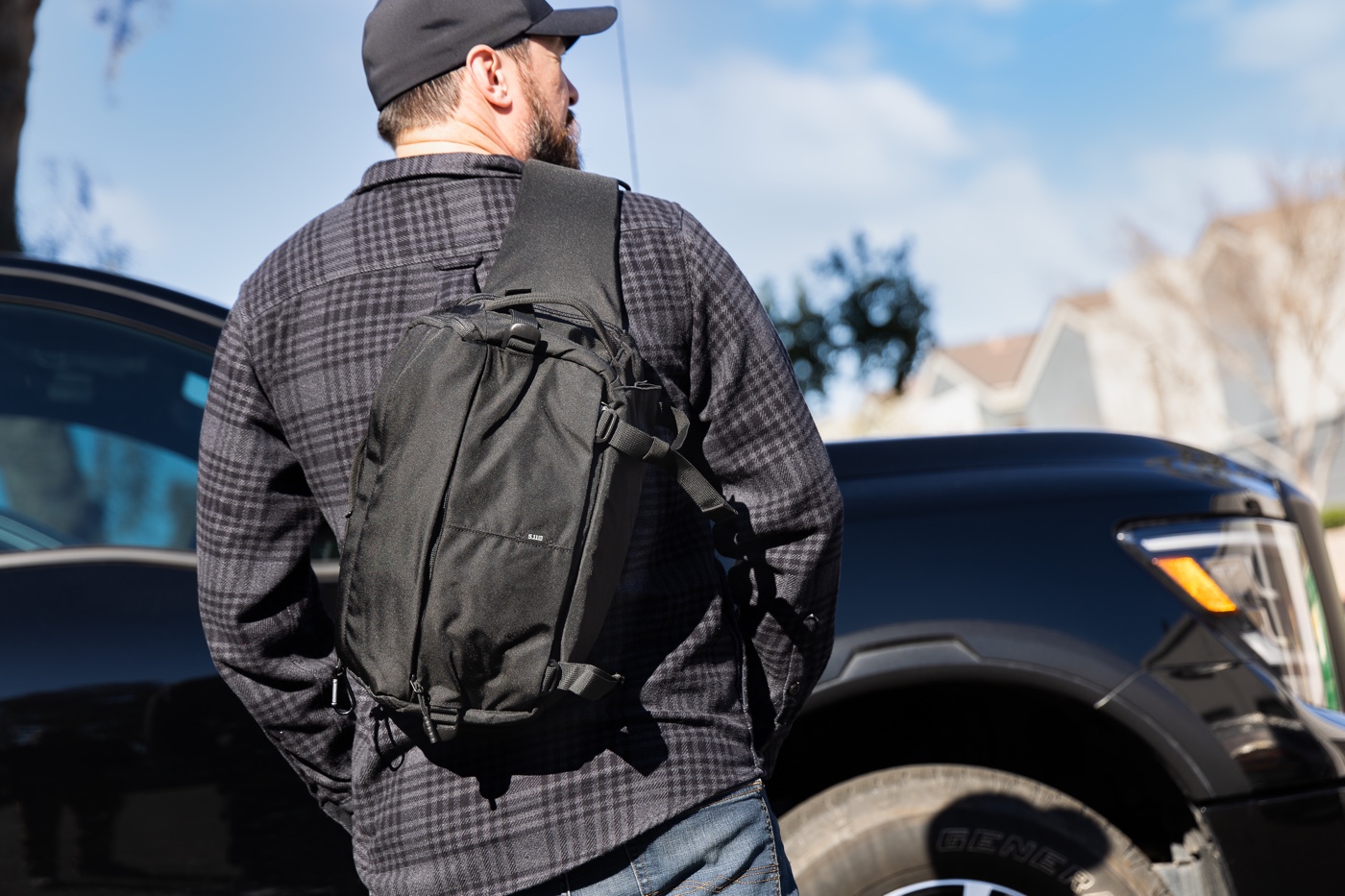 When I was young, one of the great debates was whether or not you ought to wear your backpack to school with a single or a double strap. In those high school hallways, this seemingly mundane style choice could project more social nuance about one's character and personality than you might think was possible.
The low-slung, single-strap look indicated a rebellious spirit and casual-cool style that said "I've got better places to be" for most during my academic heyday. The skaters, the punks, the metalheads, the cool jocks and cheerleaders in the in-crowd wouldn't be caught dead double strapping it.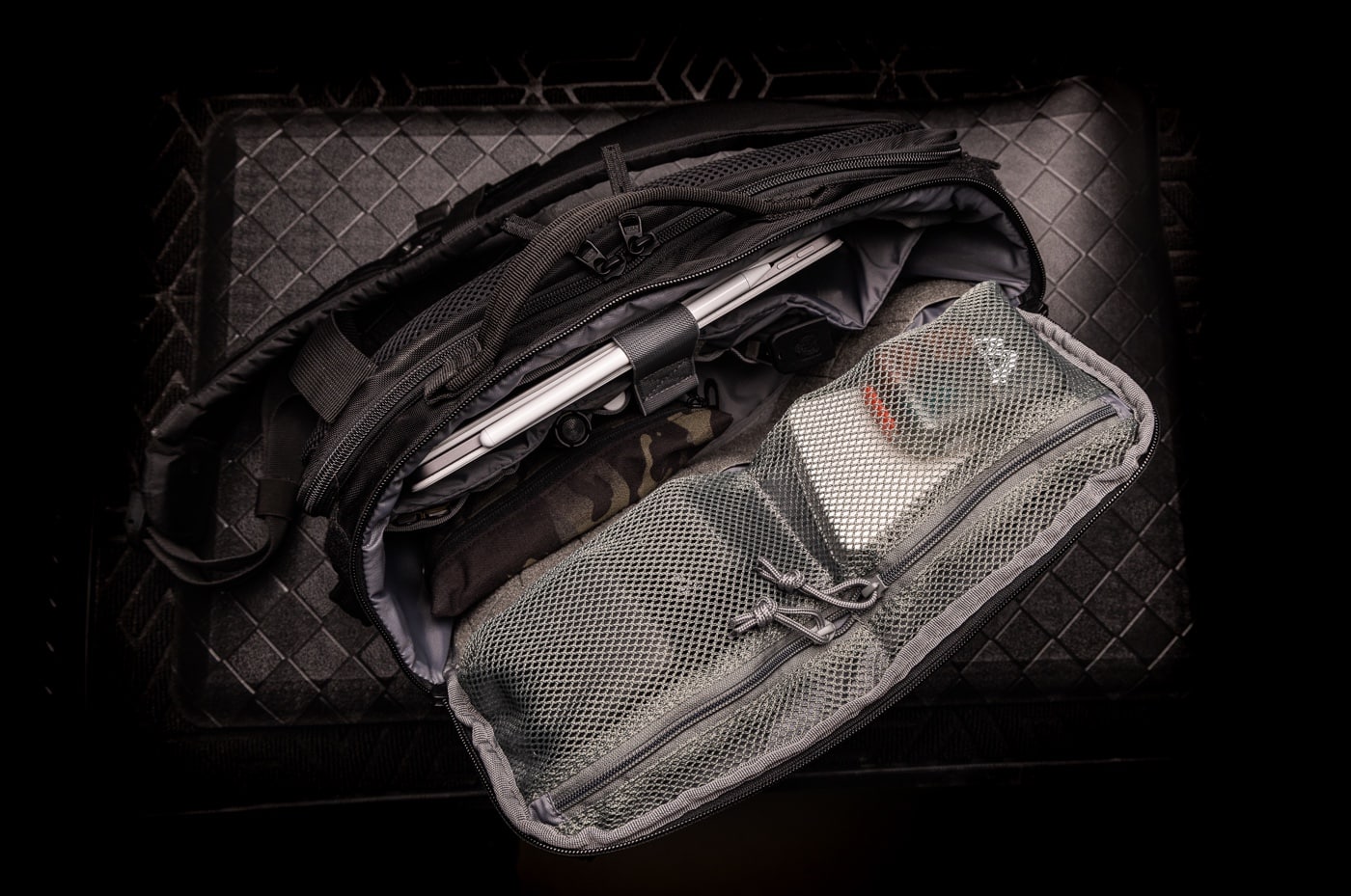 When it comes to hindsight and conventional backpack design, our single strap choice was truly fashion over function. With the payload of heavy hardcover paper textbooks and supplies, we hauled around back before the fully integrated digital age of laptops and tablets, single-strapping a standard backpack was not only uncomfortable but impractical and silly for long hauls.
Looking back now as an avid collector of backpacks, totes, chest rigs and carry-all gear of all sorts, the smart kids and those who just didn't adhere to the juvenile style note and dared to wear their traditional backpacks with both straps were truly ahead of their time and obviously more mature than the rest of us fashion victims.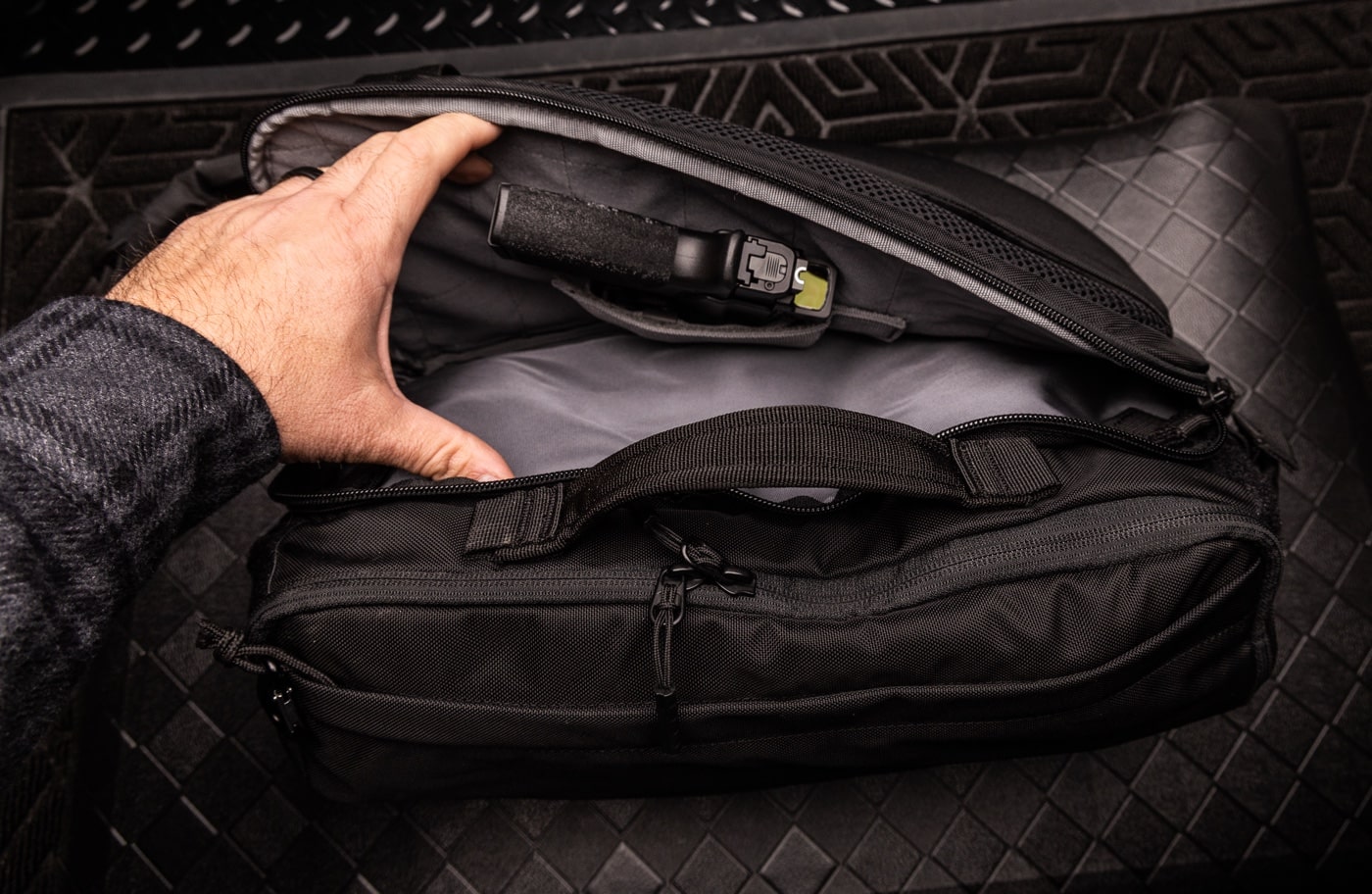 No sore backs, bad posture be damned, they were in school to do business and they wore the pack the way it was designed. I think this is why over the years, after growing up and growing into many true packing experiences, I never took to using a sling bag or single-strap bag of any kind. It felt like a reversion to bad childhood choices I had made. Until recently that is… Enter, the 5.11 LV10 2.0 Sling Pack.
5.11 Solution
My everyday carry backpack has been a standard, low-profile backpack for the last year. To and from work, it serves all of my needs. However, I had been interested in reducing bulk and pack weight, and wanted a bag that could serve as an EDC bag to and from work each day. In addition, I wanted a slim pack for casual outings with the family or trips to the grocery store that wouldn't draw as much attention as a full backpack might.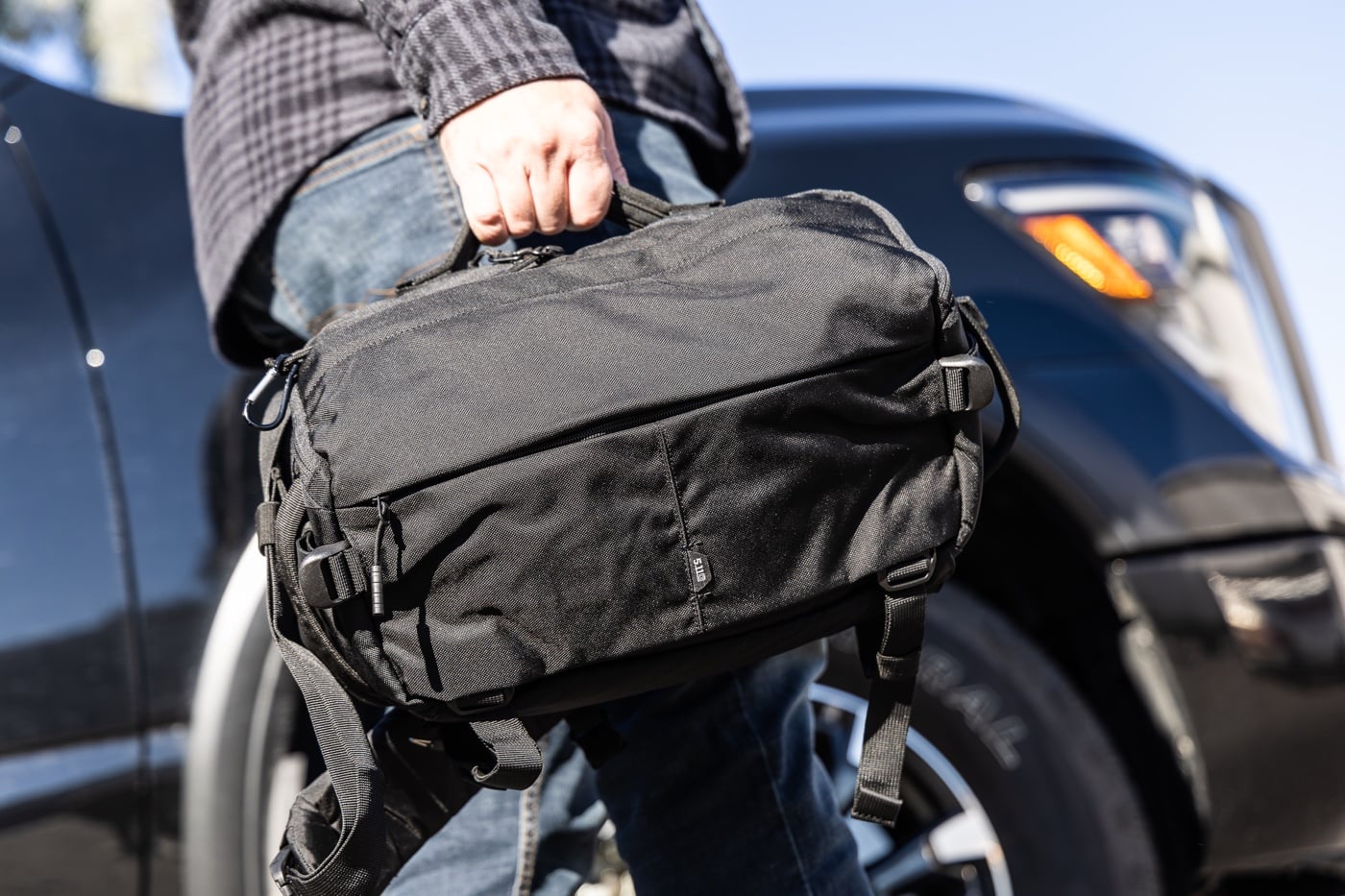 I picked up the new and improved LV10 2.0 Sling Pack (the latest in the line) from 5.11, as it looked like it offered exactly what I was hoping for. My only hesitation was over the fact it was a single-sling design. In my past experiences, sling packs always felt unbalanced, didn't offer enough storage or a super-secure EDC gun carry option, and the strap was too thin or not padded enough for long use. I basically just had a hard time getting used to the feel overall.
The LV10 addressed all of these issues for me and so much more. I decided to use the bag for the duration of the 2023 SHOT Show in Las Vegas, as I walked miles of aisles seeing the latest and greatest in guns, gadgets and new gear. After a long week and the last months of using the bag as my new every day carry bag go-to, I haven't regretted my choice to switch.
My Turning Point on Sling Packs
I'm not going to lie, I thought I would hate the single strap and it would take some getting used to at best. However, once I snugged and fit the large, comfortably padded, main crossbody strap on The LV10, it conformed to my body and felt like it wasn't even there. It was actually more comfortable than my two-pack strap, which notably may also be because I reduced my payload to only essential daily items.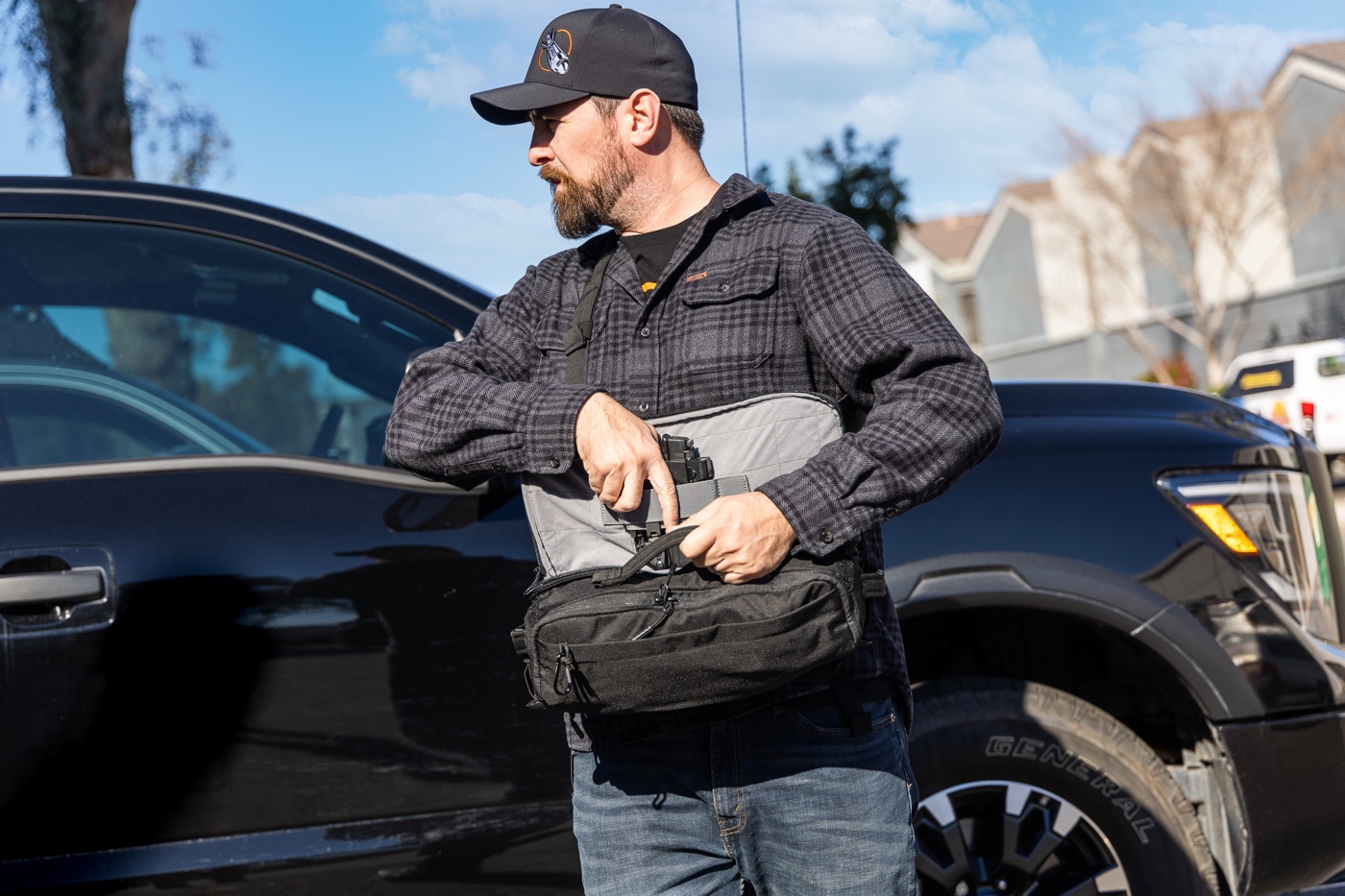 The bag's measurements are 10.5"H x 16.25"W x 5.75"D, with 794 cubic inches, or a 13-liter total capacity. By proxy of the slim and sleek design, sling packs force you to modify your discipline and not be a packrat just because there is additional space to be filled with unnecessary junk. It's a day bag, after all, not your ruck and not your bug-out bag. The LV10 2.0 has just enough space for essentials throughout my daily routine and includes some exceptional features for compartmentalization, concealment and comfort.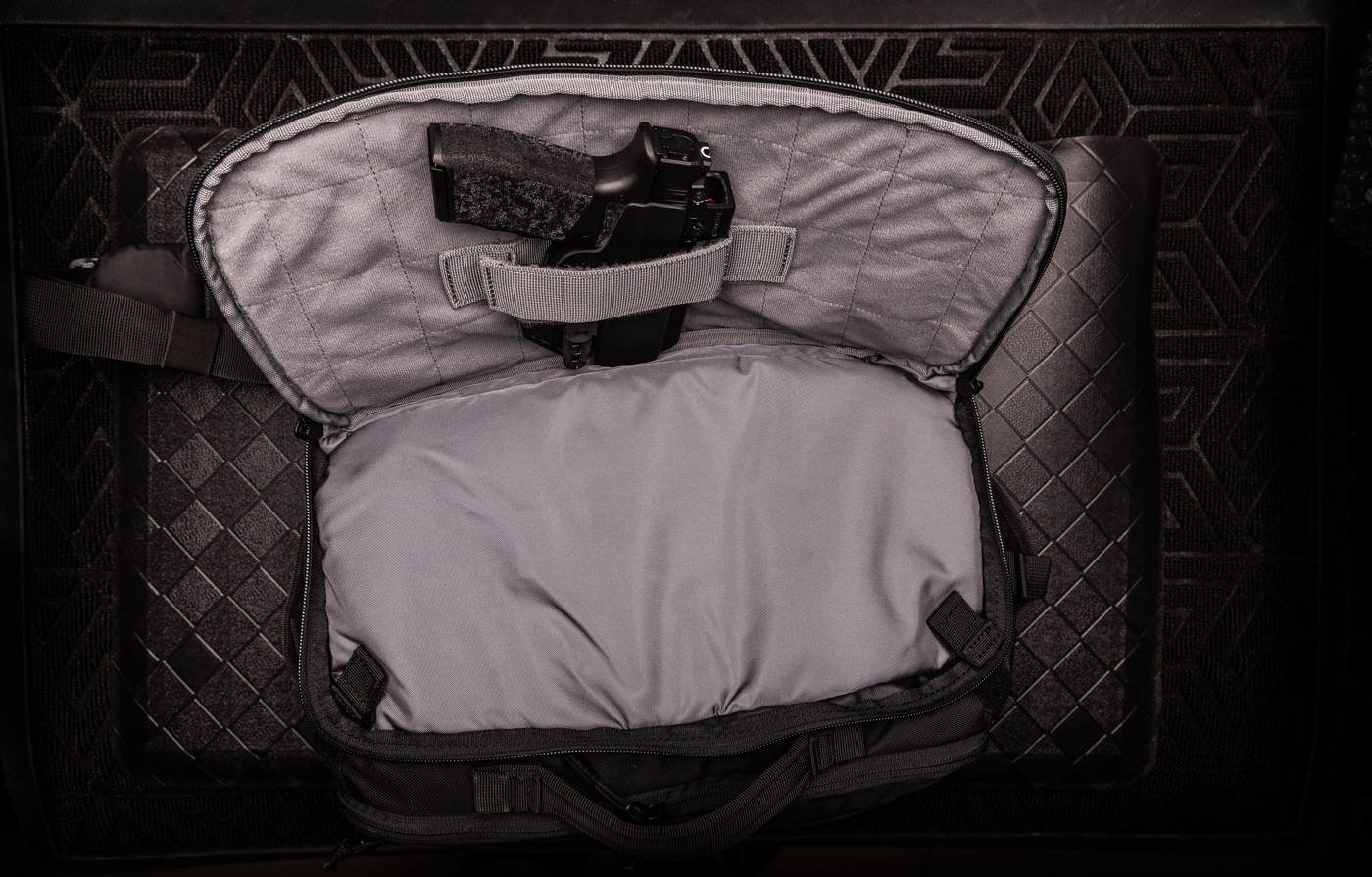 Of the standout features that this 840D Nylon constructed sling bag affords, I really enjoy the removable holster retention strap for my Hellcat Pro, the securing Velcro strap on the interior large pocket for a small laptop or tablet in the tablet sleeve, and a quick release on the main strap.
CCW capable, the bag features a "hot pull" compartment for easy and quick access. I also particularly enjoy the additional carry handles that allow you to hold the bag in a number of ways. The Flex Cuff channel on the backside of the bag also provides comfort and the interior of the bag has more compartmentalization and pockets for small items like spare mags, and Leatherman tools, and it also includes internal mesh pockets for more organization. It's more design thoughtfulness than you'd expect possible in such a small form factor.
There are also bottom webbing straps with an expandable water bottle pocket with a button snap for securing your water bottle. And if low-vis is a concern, tuckable branding tabs have been made part of the design.
Conclusion
After experiencing a well-designed sling bag through months of daily use, I feel like my backpack-wearing style and strap tastes have evolved more thoughtfully now. I highly recommend the LV10 2.0 for those seeking a low-profile, comfortable, and slim sling bag for everyday use.
Editor's Note: Please be sure to check out The Armory Life Forum, where you can comment about our daily articles, as well as just talk guns and gear. Click the "Go To Forum Thread" link below to jump in and discuss this article and much more!
Join the Discussion
Featured in this video
Continue Reading
Did you enjoy this video?
57