On my daily 30 minute long drives home from work, I would often wonder, "What would happen if it hit the fan right now … and I had to get home on foot?"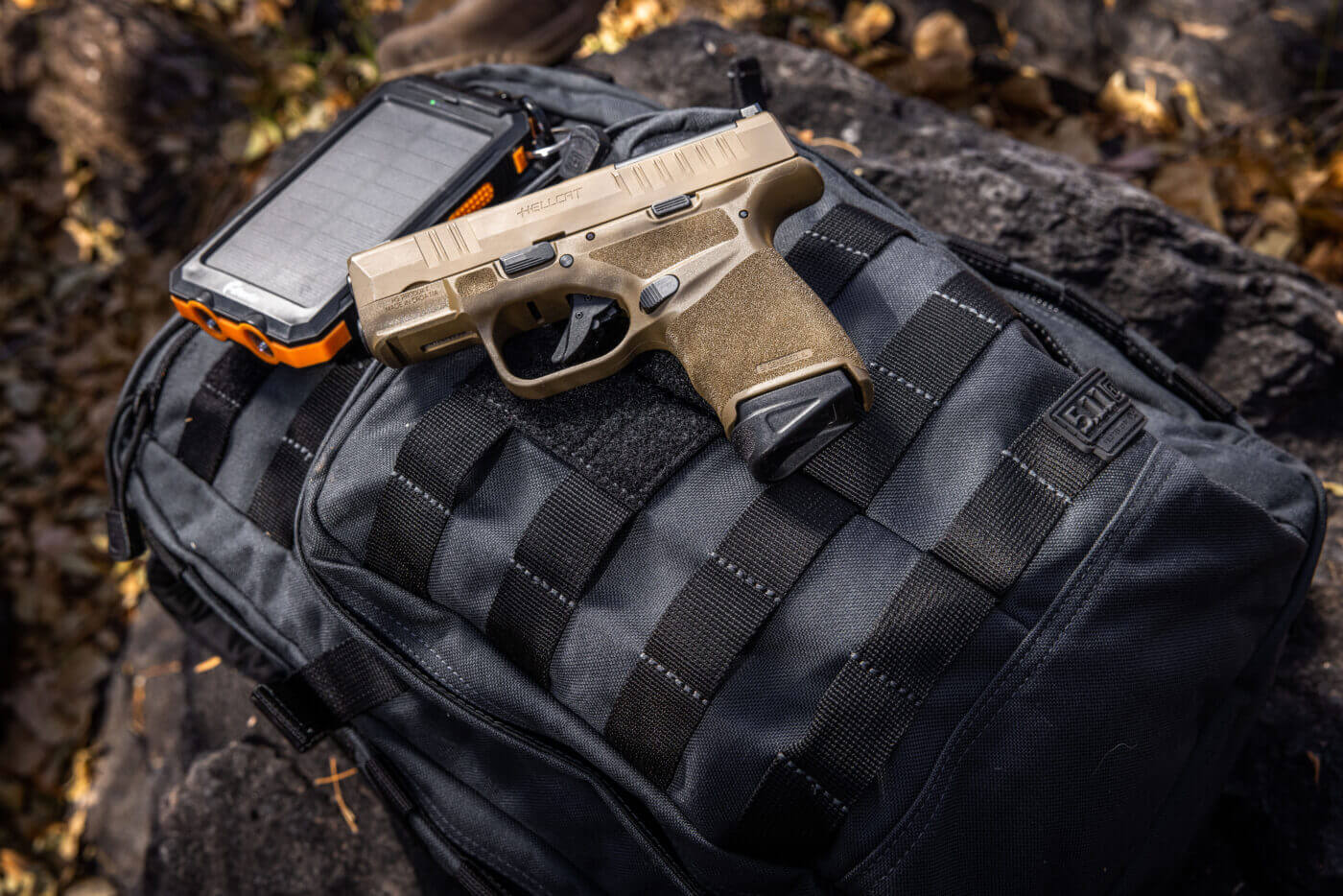 For most, if the moment ever does occur when aliens descend down to earth and vaporize the White House, or a high-intensity electromagnetic pulse takes down the power grid and sends us all back to the dark ages, statistical chances are it's going to happen when you're not near all of your survival tools and provisions stored back at home.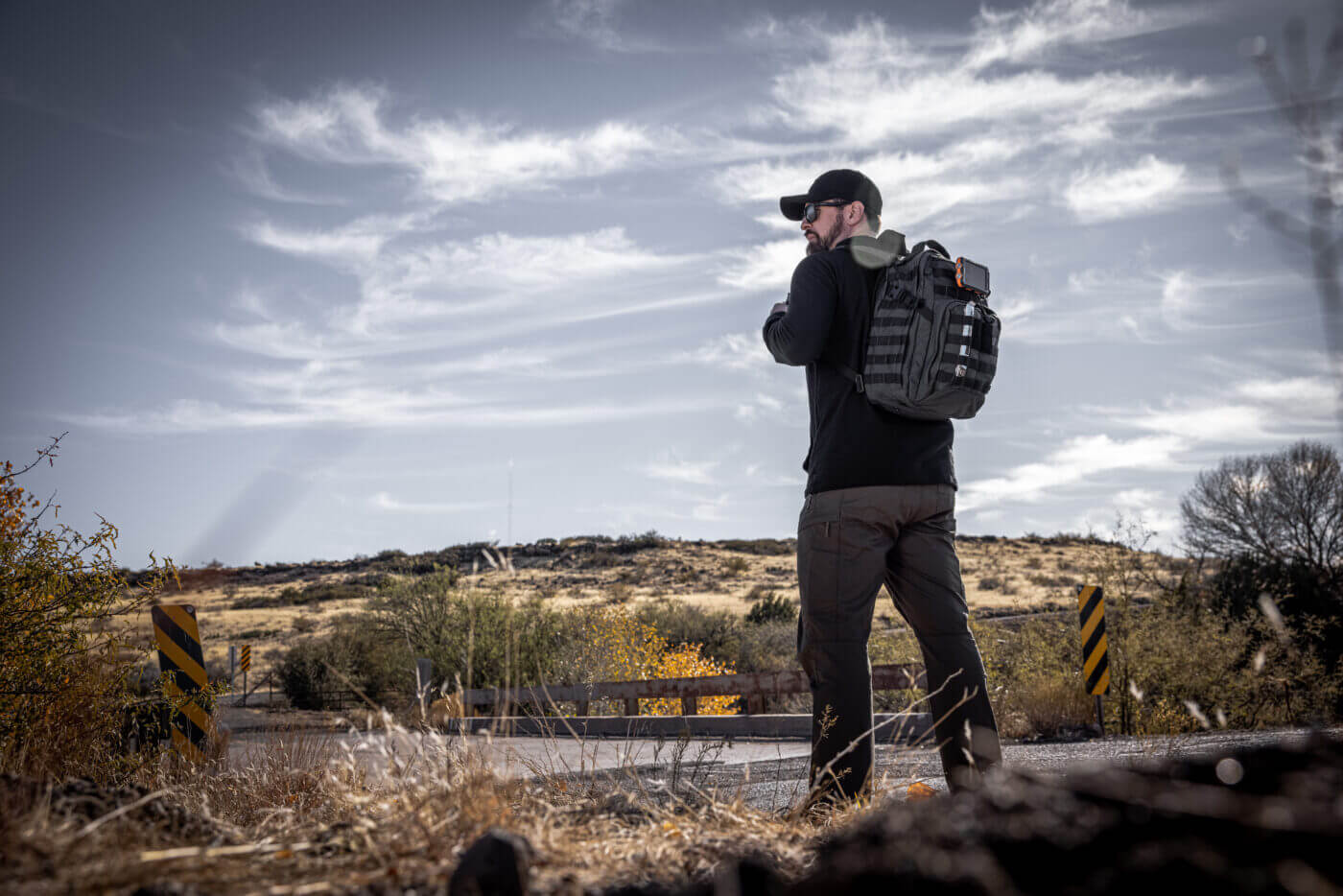 That's why preparing a 24-hour Get Home Bag ("GHB" for short) that includes everything you may need to better ensure you get back to your home during a disaster event is essential. However improbable the alien invasion, terrorist attack, or glowing green chemical spill on the freeway might be, there's always the mundane (and more likely) vehicle breakdown, severe flooding, or winter storm that makes a well-prepared GHB a real boon to have as well.
Building the Kit
What exactly qualifies as a GHB and what's supposed to be in the bag? First of all, no two Get Home Bags are going to be the same, nor should they be. Your GHB is going to be unique to you based on your travel expectations, geography, and personal needs. However, the basic criteria are the same.
You may have heard of the hardcore human survival rule of 3's: You can survive three minutes without air, three hours without shelter in extreme weather conditions, three days without water, and three weeks without food. Your Get-Home-Bag must provide you with the core survival essentials of food, water and shelter. A GHB should also provide basic first aid and medical supplies (including medications), self-defense and communication/navigation tools.
A well-assembled GHB typically weighs in at 25 lbs. or less and is compact so you can remain agile and quick. Plain and simple, a GHB is designed to get you the hell out of Dodge and sustain you for a 24-hour period. In the rundown below I've included a list of items I have in my Get Home Bag along with a few notes. There are many vendors, brands and variations on all of the items below — but these represent what I currently have packed, have field-tested and have found to be the most versatile and valuable to me. Let's work from the outside and move inward into the pack's contents.
The Gear
The bag: The foundation of the GHB. Select a pack that is made of highly durable material, is compartmentalized and is adjustable for comfort. My personal pack is the 5.11 RUSH12 – 2.0 Backpack 24L, which is a 24 liter pack (size). The RUSH12 – 2.0 Backpack 24L features adjustable shoulder and sternum straps, a 60-oz. hydration pocket, 16 individual compartments, and is made from extremely durable, water-resistant 1050D nylon. The most important bit of advice when it comes to bag selection: TEST it out. Go hiking with it fully loaded for a few hours. If it's uncomfortable and doesn't fit you well after adjusting it, if it rips, or zippers fail during light use — ditch it and select another. But find these things out when your life isn't on the line.
Medical: I have a compact trauma and first aid kit by My Medic attached to my bag. I like the medical kit on my gear to be easily identifiable and able to be stripped off the main pack in an emergency. Many affordable high-quality medical kits come ready-to-go with all of the basic elements like band aids, tweezers, butterfly bandages, ointments, and a selection of over-the-counter medication for headache, pain, and stomach trouble.
Shelter: For my likely scenario, I plan for a 6 to 8 hour walk, barring any roadblocks, detours or alien overlords getting in the way. Hopefully I'm not going to need to set up camp. That's hoping for the best, but I've also prepared for the worst. I have a lightweight emergency tarp (with paracord), a very small compressed bivvy shelter, and a compact Hummingbird Hammock packed. Each serves as a potential shelter option, and combined all three take up less space than a compact camping tent in my pack.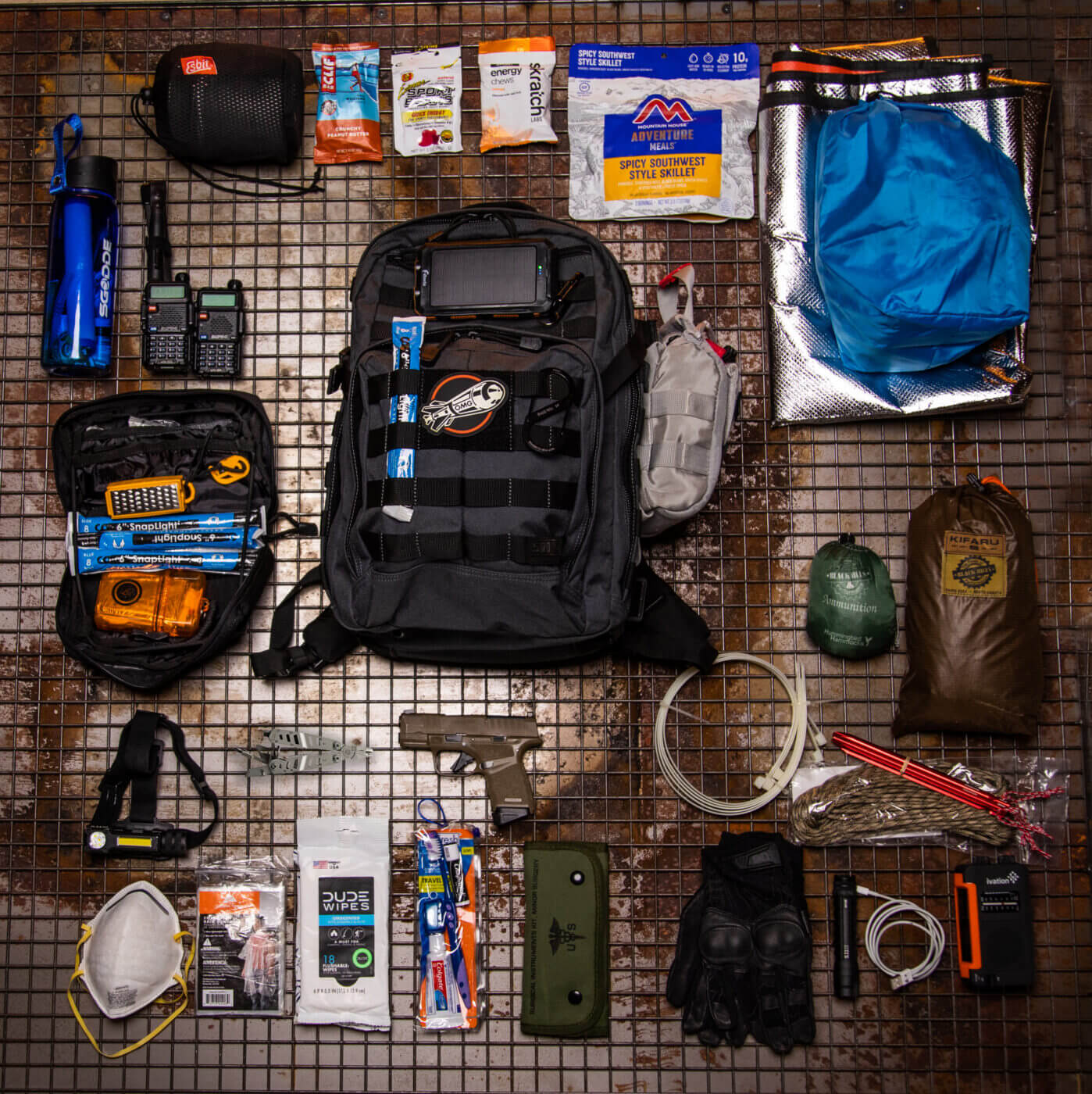 Food & Water: I keep a 1.5 liter water bladder filled inside my bag that I cycle out regularly. A durable plastic water bottle with a lifestraw filtration unit built right into it that allows me to scoop water and drink immediately serves as my backup. Inside this empty water bottle I have a stash of water purification tablets, backup water straw filter, and a number of Emergen-C and Liquid IV packets. Six Cliff bars (peanut butter crunch/260 calories per) and one bag of freeze-dried camp food by Mountain House (490 calories) are my food sources. A few bags of flavored energy chews provide vitamins and 50+mg of caffeine per bag, so if all the Starbucks are in flames … I can get my fix.
Cooking and boiling kit: A small teal-light camp stove is useful for boiling water to purify it for drinking and to add hot, clean water to the aforementioned freeze-dried food meal pouch. To get the fire going, in a heavy-duty zippered admin pouch from Savior Equipment, I have a half dozen firestarting implements. Tools to shave tinder, quick fire starting pucks, windproof matches and a trusty Bic lighter. If I can't start a fire with what's in that kit — I'm doomed.
Clothing & PPE: Your road home might be an uneventful cakewalk or it could resemble Mad Max: Fury Road, so pack some personal protection. A pair of sturdy gloves, like my 5.11 Hard Times 2 Gloves with reinforced knuckles protects you from cuts, abrasions, glass, and sharp corners as you climb over terrain. An N95 filtered face mask is helpful for dusty, smoky, particle filled environments, and reduces exposure to some airborne contagious viral elements. For clothing, I pack a "spare pair" of wool socks, pants, tee shirt, underwear, a lightweight windbreaker, and a shemagh scarf in a waterproof compression sack. Having an extra set of clothes is great in case you get soaked in a downpour, or if your clothing becomes contaminated in any way. The shemagh scarf is a versatile multitool, useful as a scarf to keep you warm, provide shade in the heat of the day, or to sling an arm if injured. If you don't usually wear sturdy, comfortable footwear, pack a pair of sneakers or hiking boots in your bag because it's hard to outrun an angry mob of cannibals in high heels.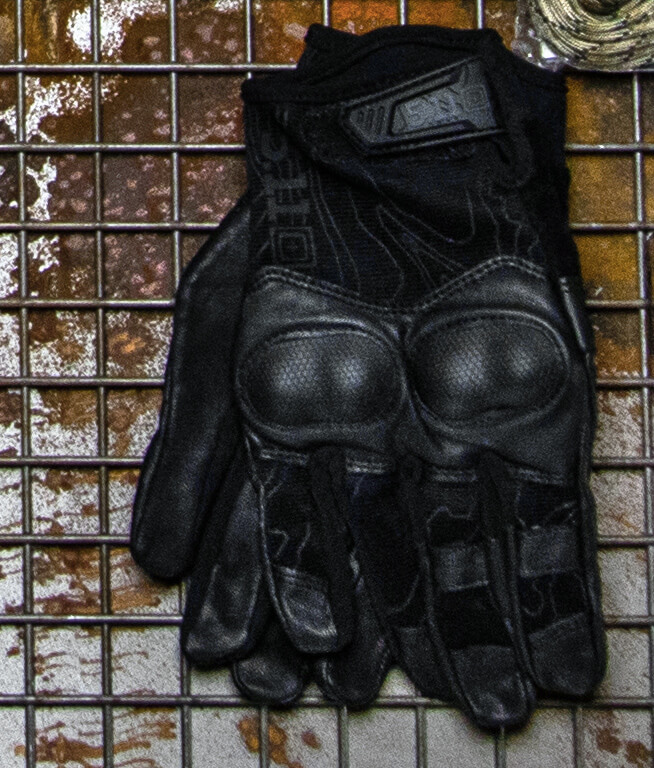 Hygiene & Personal Care: Beyond mere mortal comforts, a few key items can keep you sane and keep morale boosted on your journey. In a sealed ziplock baggie, I keep a small bottle of Purell Instant Hand Sanitizer, SPF 35 Sunscreen, chapstick lip balm, a toothbrush + toothpaste kit, and Dudewipes brand sanitary disposable wipes. The thin veneer of a polite society really is single-ply, as 2020's toilet paper shortage demonstrated.
Other Critical Tools
I break these "other tools" I choose to pack in the GHB down into a few simple categories: Illumination, Hand Tools, Cordage, Communication/Navigation and Self-Defense.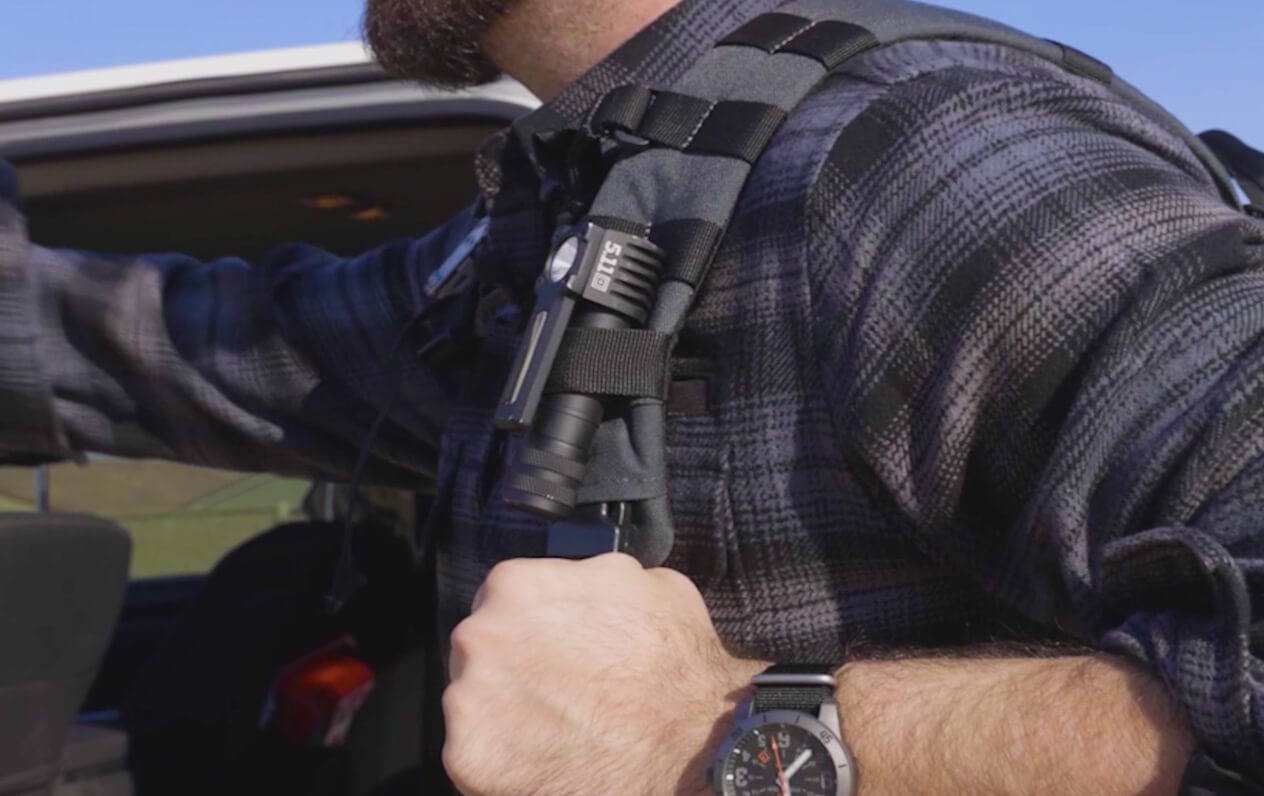 Illumination: In dark environments your risk of injury by bumping into, falling over, or accidentally alerting someone to your presence exponentially increases. Lights can also serve as a signal to others if needed, so keep that in mind and apply accordingly. My favorite light is the 5.11 HL-XR1 Headlamp/multifunction light. This multi-mode 1,000 lumen dynamo features a spot and flood lamp, and allows you to utilize it hands-free by wearing it like a headlamp with the included headband strap, or, like I have done, clip it vertically to a strap on your pack. I also have a 5.11 Response XR1 1031-lumens handheld flashlight and a half-dozen chemlights on deck as backups.
Hand Tools: I carry a single multitool, because as the name implies — it provides many tools. The 5.11 LE EMT Multitool was designed for first responders and features a plastic restraint/wire cutter, round plier, flat plier, magnetic spare bit holder for the screwdriver heads, a spring-loaded glass breaker, 1.5" Tanto blade (3CR13 steel), seatbelt cutter (3CR13 steel) and handcuff key.
Cordage: Tying up and securing your shelter, lashing items to your bag, repairing clothing, fashioning a belt, or tying up a combative road warrior … the list goes on. I have 100 Feet of 550 Paracord, five Heavy duty 18" zip ties, and a ripSPOOL Field Repair Kit in my bag. The latter contains 60' of 30-lb. test braided line, 50" of heavy duty repair tape, firecord lanyard, and a #16 sail needle.
Communication and Navigation: Phone service providers may be rendered useless during a critical incident. I keep two short-range Baofeng UV5RA hand radios with extended antennas in my pack, pre-programmed with local and national emergency alert channels. A USB smart charging cable and solar USB charger with flashlight capability velcroed to the exterior of my pack helps ensure I stay charged while on the go. A solar/hand crank emergency radio with a small LED flashlight and a button compass and printed street map(s) of all local areas kept in a clear plastic, weatherproof admin pouch complete my comms and navigation kit.
Self Defense: Ideally, you'll be on the road for 24 hours or less, avoiding confrontation at all costs. However, desperate people do desperate things in desperate situations. You must be prepared to defend yourself on the road. My EDC is the Springfield Armory Hellcat OSP loaded with Black Hills Ammunition 9mm Luger 124-gr. jacketed hollow points. I love the Hellcat as my EDC for all of the same reasons it makes for an excellent GHB companion: a micro-compact form factor, light weight, top slide serrations that are easy to rack in a hectic situation, 11+1 rounds capability, adaptive grip texture, and it's one of the guns I train with often. If things go sideways, I know I can count on it to perform.
The Bottom Line
A thoughtfully prepared GHB will give you the best chances of survival on The Road if it ends up looking like Cormac McCarthy's apocalyptic novel by the same name. A solid Get Home Bag is a key component to a well-balanced preparedness plan that will give you peace of mind when you aren't at home. Think of a GHB like a fire extinguisher; it's not a huge investment and will likely never need to be used … but it's better to have it and not need it, than need it and not have it.
Editor's Note: The 5.11 Tactical LE EMT Multitool has been discontinued by the manufacturer.
Please be sure to check out The Armory Life Forum, where you can comment about our daily articles, as well as just talk guns and gear. Click the "Go To Forum Thread" link below to jump in!
Join the Discussion
Featured in this video
Continue Reading
Did you enjoy this video?
200