A "Print-Free" 9mm? The Concealed Carry Contour EMP
October 12th, 2019
7 minute read
In addition to busily designing, testing and beginning the manufacture of its Editors' Choice Award winning Saint 5.56 AR-15 rifle, Springfield Armory also managed to come out with seven new pistols for 2017. Our favorite — and one that we predict will be a huge success — is their new EMP 4-inch Concealed Carry Contour 9mm 1911 ($1,220).
With its bobtailed mainspring housing to greatly reduce "printing" when work under light garments, this single-stack 1911 was designed expressly for concealed carry. Yes, it's a 9mm, but with all the ultra-performance 9mm defensive ammunition available today, that's not a handicap. Its 9mm chambering provides a number of benefits that permit it to be truly optimized for concealed carry — like a smaller and thinner frame and slide, and lighter weight, both loaded and unloaded, than a 4-inch barreled 1911 chambered in .45 ACP.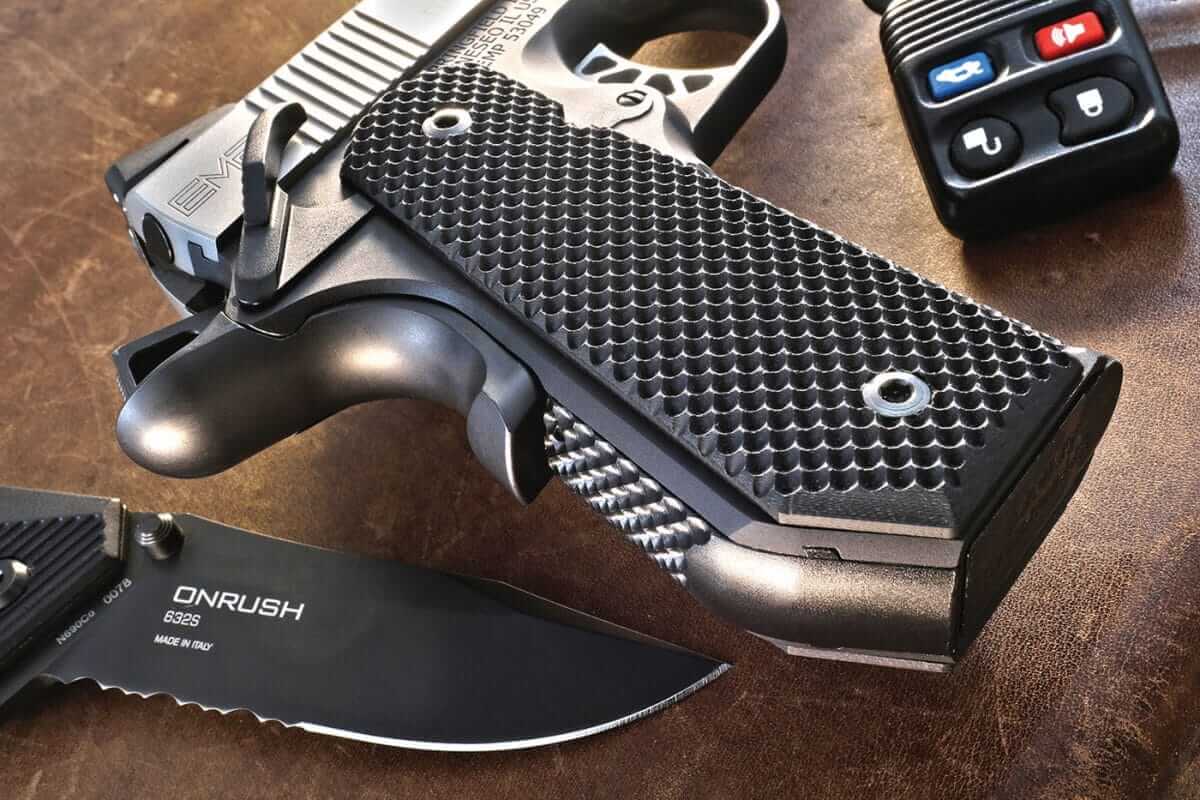 Springfield Armory lists the EMP's empty weight with magazine as 30.5 oz., but our evaluation pistol tipped the scales of our Pitney Bowes certified postage meter at a half an ounce less — 30.0 oz. on the dot. It comes with three blued-steel, flush-fit magazines of 9-round capacity. Ten rounds (9+1) of Hornady 135-gr. Critical Duty ammunition will add 4.5 oz., yielding a fully loaded carry weight of 34.5 oz. Dimensions are 7.5″ L x 5.5″ H x 1.5″ W, the maximum width being measured from the outside edges of the ambidextrous safety levers. Width is 1-1/8″ at the grips, and 15/16″ at the slide.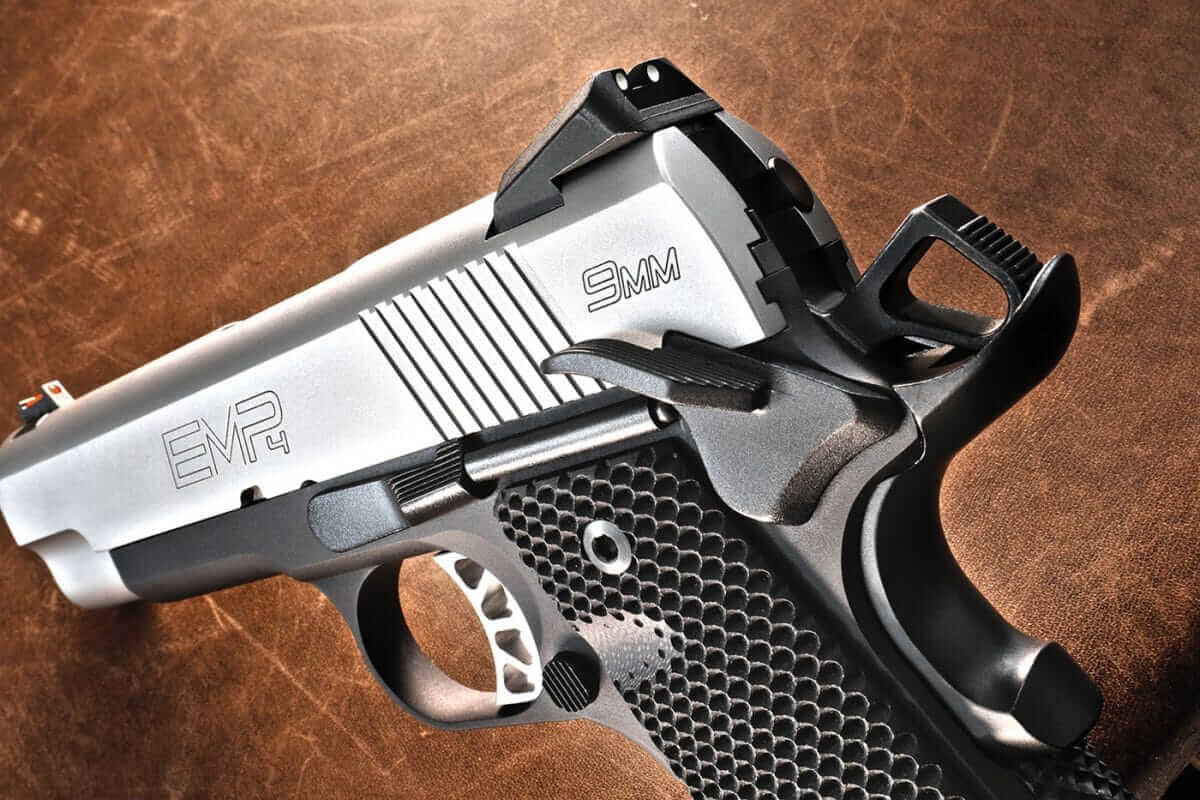 The Springfield Armory EMP 4-inch Concealed Carry Contour 9mm 1911 is a very handsome piece. It features a black, hard-coat anodized, forged aluminum alloy frame with a pronounced bobtail at the bottom of the mainspring housing to reduce printing when concealed, a forged stainless steel, matte-finished slide with rear-only cocking serrations, an extended beavertail grip safety with tactical (or speed) bump to ensure full depression and a deep pocket in the top that surrounds the rear of the ventilated Commander-style hammer under recoil, completely eliminating any chance of "hammer bite."
The bushingless, Match Grade, stainless steel bull barrel is 6-grove rifled at a 1:16" LH twist rate, and has a fully supported chamber, polished feed ramp and loaded chamber witness hole in the top rear of the barrel hood. The barrel is retained, and the slide is powered by a full-length guide rod with dual recoil springs. The dust cover is fully rounded, preserving the classic 1911 profile, and eliminating the possibility of an empty equipment rail snagging on the draw, a not infrequent occurrence with some holsters, especially when carried behind the hip or in the small of the back. The scalloping pattern on the G10 grips provides excellent grip traction, and is made all the more effective by the same scalloping pattern being machined into the front strap and the rounded surface of the mainspring housing above the bobtail and below the beavertail grip safety. The left grip panel is relieved from roughly the center to its front edge at the level of the non-reversible magazine release button to provide easier thumb access. Even so, all testers still had to break their firing grips to depress the mag release button far enough to drop the mag. That problem could be eliminated with a somewhat longer mag release button that projects farther off the frame. Empty magazines dropped free once the release button was fully depressed.
As noted, the EMP is equipped with ambidextrous safety levers, which snapped crisply — and with only moderate effort — on and off safe. Except for the sights, the round-top slide is completely free of any serrations, and features a widened, lowered and flared ejection port for enhanced reliability. The slide is fitted with dove-tailed front and rear sights. The low-profile, combat rear sight is adjustable for windage by loosening a set screw with the provided Allen wrench and drifting it left or right as required. It features two white dots with a square sighting notch between them. The front sight is fixed in its dovetail, and comes with an orange fiber-optic light pipe installed. Extra two-inch sections of both bright green and bright red light pipe are included in case of damage to the installed light pipe, or if you just want to replace it with a different color. Detailed instructions on the quick and simple replacement of the front light pipe are provided in the owner's manual.
The trigger is another high point of the EMP 4-inch Concealed Carry Contour. It's wide and ventilated, with a serrated flat front face. Less than 1/16th inch of effortless travel puts you on the sear — a very obvious hard wall. Add a little pressure and nothing happens — no trigger movement whatsoever. Then all of a sudden the pistol fires. It's a surprise every time, and the kind of trigger I covet. As measured on our Lyman digital trigger pull gauge, the trigger broke like glass at an average pull weight of 4 lbs. 11 oz. If this 1911 is anything like most quality 1911s, trigger pull weight will decrease with use, likely settling in between 4.00 and 4.25 oz. Not too light to represent an unreasonable risk, but light enough to be able to shoot accurately.
Take-down and reassembly of the EMP 4-inch Concealed Carry Contour — as is the case with other Springfield compact pistols — is a little different. It requires the use of an included "flat wire takedown piece," but it's not difficult and the manual provides excellent, illustrated instructions.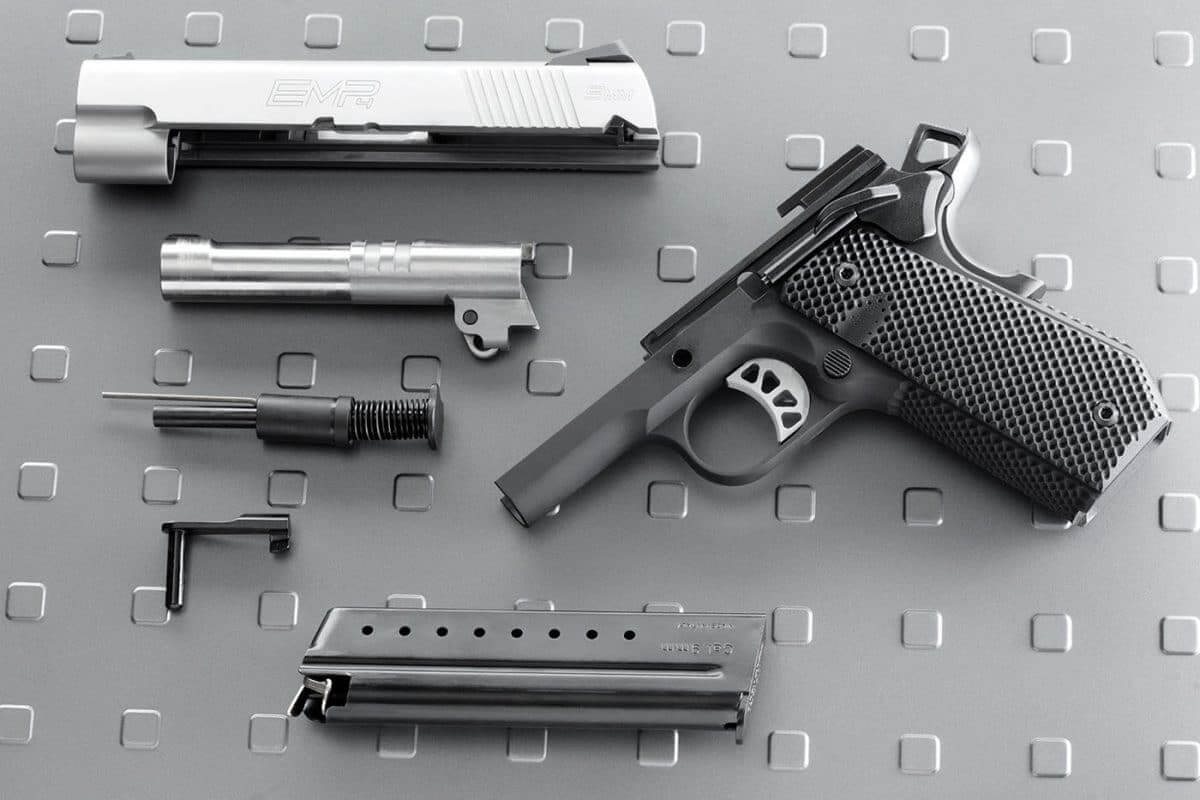 To assess its "print profile" under a light vest and a light jacket, we carried the EMP 4-inch in a Crossbreed SuperTuck Deluxe inside-the-waistband holster. The bobtail mainspring housing really works, and no one in the office could tell I was carrying, even when told them I was. The Crossbreed made the EMP amazingly comfortable to carry, with no chafing or pinching, and it felt much lighter than the Glock G29SF 10mm I carry regularly, even though it weighs 3 oz. more empty. But that G29SF is always stoked with ten rounds of 180-gr. 10mm, so that probably accounts for the lighter feel of the EMP.
At the range we received a number of surprises, almost all of them good. We expected the EMP to be pleasant to shoot, and that was certainly the case. The trigger reach was perfect for me, with the distal joint of my trigger finger falling directly over the center of the trigger — right where it should be. We put 100 rounds on steel plates at 25 yards, finding the pistol's balance to be excellent, perceived recoil to be readily controllable and muzzle rise to be minimal. You expect a problem or two with a brand new pistol as tight as the EMP, but not a single malfunction was encountered during testing; which has also been our experience with the various other iterations of the EMP we've tested in the past. We were also pleased to find that the bobtail mainspring housing didn't dig into out palms when firing like the squared-off mainspring housings of traditional 1911s do.
Also mirroring past experiences with Springfield's EMP line was this pistol's mechanical downrange precision. That is to say, it was outstanding. Tested with 115, 124 and 147-grain bullet weights from various manufacturers — both in FMJ and hollowpoint construction — printing a five-shot, 25-yard group that measured less than two inches with most loads was a goal handily met with the EMP. It's consistency was flat-impressive. The best group during testing, however, was fired with Aguila's 124-grain FMJ load (originally produced for the Mexican military and law enforcement), and measured 1.25-inches on the dot; tough to complain about performance like that.
If you're a fan of 1911 cocked-and–locked carry, you'll be as delighted with the EMP 4-inch Concealed Carry Contour 9mm 1911 as we were. This is one very nice little pistol. Other than the too-short mag release button, the only item on our wish list would be an option for Tritium/fiber optic night sights, but they're easy enough to obtain and install.
In addition to the supplied accessories noted above, the EMP 4-inch Concealed Carry Contour 9mm 1911 comes with a high-quality lockable hard case with slit-foam cut-outs and Springfield's Original Owner Limited Lifetime Warranty.
Editor's Note: This article was written by Bill Battles and shared with us by On Target Magazine.
Join the Discussion
Featured in this article
Continue Reading
Did you enjoy this article?
98