Review: EMP Concealed Carry Contour 9mm
July 2nd, 2021
6 minute read
The first thing I noticed when I picked up the 1911 EMP Champion Concealed Carry Contour (CCC) for review is that it felt wrong. Well, wrong isn't the right word. Different is more like it. It felt smaller in my hand compared to a classic 1911. The grip is thin and not as wide or long. It felt different because it is, different, compared to a standard-size or even a Commander-size 1911. That's because the EMP Concealed Carry Contour was designed for the 9mm cartridge.
The 1911 platform was originally designed around the .45 ACP cartridge, and while the platform is fairly easy to adapt to 9mm, but it can be like a little guy in a big guy's suit. The .45 ACP round is longer than the 9mm, and this results in a frame that is longer fore to aft than is needed for the smaller round. This is especially apparent when it comes to concealed carry, as well as to shooters with smaller hands.
A full-sized 1911 chambered in 9mm can be heavy to tote around. I've been through the whole comfortable versus comforting lecture, and the fact is I want a handgun that is comfortable — otherwise known as lightweight. I want a handgun that is comfortable to carry. And first and foremost, I want a handgun that is easy for me to shoot, and shoot well. The EMP Concealed Carry Contour checks all those boxes for me.
Why I Like It
Let's face it, we live in a polymer frame handgun world, and that is fine. The problem I have, and other 1911 guys and gals do too, is the triggers and grip angles of some plastic blasters. They are not a 1911, with its near perfect 11-degree grip angle. Also, the 1911 trigger is what many shooters think is perfect — a sliding trigger that is pressed back and can be fine-tuned for bullseye shooting to combat scenarios.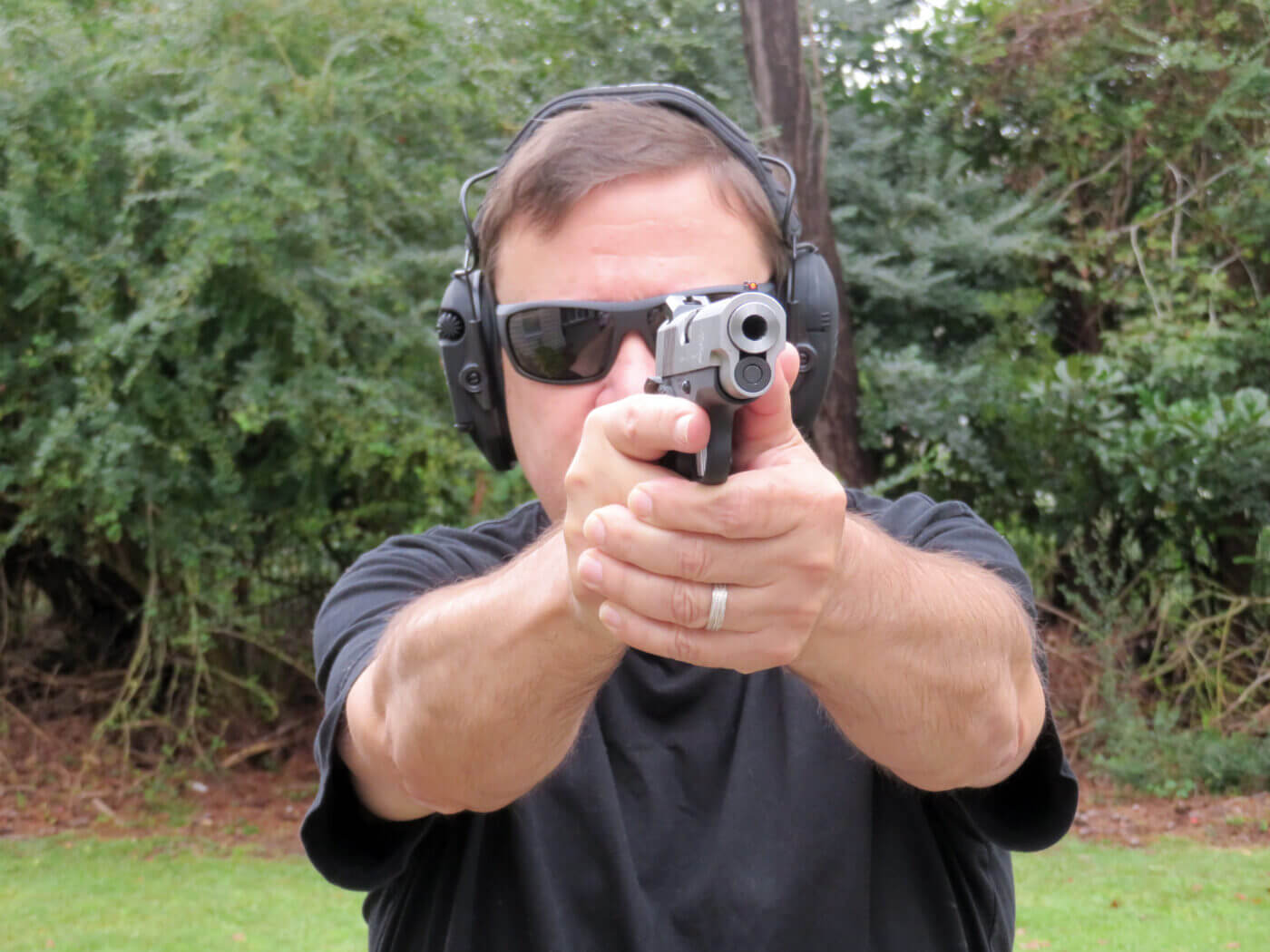 The engineers at Springfield Armory took those positive traits found in a 1911, and then downsized the frame to fit the 9mm round. The EMP was built around the 9mm cartridge, and hence it's a 1911 platform ideal for CCW.
Recently, I had a chance to try out the EMP Concealed Carry Contour pistol. First, let's look at the frame and grip of the EMP CCC. Like all EMP variants, the forged aluminum frame of the pistol was made for the 9mm round. It is smaller and more compact and offers users a grip with less girth, so it is easier to grasp and control wining shooting. And that lightweight frame gets you down to a total weight of just 31 oz. for the pistol.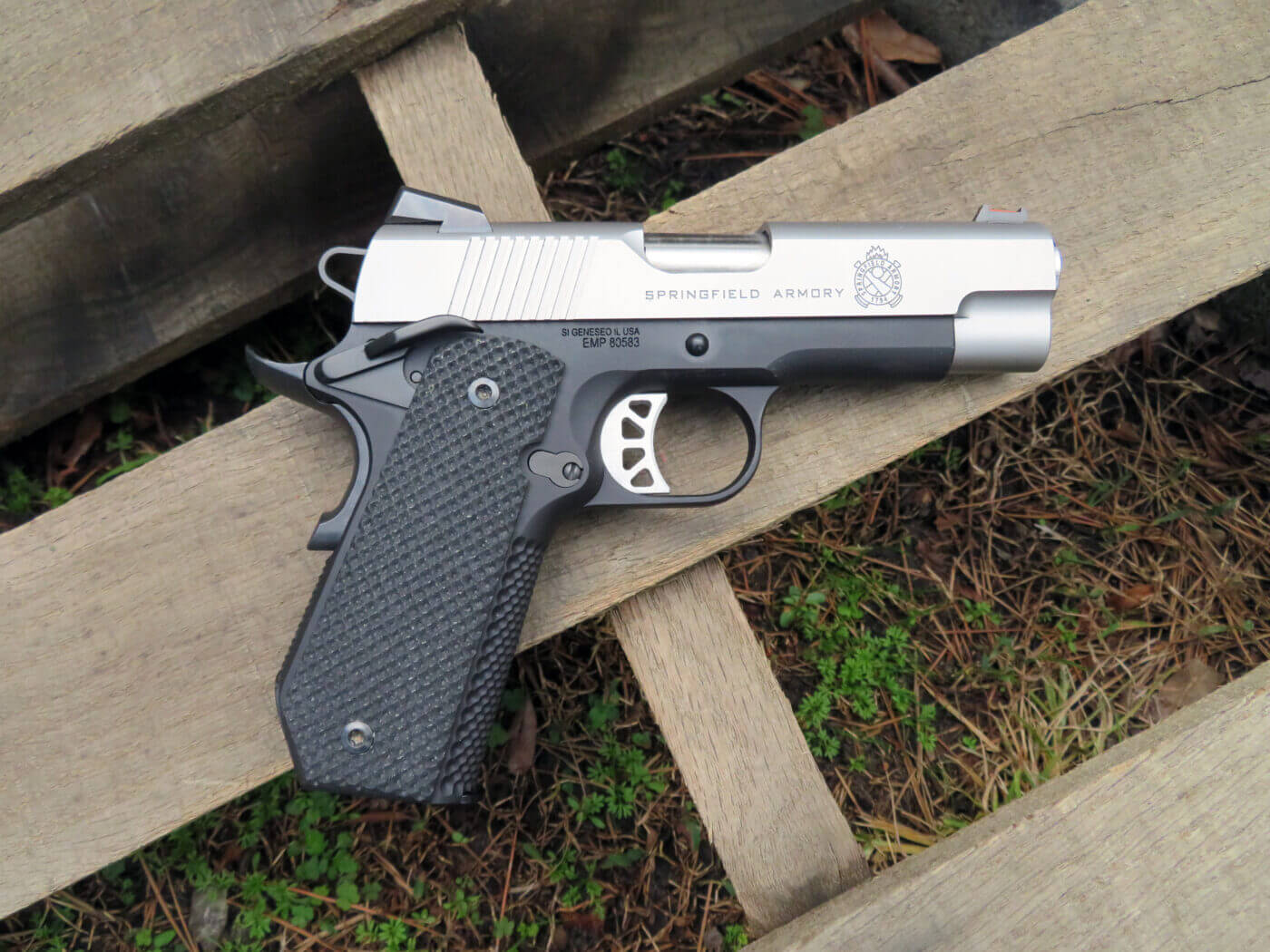 A golf ball-type dimpled texture is applied to the front and rear grip straps along with the G10 grip panels. This texture offers excellent adhesion with none of the raspy, flesh-eating characteristic of more aggressive textures. Plus, the grip's butt is bobbed. That hard edge of the rear grip strap is lobbed off, which is a common custom gun trick to make a 1911 easier to conceal carry. Check that box.
Second, the EMP CCC design combines conceal carry features like a low profile white-dot rear sight and fiber optic front. The contrast between the red front sight and white rear sight dots is obvious, making the front sight really pop. The focal point front sight makes aiming much easier. The sights sit atop of a forged stainless steel slide housing a 4" bushingless bull barrel, giving you a great balance of shootability and concealability.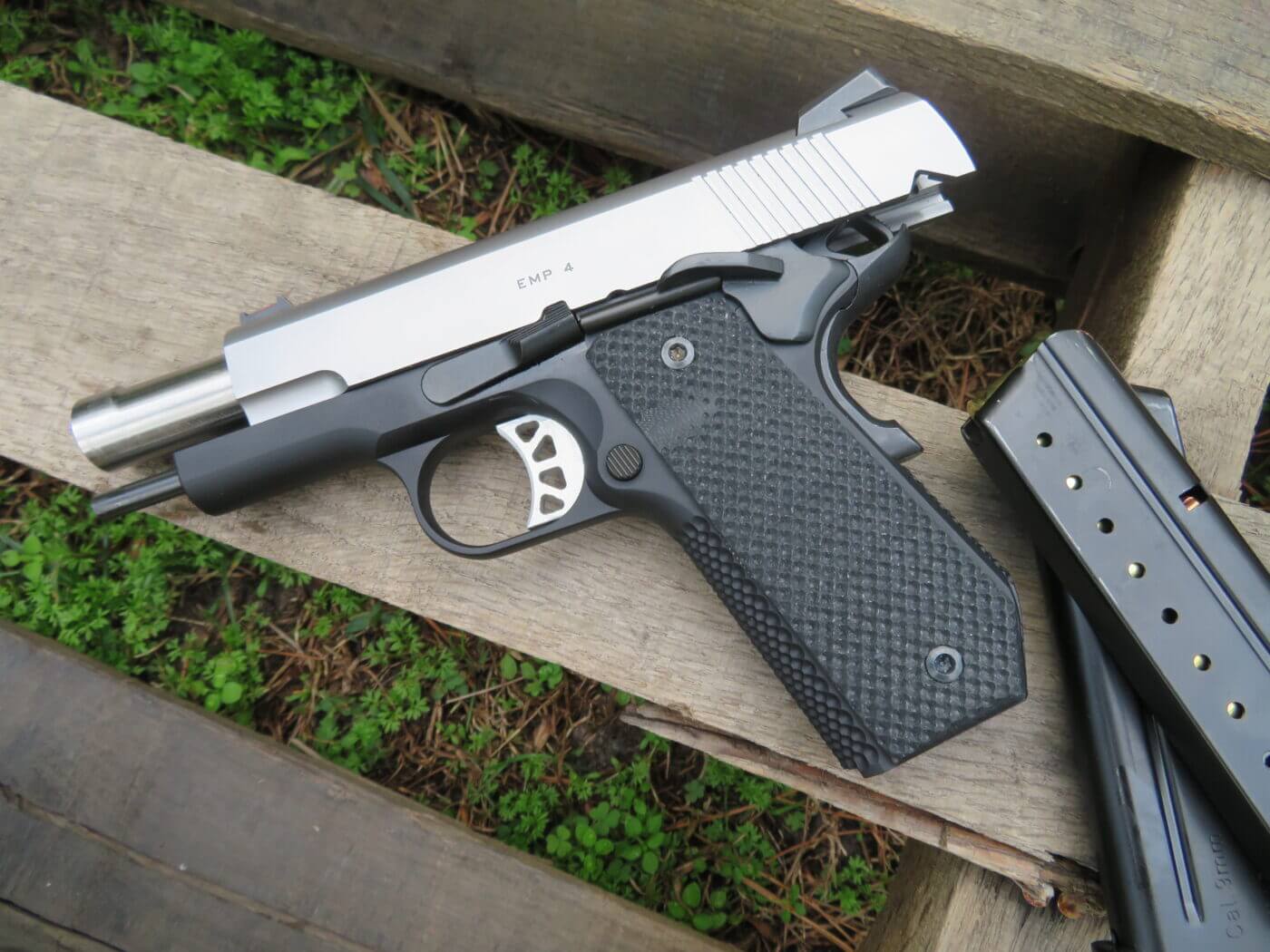 The controls, like the ambidextrous safety levers, are large and offer a positive experience when flicking the EMP on and off safe. The magazine release button is not too tall but rather just right, and features checkering to ensure a positive mag dump. That box checks.
Third is the usability. The EMP CCC is an easy pistol to operate and fire. The trigger pull weight on mine measures 5.8 lbs. There is a tad bit of take up in the trigger, and it breaks consistently. In my opinion, the pull weight is perfect for a defensive-style pistol. It is right in the sweet spot between too light and too heavy. The beavertail is blended into the frame with smooth edges so there is no discomfort shooting, even with hotter loads.
Range Time
I recently ran a variety of bullet weights and types through the EMP CCC, and it chewed through all of it with no issues. I ran the first three magazines through it producing a group the size of a fist that punched through the cardboard target. The crisp single-action trigger and large sights helped me find my target quickly and hit it. It's a natural pointer. Yes, this 1911 was checking all the boxes.
The beavertail is blended into the frame with smooth edges so there is no discomfort shooting even with hotter loads. Recovering from recoil with the EMP is fast. I found myself reducing my split times as I ran through the Failure Drill. Those two initial double taps to the chest were easy to pull off, and I noticed my split time reducing. My final head shot was surgical thanks to the trigger. Check.
The fourth and final box for me is concealed carry. I use a CrossBreed Reckoning holster in appendix carry. The holster is a hybrid, combining a Kydex and leather holster and a Kydex magazine holder. Metal clips allow easy attachment to my belt.
The holster also features the UltiClip Crux, which is like a polymer wing or tab attached to the side of the holster. This tab applied leverage to rotate the holster and gun into my body for less print and better concealment. This is an excellent set-up. The EMP snaps into the holster and has fast, slick feel when drawing. It is also comfortable to wear.
By the way, I use CrossBreed's Crossover gun belt. This is a sturdy gun belt with a slide-style buckle for a large range of size adjustments, meaning there are no holes in the belt. I've been using these belts for years as they are discreet yet sturdy, so my pistol stays put and is comfortable. Check and check.
EMP Concealed Carry Contour Specifications
| | |
| --- | --- |
| Chambering | 9mm |
| Barrel | 4″ |
| Weight | 31 oz. |
| Overall Length | 7.6″ |
| Sights | Fiber optic front, white dot rear |
| Grips | Thin-line G10 |
| Action | Semi-auto |
| Finish | Two-tone |
| Capacity | 9+1 (three) |
| MSRP | $1,220 |
Conclusion
The EMP checks all the boxes for me. It is a gun that combines the classic charm of the 1911 with cutting-edge design features ideal for concealed carry 9mm.
Editor's Note: You may wish to check out the newest version of this pistol in Jeremy Tremp's review of the Ronin EMP. Also, please be sure to check out The Armory Life Forum, where you can comment about our daily articles, as well as just talk guns and gear. Click the "Go To Forum Thread" link below to jump in and discuss this article and much more!
Join the Discussion
Featured in this article
Continue Reading
Did you enjoy this article?
224