For a pistol designed more than a century ago, the 1911 has had an incredible lifespan and service record. While the 1911 proved itself as a combat pistol in military circles and is an amazing platform for target shooting, it's always been a bit of a tougher fit for a concealed carry CCW role. Sure, you can do it, but a big pistol designed around the .45 ACP cartridge can be a chore to conceal easily.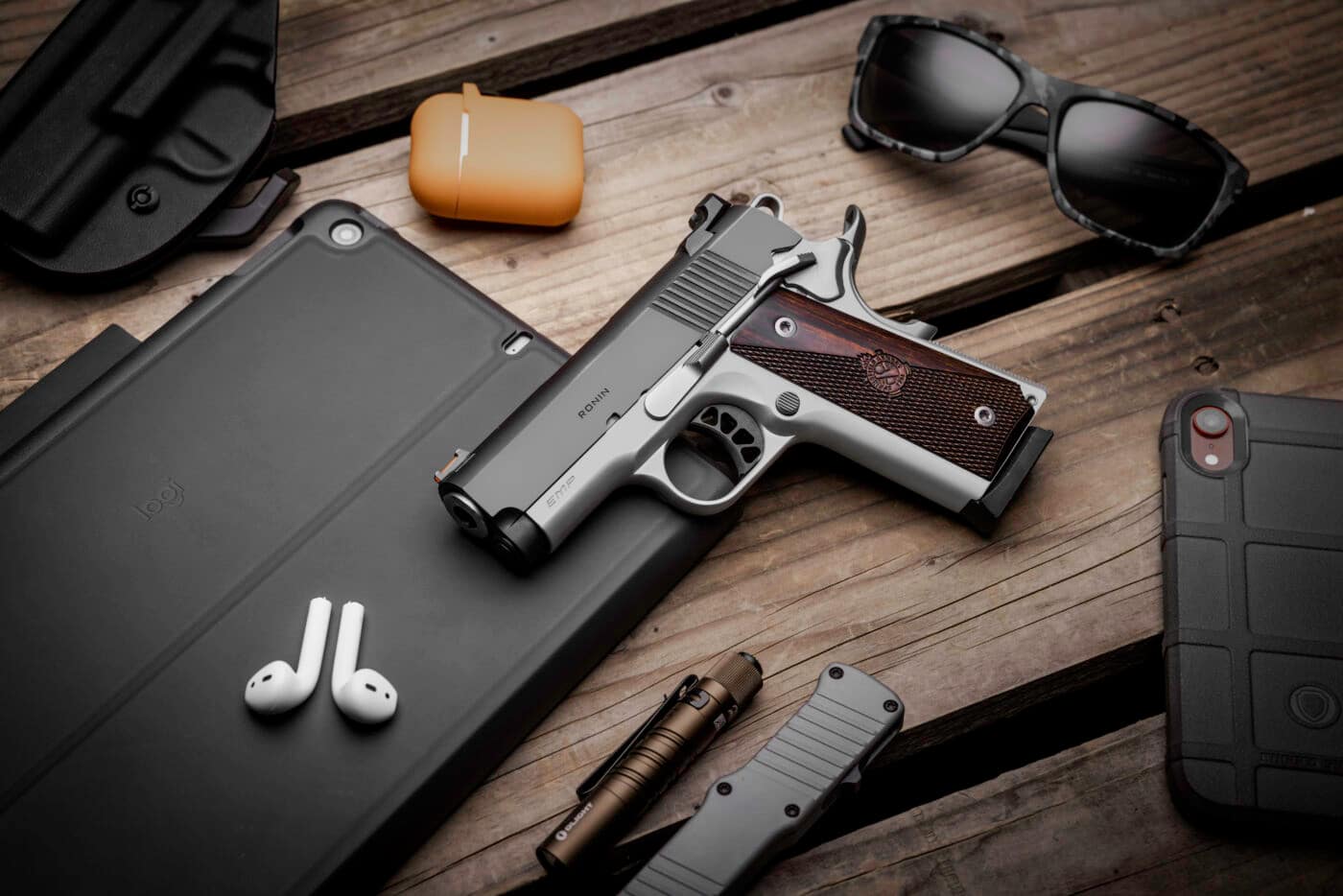 Enter the new Springfield Armory Ronin EMP, or "Enhanced Micro Pistol", built from the ground up for the 9mm cartridge. The Ronin EMP offers a compact and comfortable 1911 designed for CCW. The smaller-sized frame offers shooters a dependable concealed carry pistol with enhanced gripping ergonomics and very concealable dimensions.
A Sound Source
I have always loved the design, aesthetics and shootability of the 1911 platform. Certainly, some of the best triggers in the world can be found in custom 1911 pistols. After all, the 1911 has been exceedingly popular for more than 100 years, and it's still being improved upon to this day. In fact, the EMP is a perfect example of this.
When I received word that Springfield was releasing a Ronin version of their popular EMP line, it immediately piqued my interest. In fact, there are two — a 3" version and a slightly larger 4" model with increased capacity. The Ronin EMP 3" pistol weighs in at 24 oz. empty and has an overall length of just 6.6". Capacity of the included magazine is 9+1 of 9mm. The Ronin EMP 4" weighs 27.5 oz. empty and has an overall length of 7.6". Capacity is 10+1 in its taller grip frame.
As with the earlier Ronin pistols, the two Ronin EMP versions have an attractive two-tone finish, with their slides being hot salt blued carbon steel, and the lightweight aluminum frames sporting a satin silver Cerakote finish. Hybrid checkered/smooth wood grips, magazines with bumper pads, skeletonized hammers with extended beavertail grip safeties, fiber optic front sights with Tactical Rack white dot rear sights, and more round out the pistols' appealing features.
If you are familiar with the current EMP line, then you will be right at home with the Ronin EMP variant. The Ronin EMP is the next step in the EMP line, combining many of the popular features and styles of the Ronin family with the unique patented EMP format.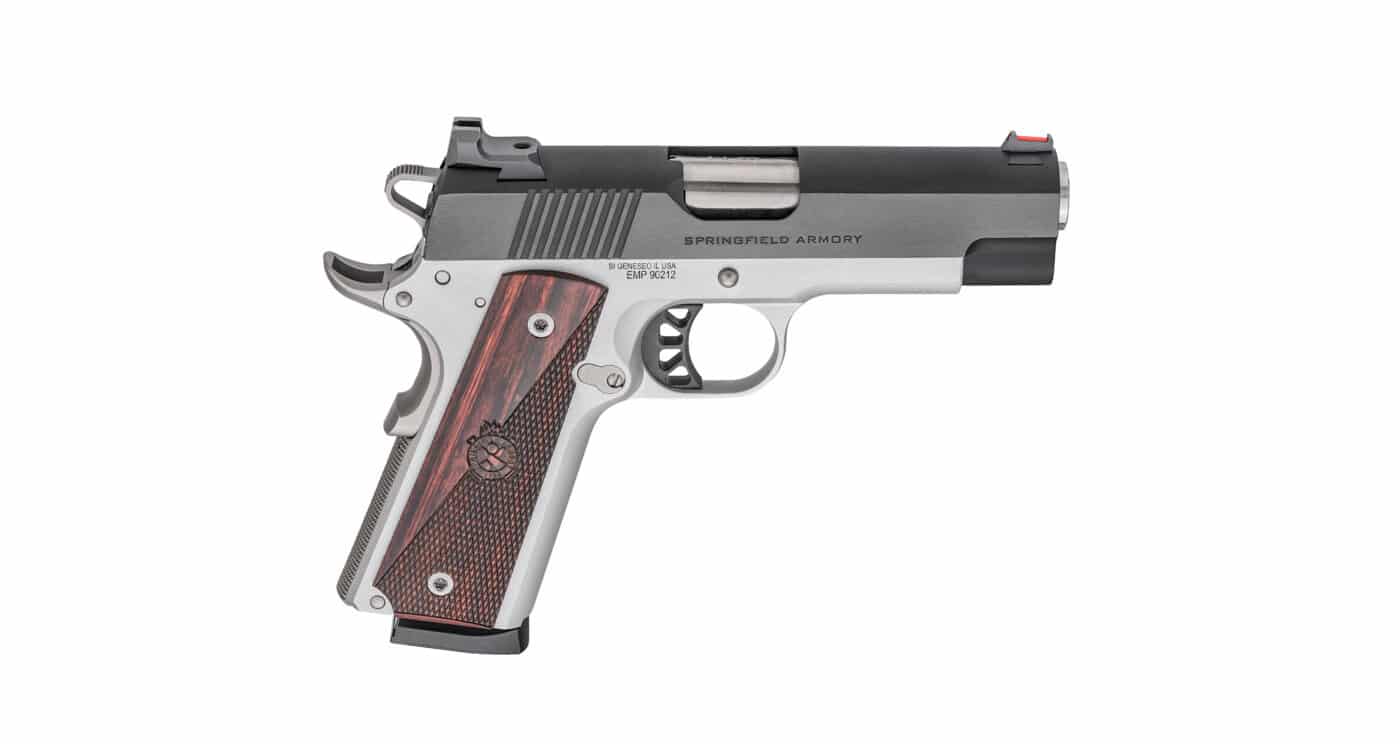 Coming Around
The Ronin EMP was designed to be as concealable as possible. The frame, slide and numerous other parts were physically downsized with the 9mm cartridge in mind. This is no .45 ACP 1911 simply chambered in 9mm. The result of this downsizing of the gun to fit the shorter 9mm cartridge length is a remarkably small 1911, and one with a reduced grip circumference.
In addition to making it easier to conceal, it also changes the handling and ergonomics of the EMP compared to a standard 1911. With uncompromising design and cutting-edge manufacturing, Springfield Armory was able to create the perfect 9mm for those looking to conceal carry a 1911 styled pistol.
The first thing I noticed when I picked up the Ronin EMP was how good it felt in my hands. The grip was extremely comfortable and easy to maintain. Accuracy was pinpoint, and the recoil was very controllable by my having maximum grip on the pistol. The wooden grips Springfield chose are very classy looking, and complement the two-tone finish very nicely.
The grips are a hybrid style, with checkering toward the front and a smooth surface toward the top and back. This made for great gripping surface where my fingers needed it, while not chafing parts of my hand that didn't need the additional grip. The mainspring housing is checkered, which also helped increase my grip — even with sweaty hands. The extended safety lever was great for quickly finding it from the draw and disengaging it once in target. Its tactile on and off was very discernable, even under stress shooting.
At the Range
During my range time, I had a Mitch Rosen leather outside-the-waistband (OWB) holster from the Springfield Armory Store and a Vedder Kydex inside-the-waistband (IWB) holster. Both were extremely comfortable to conceal and provided great retention for an all-day carry. I ended up using the Vedder IWB holster on the range as it was much closer to what I normally carry.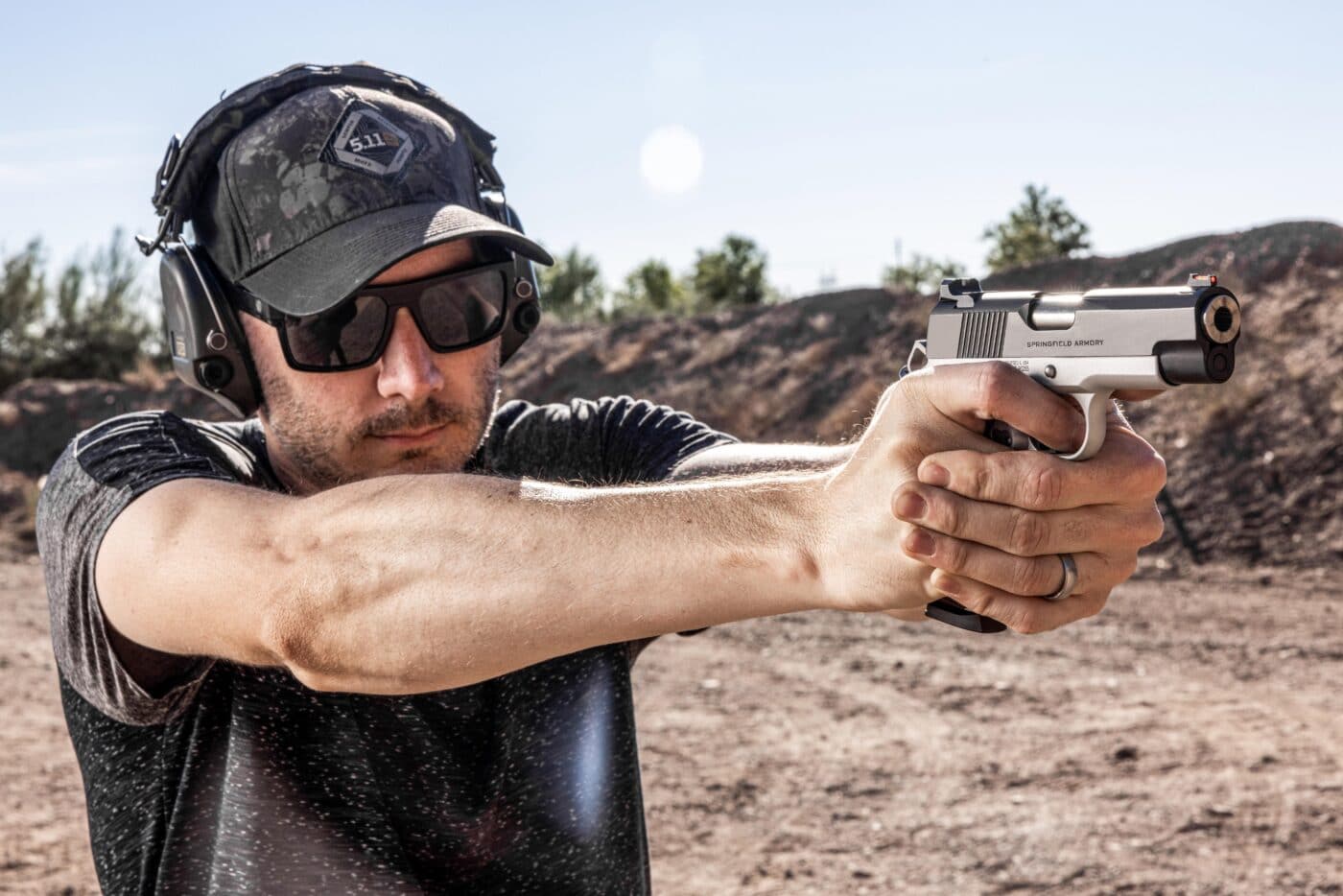 As a guy who generally conceals a Springfield Hellcat, I could really appreciate the ease of shooting the Ronin EMP. Small polymer guns are fantastic for many reasons, but let's face it — they have more perceived recoil because of their packable small sizes and light weight. The Ronin EMP 3" felt very similar to carrying my Hellcat, but it was even more controllable. As a result, I was quicker on target and even more accurate than I am with the Hellcat, and that one is a shooter! And despite its compact-sized frame, it still held 9+1 rounds of 9mm.
I was also able to test the 4" version of the Ronin EMP. The extra length on the grip allows for 10 rounds of 9mm, and the longer slide made the pistol even more controllable. I think the 4" will be compelling to those who prefer to carry a bit larger of a pistol. However, it is still a light, compact pistol that would be very easy to conceal.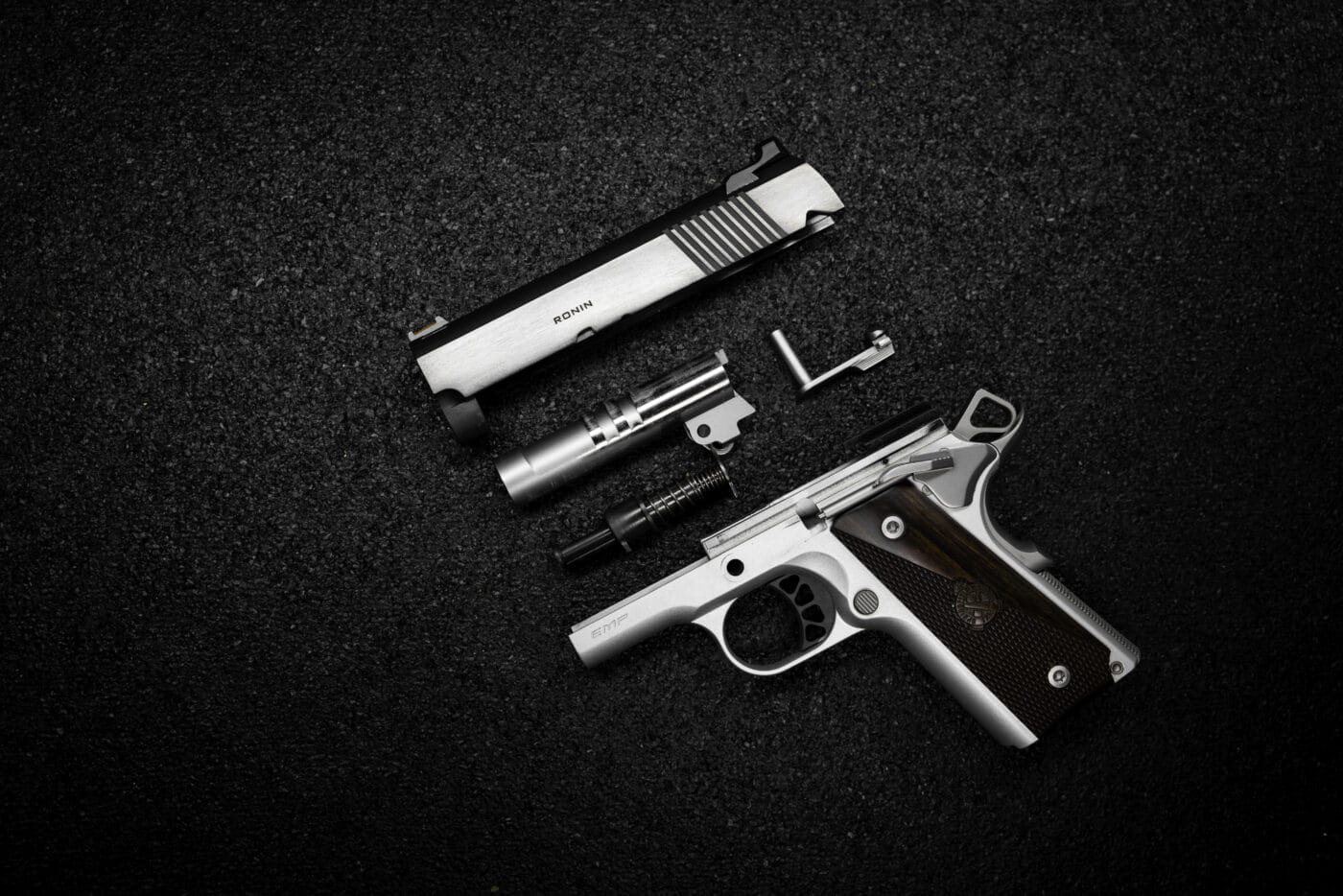 My experience shooting the Ronin EMP was a pleasure. I was able to do some full-speed draws, rapid-fire drills, reloads and accuracy testing. The EMP surprised me every step of the way, with it being extremely pleasant to shoot for a CCW pistol. For such a small gun, the recoil was negligible, which made quick follow-up shots easy and intuitive.
I don't normally run safeties on my CCW pistols, but the safety never got in my way, even on a speed draw. It was natural to quickly flip off as I acquired the target. Reloads weren't much slower than my Hellcat, either. The slightly beveled magazine well is a nice touch and helps when hitting the gas pedal. The all-metal construction of the Ronin EMP really helps such a small pistol stay on target when performing rapid-fire drills or quick follow-up shots, which are paramount in CCW training.
As noted earlier, Springfield Armory includes a dual white dot Tactical Rack rear sight with a fiber optic orange front sight post. The combination makes for fast sight acquisition and easy return to target on rapid-fire drills. The orange front sight was bright and easy to pick up even in fading light conditions. Also, that rear sight is very handy for racking the action of the pistol if you do not have access to your support hand.
The carbon steel slide and stainless steel barrel are all made from forged steel for strength, and the frame of both pistols is made from a lightweight forged alloy. The beautiful satin Cerakote finish provides the pistol with an elegant yet durable finish. The barrels of both pistols are bushingless bull barrel profiles with fully supported feed ramps. The slide is made from forged carbon steel with a classy, blued finish.
The pistols come with one Mec-Gar magazine, designed specifically for the EMP pistol. Both magazines with both pistols proved to be extremely well made and supremely reliable. In my testing, the magazines ran flawlessly, even after being dropped in the fine dirt and rocks multiple times.
Specifications
Here are the specs on the Ronin EMP pistols:
Springfield Ronin EMP 3″ Specs
| | |
| --- | --- |
| Chambering | 9mm |
| Barrel Length | 3.0″ |
| Overall Length | 6.6″ |
| Weight | 24.0 oz |
| Sights | Fiber optic front, Tactical Rack rear |
| Grips | Wood |
| Action | Semi-automatic |
| Finish | Two-tone |
| Capacity | 9+1 (one magazine included) |
| MSRP | $899 |
Springfield Ronin EMP 4″ Specs
| | |
| --- | --- |
| Chambering | 9mm |
| Barrel Length | 4.0″ |
| Overall Length | 7.6″ |
| Weight | 27.5 oz |
| Sights | Fiber optic front, Tactical Rack rear |
| Grips | Wood |
| Action | Semi-automatic |
| Finish | Two-tone |
| Capacity | 10+1 (one magazine included) |
| MSRP | $899 |
Conclusion
All in all, it's always great to see the innovation coming from Springfield Armory. The quality of the designs are evident and well thought out in every product they ship in my experience. The Ronin EMP, both in the 3" and 4" versions, fills a very unique space in the CCW market. If you have a chance to get some trigger time behind one of these pistols, I would highly recommend it.
Editor's Note: Please be sure to check out The Armory Life Forum, where you can comment about our daily articles, as well as just talk guns and gear. Click the "Go To Forum Thread" link below to jump in and discuss this article and much more!
Join the Discussion
Featured in this video
Continue Reading
Did you enjoy this video?
274