If you are like me, you carry a 1911 for self-defense. Having the right ammunition to go with my Springfield Armory 1911 EMP is important to me. It needs to be reliable, shoot accurately and have the ability to put an attacker down quickly.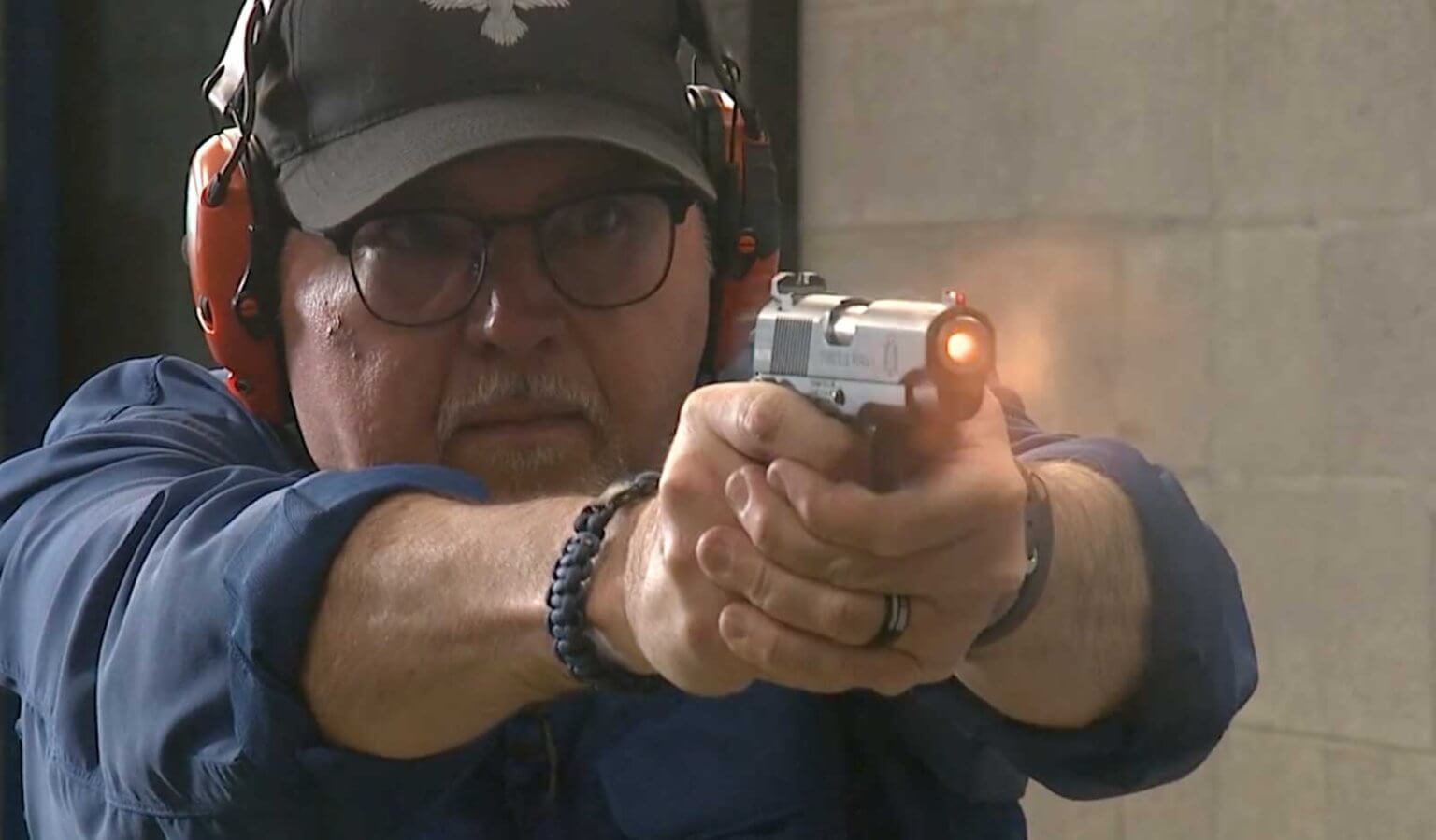 Since the Springfield EMP is chambered for the 9mm, I have a lot of choices when it comes to defensive ammo. But, I want to make sure that it will function in a compact 1911.
I know some people believe that chambering a 1911 in 9mm is treasonous. I appreciate the position, but I don't think the distinction between 9mm and .45 is as great as it used to be. In fact, for a better understanding of where things are today you should read the 9mm vs. 45 ACP article that Team Springfield wrote.
In this video, I head to the range with my EMP and a Compact Range Officer that is also chambered in 9mm. My goal was to find out if the Federal American Eagle ammo made for a good practice round and to test the same company's 124 grain HST load.
Compact Range Officer
As stated above, I wanted to test the ammo in both guns. However, in the video, I only captured me shooting the ammunition through the Range Officer Compact 1911. Trust me when I say the results were nearly identical with both pistols.
If you are not already familiar with the 1911 Range Officer Compact, it is an affordably priced pistol with features that are normally found only in more expensive handguns.
It is obviously based on the original John Moses Browning design in a package designed for concealed carry. It has a compact aluminum frame that brings the overall height down to just 5″ while still accepting 8-round magazines.
The bull barrel is 4″ long and has a fully supported chamber. Made of forged stainless steel, the barrel is considered match grade and has a 1:16″ twist.
I love the look of these pistols with the Parkerized slide, black hardcoat frame and the crossed cannons Cocobolo grips.
Serious Ammo
Designed for law enforcement and self-defense use, the Federal HST is one of the premier ammunition lines ever developed for handguns. The company makes loads in a wide range of handgun calibers including the 9mm.
In this evaluation of compact 1911 defensive ammo, I selected the 124 grain standard pressure load. Federal also makes a +P, or higher pressure, version of the load. There is a velocity increase of 50 fps, which can make a difference.
Nevertheless, I have seen the standard pressure ammo do extremely well in the field. I am comfortable carrying it if it functioned properly in my Range Officer and EMP pistols.
For more information on how a hollow point bullet works, check out our article on the "Anatomy of a Defensive Bullet."
Practice Load
American Eagle is the budget-friendly line of practice ammo made by Federal. While the 124 grain 9mm load is not a ballistic match for the HST load, the two are close enough that practice with the one will improve your performance with the other.
You can also get American Eagle loads with different bullet weights and in other calibers.
On the Range
The real proof to ammo is on the range. So, that is where I headed.
I fired several boxes of both American Eagle and HST loads through the EMP and Range Officer Compact. I was pleased with how well each shot.
To start with, all of the ammo was 100% reliable in both pistols. This is a "must" for me. If the ammunition will not fire and cycle properly in a compact 1911, it is useless as a practice and defense load.
Following that is accuracy. For me, most guns and ammo will shoot better than I am capable of doing. Such are the frailties of man. Even so, I am able to put the bullets where they need to go under stress.

In a non-stress environment, I was able to make very small groups with the ammo. In fairness, the HST did seem to make tighter groups – improved accuracy is part of what you are paying for. I was also able to group shots very well with the American Eagle load.
Bottom Line
Both lines of ammunition worked well for me. If you are looking for a 9mm defensive load for your 1911, I highly recommend the Federal HST line. It is reliable and accurate.
Contrary to the long standing beliefs about the .45, the 9mm is a great defensive cartridge.
Further, the American Eagle FMJ loads do very well as a stand in during practice sessions. While they do not offer identical duplication to the HST ballistics, they are close enough that any misses would be your fault and not a problem with the ammo.
Join the Discussion
Featured in this video
Continue Reading
Did you enjoy this video?
65