A Tiny Titan: The Olight Odin Mini
December 13th, 2020
5 minute read
Hello fellow tac-light lovers. Do you have an oversized tac-light that just seems to get in your way? Well ladies and gentlemen, you're in luck. Olight has came out with the Odin Mini, a small tactical light that mounts directly to your rifle or pistol of choice.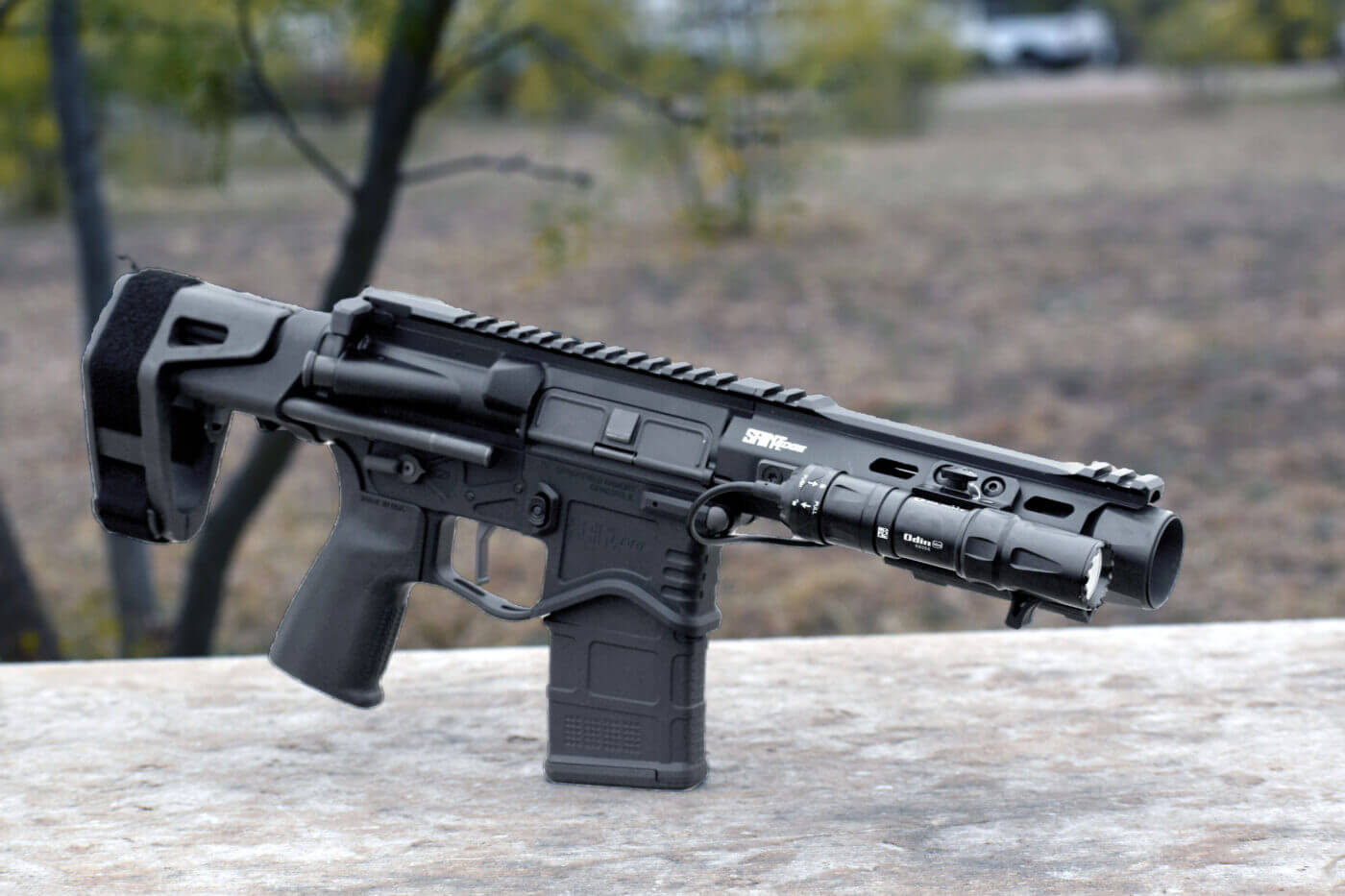 Let me take you through the details of the Odin Mini. Like its bigger brother, the Odin Tactical Flashlight, the Odin Mini was designed for self-defense, law enforcement and tactical applications. You get the reliability and dependability of a bright flashlight mounted on your firearm, now just in an ultra-compact size.
The Details
The Odin Mini is a compact flashlight measuring in at just under 5″ long with a head diameter of just over 1″. The head of this light features a sawtooth design on it, with three large ridges on the multifunction tailcap guarding the button. The power button doubles as a magnetic recharging port for Olight's patented MCC3 Magnetic Charging cable.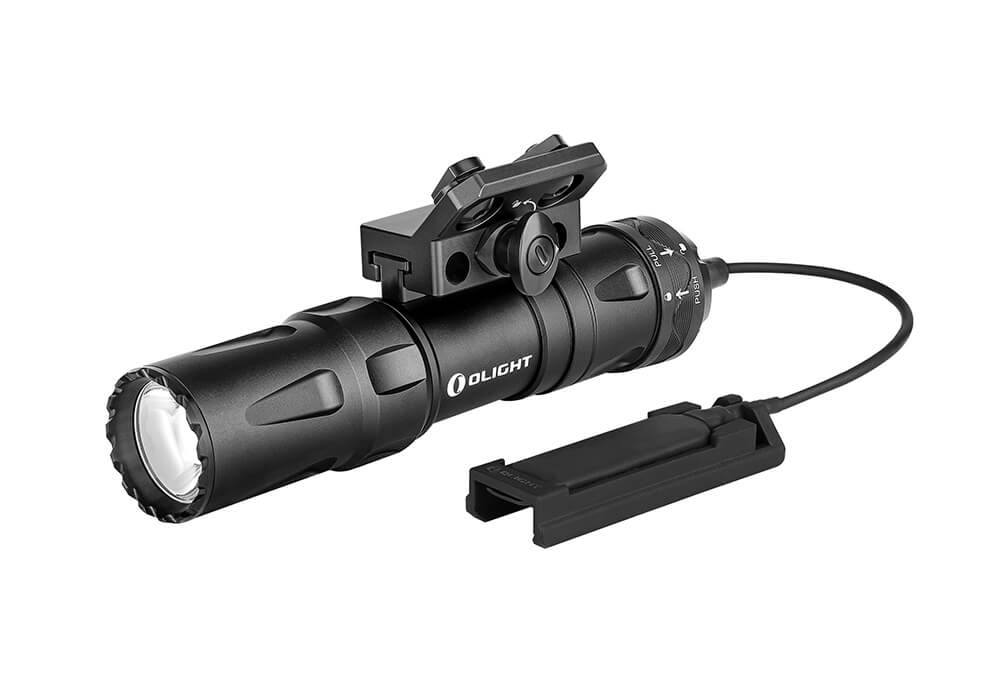 The package comes standard with the M-Lok rail mount that mounts to the barrel guard of your favorite rifle, SBR (or in my case, the Springfield PDW). It also comes with a magnetic remote pressure switch that attaches to your M-Lok rail and all the hardware needed to mount this entire unit. If you're wanting to mount this to a pistol, you can order the mount for picatinny rail from Olight.
Hands-On
The Odin Mini is a bright little guy .After I charged this unit, I turned it on and it brightened up my living room as if the clouds weren't blocking out the sun outside. The power button on the Odin has three settings: a low setting, high setting and momentary setting — no strobe feature here, guys.
The low setting of only 200 lumens on a quick soft press of the button gives you the promised five hours of run time on a full charge. On a full press of the button you get a whopping 1,250 lumens that shines bright for six minutes before dimming down to 900 lumens for 11 minutes, 700 lumens for 39 minutes and lastly 200 lumens for 14 minutes.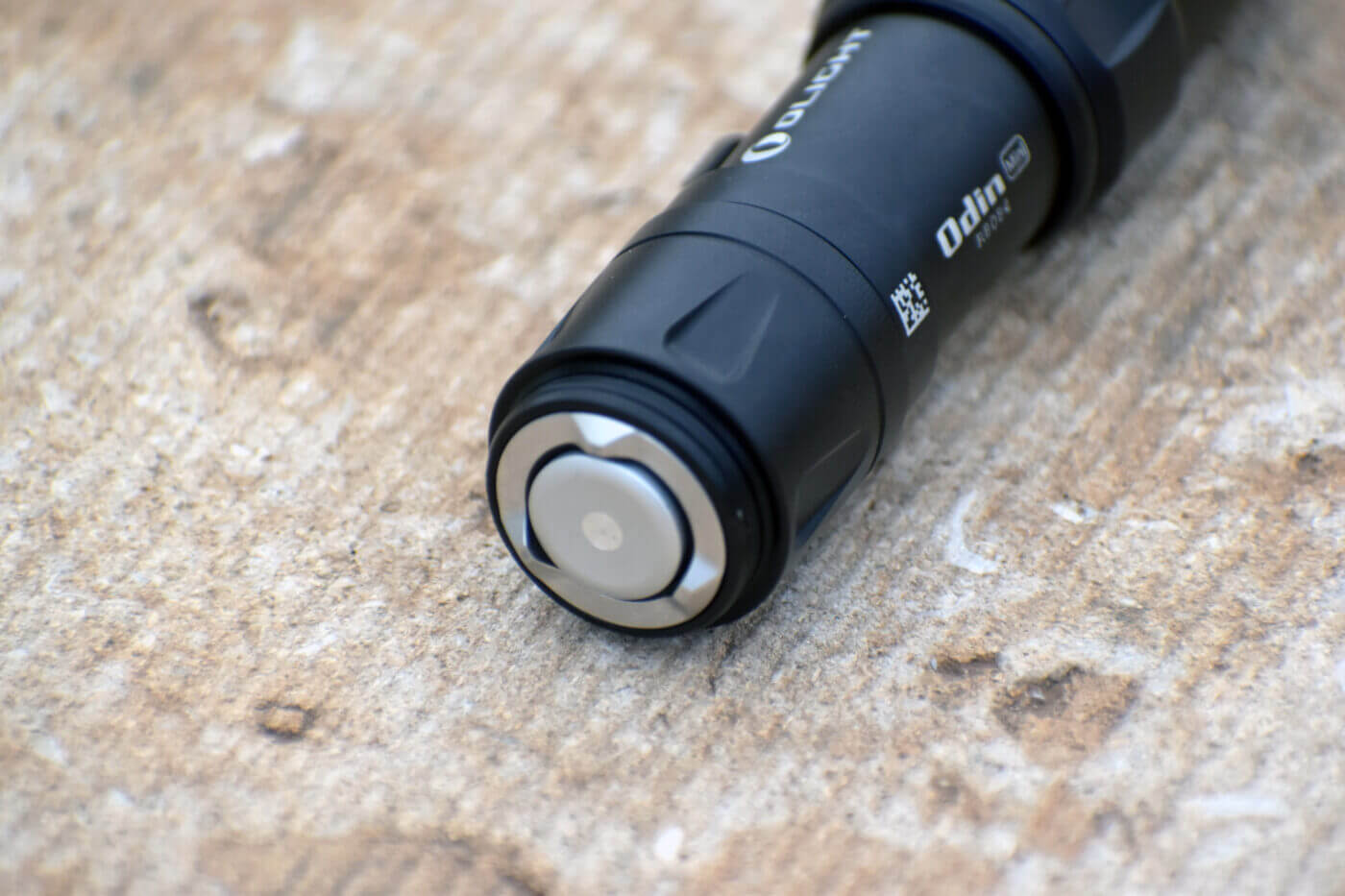 Lastly the momentary setting is just as it sounds; press and hold the button for as long as you want the full 1,250 lumens, only releasing when you're ready for the light to be off. The magnetic remote switch has two settings — full on or momentary. The Odin Mini has a throw of 240 meters which gets you a bright light just beyond that 250-yard target if needed.
The Odin Mini runs under $150, which is not a bad price to pay considering all you get for this ultra-compact package. The Picatinny mount for those of you who want it runs around $40. The Odin Mini comes with a five-year warranty. It is drop tested at 1.5 meters and has an IPX8 waterproof rating.
The M-Lok style mount as mentioned above fits right to any barrel guard you might have on your firearm. The H3.0 Allen wrench needed for this as well as extra M-Lok bolts and M-Lok nuts are included in the packaging. The M-Lok mount has a 45-degree bend to it to keep the Tac-Light tight to your firearm.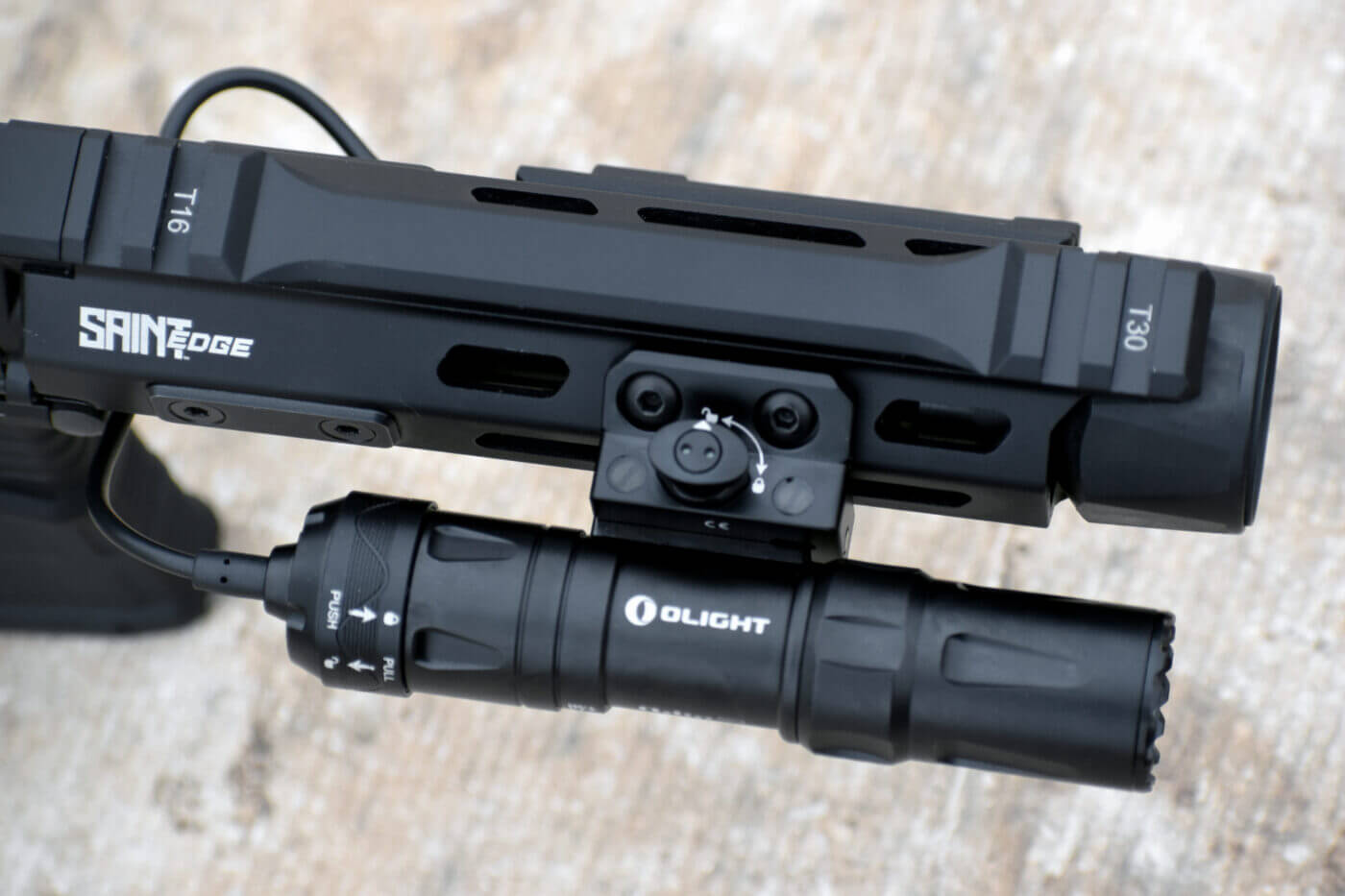 I ordered the Picatinny rail mount for this light, and one cool thing I thought should be mentioned is how the Picatinny rail mount has two different mounting slides for the light. If you wanted it beside your firearm, it can be slid into place on the side of the mount. If you want it below your barrel, it is easily done. Both mounts, M-Lok and Picatinny, have a quick release button that holds the light into place. This button can be locked as to keep it from being accidentally pressed and you losing your light.
On the PDW
I've been looking to customize my Springfield Saint Edge PDW. One thing I've been wanting to put on it was a small tac-light. So, when I was asked to do a review on the Odin Mini I jumped at the opportunity. It fits the PDW very well, sitting right behind the muzzle device. I wanted to use the magnetic remote switch, so I installed a small M-Lok section on the other side of the pistol and snapped the remote switch right on.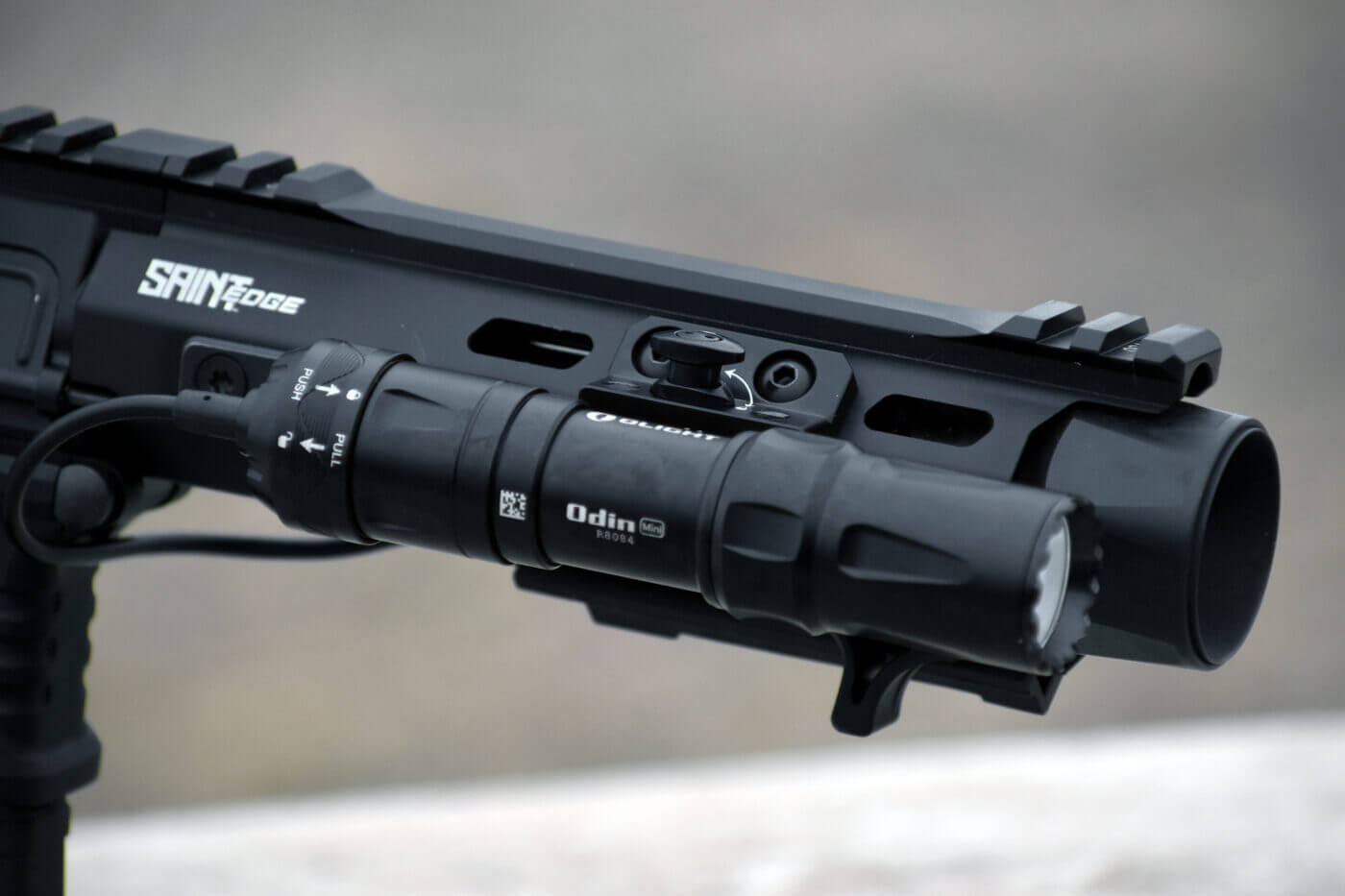 Installation was quick and easy since all tools required for installation were included in the package. This is a true one size fits most application here. The wire for the remote switch is short so I don't have a large amount of wiring that I need to tuck away or tie up. Literally looks like these two products were made for each other.
Conclusion
If you want a ton of power in a truly compact and affordable package, the Olight Odin Mini is definitely a solid option. With numerous mounting options and a great fit for my PDW, this one is a winner in my book.
Due to an ATF ruling regarding the configuration of pistols with stabilizing braces, these firearms can be subject to NFA (National Firearms Act) regulations as short-barreled firearms. It is the buyer's responsibility to comply with all rules, restrictions and/or laws determined by your city or state. Please ensure you are up-to-date on all current laws.
Editor's note: Please be sure to check out The Armory Life Forum, where you can comment about our daily articles, as well as just talk guns and gear. Click the "Go To Forum Thread" link below to jump in and discuss this article and much more!
Join the Discussion
Featured in this article
Continue Reading
Did you enjoy this article?
48