What's a Baldr Pro?
August 13th, 2020
4 minute read
What is a Baldr Pro, you might ask? Well, the story begins and ends with Olight, a company with a stated purpose of providing quality illumination tools to everyone — by making quality products at an affordable price. May I introduce you to one of the newest weapon lights in the Olight family, the Baldr Pro? So, let's dive into this unique piece.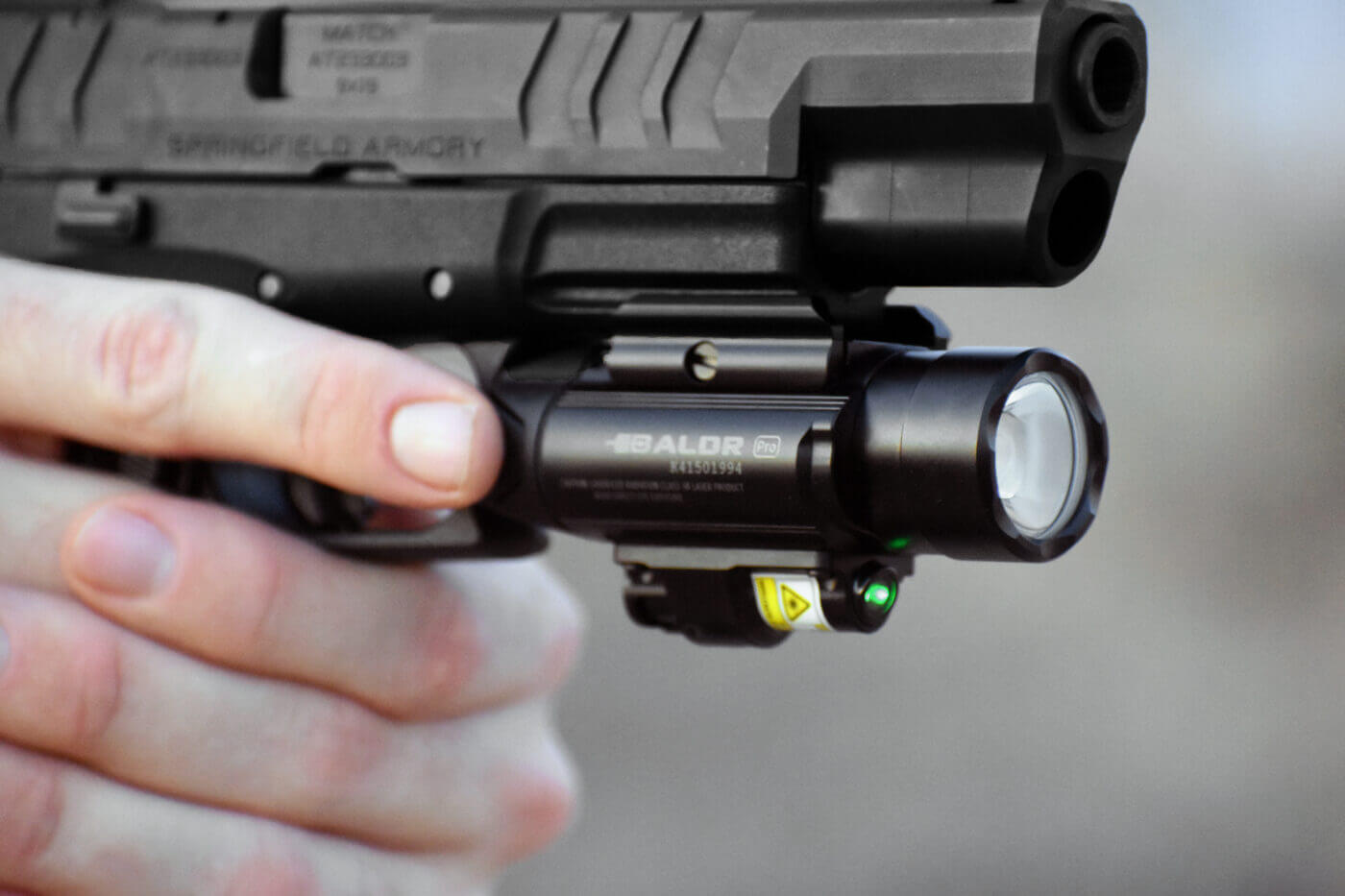 The Baldr Pro is designed to attach to equipment with a Picatinny (MIL-STD-1913) and it combines a green laser with a powerful white LED light. The light pumps out 1,350-lumens streaming out to a whopping 260 meters away. Talk about a light bright enough to help land a 747! The light can be also be dimmed to 300 lumens for steady, continuous light. Baldr Pro by Olight is designed to give you clear picture sight no matter the conditions.
The Baldr Pro's green laser gives you an aiming point that is easier to see in daytime and allows quicker acquisition at nighttime over a standard red laser. The Baldr Pro is equipped with two allen head adjustable screws to zero your laser. The unit can withstand strong impacts and vibrations without loosening after calibration. This means, once you set your zero on a pistol you won't have to worry about it again.
The Details
The Baldr Pro is powered by two CR123A batteries that come included in the kit. This is all housed in an extremely high-strength aluminum alloy main body (length: 3.30", width: 1.44", height: 1.75:"). All while only weighing in at 4.55 oz. with batteries included.
There are three light settings available from which you can choose (white LED only, green laser only and white LED/green laser). You access this by flipping a three-position rotating switch located on the bottom of the weapon light.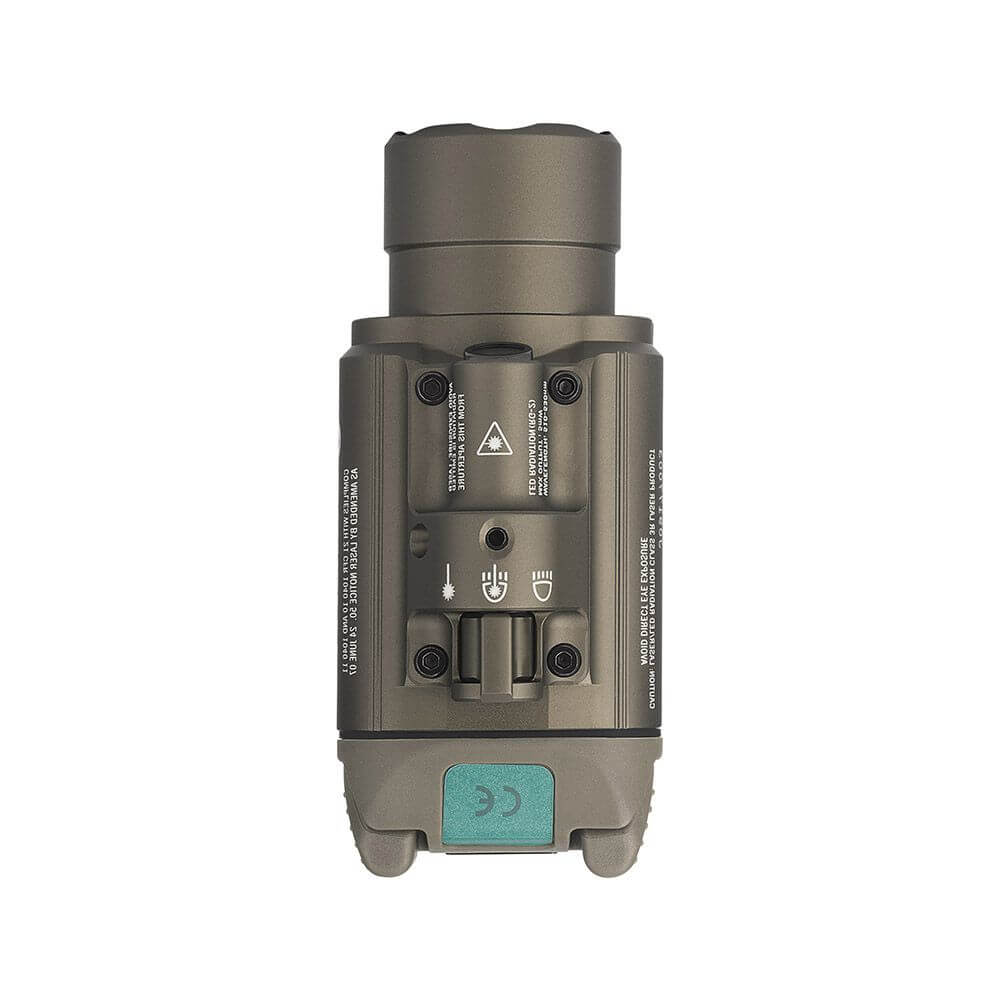 The Baldr Pro is very easy to use. Once you select which setting you want, you use one of the ambi controls located at the rear of the device to turn the unit on and off. If you want the light to strobe? Click both the ambi controls together at the same time. Momentary switch? It has that option as well. Click and hold one of the ambi controls and the light combination you choose will remain on until you release the tab.
Attachment to your pistol has never been easier. A throw lever on the left side of the weapon light makes for easy work putting it on and taking it off our favorite pistol. Simply swing the throw lever toward the front of the weapon light and push the swing arm in. The weapon light goes on and comes off with ease. The Baldr Pro interfaces easily with a Picatinny rail.
Where It Counts
In the dark where you need a good strong light, the brightest setting (1,350 lumens) of the Baldr Pro gives you almost two hours of runtime. On the lesser setting (300 lumens), the Baldr Pro shines out to the distance of 120 meters (or just over one football field). This setting gives you the promised four hours of runtime. The Baldr Pro does come with an IPX4 waterproof rating so you don't have to worry about it stopping working on you out in the rain or if it gets a little wet.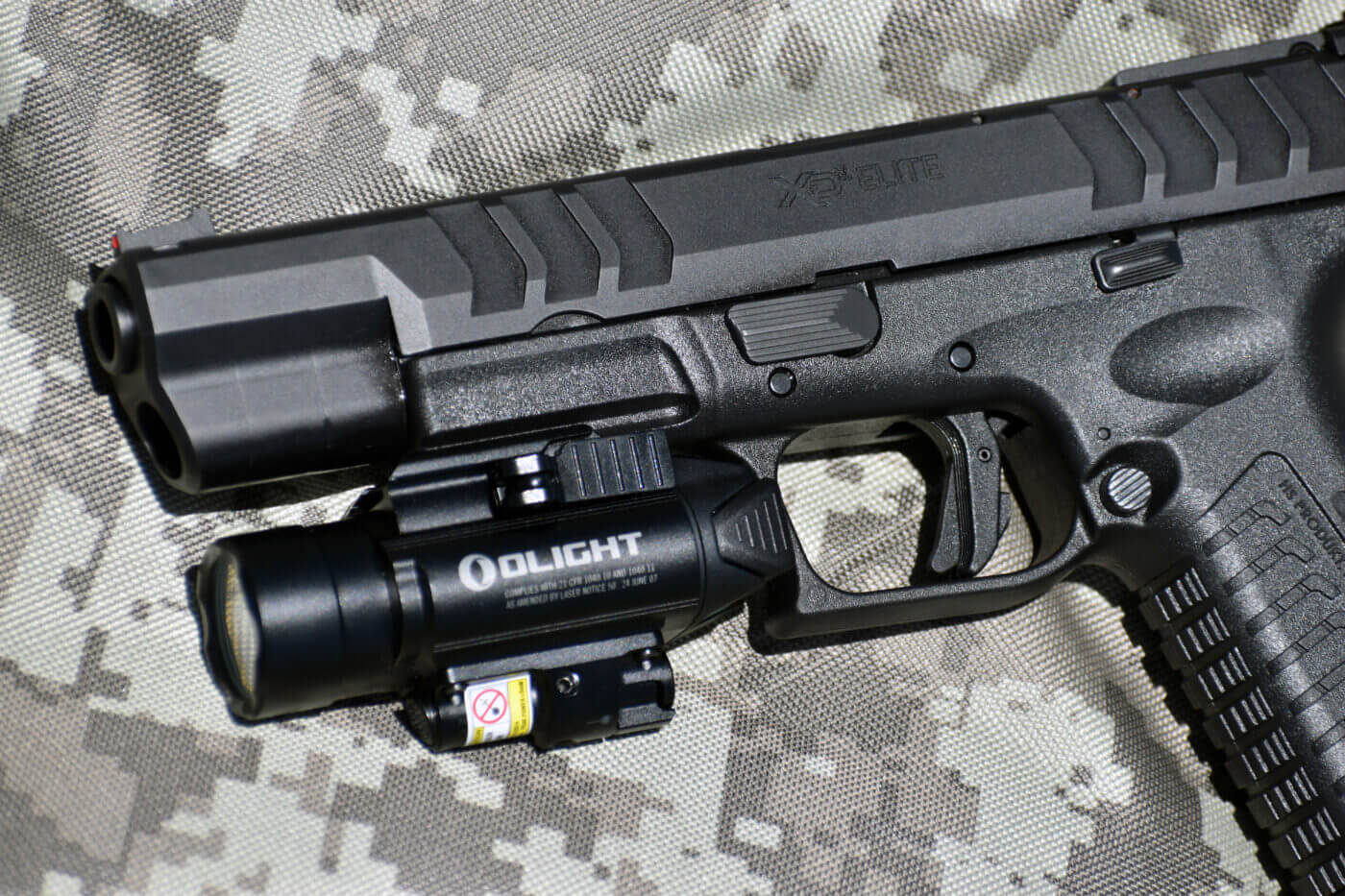 Conclusion
With all these wonderful features you must be worried about a high price tag, right? The Olight Baldr Pro has a MSRP of just $149. Nice job, Olight. You raised the bar on quality while keeping the price affordable.
The Baldr Pro is an affordable bright white LED combined with a capable green laser, all housed in a durable high-strength aluminum alloy body. The Baldr Pro has a max runtime of four hours and is marketed for self-defense, law enforcement and tactical applications. It comes with a five-year warranty and a 30-day money-back guarantee.
Editor's note: Please be sure to check out The Armory Life Forum, where you can comment about our daily articles, as well as just talk guns and gear. Click the "Go To Forum Thread" link below to jump in and discuss this article and much more!
Join the Discussion
Featured in this article
Continue Reading
Did you enjoy this article?
65