Aimpoint Duty RDS Review
June 28th, 2023
10 minute read
Looking for a high-quality, yet affordable, red dot sight? In this Aimpoint Duty RDS review, veteran law enforcement officer Chad Thompson evaluates the waterproof 2 MOA optic and gives you his unvarnished take on the sight. The optic has a lot to offer, including 10 brightness settings, enhanced light transmission and night vision compatibility. The fact that this unit has an accessible price point is just icing on the cake. Read on to see how he tested it and how it performed.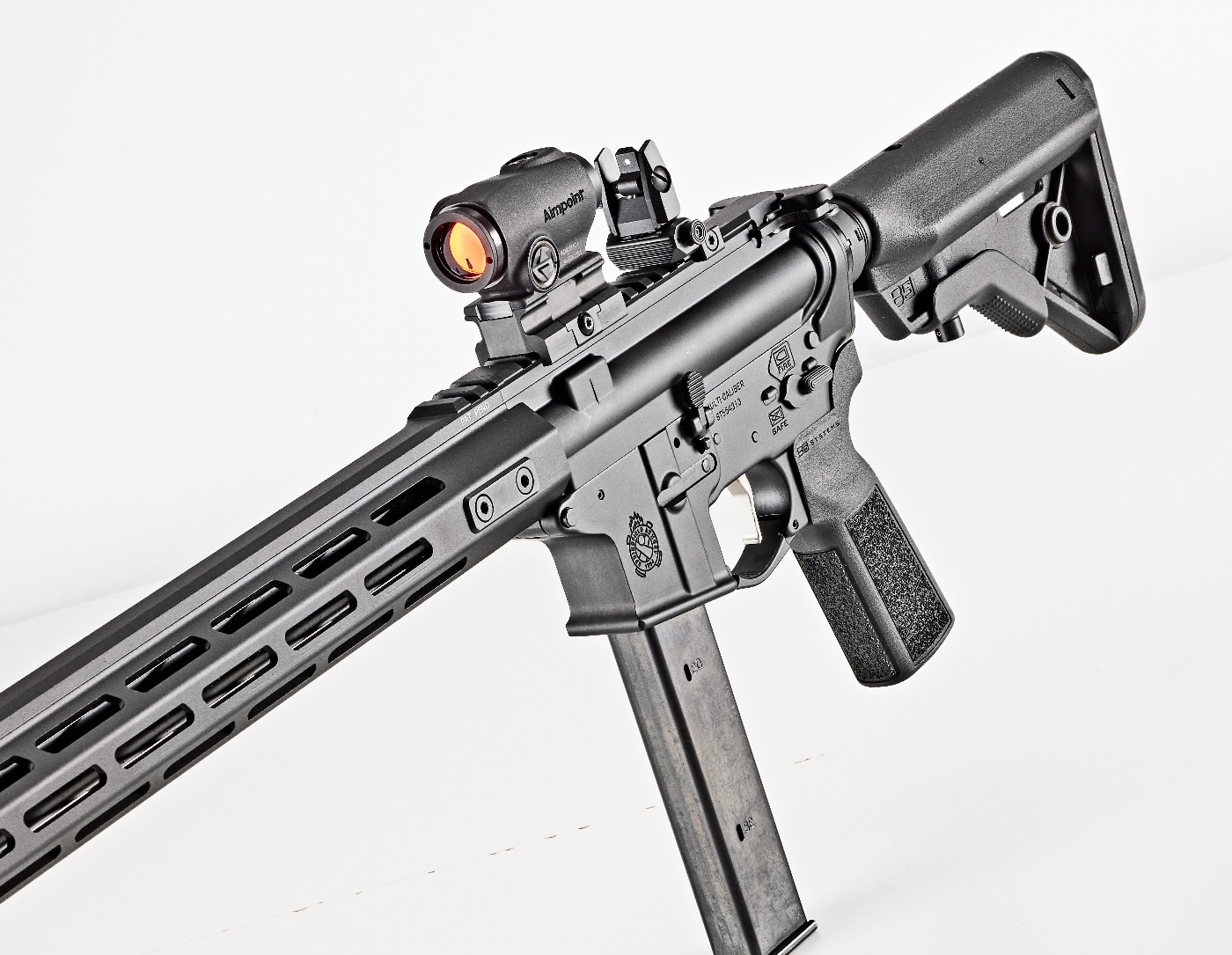 I'd like to begin by introducing myself to those of you who might not be familiar with my background. I've been blessed with a career as a law enforcement officer, competitive shooter and gun writer. During that time, I've served as a law enforcement officer at the federal, state, local and international levels and have thoroughly enjoyed my time doing it.
Enter the next chapter of this wild ride. I recently retired from the North Carolina Justice Academy as the Senior Firearms Instructor and School Director of the Specialized Firearms Instructor Training Program. During my time in that role, I was the final word on firearms training for the State of North Carolina. If someone in this state wanted to be a firearms trainer, they had to take a class from me. That included law enforcement officers, armed security officers and concealed carry handgun instructors. This was a lot of responsibility, and I was honored to have been trusted with the role.
And although I had retired, I decided I wasn't quite through serving and accepted a position with the Sampson County Sheriff's Office. In addition, I also continue to teach firearms classes for law enforcement and armed citizens alike. And I have also stayed in the competitive shooting world as a sponsored Grand Master pistol competitor in USPSA competitions, shooting for Deep River Customs.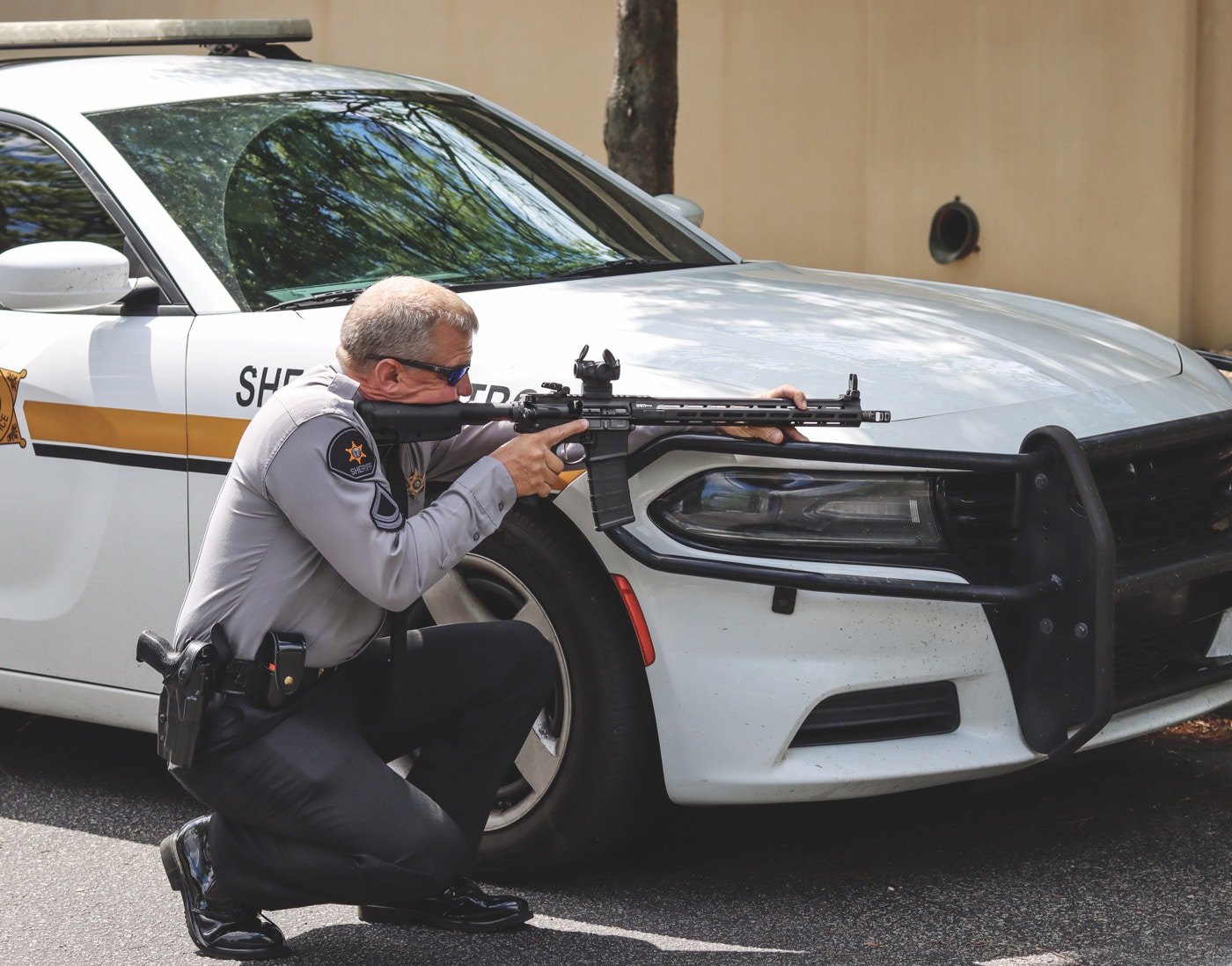 The reason I mention all this is that I wanted to explain why my friend and editor-in-chief of The Armory Life asked me to do the review you are reading right now. I received a call from him, and he explained that he was looking for someone to review an optic from Aimpoint designed with law enforcement officers — as well as civilian shooters — in mind. "I think your perspective as not only a sworn officer but also a competitive shooter makes you a great fit for this piece," he told me.
Needless to say, I jumped at the chance. Mike explained that the optic was the Aimpoint Duty RDS red dot sight, and he'd like to get me out a SAINT Victor rifle to test it on. I simply could not wait to get the chance to try the SAINT rifle — in my case a 5.56mm variant — and the Aimpoint RDS out on the job to really see if they were compatible with law enforcement and street work. I will spend the next bit of time expounding on this combination for you.
Practical Application of the Red Dot Sight
When I received the optic, I gave it a thorough inspection to familiarize myself with its design and features. The Duty RDS is a red dot sight with the rugged simplicity of design you've come to expect from Aimpoint. The housing of the optic is a pressure-forged aluminum body that is hard-anodized and is submersible to 25 meters. The optic comes with a one-piece torsion nut mount and spacer for mounting on a Picatinny rail, and the weight of the optic alone is a light 3.8 oz.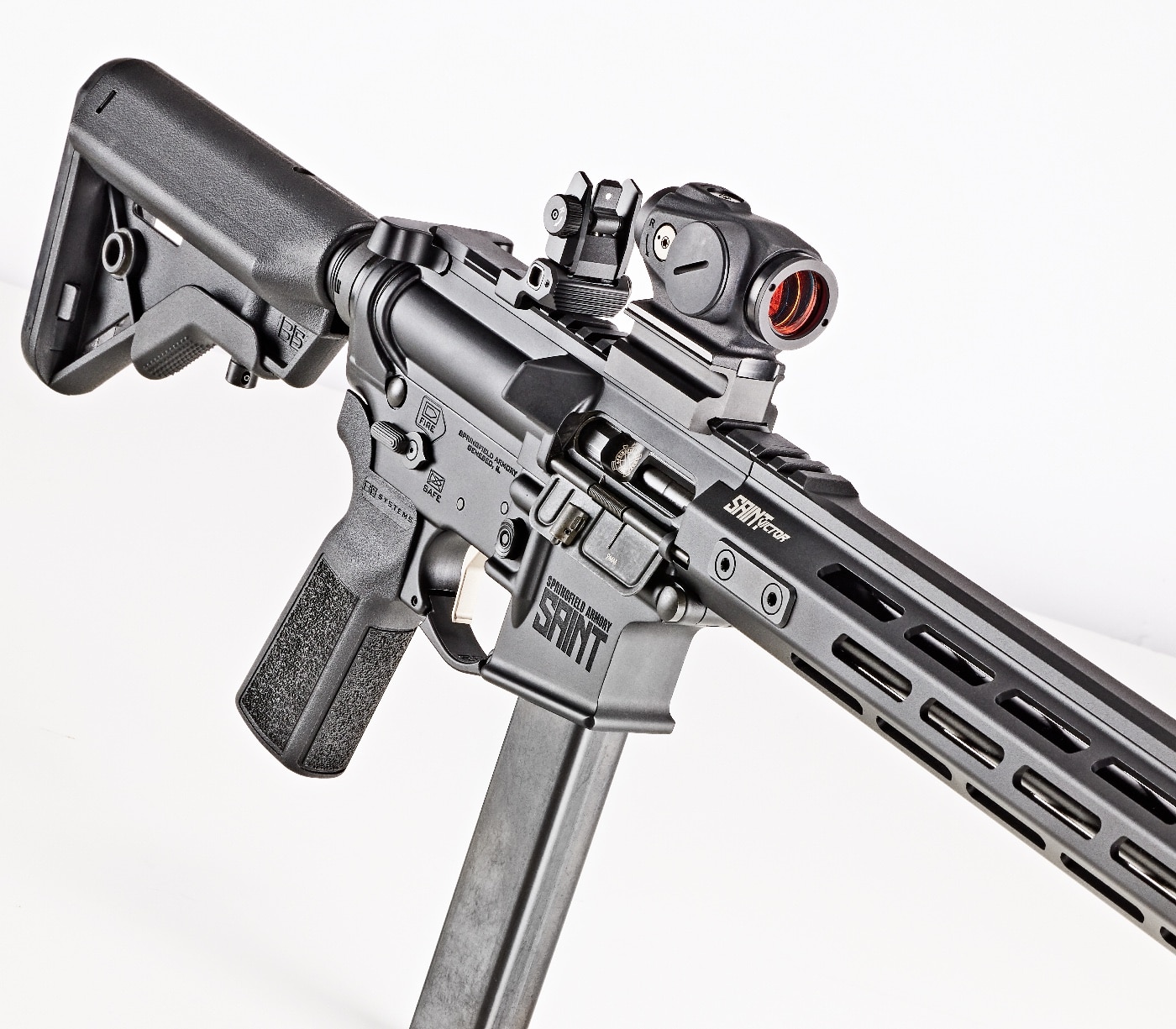 The Duty RDS features a 2 MOA dot size with one "off" setting, as well as six daylight and four night vision-compatible settings. The dot is powered by a single CR2032 battery and is rated for 30,000 hours (or more than three years) of usage.
Controls are made up of "digital intensity buttons" on the left side of the optic for adjusting brightness, etc., and are designed for ease of use — even while wearing gloves. On the right side of the optic are flush-mount windage/elevation adjustment dials as well as a quick-access battery compartment. A solid front/transparent rear set of flip-up lens covers are also included.
Reading through the literature included with the optic, I learned that the point of the Duty RDS is to give shooters a good, well-made red dot with the quality one expects from an Aimpoint, but at a price point that's lower than you might expect. In fact, the MSRP of it is a mere $499 — a deal for an Aimpoint. So, next I needed to determine if the optic would live up to that claim.
Setting Up the Aimpoint Duty RDS
The first step for me was to get the optic mounted with the provided equipment and tools on the SAINT Victor rifle Springfield sent out to me to use in this review. Imagine my surprise once I had the sight mounted on the Picatinny rail of the rifle and looked through it to find that the dot was almost perfectly co-witnessed to the provided flip-up open sights on the rifle! Mounting was easy as pie, with one screw holding the RDS onto the rifle.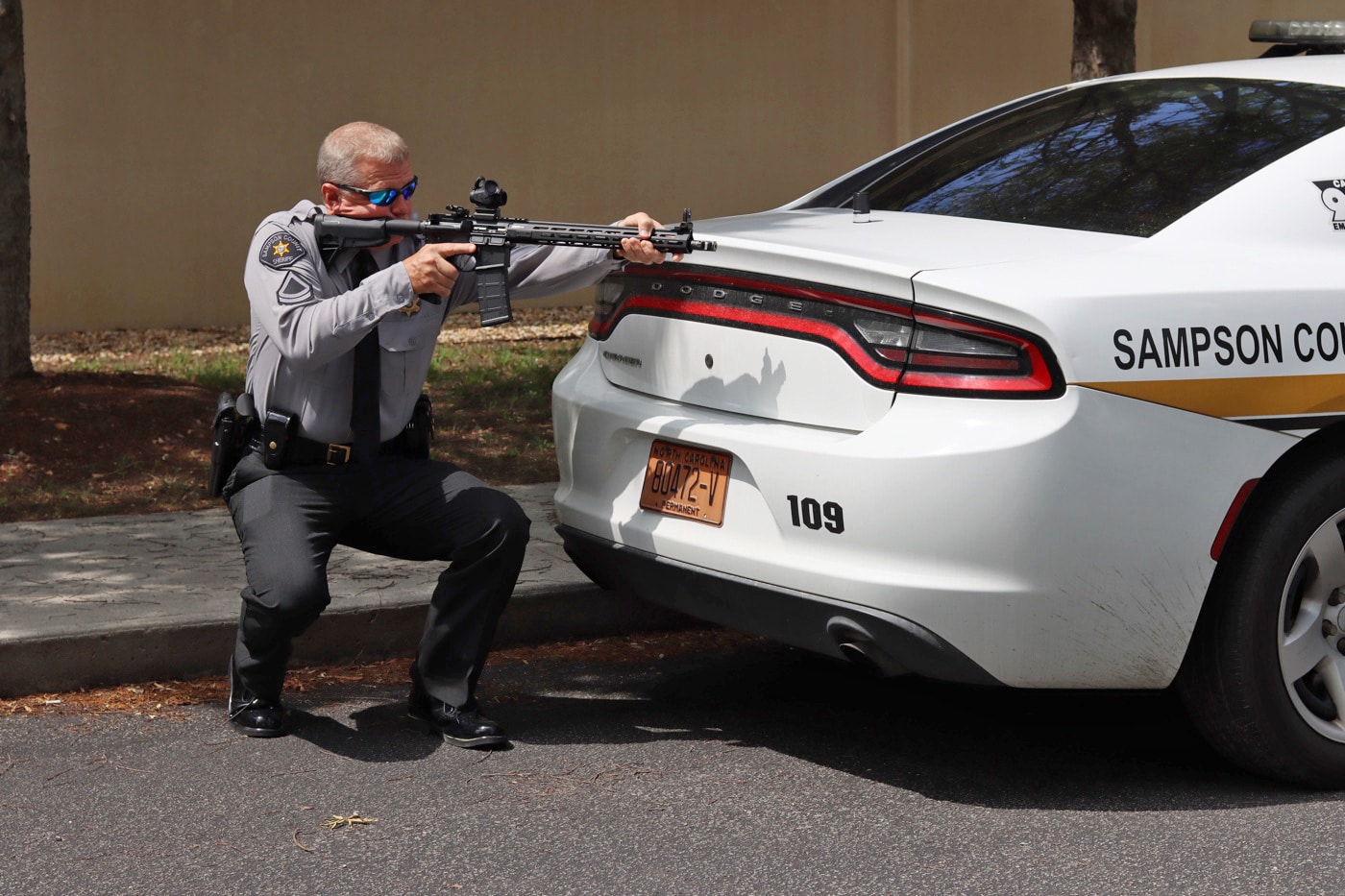 As I intended to use this SAINT as a patrol rifle on the job in largely rural North Carolina, I went to the 100-yard line to sight in the RDS on the SAINT. Upon firing the very first three-shot group, I found that the dot being so close to the open sights was not an optical illusion. I only had to move the dot three clicks to the right to be perfectly sighted in at 100 yards!
Even more surprising to me was the fact I was able to remove the RDS and re-mount it on the rifle to see if it would return to the original zero, which it did. Now, I know some readers have seen that feature advertised on other scopes or electronic optics, but trust me when I say that's not always the case. Aimpoint has definitely designed their mount right in order for it to be that precise.
The Duty RDS came with a specific Torx T10-type star wrench for windage and elevation adjustments, and each audible click moves the point of aim around 0.3 at 100 yards. All told, I only moved the dot around one inch of windage total and no elevation adjustments at all. After shooting a few more rounds to make sure it was where I wanted it, I checked all mounting screws to ensure everything was still snug and then ran the combo through its paces on some drills using a PACT shot timer. Admittedly, I am still "old-school" as the vernacular goes and use open sights on my pistols and shotguns. However, that is possibly going to change after getting my feet wet with this combo here!
Range Time
In less than two boxes of ammo (or 40 rounds) through the Victor, I was hitting faster and more accurately with this rifle/sight combo than I hit on a regular basis with my usual patrol rifle set-up. Thinking it may have just been beginner's luck, I ran the series of drills again only to find that I was even faster the second time. Imagine what was going through my head when I realized I have quite possibly been putting off the inevitable for far longer than I should have, simply because of my "old-dude" bias for iron sights.
I love the "heads-up" abilities of the Duty RDS and that I am able to leave both eyes open when shooting, even at extended distances. I am much more situationally aware of what else is happening around me with this set-up than I am able to be with traditional open sights on a rifle. Add to that my immediate love of the Duty RDS when I transitioned to support-side shooting during the drills I shot.
I am a right-handed shooter and am right-eye dominant; however, that had no discernible impact whatsoever once I shifted the rifle to my left side. Leaving both eyes open, I instantly saw the dot on the target with my left eye, and I still had my dominant eye open to enable me to observe much more directly what was downrange and on either side of me.
Target transitions were smooth and easy as well. I could actually see the next target coming into view way before the dot got to it. Therefore, I had the trigger prepped and never had one time that I overshot the target, forcing me to do a follow-up shot. The thing that truly impressed me is that this dot and this system allow the red dot to stay in my field of view during recoil.
The Duty RDS employs Aimpoint's ACET (Advanced Circuit Efficiency Technology) diode circuitry to manage battery consumption, giving the optic the rated 30,000 hours of daylight usage on the #7 setting. I really liked the dot intensity on this setting for all-around use, and only brought it down to a lower setting when the sun went down.
I went to the range and qualified with this rifle and Duty RDS combo in order to carry it on the job and test it out for full-duty use. The other firearms instructors on the range also shot it some and loved the combo as I had it set up. In my home state, sworn officers are required to first qualify with any firearm they intend to carry for both duty or off-duty use, and I like that requirement a lot.
I had no issues at all qualifying on a day and night course with a clean 100% while using the SAINT and Duty RDS combo. I also used this opportunity to get in some accuracy testing since I had other instructors on the range with me and had a little assistance getting things set up. This rifle/RDS combo had no issue at all holding intensely tight shot groups at 100 yards, even though most readers understand that this system is not designed for precision-type duty, but for overall patrol work. I, along with some other shooters, fired a few three- and five-shot groups that could be covered with a coin from your pocket. The best five-shot group I fired measured in at ¾" and was with the 64-gr. Winchester PowerPoint. I then mounted the rifle in the patrol car and off we went.
On Patrol with the Duty RDS Red Dot Sight
For any readers who aren't aware of this, law enforcement work is never the same day twice in a row. The only constant in this profession is constant change. Someone once said law enforcement was 90% boredom interrupted by 10% of sheer terror or adrenaline, and they are correct. As a result of this, the tools used in law enforcement are often knocked around and exposed to all kinds of elements and rough treatment. That is the reason that I carried this rifle and RDS combo on the job to see how it would hold up overall.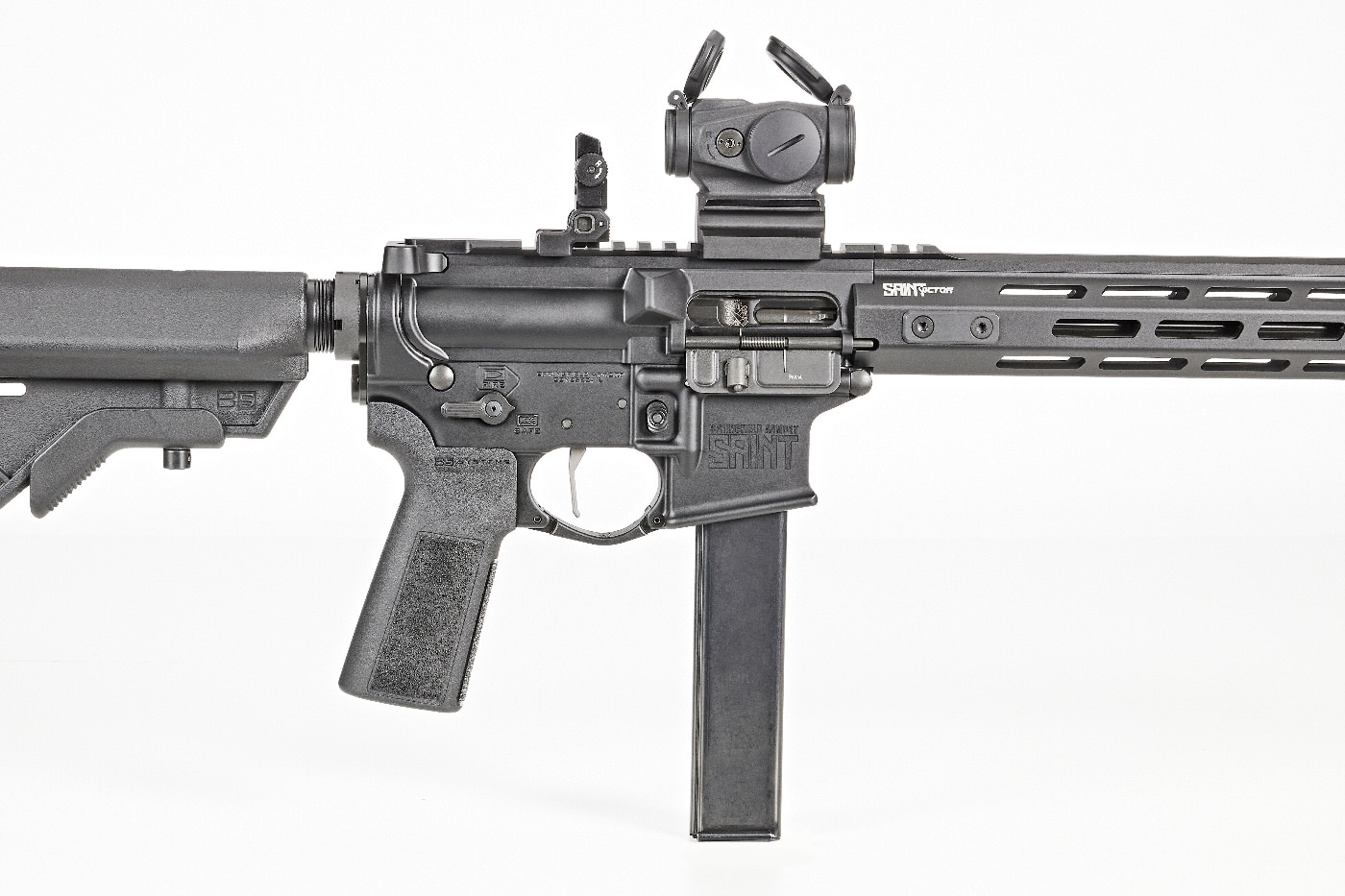 In short, the rifle and the Duty RDS held up extremely well, even exposed to some extreme weather (relatively speaking) that we had in North Carolina during the testing. I did not handle either the rifle or the RDS with kid gloves, and treated them both the way my usual carry gear is treated. Through it all, both proved to be quite fit for the job. Taking the rifle and Duty RDS out of the trunk from a car mount and out of a case never changed anything on the dot or point of impact at all. Each time I tried it, the shots were right where they should be, and that is absolute peace of mind for any law enforcement officer.
Duty RDS Features and Specifications
2 MOA red dot
Approximately 30,000 hours of battery life of constant run time on setting 7
Single CR2032 battery power source
10 brightness settings with 6 daylight settings and four night vision settings
Submersible to 80 feet
Front and rear flip-up lens covers included
Pressure-forged aluminum alloy housing with hard anodized finish to protect against extreme abuse
Weight: 3.8 oz
MSRP: $499
Conclusion
I can say without any reservations that I would continue to carry this combination of rifle and RDS with absolute confidence if I were issued this set-up. I also am impressed with it from my perspective as a competitive shooter and all-around "gun guy." I also want to note that I think Aimpoint nailed it with the price point, as officers who have to purchase their own gear are often on a tight budget.
Give this Aimpoint a try if you are in the market for a high-quality red dot system at a great price. I think you'll be pleased that you did. I am personally impressed to the point that I have no issue confessing I will be buying one of these Duty RDS systems for my current duty rifle in the very near future.
Editor's Note: Please be sure to check out The Armory Life Forum, where you can comment about our daily articles, as well as just talk guns and gear. Click the "Go To Forum Thread" link below to jump in and discuss this article and much more!
Join the Discussion
Featured in this article
Continue Reading
Did you enjoy this article?
47