If I could snap my fingers and go back to the days of affordable .223 ammo, I would do it in a heartbeat. But, without that magical ability, how can we train longer and more often without raising our ammo budgets? A 9mm AR-pattern carbine, of course!
Springfield Armory has solidly established itself in the AR market with its line of SAINTs, combining excellent quality features with very reasonable pricing. Rather than be designed as base model AR's, the SAINT line (made up of the SAINT, the SAINT Victor and the SAINT Edge) offers shooters an upgraded AR at a price much lower than if they tried to build it out themselves. And this new pistol-caliber Victor, the SAINT Victor 9mm Carbine, continues this tradition.
How the Springfield 9mm Carbine Is Different…
Firstly, I want to point out that this is a dedicated 9mm AR, not some modified standard model with a magwell adapter. The forged 7075 T6 aluminum upper and lower receivers are designed specifically for the 9mm cartridge. You will see this on the upper receiver in the shortened ejection port and cover door, lack of forward assist and the more forward-oriented brass deflector. The lower has a 9mm-specific magwell designed specifically for the 32-round magazine that comes with the gun.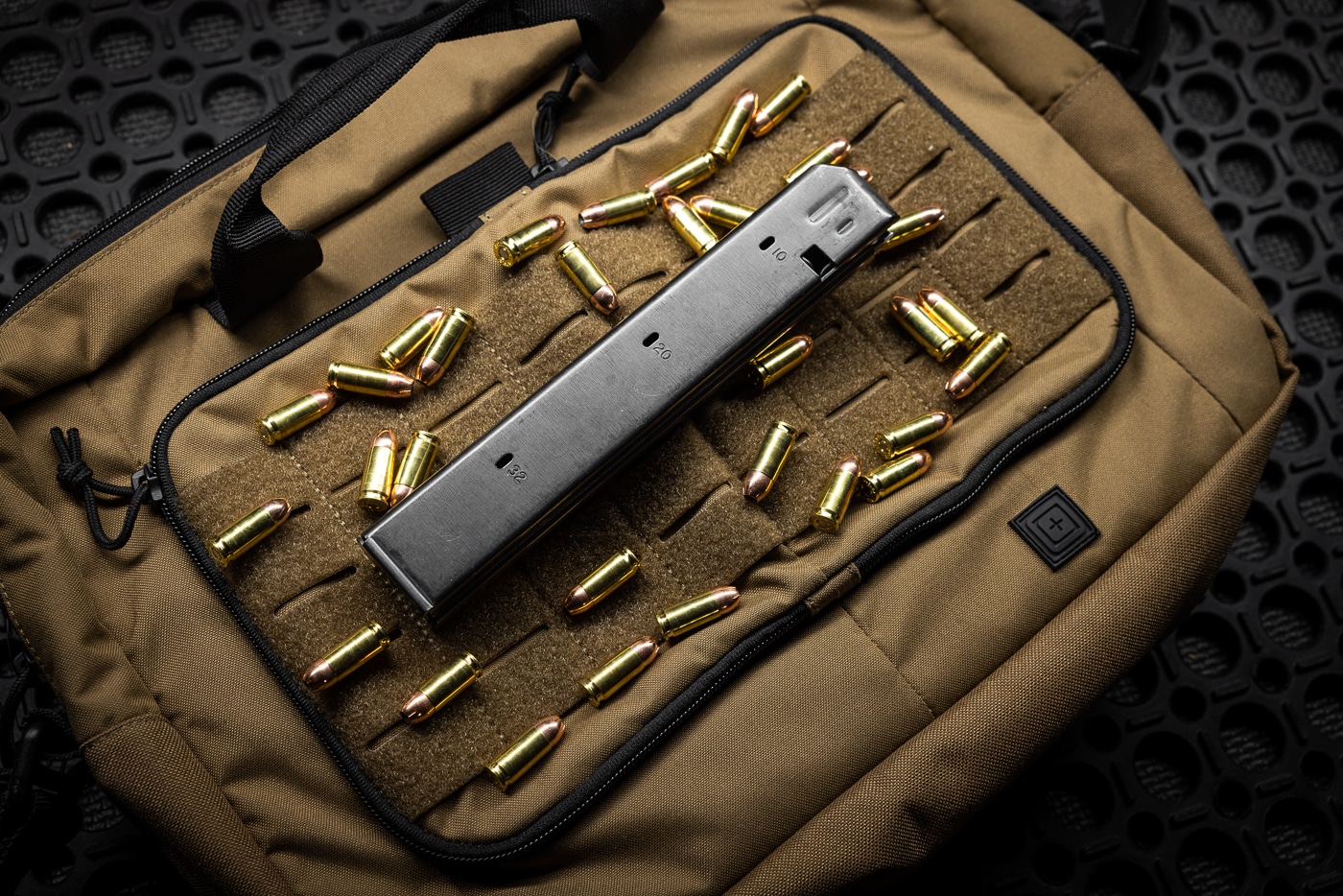 Speaking of the magazine, Springfield made the choice to use the proven and reliable Colt-pattern magazines for this carbine. This magazine, made from rugged steel, features a double-stack, double-feeding approach meaning the magazine doesn't narrow at the top to a single round, rather alternating each round's feeding position. Furthermore, the double-stack, double-feed design is extremely simple to load. You simply press the rounds down, rather than stacking and pushing like most modern handgun magazines. Also, the carbine is designed to lock open when the magazine is empty.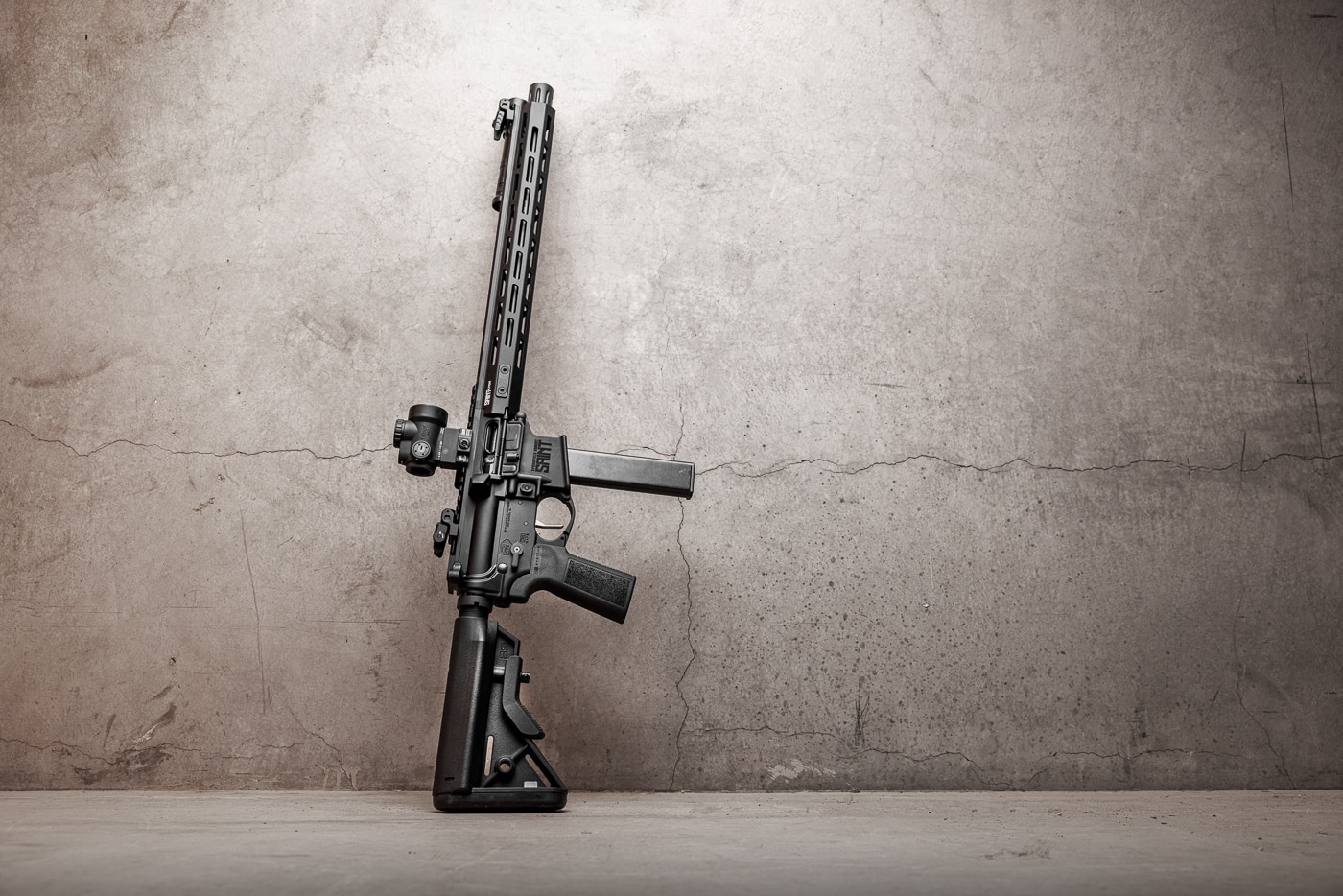 Within the upper receiver is another unique quality of the SAINT Victor 9mm Carbine — a simplified, straight-blowback bolt assembly. If you are familiar with AR's, you know that they operate on a direct gas impingement system. This means that there is a small hole towards the end of the barrel that taps off gasses when a round is fired. The gasses move up into this hole, traveling back through a gas block and the gas tube, and then finally unlock and move the bolt rearward to cycle the rifle.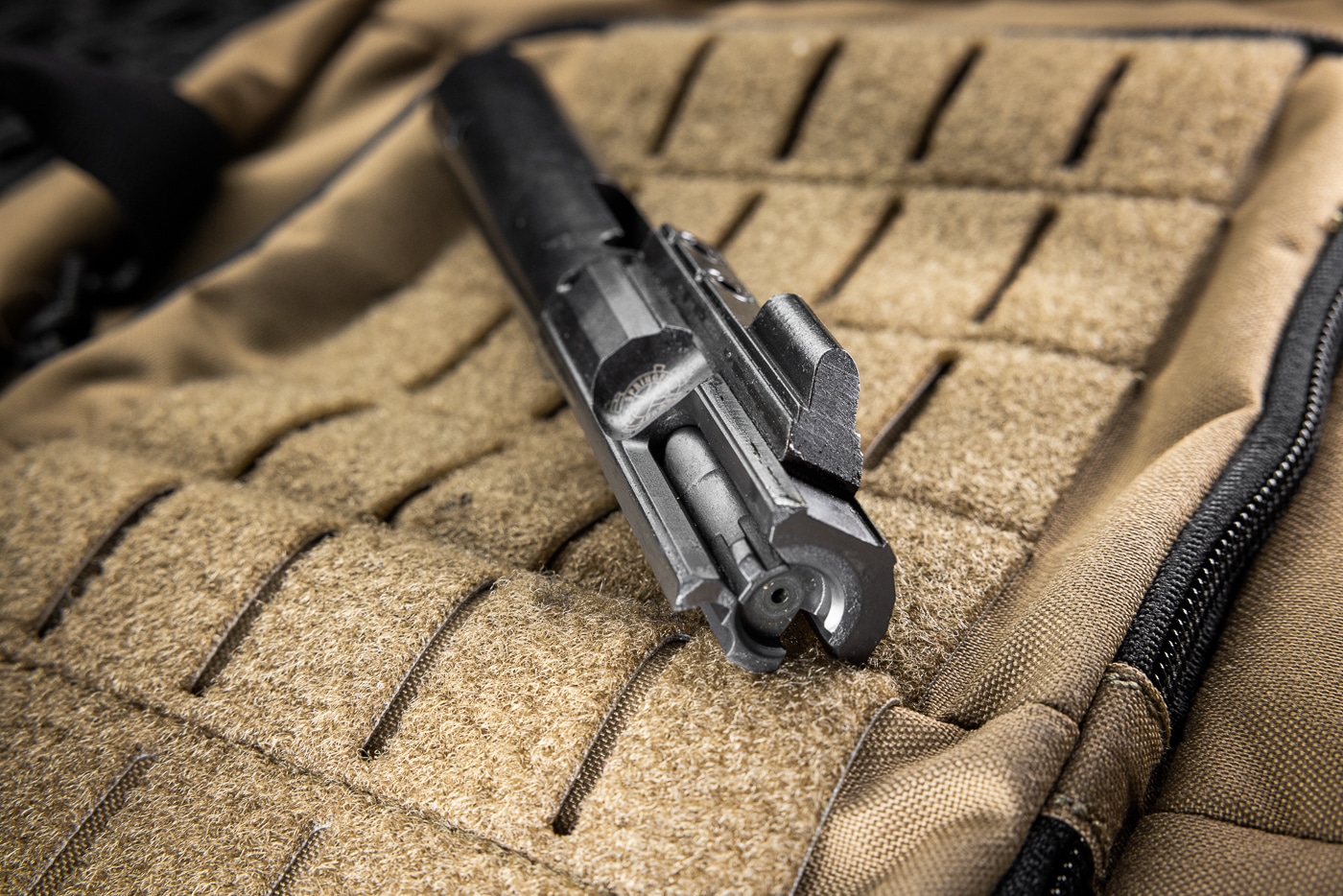 Due to the reduced chamber pressure of a 9mm compared to a 5.56mm, the carbine can use a much simpler and straightforward system where a combination of bolt mass and recoil spring pressure keep the action closed long enough for safe cycling of the fired cartridge case under recoil. The SAINT Victor 9mm Carbine therefore can employ a simplified bolt assembly with no rotating bolt head. So, you get a simplified system with few moving parts.
…And the Same
The SAINT Victor 9mm hosts many of the great features you have come to expect from Springfield's SAINT Victor line of AR's. From its B5 Systems furniture, to its spring-loaded flip-up sights, ambi selector, flat-faced trigger and more, this is all in a 16"-barreled package weighing under 7 lbs.
Let's dive into some detail on the specific features of the carbine. For the furniture, Springfield chose the ever-popular B5 Systems Bravo stock, trigger guard and Type 23 P-Grip. The stock is slim, rock solid and easily adjustable, with comfort from the no-slip cushioned buttpad. With the modern shooter in mind, the Bravo Stock sports QD mounts on either side of the rear of the stock. The Type 23 P-Grip has an aggressive texture, ensuring you keep a solid grip on it while firing.
Springfield included their spring-loaded, flip-up iron sights, which is always a welcome feature. They stay out of your way until you need them, providing you with either a primary or secondary method of aiming.
For the muzzle device, Springfield added their Forward Blast Diverter. This muzzle device diverts the gasses forward during firing, making for a much more pleasant experience when shooting next to others. The blast diverter is designed to maximize control and reduce muzzle flip.
SAINT Victor 9mm Specifications
Here are the specs on the new Springfield SAINT Victor 9mm carbine:
| | |
| --- | --- |
| Chambering | 9mm |
| Barrel | 16″ |
| Weight | 6 lbs., 15 oz. |
| Overall Length | 31.75″-35″ |
| Sights | Flip-up |
| Stock | B5 Systems Bravo |
| Action | Semi-auto |
| Finish | Black |
| Capacity | 32 (one mag included) |
| MSRP | $1,299 |
Benefits of a 9mm AR
Let's take a SAINT Victor 5.56mm and set it right next to this new 9mm variant. Without the magazines inserted, you would be hard-pressed to tell any difference. The similarities allow you to set up the SAINT Victor 9mm in identical configurations, but shoot for half the price. The manual of arms is all the same, so your reps will translate to your 5.56mm AR perfectly.
What about those who might be new to the AR platform or a new shooter who may be intimidated by muzzle blast? The 9mm SAINT Victor is a quite pleasant shooter with the pistol-caliber chambering and the Forward Blast Diverter. The SAINT Victor 9mm carbine is a great way to introduce new shooters to the world of the AR.
Another great feature of the 9mm AR is the ability to carry more ammunition. If you are the type who likes to train with chest rigs and battle belts, you can carry more than twice the ammo of .223 utilizing the same space. Two of these mags will fit where a single .223 magazine fits in my gear. This keeps you downrange longer and increases your practice time.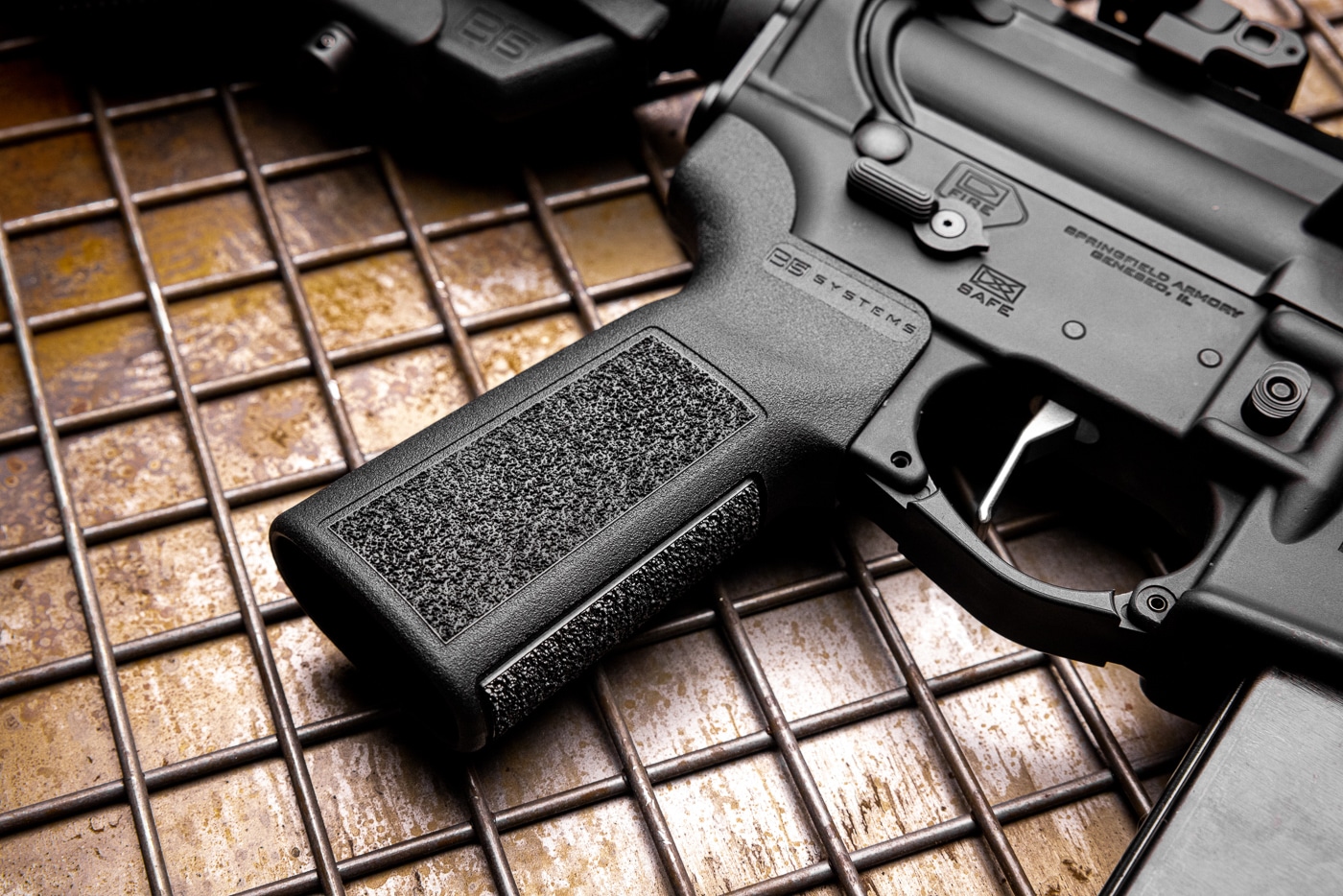 The SAINT Victor 9mm Carbine is also an option for home defense. The ability to add a light on the rail aids in dark environments for target identification. The good capacity and minimal muzzle blast ensure a great deal of confidence in an emergency situation. You also gain about 200 feet per second out of a carbine barrel over that of a pistol, which adds stopping power.
And lastly, a 9mm AR also makes for a great suppressor host.
Hands-On with the Springfield 9mm AR
For kitting your rifle out specific to your needs, Springfield offers an M-Lok rail with more ports than you will know what to do with. This allows the addition of a grip, flashlight, sling, bipod, etc. For my specific rifle, I chose a Trijicon MRO with a green reticle, mounted to an American Defense Manufacturing QD mount. For the rail, I selected a Surefire Scout Pro with a push-button tailcap. Directly behind that, I attached a QD for my sling.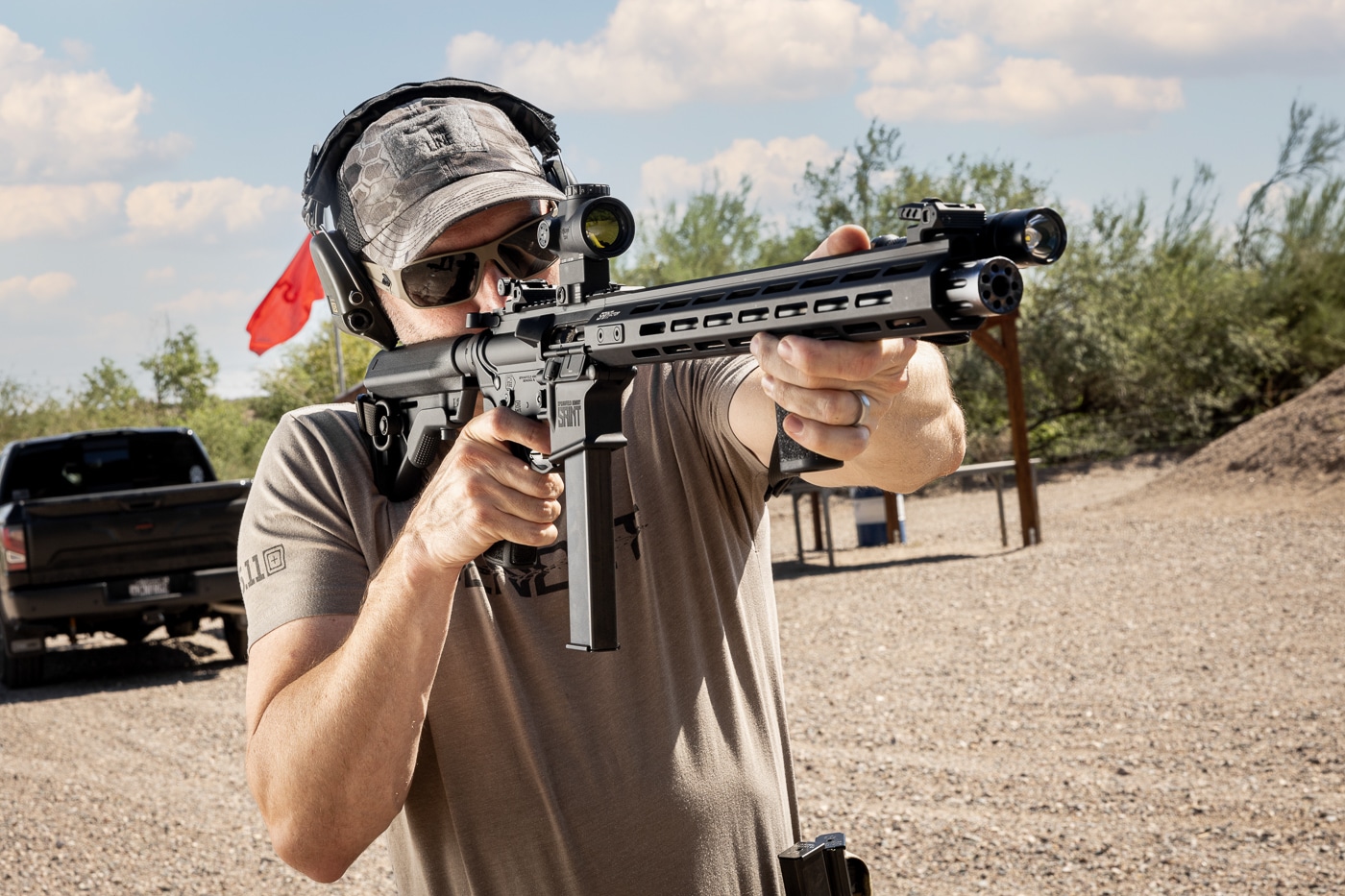 For my modified C-clamp grip, I have fallen in love with the BCM Mod 3 Vert Grip. I don't use it for a vertical grip, heck I don't know anyone with hands that small. But I use it to stack my pinky and ring finger on which gives a great deal of control over the rifle. For the sling, I chose the GrovTech two-point padded Sentinel Sling in black. These slings are super lightweight and durable, and come with QD swivels.
Getting out on the range, I was very curious to experience the recoil impulse of the carbine. I loaded up some Remington 9mm ammo into the mags and stepped out for some fun. Everything was perfectly familiar from my other SAINT rifles, even the loading procedure. One little change that I really appreciated was the new 45-degree selector on my test model.
The first few shots put a wide smile on my face. You still receive a satisfying thump from the 9mm round, but it's not like the blast of your typical 5.56mm AR. I appreciate this a lot because training with this 9mm AR will translate well to all my other AR's, and that is a serious benefit. The SAINT Victor 9mm ran flawlessly throughout the day and the handguard didn't heat up to uncomfortable levels, even when shooting fast with high round counts. The flat-faced trigger made for a comfortable and smooth trigger pull no matter where my finger ended up.
After a couple hundred rounds I really came to appreciate the slim Bravo stock. It makes the rifle feel "tighter," and has less bulk on the stock. Wrapping up a range day where I was able to run both a pistol and a rifle with the same ammo was refreshing. I'm looking forward to more range sessions to get reps in for half the cost of .223 ammo.
Final Considerations About the 9mm SAINT
If I could have wished for Springfield to make the perfect 9mm AR, this SAINT checks just about all the boxes for me. I look forward to getting more range time with this carbine while keeping my wife happy that our back account isn't being gutted.
Do yourself a favor and give this one a closer look, as it might reinvigorate your love of AR's in a new way or just help you to get out on the range more often.
Editor's Note: Please be sure to check out The Armory Life Forum, where you can comment about our daily articles, as well as just talk guns and gear. Click the "Go To Forum Thread" link below to jump in and discuss this article and much more!
Join the Discussion
Featured in this video
Continue Reading
Did you enjoy this video?
259