When the M14 rifle was adopted as the United States' service rifle to replace the .30-06 M1 Garand, it also helped introduce the 7.62×51 NATO (.308) round to the world. The M14 in .308 served until it was replaced as the primary service rifle with the M16, but has soldiered on in other roles through to today.
The main reason for switching to the M16 was that it was a much lighter weapon, easier to manage on full-auto, and its lighter intermediate cartridge allowed soldiers to carry a lot more ammo. As a counterpoint, the M14 was a long and heavy firearm, and one with more power and range than many believed was necessary for the average soldier.
It was, however, known and well-respected for its reliability and stopping power, as well as its ability to "reach out" at distances far beyond the M16. The M14 remains in limited service across all branches of the U.S. military today for those very reasons, with variants used for in roles including that of the designated marksman.
A New Path
The semi-automatic version of the M14, the M1A, was released by Springfield Armory, Inc. in 1974 and has been a huge success. Due to the success of the original M1A, Springfield has created several variants over the years including the following: Standard, Loaded, National Match, Super Match, SOCOM 16, SOCOM II and Scout Squad.
The Scout Squad was designed and marketed for CQB self-defense and hunting in thick brush. I think the idea was to meet somewhere in the middle between the original M14 or full-size M1A and the lighter and more manageable M16. It combined the legendary power and reliability of the M1A with the fast and easy sight acquisition of a smaller and lighter scout-style rifle.
The barrel of the Scout Squad was shortened to 18", with a newly designed muzzle brake fitted to reduce perceived recoil and allow fast follow-up shots. They also added a forward scope mount that is perfectly suited for the non-magnified red dot optic, allowing even faster and quicker target acquisition.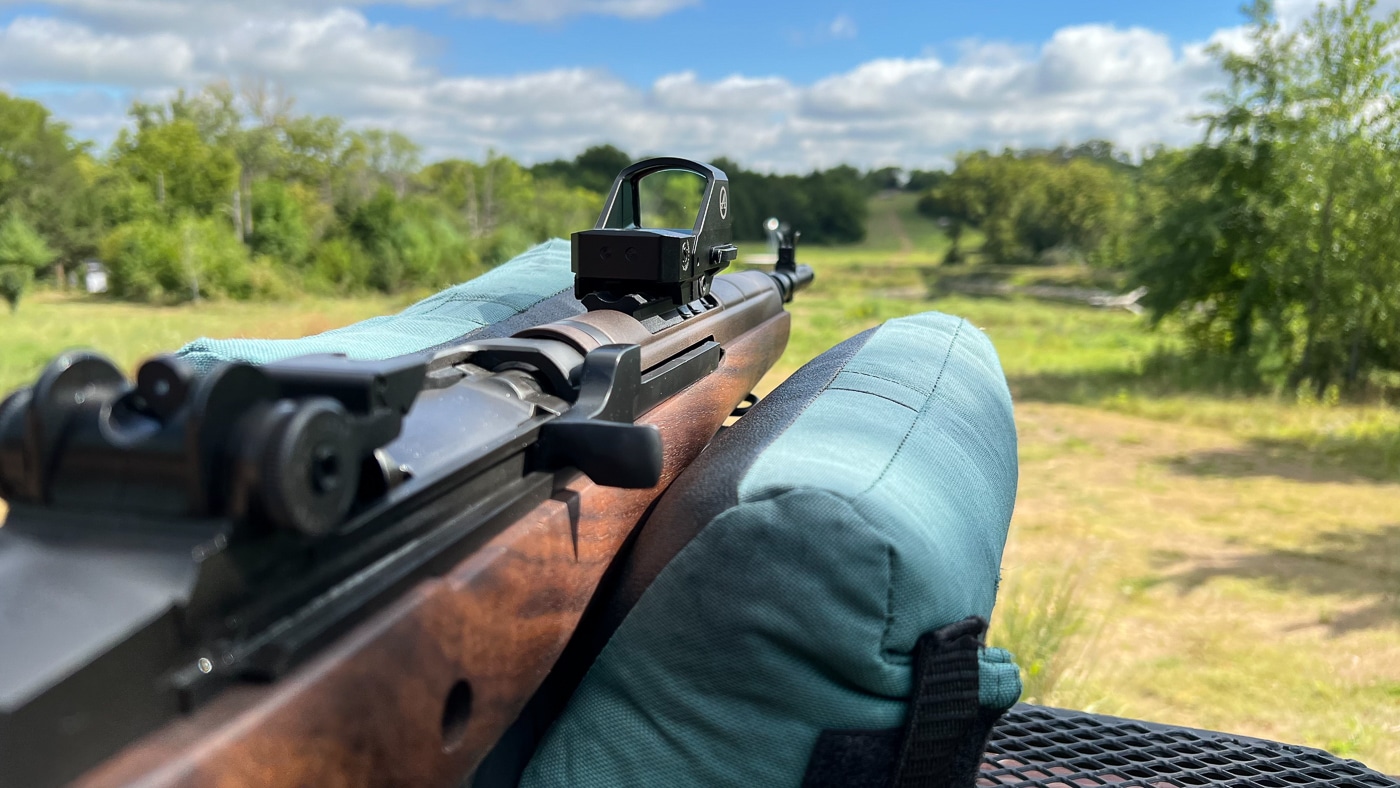 For me, the question to ask is just how accurate can you be with these modifications and a red dot? Just how far out can we push the Scout Squad, when it is set up with a CQB-style red dot, and still maintain enough accuracy to be effective? Only one way to find out! Let's put the lead, brass, and copper to the test.
The Test
For this review, I choose to use Athlon Optic's MIDAS LE GEN2. The very first time I picked up the Scout Squad, I immediately knew what optic I wanted to put on it. The MIDAS has many other features such as quick-detach (allowing fast removal to use iron sights if needed), three different reticle options, and auto shut-off and instant-on with motion.
I also completed an independent review of the MIDAS, including a torture test that involved dropping it from over 17', submerging it in one meter of water for 30 minutes, and freezing it and putting it right back on the rifle and still hitting the steel at distance. To me, this rugged little optic was a perfect match for the Scout Squad!
I mounted the optic and zeroed it using Hornady .308 Win 168-gr. A-MAX Black to ensure maximum accuracy for the distance test. With set ups like this where I expect to engage targets from 25 yards to out and beyond 300 yards, I have found a 50-yard zero to be very successful. I can consistently hit steel from 25 out to 300 yards.
I was shooting tight groups at 50 yards, and called it "good" with the sight. I then started pushing out from there to into the hundreds of yards. Over the course of my range time, I was easily and pretty consistently hitting steel at 300, then 400 and even 500 yards from the bench.
Honestly, despite using a non-magnified optic, it was pretty easy to hit from the bench. But what about standing? That increases the difficulty tenfold for me and most folks. But, I wanted to see just how well I could do, starting at 100 yards and going out from there. Much to my surprise, 200 was not bad at all and even put some hits on target at 300. Don't take my word on any of this — see for yourself and watch the video above. A picture — or, in this case, a video — is worth a thousand words.
Conclusion
Watch the video and decide for yourself what you think about the capability of Springfield's M1A Scout Squad with a red dot and just how far can you go. To be frank, I think I took a rifle set up for CQB and pushed it out well beyond what one could expect. And the Scout Squad certainly did its part! Until next time on The Armory Life, happy shooting and be safe.
Editor's Note: Please be sure to check out The Armory Life Forum, where you can comment about our daily articles, as well as just talk guns and gear. Click the "Go To Forum Thread" link below to jump in and discuss this article and much more!
Join the Discussion
Featured in this video
Continue Reading
Did you enjoy this video?
292