Bought an M1A, Now What?
June 13th, 2019
4 minute read
I had the chance to sit down with Steve Horsman from Springfield Armory to discuss the necessary steps when you first purchase an M1A. Here's a look at his insights about what you should do when you first get your new M1A.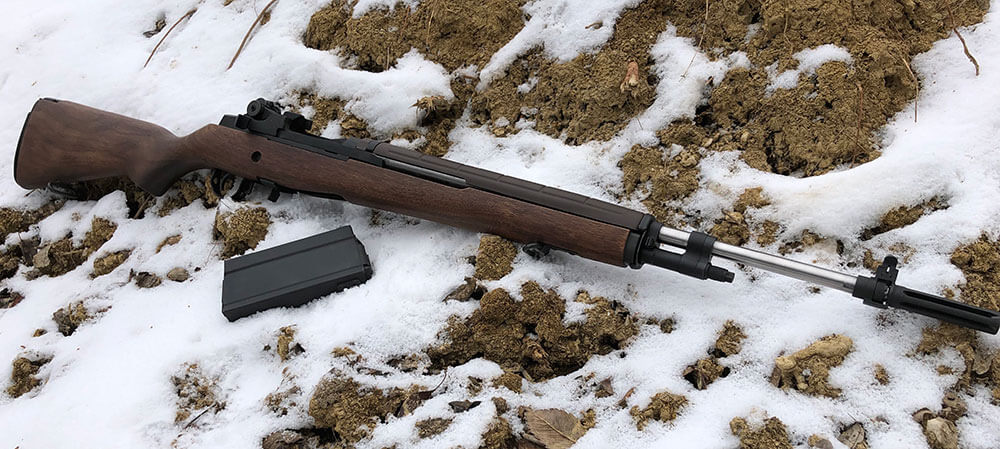 I own more than a few M1A rifles, and I get a bunch of questions about taking care of my guns and best practices for new owners. You know, I'm not really doing anything significant. The two guns I shoot for competition are Super Match rifles.
Cleaning
The first step I do is clean the rifle. There's a misconception going around that guns that come from the factory aren't clean. They really are clean, but they've been test fired. I want a fresh start before heading out to the range.
One of the things Springfield does is test fire them up to 10 times per gun. That varies depending on which gun it is. The Super Match rifles are zeroed at 100 yards, so you know you're getting a gun that is close to dialed.
For cleaning, I'm a big fan of Bore Snakes. I'll put a little CLP on a Bore Snake and run it through a couple times. I make sure the breach on the bolt face is cleaned. That goes for every time I bring the gun in from practice. I get to know the gun. The M1A isn't like the new AR-15 rifles, and not many people have a ton of time behind them.
Sighting In and Optics
Some folks don't pay attention to how they adjust the sights on an M1A. They're much like the Garand rifles. There are two dials on the back to adjust the sight. The owner's manual is a great place to start when familiarizing yourself with your M1A. After I understand what I'm in for, I take it to the range for sighting in. Yes, it is zeroed from the factory, but I want to verify. Plus, not everyone likes their guns sighted in at that distance. My suggestion would be to dial the sights in for the distance that you will most often shoot. For me, I zero the guns at 300 yards since that is the distance that many M1A matches hit.
That is pretty much it. There's not much to get to know and adjust your M1A. Take the M1A CQB, for example. When I first purchased the gun I already knew I wouldn't put an optical sight on it. I read through the manual, even though I've had plenty of time around the gun, but a little re-familiarization with a platform is good to do every so often.
One thing I have noticed about the variants of the M1A platform is people's desire to scope the M1A. If you're going to scope the M1A, you might as well go with a full-size gun. Springfield offers scope mounts that allow shooters to scope their M1A. But, again there folks that rush into putting on the optic. We all know how that ends. They don't put it on right and can throw off the windage by several feet at a hundred yards.
It's typically the guys that put the mounts on incorrectly because, hey who needs instructions? Even though I've mounted hundreds of optics on the M1A platform, I still read instructions. That's the most valuable piece of advice I could give if you're thinking about mounting an optical sight on the M1A. Read the darn instructions.
The M1A will take a lot of abuse. It was designed as a military gun. The M1A is a gas-operated gun in the sense of the Garand or the AK-47. It's a true piston gun, so you don't get a bunch of carbon build up back there in the action. However, you need to read the instructions on the breakdown of the rifle and understand how to do that to better maintain the firearm.
Springfield sells after-market tools to clean the M1A and make your life easier. It's funny. One of the things we see a bunch in the returns of the M1A just requires a simple cleaning to get the gun running right. If that person had just cleaned the gun, it would be running great.
"These are easy steps, I know, but don't underestimate the little things. If ignored, the little things could turn into big problems." ~ Steve Horsman
After sitting down with Steve, it got me thinking about the guns I've neglected because I take them for granted. They always run great with a little grit in them, right? Take my Benelli Vinci, for example. I've owned that gun for the better part of six years. It's starting to run sluggish, and I don't think I've ever cleaned it. I re-familiarized myself with the gun and owner's manual. I then took it out after a thorough cleaning, and it is running like a champ now.
Editor's Note: This article was shared with us by GUN TALK.
Join the Discussion
Featured in this article
Continue Reading
Did you enjoy this article?
424