M1A Scout Squad — Worth the Hype?
August 23rd, 2020
4 minute read
Accuracy, reliability and power are the three things that make a rifle feel worth holding and using — and the U.S. military M14 had all of these qualities.
In 1974, the civilian legal variant of the M14 — dubbed the M1A — was made available to the public by Springfield Armory of Geneseo, Ill. Since then, it's been one of the most popular .308 rifles on the market. And over the years, the company has introduced variants of the design for its customers.
The M1A Scout Squad, an 18″-barreled version with a forward scope mount rail, is one of those interesting versions, and I recently had a chance to try one out for myself.
The Looks
The first thing you'll notice out of the box is that the M1A is a beautiful weapon. The model I tested sported a solid walnut stock and Parkerized metal barrel coming in at 9 lbs., 3 oz.; the gun is sturdy, durable, and will hold up to just about anything. Even at that weight, the rifle is well-balanced and easily carried out in the field, so while it's gorgeous enough to look great in your gun rack or hung over a door, you'll want to take it on your next 100 hunts. Trust me — I took it on plenty.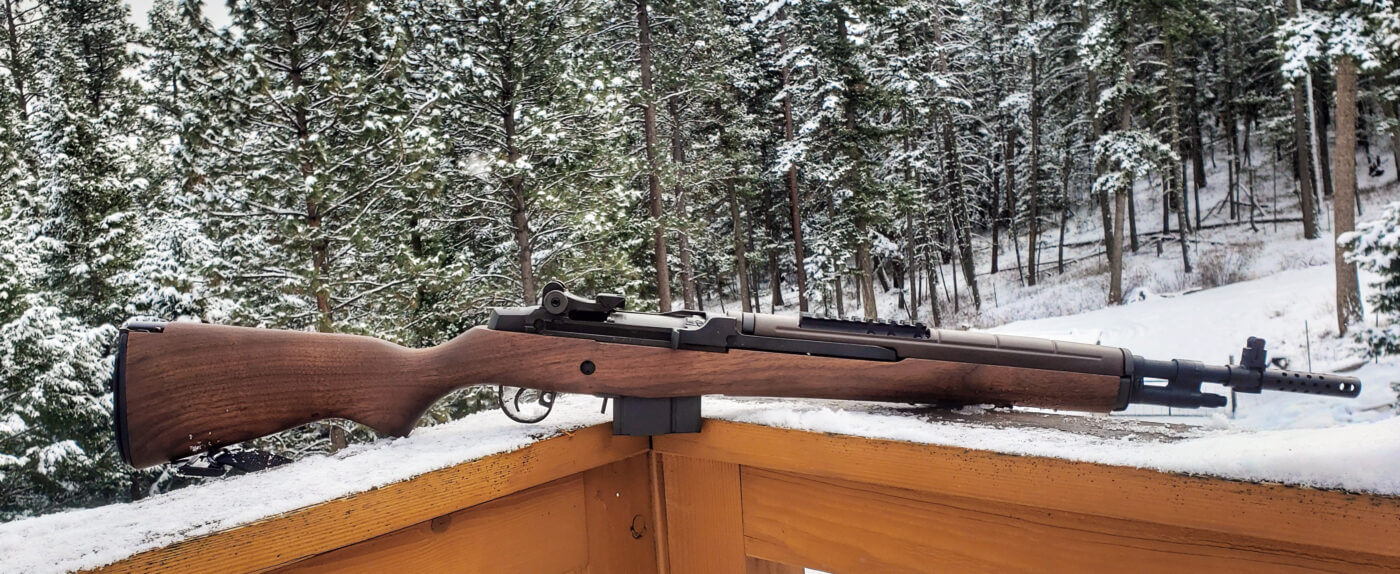 There's also a composite stocked model, if you're more into the modern look and feel. I'm an old school guy, so the classic wooden-stocked version was perfect for me.
The Features
As a recreation of the original M14 in a semi-automatic-only format, the M1A has all of the same features that were so valuable to U.S. fighting troops. Easy rear sight adjustment, two-stage trigger, detachable box magazine, and other components come together to give the historical feel of the original.
Combining the latest in craftsmanship technique and the level of quality you've come to expect from a Springfield rifle, the M1A holds 10 rounds of 7.62×51 NATO/.308 WIN, packing enough punch to take down whatever you're shooting at.
How Does It Shoot?
No matter how pretty the M1A Scout Squad might be, the real test is in the performance. I ran it through its paces over a deer season and a several shooting sessions — one of which was in a snowstorm — and it was nothing short of phenomenal.
My freezer full of meat can vouch for its accuracy. The day before I had planned to do some shooting, I spotted a large whitetail doe crossing my property out here in the mountains of western Montana. I grabbed the M1A and snuck outside to take a shot, hoping to fill my tag with a quick kill.
The doe saw me and started running. At 50 yards, with her moving away and up the mountain at a fast pace, I was able to drop her with a head shot. That rifle facilitated some pretty nice venison tenderloin this winter.
In a recent snowstorm with 25 mile-an-hour winds and much lower temps, I decided to do some more shooting, again with nothing but the iron sights and some 150-grain .308 rounds. At 50 yards, the rifle performed just as well as it did during hunting season, putting five shots solidly in the middle of a 3″ target. At 75 yards on a 2″ target, I had two shots pull left due to cold hands and operator error, but the third was dead center. In short, the gun is exactly as accurate as you are.
The M1A is a true thing of beauty. It's durable, accurate, and reliable — exactly what you want in a rifle, no matter where you are. It'll look great as part of your collection, but it'll perform as part of your life.
Editor's note: Please be sure to check out The Armory Life Forum, where you can comment about our daily articles, as well as just talk guns and gear. Click the "Go To Forum Thread" link below to jump in and discuss this article and much more!
Join the Discussion
Featured in this article
Continue Reading
Did you enjoy this article?
249