Springfield Armory M1A SOCOM 16
February 24th, 2020
4 minute read
It's hard to follow a legend, but some can do it. The M14 service rifle went through this by superseding the M1 Garand after World War II. The M1 Garand had given U.S. forces an advantage with its semi-automatic operation and eight-round capacity compared to the bolt-action rifles of the opponents. The M14 took everything learned with the .30-06 M1 Garand and applied it to a newly refined design. It switched to a shorter yet equally capable round in the 7.62x51mm, added a detachable 20-round magazine and offered full-auto capability.
This article is about the M14's semi-automatic civilian counterpart, the Springfield Armory M1A — specifically the compact SOCOM 16 variant. When initially introduced in 1974, the M1A was an immediate hit for Geneseo, Illinois' Springfield Armory. Springfield Armory showed the accuracy potential of the M1A with its National Match and Super Match rifles, and it did not take a large leap of imagination to realize there would be a demand for tactical and self-defense versions of the design. The result of this was the SOCOM 16 family of M1A rifles.
Short and Long of It
The SOCOM 16's name gives away one its top selling points — a short, 16.25″ barrel. The combination of svelte handling characteristics and potent 7.62mm power is likely key to its appeal. While the 5.56mm round may receive a lot of criticism (founded or unfounded) for downrange lethality, the 7.62 NATO/.308 Win. round doesn't suffer from the same reputation.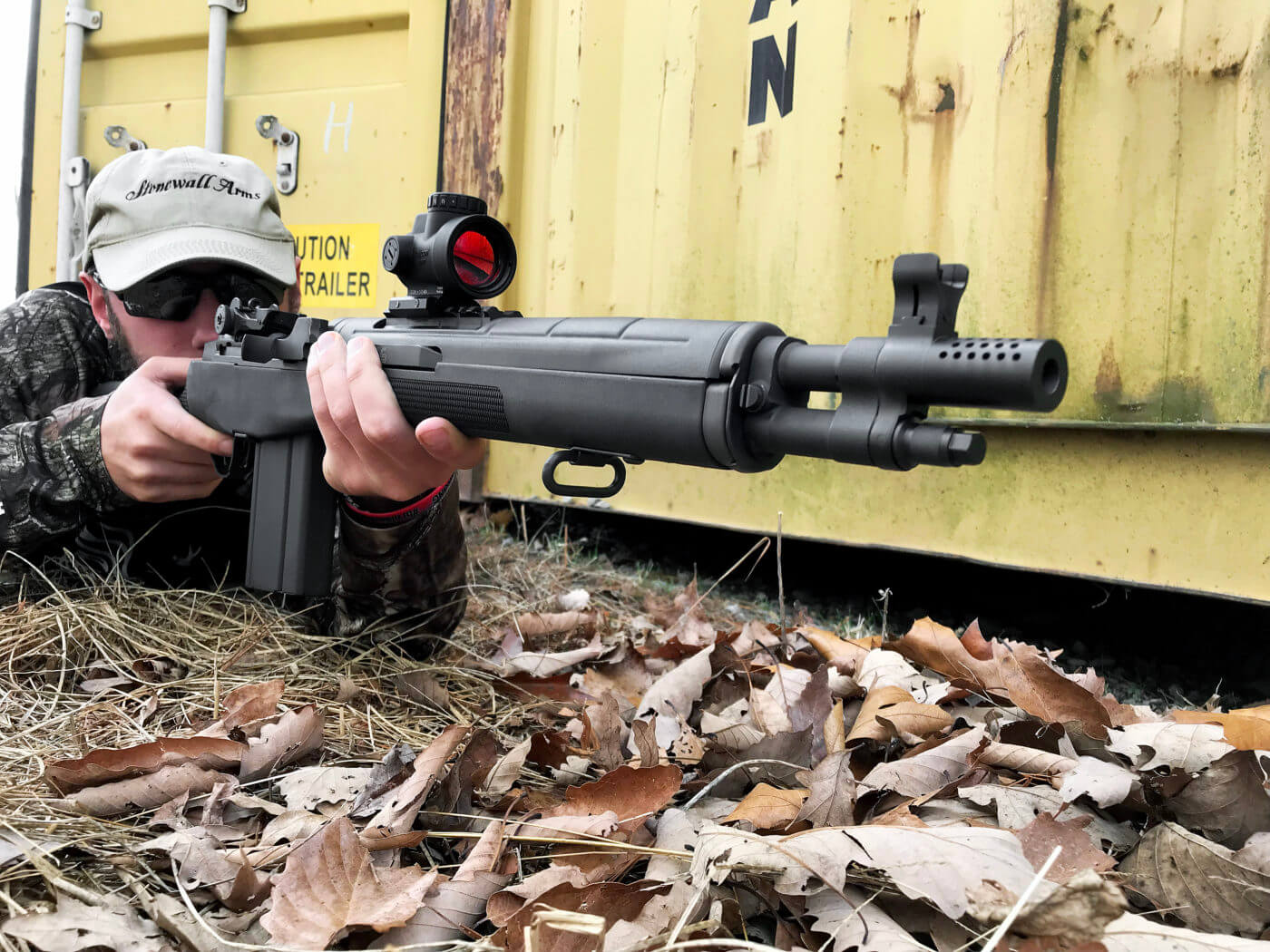 The SOCOM 16 weighs approximately 8.8 lbs. and measures 37.25" in overall length. A black composite stock provides interface with an enlarged ghost ring aperture rear sight and XS Sights tritium front post, giving you quick target acquisition.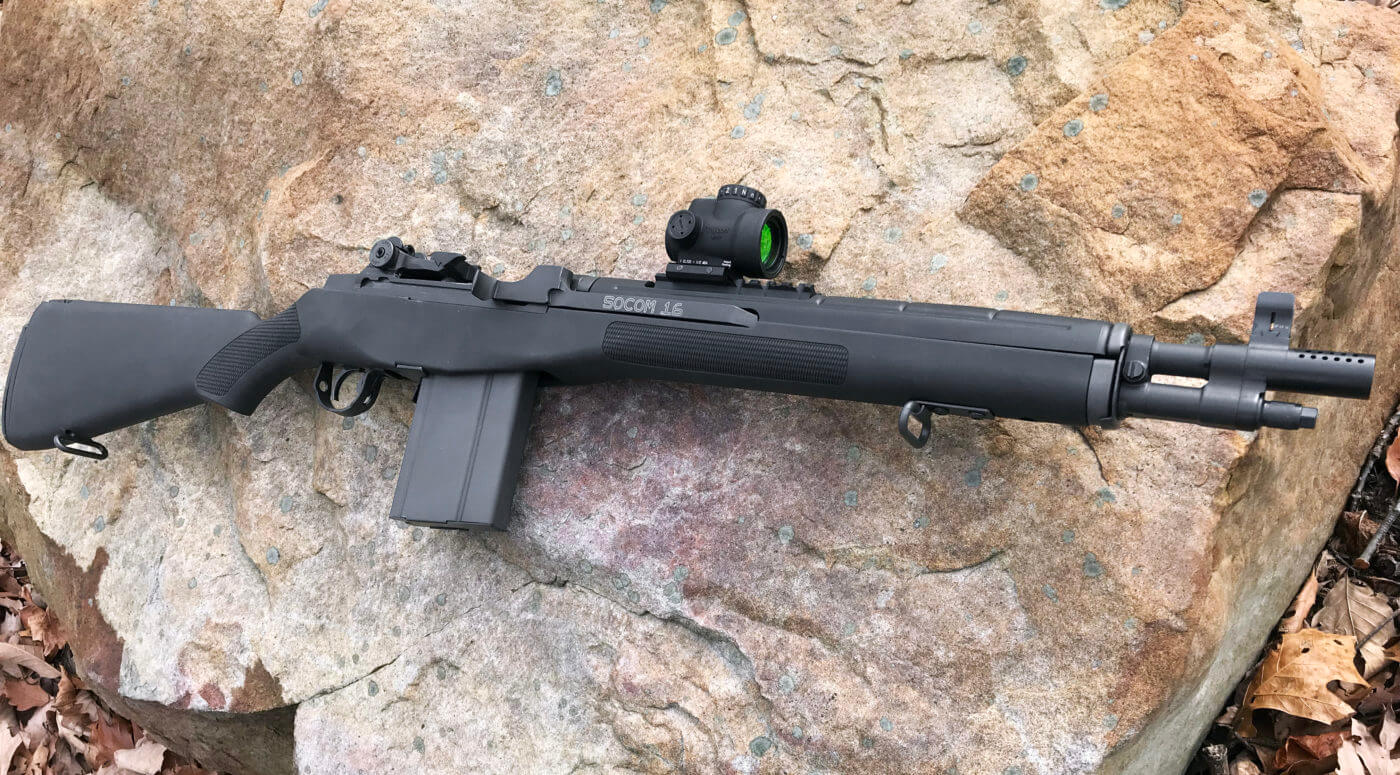 The rifle features a forward scout-style Picatinny mount for a red dot or intermediate eye-relief optic (a low-mount is a must with this to ensure to a proper cheekweld). The specially engineered 16.25″ barrel is mated to a proprietary muzzle brake to help keep muzzle rise to a minimum.
Hands On
I had a chance to try out one of these rifles myself recently to see how it performs. I mounted a Trijicon MRO red dot for the evaluation. I headed out to the range with a selection of ammo, including Speer 150-gr. GDSP, IMI 150-gr. FMJ, American Eagle 150-gr. FMJ, and Black Hills 168-gr. Match and 180-gr. Accubond loads.
Accuracy was good, with the gun averaging roughly 2 MOA at 100 yards with all loads using the non-magnified MRO. I found that the 16.25″ barrel sacrificed roughly 150 fps against a 22" barrel of a standard M1A. The handiness gained from the short barrel outweighs the velocity lost, in my opinion. Velocity is important, especially for extended ranges, but the 7.62 round does not rely on only hyper-velocity to be effective.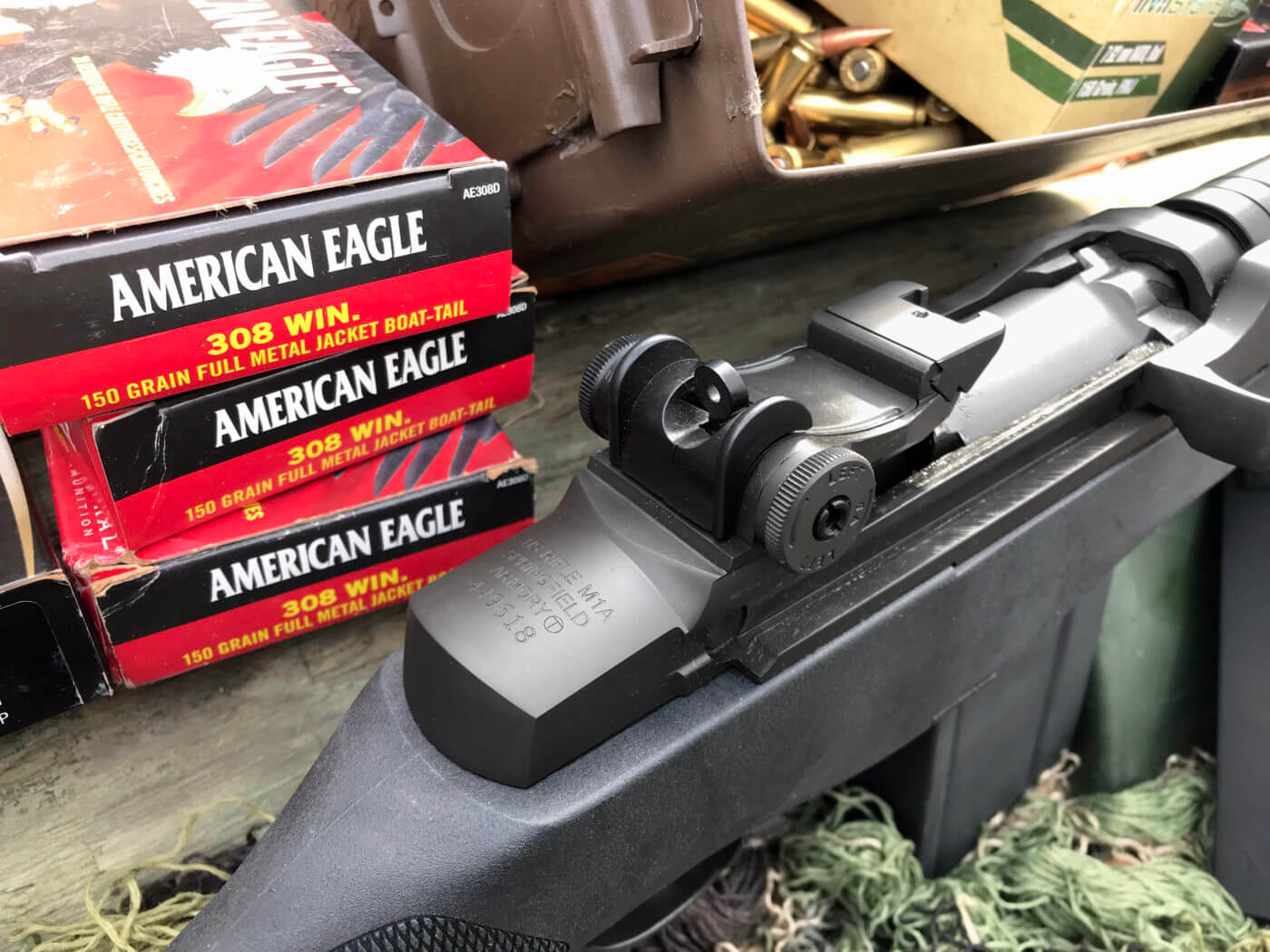 Conclusion
Anecdotally, a casual observer can easily tell a steel target smacked with a 7.62 NATO versus 5.56mm. While there is much to be offered by a 5.56, there are some times when you just want the reassuring "whomp" of the 7.62. And the fact you can get that in a short, quick-handling carbine like the M1A SOCOM 16 makes it just about irresistible as an option.
Editor's Note: Please be sure to check out the new The Armory Life Forum, where you can comment about our daily articles, as well as just talk guns and gear. Click the "Go To Forum Thread" link below to jump in!
Join the Discussion
Featured in this article
Continue Reading
Did you enjoy this article?
147