Alexo Athletica CCW Readywear Review
August 7th, 2022
7 minute read
The older I get, the more I realize how important the right clothes are and that's why this Alexo Athletica review is so important. Though the world isn't supposed to judge, you cannot deny that what you wear affects how people see you. Wearing the "right" clothes can get you a job, a date or any number of opportunities — good and bad. No matter how you spin it, clothes also have to be right for the application. For example, you wouldn't wear a bathing suit to go skiing. And, the clothes you choose to wear can greatly impact your ability to most effectively concealed carry a handgun.
What I feel most comfortable and confident in wearing oftentimes doesn't lend itself well to concealed carry. Summer months are harder than winter, when I can hide a slight bulge under flannels and jackets. Oftentimes, I would choose not to carry that day, justifying that where I was going was safe, while chiding myself for assuming that. If anything, modern-day events are a warning to expect the unexpected.
Other times, I could conceal a handgun, but not get to it easily. While there are endless bags and products with concealed carry pockets, most aren't right in reach when you would need them. Too many layers and not enough practice with technique make you slow on the draw as well. In other words, "Hold on, let me dig my gun out of the pocket — it's velcroed into…" probably won't save you.
Baggier clothes are often better, but I felt unattractive and self-conscious in most of what I tried. Frankly, I'm not a girl who's crazy over clothes. I have a collection of baseball hats to put ballplayers to shame, but never put much thought into fashion.
This carried over when I started carrying concealed. I paid more attention to how the gun felt in my hand at first than what it would take to conceal it. That changed when I found out about the Alexo Athletica x Springfield Armory Readywear collection. I immediately reached out to get some to try out for myself.
My Alexo Athletica Review
When I first tried out the products I received from the Alexo line, I was very impressed — not just with the quality, but how they looked while I was wearing them. This was one of Alexo founder Amy Robbins's goals in creating the brand; to provide functional, comfortable and attractive apparel that encouraged and allowed women to protect themselves while on the go. And the Alexo Athletica x Springfield Armory collection isn't just for women, but also includes a variety of options for men that have an active concealed carry lifestyle. Here are my thoughts on the pieces I reviewed.
DeSantis Flextech Holster
The cornerstone of this line is the ambidextrous DeSantis Flextech pocket holster. It pairs with the double pocket system in Alexo pants for additional trigger guard protection and a smooth draw. It took a bit of getting used to at first. The key is to insert the holster fully into the pocket before adding the firearm. Ensure the rubberized exterior is facing outward so as to catch against the pocket fabric. Overall, this is a great minimalist system. I carried my Springfield Armory Hellcat and practiced drawing from each of the pants I received with no issues. The holster stayed intact in the pocket and the gun came out smoothly each time. MSRP is $29.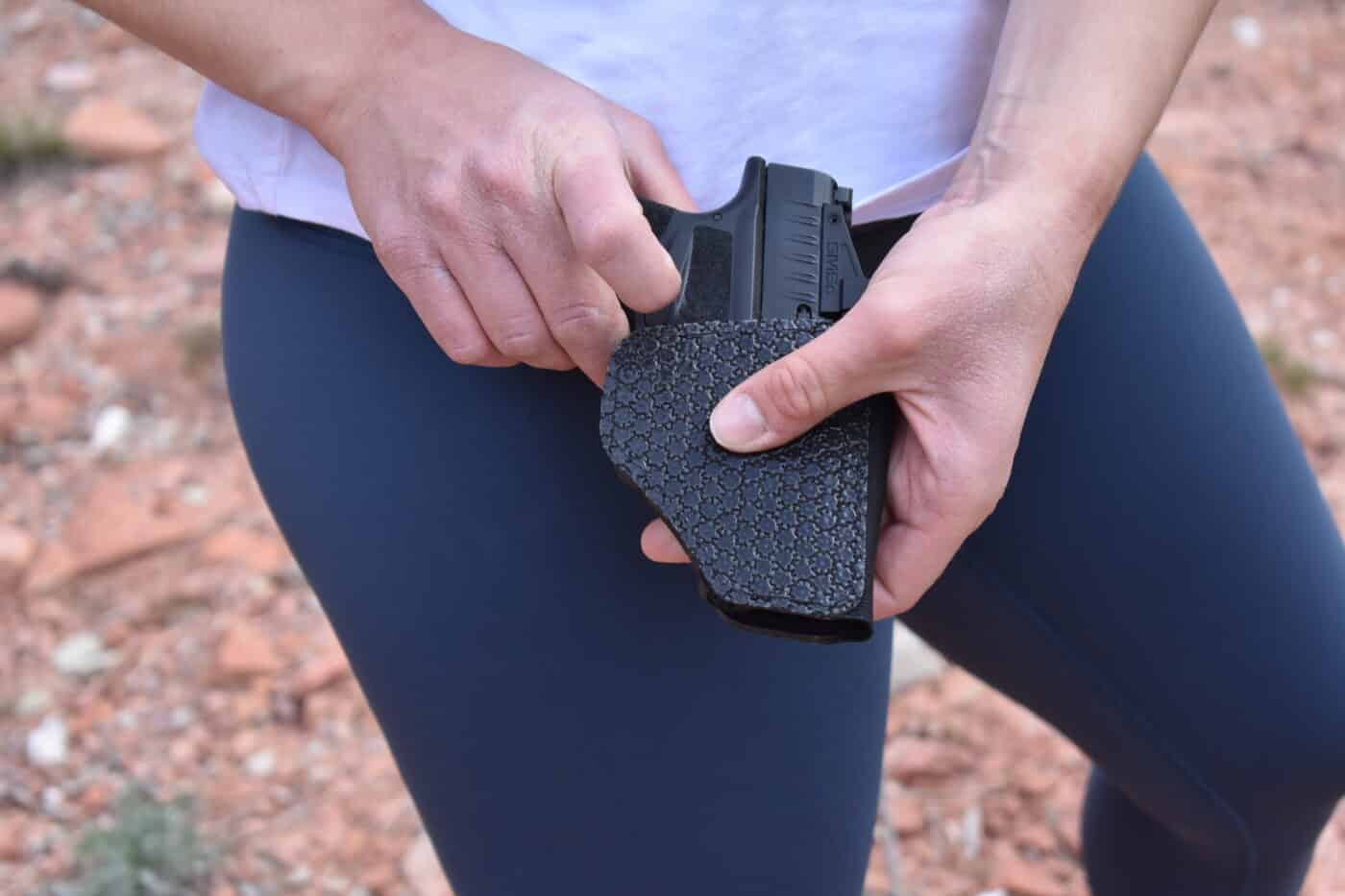 Springfield Flowy Tee
What I at first considered a slightly oversized t-shirt became the key to concealing with pretty much any bottoms I chose. Jean shorts, sure. Alexo leggings, absolutely. The material dries quickly and has some moisture-wicking properties. Though the material is a bit heavy to the touch, it's very lightweight when worn. The Springfield Flowy Tee is offered in red, blue and white. With concealment in mind, the white sample I had was not see-through, unlike most other white apparel I have. It also didn't just hang on the body, but rather moved with you. Slight natural wrinkles further cloaked my pistol. MSRP is $29.
Springfield Full-Length CC Legging
Alexo's website describes it best: "The full coverage, high compression design of these leggings sucks you in and smooths you out." Generally, marketing copy isn't 100% accurate. In this case, it is. These high-waisted leggings were a bit tight for me to get on (though they were the proper size) due to my shape, but were thicker than most other leggings I have worn. They had substance, yet still allowed a full range of movement.
Most importantly, these leggings include four ambidextrous pockets: right and left appendix carry, and right and left kidney carry. I actually preferred using the kidney carry pocket as I could more comfortably stretch without my pistol digging into my stomach. The pockets were a bit small for my large phone, but held credit cards and other small items with no issues.
My Hellcat stayed intact through jumping, running and a variety of other physical tests. If you like loose-fitting leggings, these aren't for you. Look to the Terry Lounge Pant instead. MSRP is $99.
Springfield Terry CC Lounge Pant
These extremely comfortable pants feature banded cuffs so the fabric doesn't drag on the ground, as well as the same pockets as in the full-length leggings: right and left appendix carry, and right and left kidney carry. Each of these double pockets provides hiding places for a variety of items and flexibility in how you carry. I always chose the pocket closest to my body for my firearm as it fit most securely there in the DeSantis Flextech holster. These are high waisted, but otherwise unrestrictive.
The design of the pockets and high waist put some pressure against my abdomen while exercising, which will take a bit of getting used to, but the pistol never left my side. I worked out on an elliptical with my Hellcat stowed in the right kidney carry pocket. I tried the appendix carry pocket, but even with the drawstring pulled tight, it still lightly slapped my stomach as I moved. No such issues with the kidney carry pocket. Paired with the flowy tee, the pistol never saw the light of day and I honestly forgot I was wearing it. MSRP is $79.
Springfield Terry Cowl Hoodie
This hoodie is the counterpart to the Terry lounge pant. It is a bit shorter to complement the high-waisted lounge pants and is comfortable, but I noticed I needed to be mindful of how high I lifted my arms when wearing it. If I were wearing this hoodie when doing arm exercises with my hands fully above my head, my pistol would be exposed. If I'm in my own home and want to have my gun on me just in case, this doesn't matter. Otherwise, one should be careful not to flash everyone in the gym. For this reason, Alexo recommends layering with an active tee or sizing up. MSRP is $69.
Springfield Ladies Performance Jacket
This neoprene jacket has two traditional side pockets and a hidden zippered pocket in the small of the back, perfect for keys, credit cards and other essential items. The jacket fell to my hips, still allowing me to conceal with the jacket zipped and unzipped. Reflective strips on the front and back provide extra protection in low-light. Thumbholes vanish within the sleeves and the neoprene first hits the skin with a sort of cooling sensation. MSRP is $99.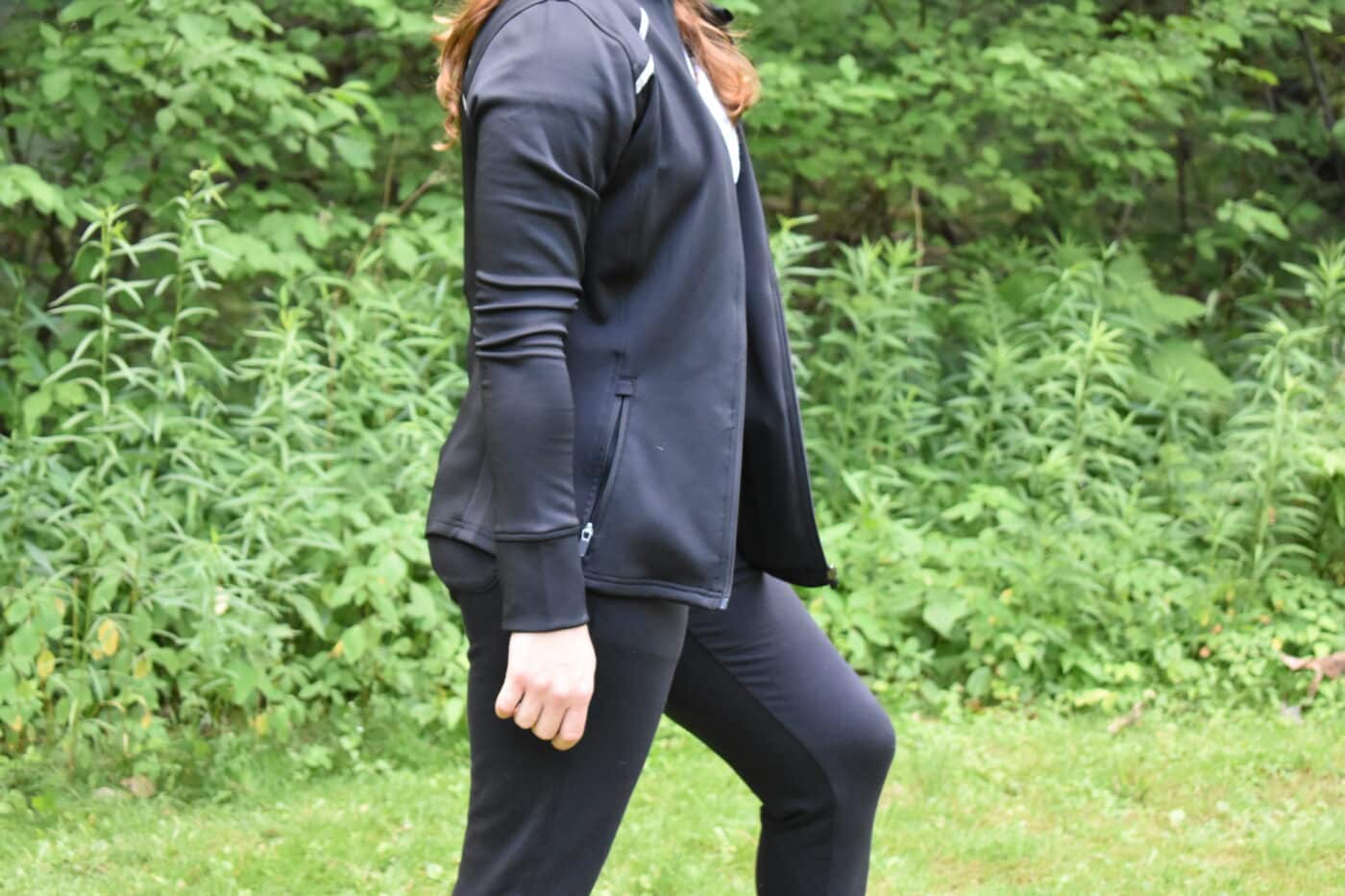 Springfield Breezy Moto Jacket
The Springfield Breezy Moto Jacket is my favorite piece in the collection. While not featuring a dedicated CCW pocket, it is the perfect in-between jacket with mesh panels spread throughout. I wore this piece the most, adding it over a variety of shirts and pants for better concealment and extra warmth. It is incredibly lightweight and has two main side pockets and an incredibly handy chest pocket. Zippers secure all the pockets as well as adorn the sleeve edges, allowing them to be rolled up. This jacket is incredibly versatile, and I wore it in a variety of situations, from hikes to meetings. MSRP is $129.
Conclusion
This collection, above all else, makes a point. Being active only changes the way that you carry, not if. Concealed carry clothing also doesn't have to be unflattering and uncomfortable. While the Alexo Athletica line is optimized for concealed carry, it doesn't mean these are the only clothes you can carry with. Review what you have and consider access to the gun, retention, comfort, and situation. Ultimately, the goal is self-protection — Springfield and Alexo Athletica are just providing more ways for people to stay safe.
Editor's Note: Be sure to check out The Armory Life Forum, where you can comment about our daily articles, as well as just talk guns and gear. Click the "Go To Forum Thread" link below to jump in!
Join the Discussion
Continue Reading
Did you enjoy this article?
48