Summer CCW Challenges and Solutions
July 26th, 2021
5 minute read
Summer is the favorite season of the year for many people because of all of the outdoor activities we can do. With that comes lighter clothing along with the hotter weather, and the difficult predicament of being able to carry and still hide a sidearm. The bane of this issue is you want to wear light-enough clothing to be comfortable, yet it needs to be supportive enough to capable carry and conceal a pistol.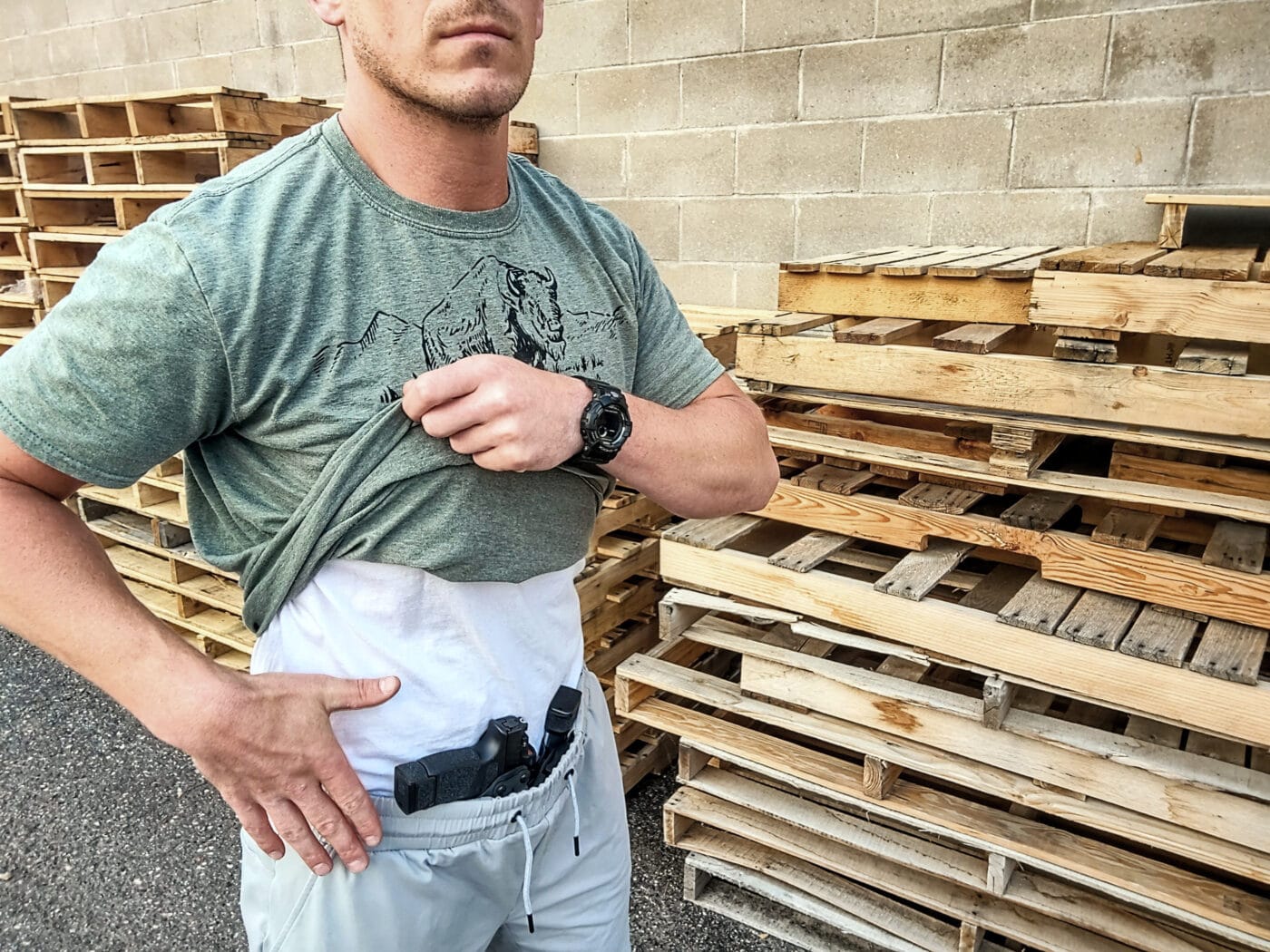 This is where the methodical selection of our holster and shorts becomes paramount. Whether you are going for a run at a park, working out at a gym, walking your dog, or anything else in the summertime, that combination of a holster and shorts is key. Today we are going to check out the BlackPoint Tactical DualPoint AIWB Holster paired with a pair of Arrowhead Tactical Carrier Shorts. Let's dive in and see what they are all about!
Holster Option
First off, we'll take a look at the BlackPoint Tactical DualPoint AIWB (Appendix Inside-the-Waistband) Holster. Most of us know that there are hundreds if not thousands of holster makers in the marketplace, and wading through them all to identify the good from the bad can be quite the task – either monetarily or through internet research.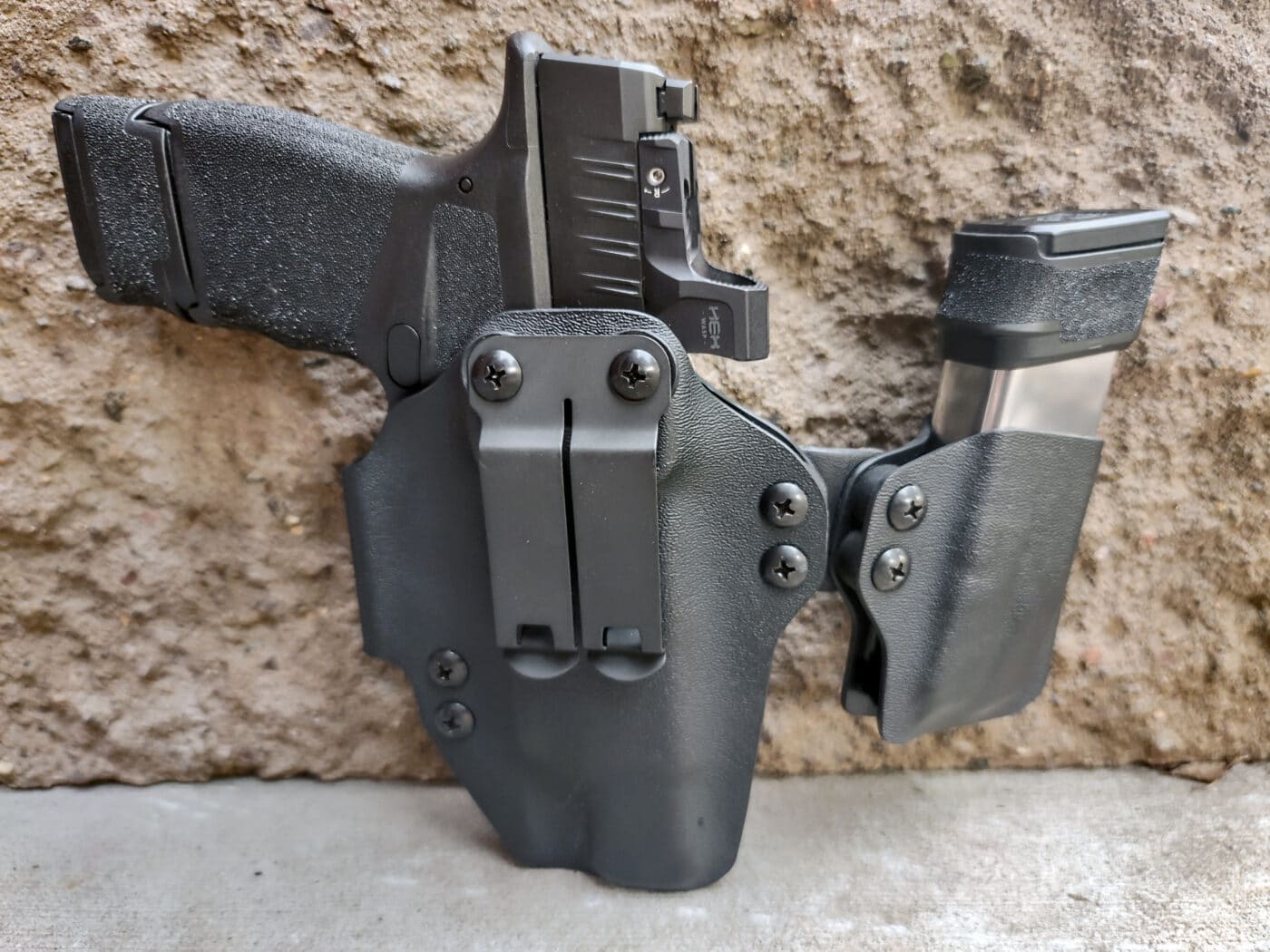 Fortunately, I can say that the BlackPoint Tactical DualPoint is one of the better ones out there. Its primary carry configuration is as an AIWB, but it also has an extra magazine holster joined with it as well. I spent the better part of a month carrying the new Springfield Armory Hellcat RDP 9mm, which sports a robust muzzle brake, and I also utilized Springfield's new 15-Round Hellcat magazines — one in the sidearm and an additional one for the magazine holster.
The element I appreciate the most about the BlackPoint Tactical holster is that it is so fluid and amorphous to your everyday needs. If you have a Phillips screwdriver you can simply change the holster from an AIWB with an extra mag holster to a lone AIWB holster. You can also switch out hardware (that BlackPoint Tactical provides) and make it an OWB (Outside-the-Waistband) holster. On any given day, I will open carrying via OWB at the gun store I manage, workout at a gym or from home while attempting to carry AIWB, and I will take my dogs for a walk where I also look to carry an additional magazine because I live in wolf country.
The BlackPoint Tactical DualPoint AIWB Holster has superb retention on both the firearm and your additional magazine in whatever configuration you decide to carry. I liked that the material that bridged the main body of the holster to the spare magazine holster was a piece of leather (instead of plastic or Kydex). The leather was more pliable and could conform to the shape and angles of your body. The only negative I have to say about the BlackPoint Tactical DualPoint holster is if you decide to carry OWB, the metal loops you feed your belt through can dig into your body which can get a little uncomfortable. So, proper positioning of the holster while carrying OWB is key.
Long and Short of It
Now, let's look at the other piece to our concealment puzzle in the Arrowhead Tactical Carrier Shorts. They are fabricated from a light, breathable material, so they are authentically a good quality workout short. They are not stiff like cargo shorts, so they allow a lot of freedom of movement. Also, they don't have any easily distinguishable branding, like a firearm logo, showing that they are a "gun short" where they could be identified in public.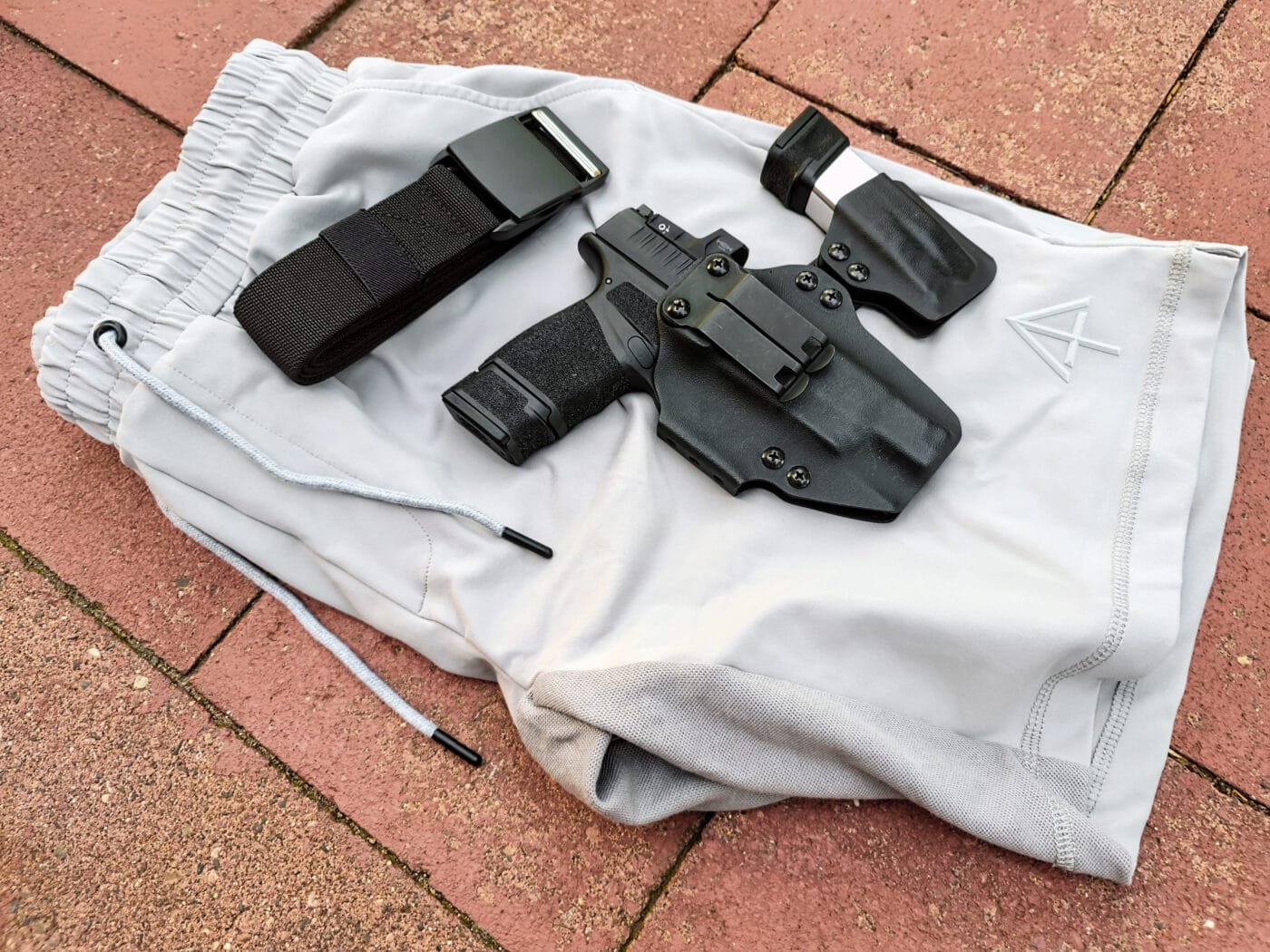 The "trick" to these shorts is utilizing the provided belt that holds it all together. Inside the waistline of them is a secret (or concealed) belt loop liner. Within this waistline, you need to feed in the belt discreetly and have the belt's buckle orientated a specific way so you can easily clasp and unclasp the belt at will. The easiest way to understand and visualize this would be to check out Arrowhead Tactical's YouTube video on the topic. They do a wonderful job of demonstrating how it all should be setup.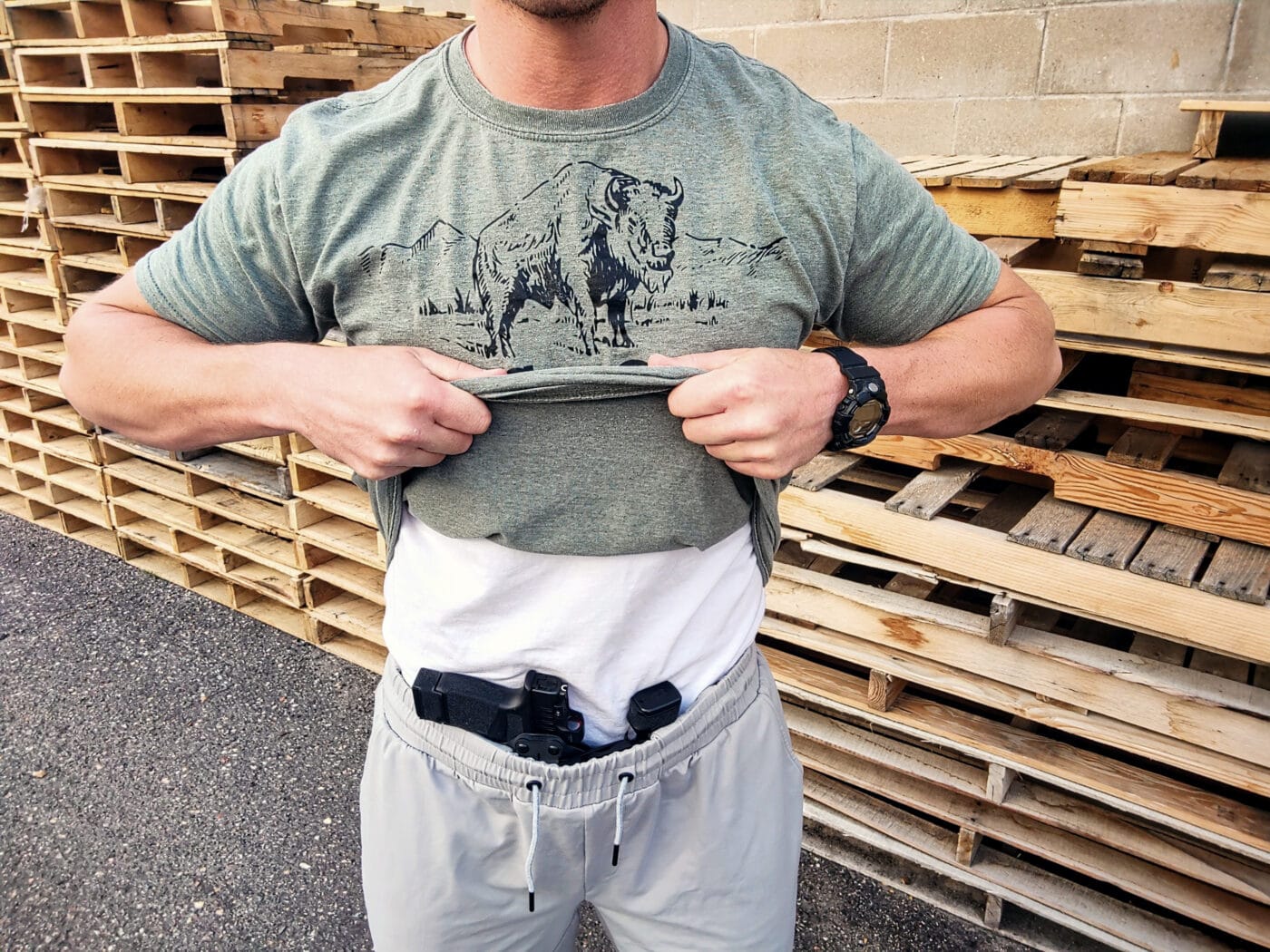 Once you have the shorts and its associated belt set up for carrying, then you simply need to adjust and play with the retention of the belt to decide what affords you the most comfort and the best draw of your sidearm. The BlackPoint Tactical DualPoint AIWB Holster easily clips into the discreet belt, but you want to make sure the belt is tight enough that only the firearm wants to lift out when you attempt to draw.
Conclusion
The tag-team package of the Arrowhead Tactical Carrier Shorts and the BlackPoint Tactical DualPoint AIWB Holster I used on-and-off for two weeks throughout workouts, walking my dogs, and even more mundane tasks like grocery shopping. My sidearm never printed, and the only time I thankfully drew my firearm was to put it away for the day. During all this, the unit of holster/shorts/firearm worked in perfect harmony. For people searching for a more activewear answer to concealed carry, this is it. If you are interested in concealed carry clothing designed just for women, you might want to read about Serena Juchnowski testing Alexo Athletica CCW clothing.
Editor's Note: Please be sure to check out The Armory Life Forum, where you can comment about our daily articles, as well as just talk guns and gear. Click the "Go To Forum Thread" link below to jump in and discuss this article and much more!
Join the Discussion
Featured in this article
Continue Reading
Did you enjoy this article?
59