Alexo Athletica Tuck & Carry: The Perfect CCW Pants?
February 13th, 2021
3 minute read
When choosing to carry a concealed defensive firearm as a woman, it can seem like the most difficult process. Is my shirt flowy enough so I won't print? Will my leggings hold up my holster and firearm? The list really does go on and on.
In this Alexo Athletica Tuck & Carry Jogger pants review, I want to introduce you to a product that will have you covered.
What Is Alexo Athletica?
Alexo Athletica was founded in 2017 by Amy Robbins. According to their website, Robbins' passion for firearm safety and proficiency grew along with her desire to see women everywhere live a confident, self-reliant lifestyle.
When Robbins saw there weren't many options for women who want to carry while staying comfortable and stylish, she jumped on the opportunity to fill that void — all the while creating a movement to empower women and give them the independence to carry.
You might be wondering "What does Alexo mean?" Simply put, Alexo stands for "to defend and help," and that's exactly what their clothing does.
Evaluating the Tuck & Carry
For this evaluation, I tried out the company's all-new "Tuck & Carry" Jogger with my Springfield Hellcat. Let me be clear: I was beyond impressed.
The company's website states that these specialized CCW pants are the "First ever Carry Jogger on the market with the built-in ability to carry your self-defense tool of choice." The pants are created to let the wearer tuck in their shirt and still be able to carry a concealed defensive firearm.
As an additional feature, the Tuck & Carry Jogger also features an ambidextrous design. Left-handed, right-handed, ambidextrous: everyone will benefit from the design.
I prefer to carry it right appendix, but I did try all four modes of possible carry — ambi appendix and ambi kidney carry — and was pleasantly surprised.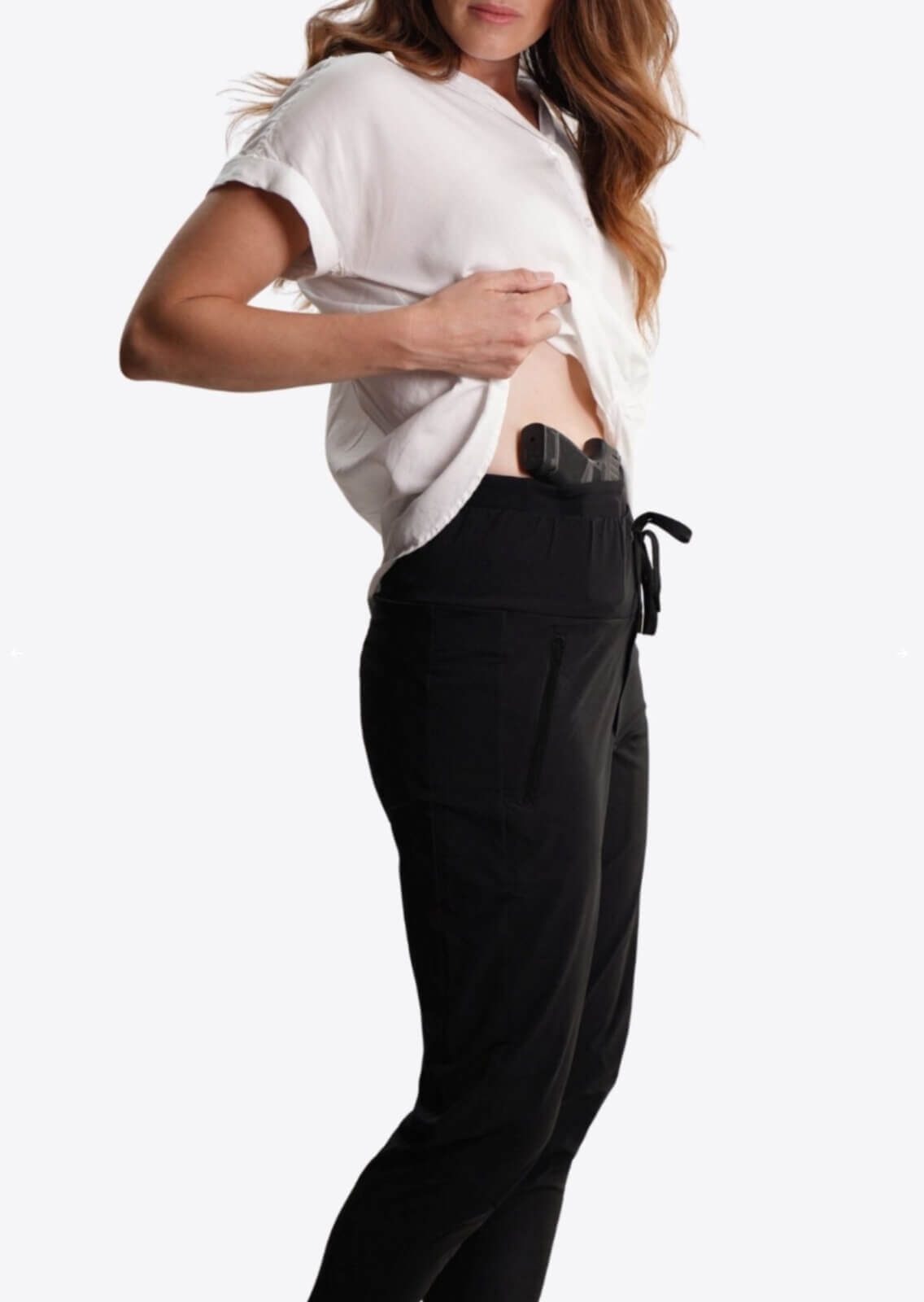 I could run while wearing these, and my Hellcat stayed solidly in place. It felt so secure the whole time. I would highly recommend these for workouts as well as everyday wear.
The pants are made completely of nylon and spandex, making them very stretchy and quite comfortable. In fact, I have worn them around the house to clean because they are just so cozy.
The best part is you can dress them up or down, and they go with anything. I'd feel comfortable wearing these for almost any occasion. They are so trendy and easy to create an outfit around.
Tuck & Carry Jogger Features
Ambidextrous design
Appendix and kidney carry
Zippered front pockets at the thigh
Wide waistband made of Nylon and Spandex (84%/16% blend)
Machine washable
Designed to carry a handgun that weighs 23 oz. or less (loaded)
Sizes XS–XXL
Conclusion
Overall, the quality and style are great. I will definitely be purchasing more Alexo Athletica products in the future. The Tuck & Carry Jogger for this review came neatly folded in a bag, and the company shipped it quickly. Further, the pants were ready to wear straight out of the packaging.
Bottom line: Try them out. You won't be disappointed.
Editor's Note: Please be sure to check out The Armory Life Forum, where you can comment about our daily articles, as well as just talk guns and gear. Click the "Go To Forum Thread" link below to jump in!
Join the Discussion
Featured in this article
Continue Reading
Did you enjoy this article?
24