Ammunition Powerhouse: Federal at 100 Years
June 18th, 2022
10 minute read
It was a duck or a rat. Let's say the first game I shot with a Federal load was the duck. (Back then Federal focused on shotshells.) The teal had left clouds the color of worn asphalt to zip through tree tops bent by cold wind. I shucked my shotgun three times, fast. To my utter surprise, this rocket faltered, then pin-wheeled in a long, flat arc.
As thrilling in memory: barn rats I pelted from a rail fence with Federal .22 shorts, 65 cents a box.
The company chose a duck image over that of a rat for its first head-stamp and box art — a popular choice when Federal's fortunes hung delicately on even small decisions.
Harry and Lewis Sherman had worked for the Sportsman Cartridge Co. and the Brass and Metals Manufacturing Corp., both in Kansas City, Missouri — also for the better-known Western Cartridge Co., founded in 1898 by Franklin W. Olin in East Alton, Illinois. In September 1916, as great armies trenched and blasted Europe, the brothers established their own enterprise: The Federal Cartridge and Machine Co.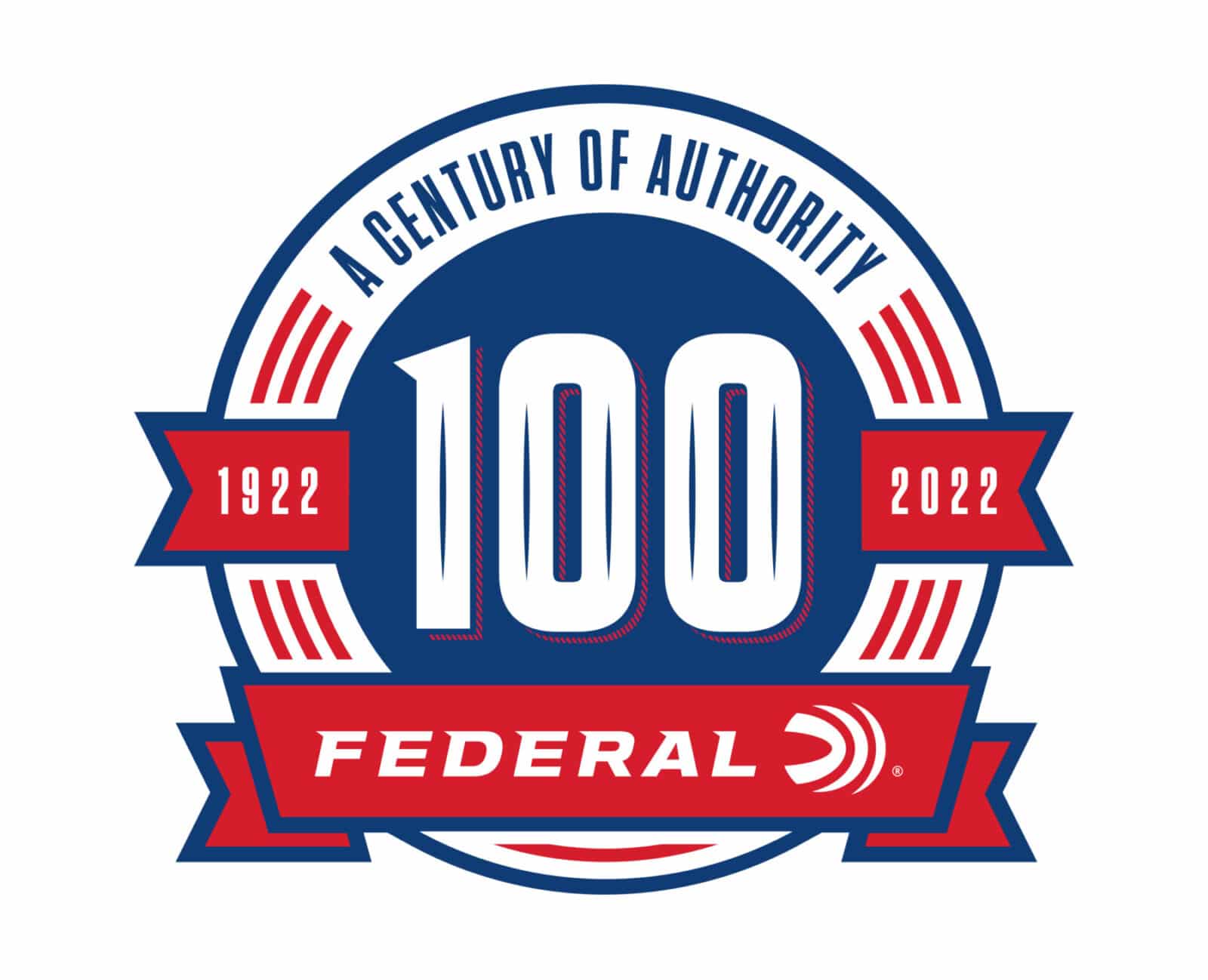 It took shape on a 31-acre plot edging Anoka, Minnesota. It would become a "massive" plant, enthused the Anoka Union newspaper, "where all kinds of cartridges will be made." Soon after operations began in its 60'x320′ shop, FC&M was re-organized as the Federal Cartridge Co. The Shermans planned an output of 175,000 shotshells a week for military contracts. However, contact opportunities dried up in November 1918. But conflicts with investors had driven the brothers out months before the armistice. Only a few orders for 12-bore shells were produced, to order, before the factory closed in 1920.
Ironically, Federal's early collapse would bring it a promising future.
Minneapolis-based Charles Horn, 34, was President of the American Ball Co. In 1922 he sought a source for paper tubes to package his company's BBs for air guns. The dormant Federal factory had rolled paper hulls for shotshells. Horn was persuaded — perhaps by T.W. Lewis, the sole remaining stockholder — to resurrect Federal. On April 27, 1922, it became Federal Cartridge Corp.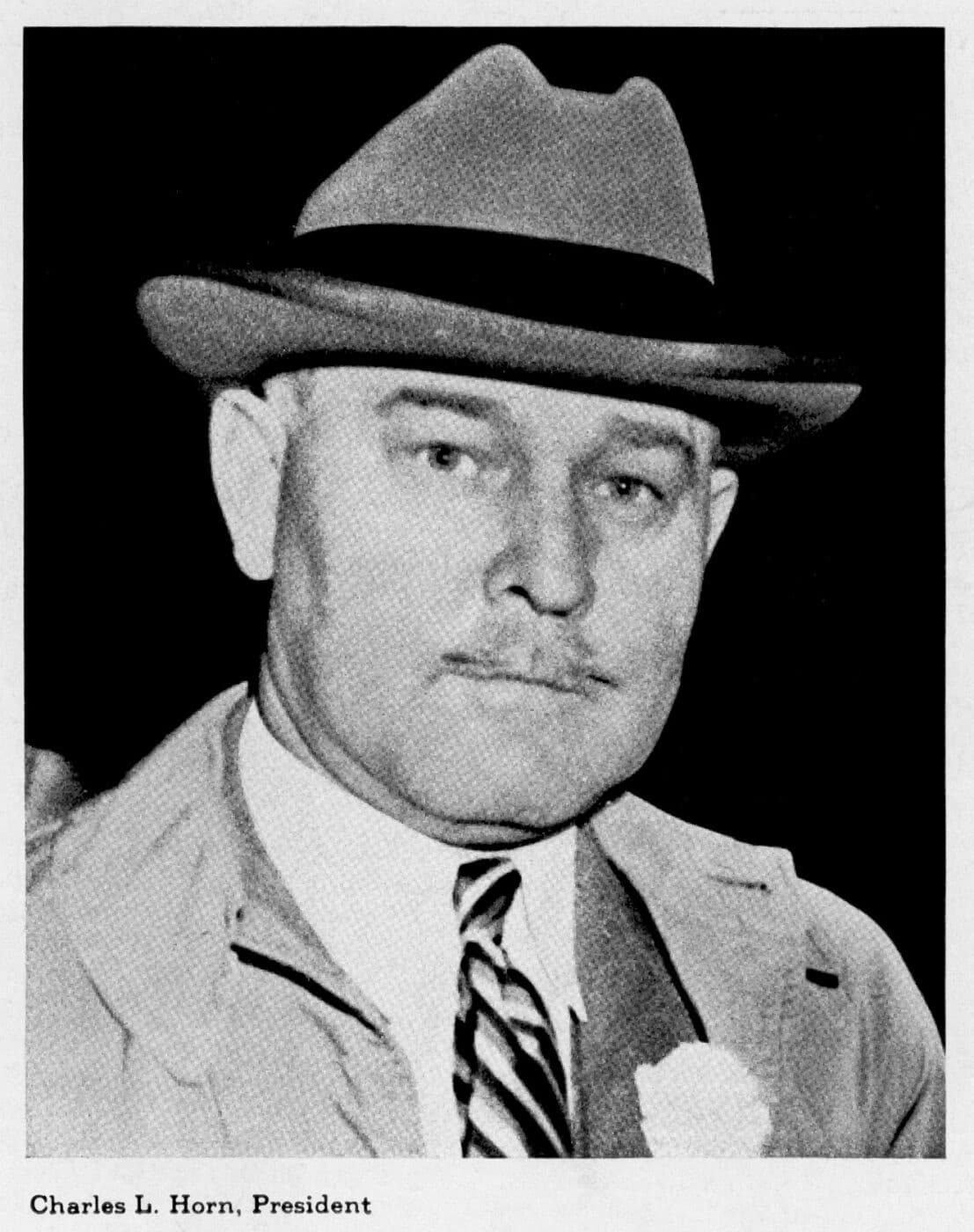 To learn about ammunition manufacture and staff the shop, Horn hired FCC's former plant manager, John Haller. The "new" Federal made black-powder and smokeless shotshells. Revenues from BB tubes the diameter of 12-bore hulls kept the belt-driven machines humming.
Horns of a Dilemma
An able executive, Horn was an ox on the factory floor. When at last told by a worker to please "keep out of the factory as many hours a day as possible," he did, cheerfully — and moved the corporate office off-site. After another move, it would occupy Minneapolis' Foshay Tower until the mid-1980s.
Federal's main challenge early on was distribution. Established channels were controlled by two big ammunition firms: Union Metallic Cartridge (Remington-U.M.C. after 1912) and Western Cartridge (Winchester-owned after 1932). His rural-Iowa roots inspired Horn to explore outlets untapped by the competition. On road trips in his red Buick, he managed to place Federal shells in hardware and grocery stores, barber shops and gas stations, even dental and medical offices. It proved a brilliant scheme!
Horn wanted a rimfire ammunition line, so he hired Maurice Swope from Western Cartridge to design and run a factory. It was a high-stakes bet. Federal would have to sell many millions of .22 rounds just to cover the huge up-front costs. In 1924 the first cases shipped. Shooters lapped them up. That year, Horn acquired the American Cartridge Co. in Kansas City, Missouri. (Founded by the Sherman brothers after they left Anoka, American would be folded into operations there, to yield Federal's American Eagle brand.) By the late 1920s, Federal was loading 12-, 16- and 20-bore shotshells and, in brass hulls, .410s. It was also producing ammunition for "house brands" like Sears, Roebuck and Montgomery Ward.
Despite Wall Street's implosion in October, 1929, Federal's payroll climbed above 500. Not long thereafter Franklin Olin added to his sizable stake in Federal Cartridge Corp., securing in 1932 a majority stock position. Charles Horn remained president; Anoka's R.B. Ehlen, hired in 1930, managed the plant. The '30s brought more options in rimfire ammo. In 1937, Federal began using non-mercuric primers. And Charles Horn infused Federal magazine ads with messages about wise use of natural resources. His efforts to develop 4-H conservation programs would lead Federal to sponsor many others.
Horn's American Ball Co. continued making BBs until 1933, when he moved BB production to Federal, which listed lead, steel and cadmium-plated steel XL BBs. It added copper-plated steel in '35. Two years later, the cadmium option was shelved, due to the plating's toxicity. Federal would produce coppered BBs until 1976.
Strong Currents
In mid-1941, British ships sank the Bismark, Churchill and FDR signed the Atlantic Charter and Ford stopped making automobiles to build B-24 bombers, finishing one every 63 minutes. Federal tapped an $87 million contract with the U.S. government to build the Twin Cities Ordnance Plant 10 miles from Anoka. It started up in March, 1942, R.B. Ehlen supervising centerfire lines. TCOP eventually employed 25,000 workers — over half of whom were women. Contracted to deliver 100 million cartridges, it would ship more than five billion by V-J day in August, 1945.
TCOP (renamed Twin Cities Arsenal) was deactivated in '46. With a return to making shotshells, Federal diversified its product line. Shop safety devices developed by employee Harry Hoffman had other applications; Hoffman Engineering emerged as its own company inside Federal. In 1951 Federal began manufacturing primers for handloaders. Soon it was sponsoring competitive shotgunners to represent the brand.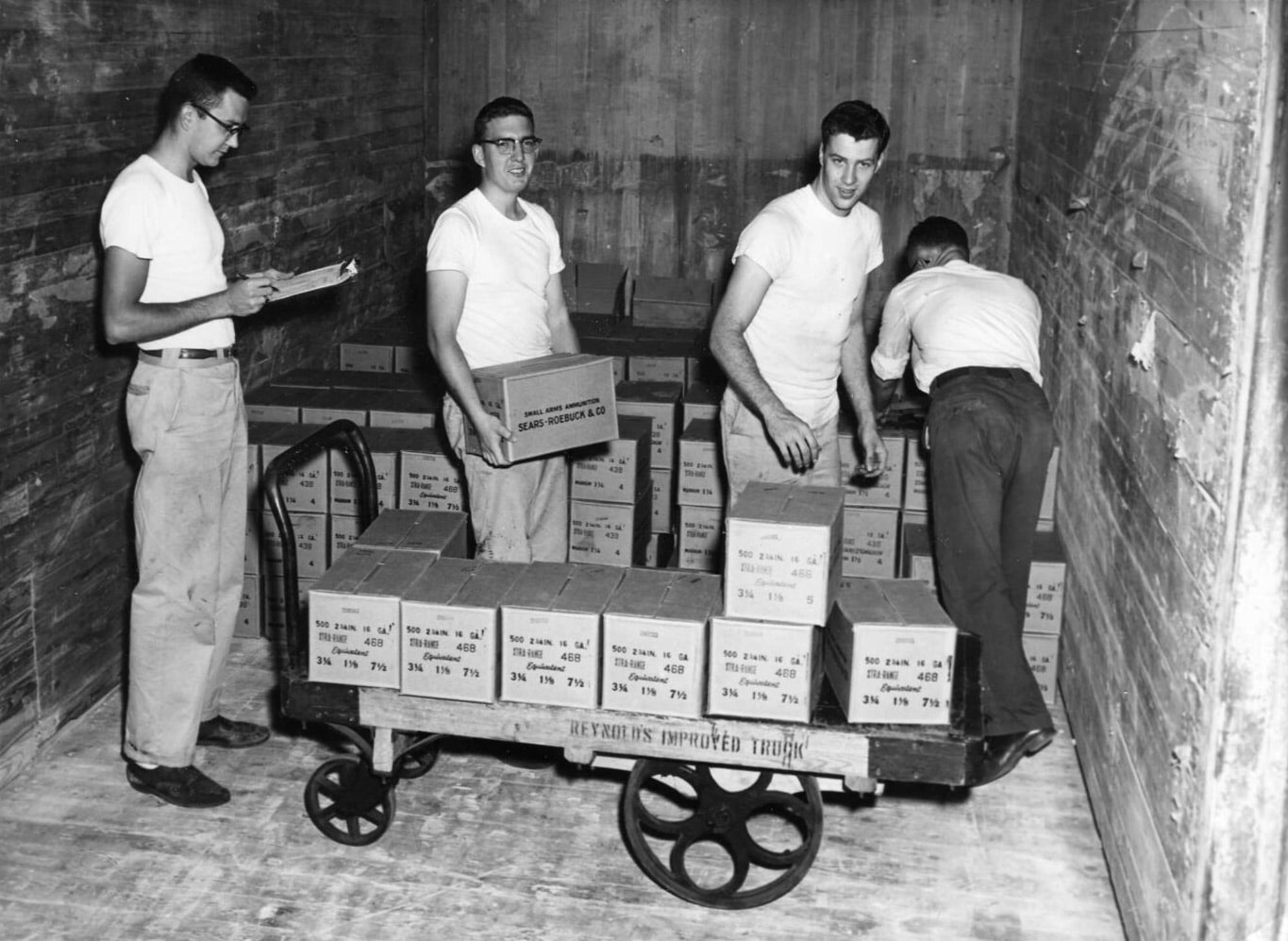 In 1954, it announced a 2¾" magnum shotshell, following in '57 and '58 with 3″ 12- and 20-gauge Super Magnums. Its experience producing infantry ammunition helped Federal field its first dozen centerfire rifle cartridges, and two for handguns, in 1963. Meanwhile, plastic shotshells and wads supplanted paper. Federal pioneered color-coded shells: red for 12-gauge, purple for 16, yellow for 20. It began selling shotshell components.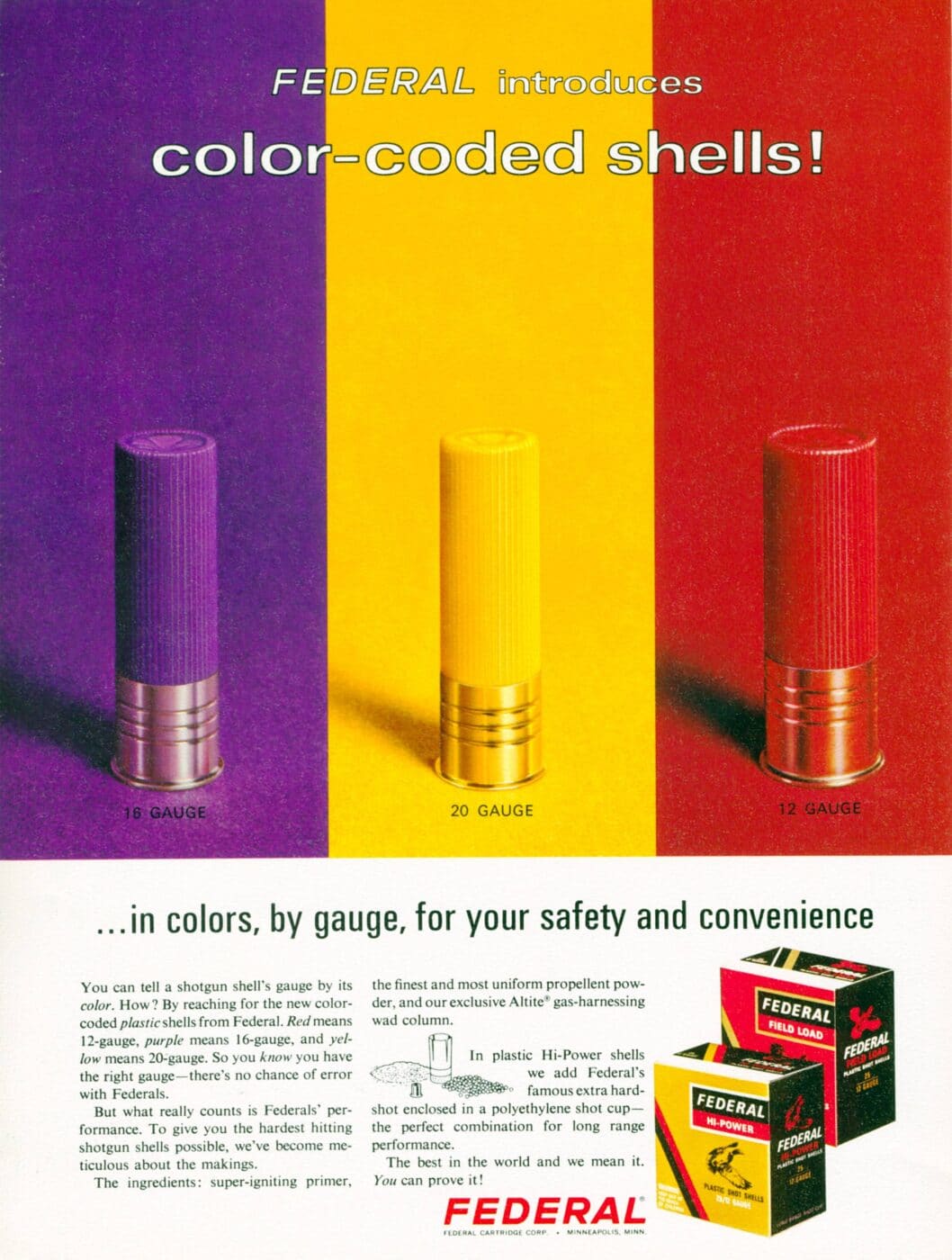 On the company's 50th anniversary, all five winners at the Grand American Trapshooting event used Federal shells. This was also Charles Horn's 50th year as president. Federal now operated a 150-acre manufacturing complex that turned out millions of cartridges each day! Horn relinquished his office in '74 to become board chairman. (His son William would assume the presidency three years later.) Retiring in 1980, Charles Horn died the next year at age 90. R.B. Ehlen succeeded him.
In the early '70s, nearly 20 years before non-toxic pellets were required for waterfowling, Federal became the first company to sell shotshells with steel payloads. In '77 it announced Premium shells with copper-plated pellets, and rifle loads sending Nosler Partition and Sierra BTHP bullets. Law enforcement (LE) rifle and handgun ammunition evolved to meet FBI and Secret Service protocols. The '80s brought several new shotshell lines. In 1982, Federal acquired rights to Smith & Wesson's nylon-jacketed Nyclad bullet, predecessor to Federal's Syntech. A year later, with gun-maker Harrington & Richardson, Federal developed the .32 H&R Magnum handgun cartridge.
Changing Hands
In 1985 the Olin Foundation, which had owned Federal since '38, was forced by a tax reform law to divest itself of the company. It sold to Federal-Hoffman, a new organization that would operate as two: Federal Cartridge and Hoffman Engineering. David Lentz took charge at Federal-Hoffman. The company sold again in 1988, to Pentair, Inc. Under president Ron Mason, Federal introduced a 3½" 12-gauge shotshell and Hydra-Shok LE handgun ammunition. It became U.S. distributor for Sweden's ammo giant Norma. And it ramped up development of match loads that would put U.S. shooters on Olympic podiums.
In Barcelona in 1992, Launi Meili would use Federal's new UltraMatch to win three-position gold. That year, the company bought rights to Jack Carter's Trophy Bonded Bear Claw bullet, to beef up its roster of Premium game ammo, which came to include bullets from Nosler, Sierra, Speer, Hornady, Swift, Barnes, Berger and Woodleigh.
In 1996, as Federal produced its first tungsten waterfowl load, Bill Stevens bumped up company support of non-profit conservation groups: Ducks Unlimited, National Wild Turkey Federation, Pheasants Forever, Rocky Mountain Elk Foundation. Federal-supported organizations would soon number more than 21, including the National Shooting Sports Foundation and the NRA. Stevens also helped launch the 4-H Shooting Sports Program for youth, ages 8-18. CCI and Federal would eventually furnish 20 million .22 cartridges for such efforts. As "Shooting Sports Partners" of the Boy Scouts of America, these companies supply shotshells and rimfire ammunition to shooting ranges at 1,620 Scout camps.
Late in '97 Pentair peddled Federal to Blount Industries, Inc., of Montgomery, Alabama. Blount already owned CCI, Speer, Gold Dot, Blazer, RCBS, Outers and Weaver, among outdoors brands. Under President Gerald Bersett, Federal bought Estate Cartridge, a young Texas shotshell firm it would move to Anoka. In April 1999, Lehman Brothers Holdings, Inc. of New York swallowed Blount, disgorging it in pieces two years later. Minnesota-based Alliant Techsystems (ATK) got Blount's International Sporting Equipment Group. Mark DeYoung became president of Federal Premium Ammunition — a working, not official, name. The enduring duck logo gave way to a "shock-wave" image, for product categories: Cape-Shok, Power-Shok, Vital-Shok, V-Shok.
Looking to the Future
Exhibition shooter Tom Frye, a wizard with rifles on aerial targets (and formerly of Remington), had been hired to promote Federal rimfire ammo in 1975. In 2003 the equally talented Tom Knapp joined Federal's team, working his magic with shotguns. Two years later engineers at Speer in Lewiston, Idaho developed an "electrochemically bonded" game bullet for an ammo line Federal dubbed Fusion. Also new in 2005: the .338 Federal cartridge, developed with rifle-maker Sako of Finland on a .308 case. The next year, as Mark DeYoung assumed more responsibility at ATK, Ron Johnson became Federal's president.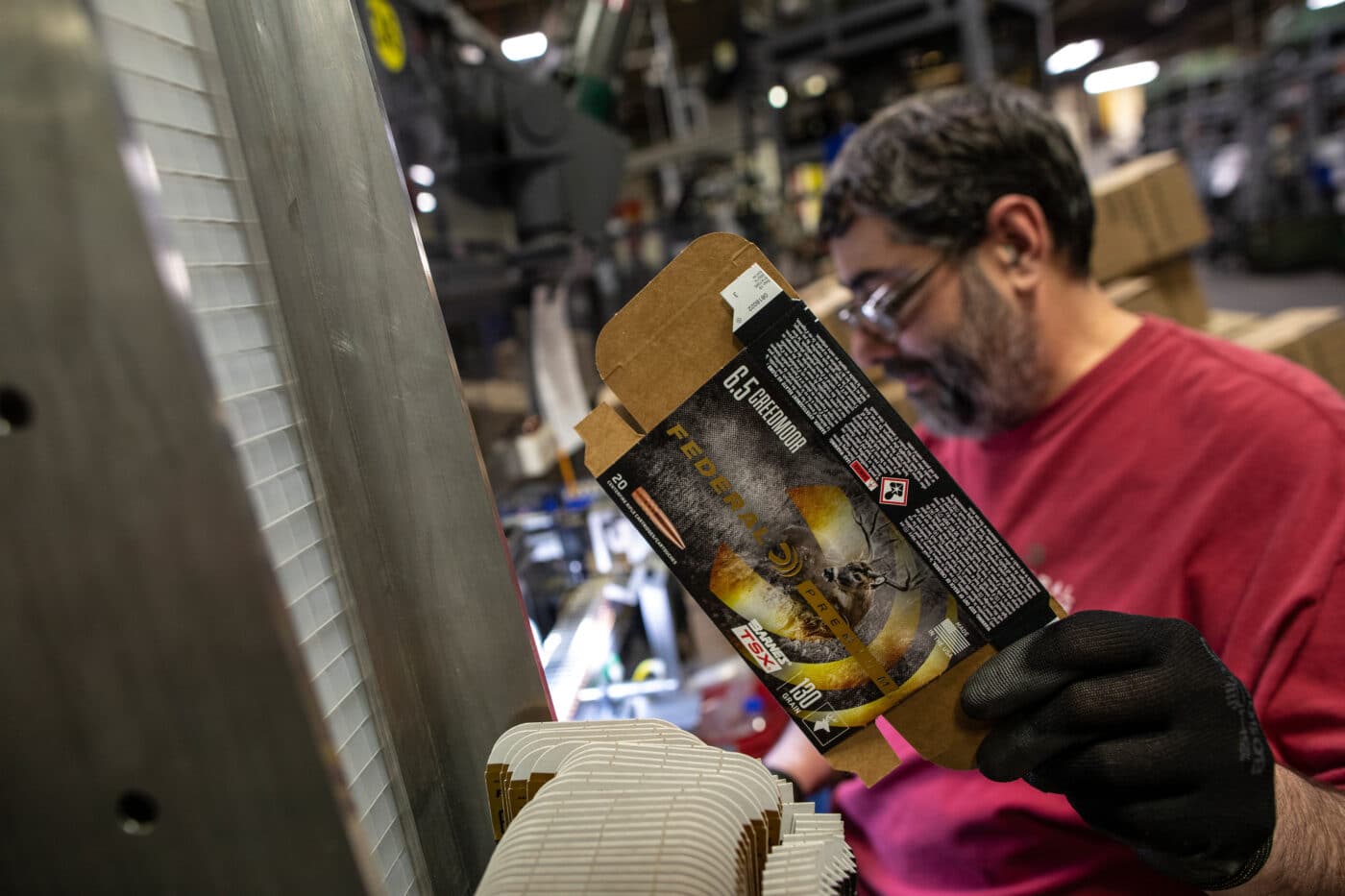 Federal developed the .327 Federal Magnum in 2007, to meet brisk demand for self-defense handguns. Revolvers so bored would also accept .32 H&R Magnum and .32 S&W loads. Federal released its HST bullet, designed for LE use, to the public. For waterfowlers, the company added Ultra-Shok High Density tungsten alloy loads and FliteControl wads.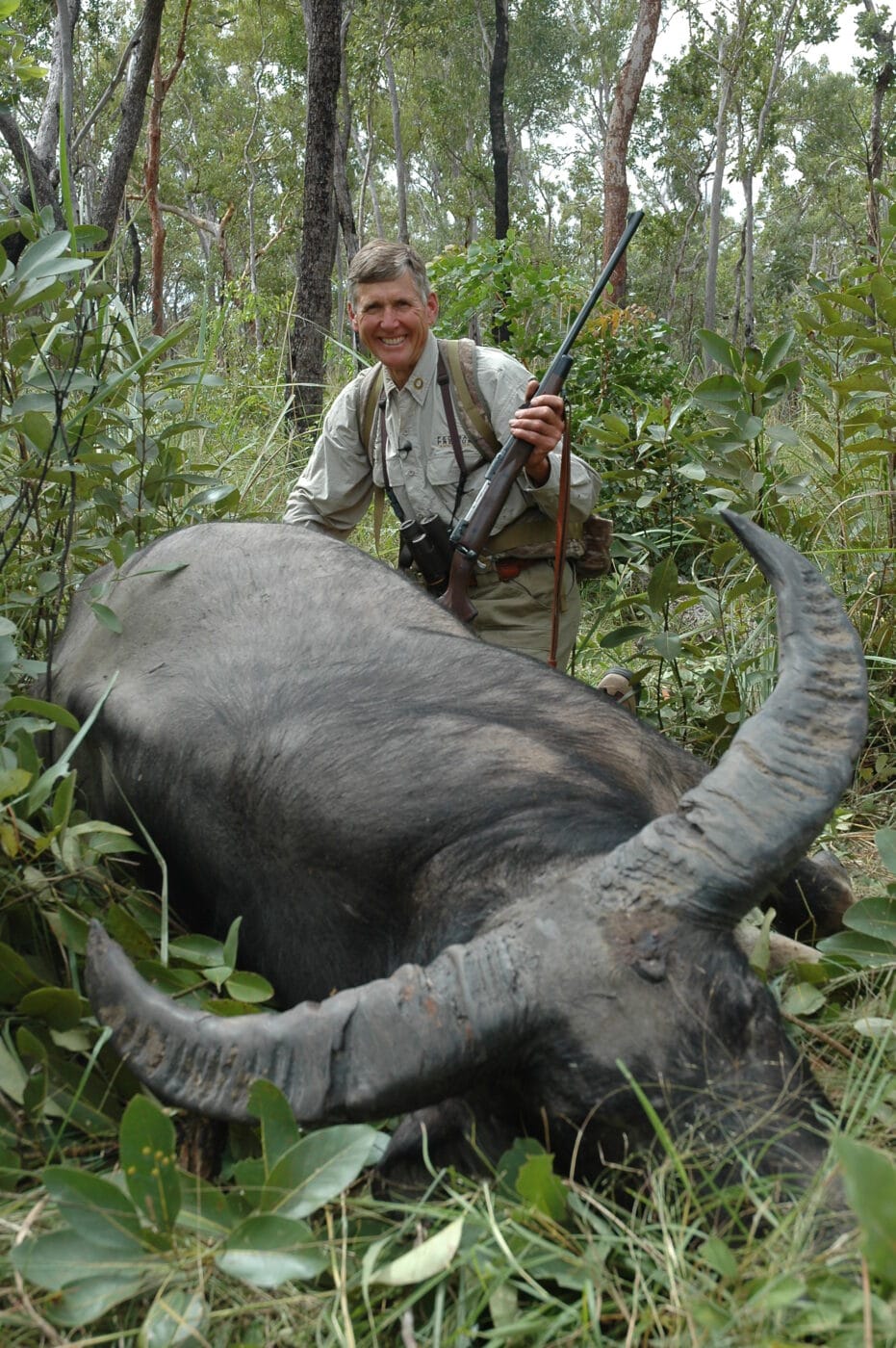 ATK spun-off its sporting assets in 2015 to a new Vista Outdoor, Inc. Three years later this publicly traded corporation promoted Federal employee Jason Vanderbrink as president. "Premium" no longer appeared in the company name, instead defining top products across ammunition categories. Innovation brought forth more than 120 new Federal products before the 2020 SHOT Show! A poly-tipped Terminal Ascent bullet was hailed an updated Trophy Bonded. The 6.5 Creedmoor gained a Fusion load. A 7mm-08 deer load joined the Non-Typical roster. The .280 Ackley made its debut with Trophy Copper bullets. Swift's sleek Scirocco appeared in Premium rifle loads. Not then ready to market, but since released: the .30 Super Carry pistol cartridge.
New Partners
Federal got a bump from the dissolution of Remington's firearms business in September 2020. The judgment from U.S. Bankruptcy Court Judge Clifton R. Jessup, Jr. handed most of that enterprise to Roundhill Group, LLC from Cerberus Capital Management and The Freedom Group. Remington's ammunition business, the biggest slice of the pie, sold to Vista Outdoor, Inc. Like Speer/CCI in Lewiston, Idaho, and Hevi-Shot in Sweet Home, Oregon, Remington Ammunition of Lonoke, Arkansas, became a Vista brand.
Now, two of the biggest U.S. ammunition manufacturers share a corporate umbrella — and the task of meeting unprecedented demand by sport shooters and hunters! As Federal faces its next century, it will benefit from resulting economies of scale, and also from shared innovation from its sister companies.
Vertical integration ensures everything needed to make boxed Federal ammunition, raw material to packaging, is in-house, including shops to design and make tooling. At the one-million-square-foot Anoka plant, Federal's 1,400 employees now run three daily shifts — a tribute to the foresight of Charles Horn, and a promise that if you thumb cartridges into magazines, you'll be well supplied!
Editor's Note: Please be sure to check out The Armory Life Forum, where you can comment about our daily articles, as well as just talk guns and gear. Click the "Go To Forum Thread" link below to jump in!
Join the Discussion
Featured in this article
Continue Reading
Did you enjoy this article?
133