I am going to be very upfront here. I have a very heavy bias when it comes to the 1911. While I am a fan of the 9mm and own many guns chambered in it, my personal preference is always going to be the venerable .45 ACP when it comes to the 1911.
No, I don't want to perpetuate the seemingly eternal .45 vs. 9mm debate. I like both. Yes, I know, the .45 ACP has been around since the dawn of time, and men hunted dinosaurs with it. But all joking aside, it's undeniably effective — and that's the point. So that's why I was so interested in trying out the new Personal Defense Punch .45 Auto load from Federal with a 230-gr. jacketed hollowpoint (JHP).
Diverging Goals
In the past, self-defense enthusiasts would often consider the effectiveness of defensive ammunition through the lens of its use by law enforcement. Our minds were conditioned to think, "if it's good enough for law enforcement, it should be good for me." For the most part, that statement has merit.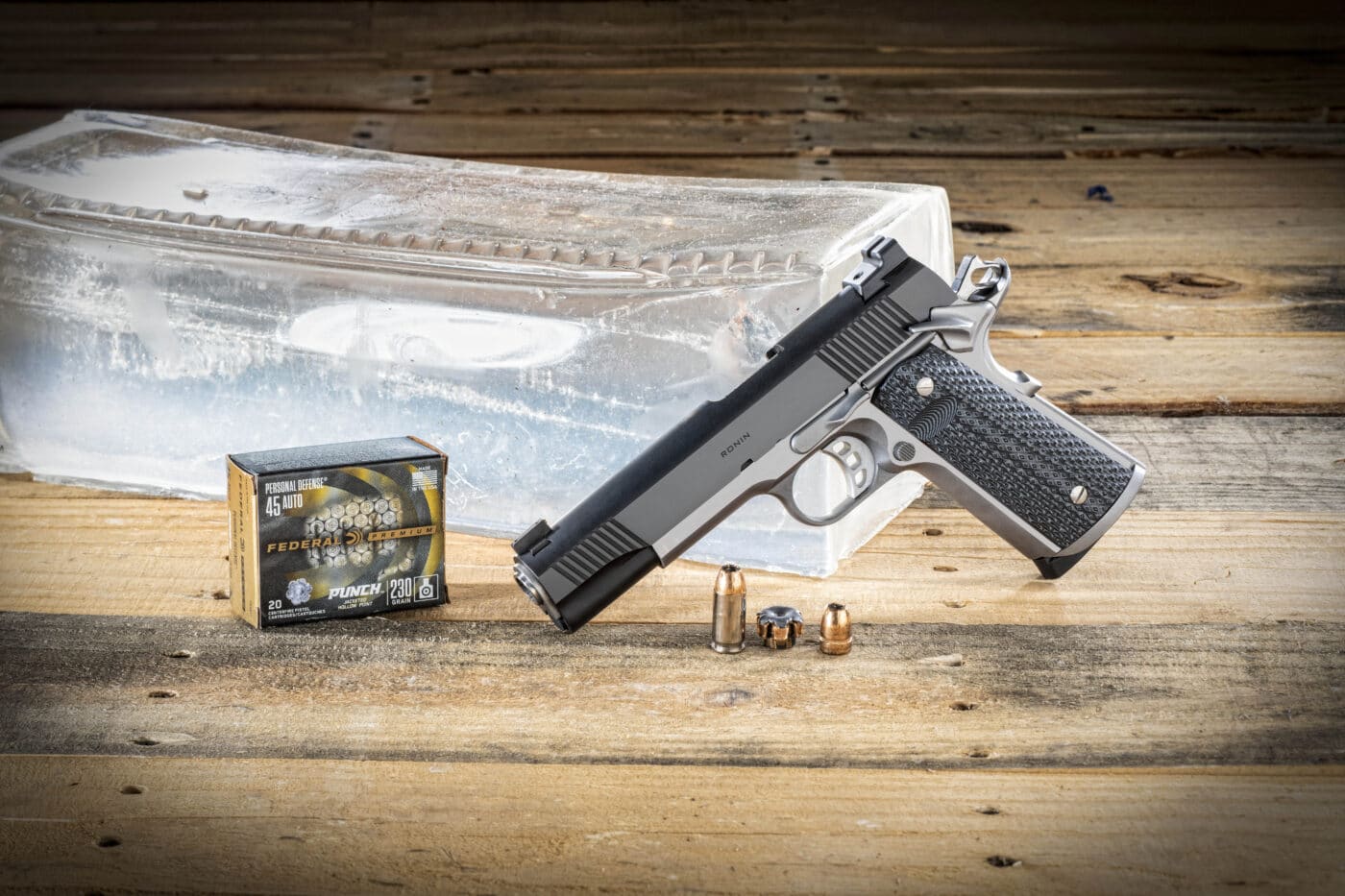 However, sometimes the goals of law enforcement ammunition can diverge from that of some self-defense users. For example, requirements for complex barrier performance can be much higher than is needed in all cases and can add cost for the end-user.
In most cases, concealed-carry permit holders — especially new shooters — need a clear and simple answer to the question, "What ammo do I need for self-defense?" Considering such complexities as reliable ignition, barrier performance, terminal performance, ballistics and numerous other considerations can be a lot to digest for these users. What they really need to know is will it function in their gun, every time, and will it be effective in stopping a threat as quickly as possible.
The Direct Approach
Federal just made all this much easier with their new Personal Defense Punch ammunition. Punch ammo was created based on what Federal has learned over thirty-plus years of being a leader in law enforcement handgun ammunition, and learning what works and what doesn't.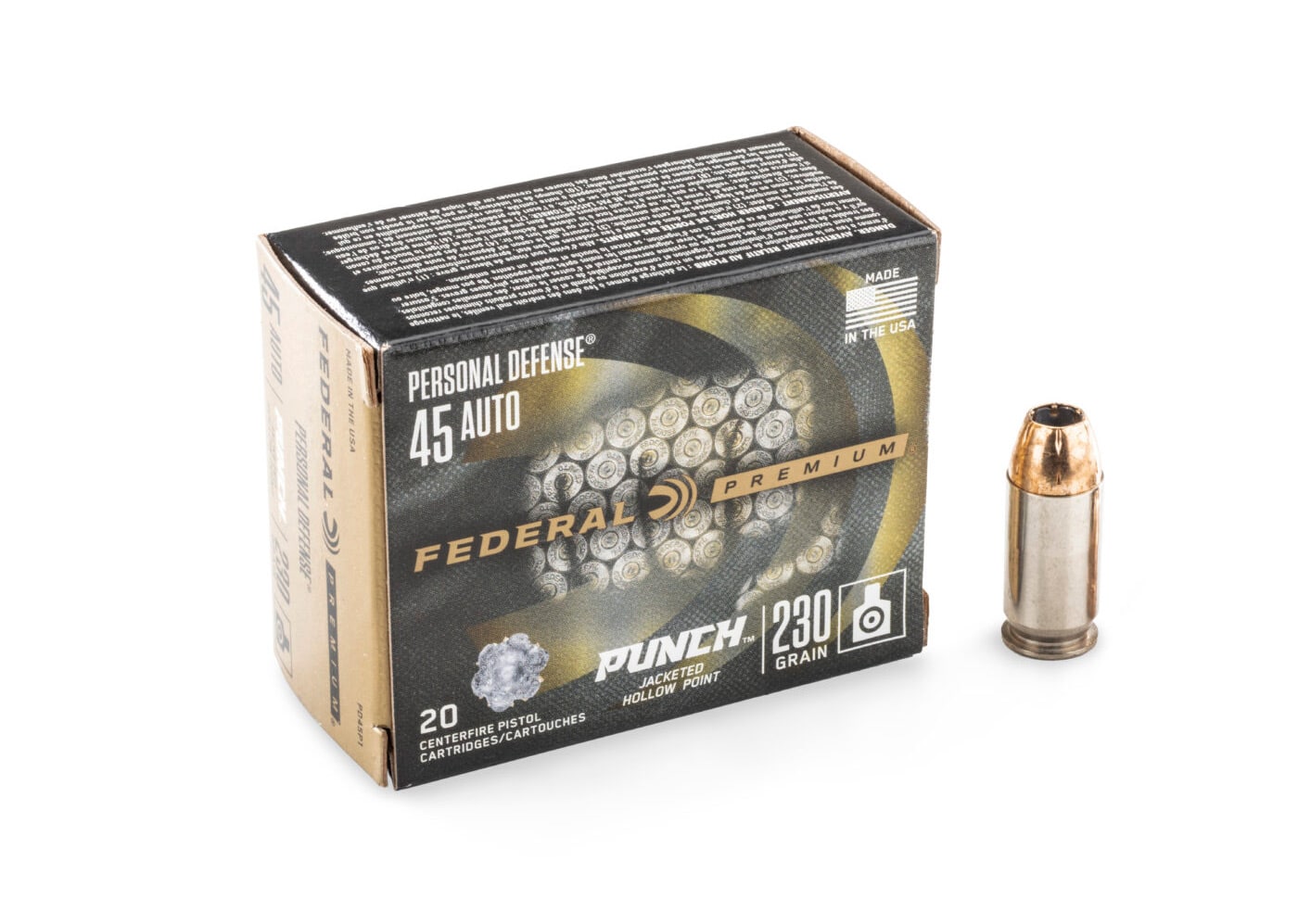 The Punch round, which is offered from Federal in .380, .38 Spl. +P, 9mm, .40 and .45, was developed specifically for the needs of the self-defense user. This means they focused on reliable expansion and enough penetration. Also, each chambering received its own specifically crafted bullet design to best take advantage of the cartridge's strengths.
"We looked at specifications from our Hydra-Shok Deep, HST and other bullet designs, and took what made sense for Punch," said Federal Handgun Ammunition Product Manager Chris Laack. "We selected whatever elements worked best for each individual caliber. We then played with thickness of the jacket, skive depth, hollowpoint geometry and even differences in lead cores to build the recipe for Punch."
The result is that Federal's Punch ammo is a simple solution for those shooters looking for a load solely based on being a personal protection round for common defensive situations.
Range Time
Once I learned what Federal Punch was, it was time to see for myself what all the hype was about. It was time to hit the range. Any guess as to what cartridge I wanted to try it out in?
As is the case with all my range tests, I hit my favorite place, C2 Tactical, located in Scottsdale, Arizona. For the test, I chose the Springfield Armory Ronin 1911. This particular pistol has been customized by Harrison Custom with a Smith & Alexander magwell, Mil-Tac grips and much more. This is a tough and reliable .45, and I thought it would be a perfect testbed for the Punch ammo.
For a shooting rest, I used the Ransom International Multi Cal Steady Rest, a versatile and sturdy platform that allows me to get repeatable results with all the adjustments I need for a series of tests like these. And the test media is Clear Ballistics Gel.
My first test is usually ballistic performance. The 230-gr. JHP Punch bullet has a listed muzzle velocity of 890 feet per second (fps), with energy listed as 404 ft.-lbs. I fired three rounds of it into two blocks of Clear Ballistics Gel from the standard distance of 10 ft. Given that the .45 Punch load has such a high energy rating, I decided to use two 16" blocks of gel to ensure we captured the round.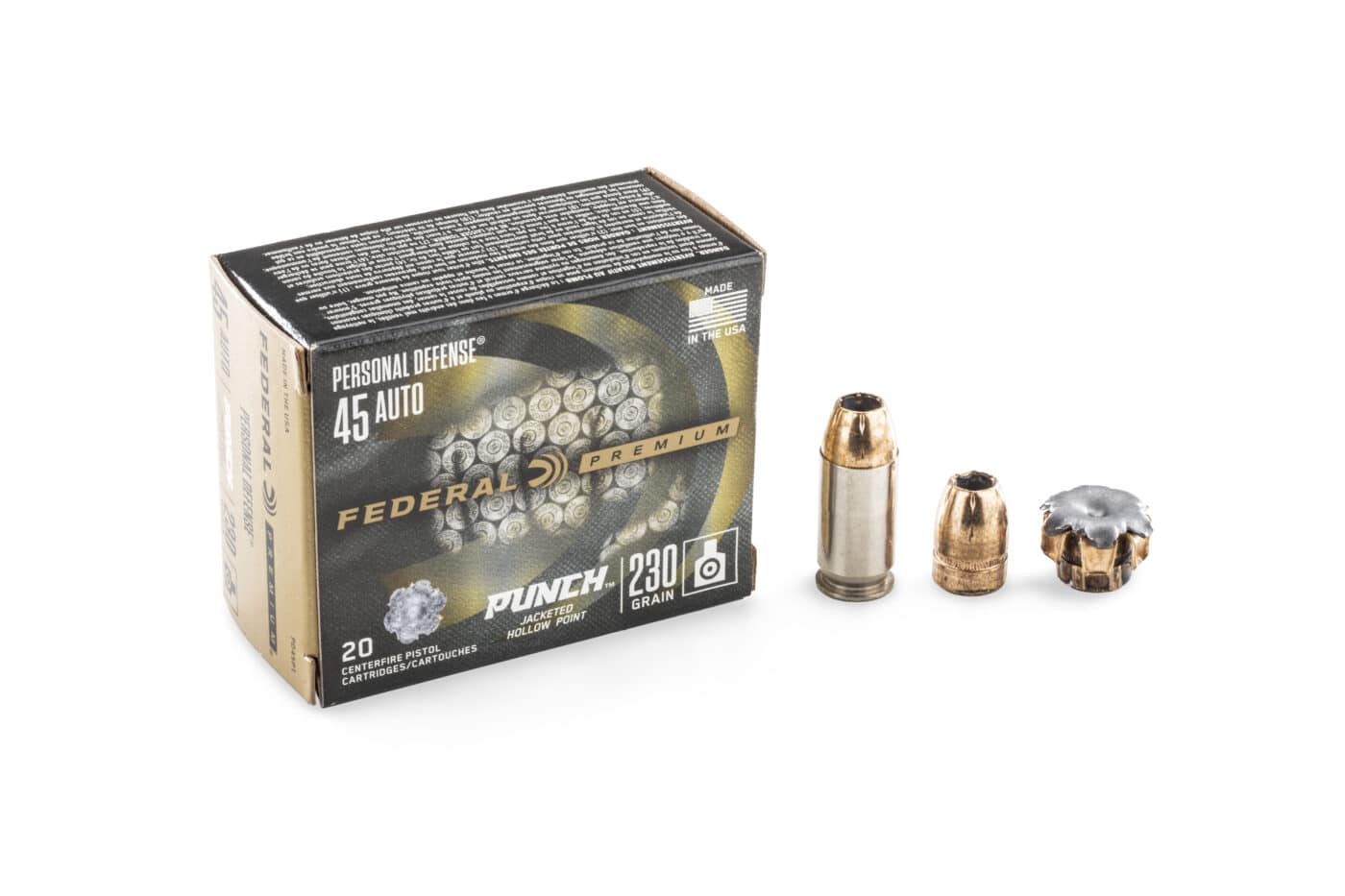 The first shot penetrated about 14", and the second shot penetrated about ¼" into the second gel. It actually bounced out, and I found it lying on the table between the two blocks of gel. The third and final shot penetrated an impressive 17". The expansion on the bullets was impressive in all three shots with an average expansion to .700", and the penetration was more than effective.
For my final test, I wanted to find out how reliable the Federal Punch really is. I loaded a collection of eight-round magazines and proceeded to shoot the Ronin as fast as I possibly could and still remain accurate on a Gunsite target at the distance of 5 yards. During this test, I did a slide lock speed reload between magazines.
Even though I didn't keep time for this test, I wanted to see if there were any discernible malfunctions. I wasn't surprised by my results. When you have a good pistol, good ammo and good magazines, there should be no malfunctions. That is exactly what I experienced here. All the ammo went through the Ronin without a single hitch.
A True Hit
When you rely on a firearm to keep you safe, you need rugged reliability and impressive ballistic performance. You have all this and more with the Springfield Armory Ronin and the Federal Personal Defense Punch ammunition. If you ask me, when your life depends on it, you don't need to look any further than this winning combination.
Editor's Note: Please be sure to check out The Armory Life Forum, where you can comment about our daily articles, as well as just talk guns and gear. Click the "Go To Forum Thread" link below to jump in!
Join the Discussion
Featured in this video
Continue Reading
Did you enjoy this video?
65