Top Federal 10mm Ammunition Loads
January 31st, 2021
5 minute read
Choosing the right handgun for your specific, designated task can be both daunting and fun. Likewise, finding the perfect ammo load can be a challenge. With all of the Federal 10mm ammunition loads available, you have your hands full. But, I'm hoping to help you navigate the company's product catalog to find the right load for your needs.
As I continue to enjoy shooting a Springfield Armory 10mm 1911, it's been educational observing how different ammo performs. In the past, I've had the pleasure of testing and reviewing a number of 10mm pistols. As a result of various shooting evaluations, fortunately, I had just enough of a stash of 10mm ammo on-hand for this piece. If you think gun writers are immune from ammo shortages today, think again. Many offerings I wanted to test were simply not available.
I've been pleased with the performance of Federal Premium ammunition, and for us 10mm aficionados the company provides several offerings for different chores. Let's take a look at some of the factory rounds — and their intended purposes — that are available from Federal Premium.
The New Breed
If interest in the 10mm round was diminishing, you wouldn't see so many handgun and ammunition offerings available today. On top of all the quality 10mm ammo Federal already provides, 2021 has revealed three new offerings.
Their new 10mm Punch makes a fine addition to Federal's personal defense line-up. With their 200-gr. jacketed hollow point (JHP) design running 1,100 feet per second (fps) from a 5″barrel, this round provides a consistent expansion thanks to the skived bullet. The 10mm cartridge comes in nickel-plated brass and I can't wait to get my hands on some.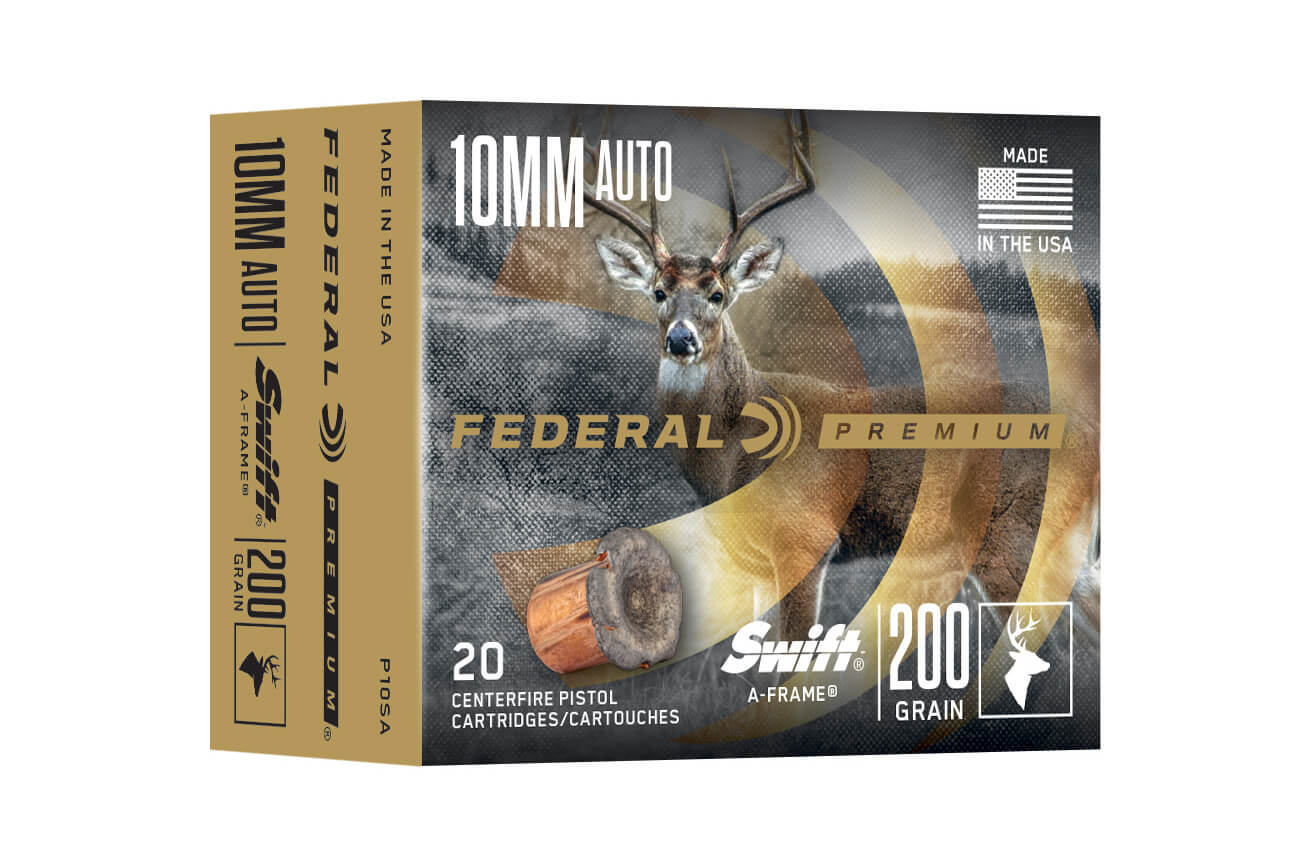 New ammo for handgun hunters includes a 200-gr. Swift A-frame JHP. Experienced handgun hunters know how effective Swift A-frames are in the field. The boned front half of the bullet expands while the back half remains intact for reliable penetration. This load will be most welcome for hog or black bear hunters — especially when a lot of penetration is necessary.
In addition to the line-up is another new offering for 2021 — Federal's Solid Core. This will be one more great option for big mean, ugly hogs or black bear. The 200-gr. Solid Core is a flat-nose lead bullet that will hold together while smashing through tough hide and bone, providing high weight retention and essential penetration.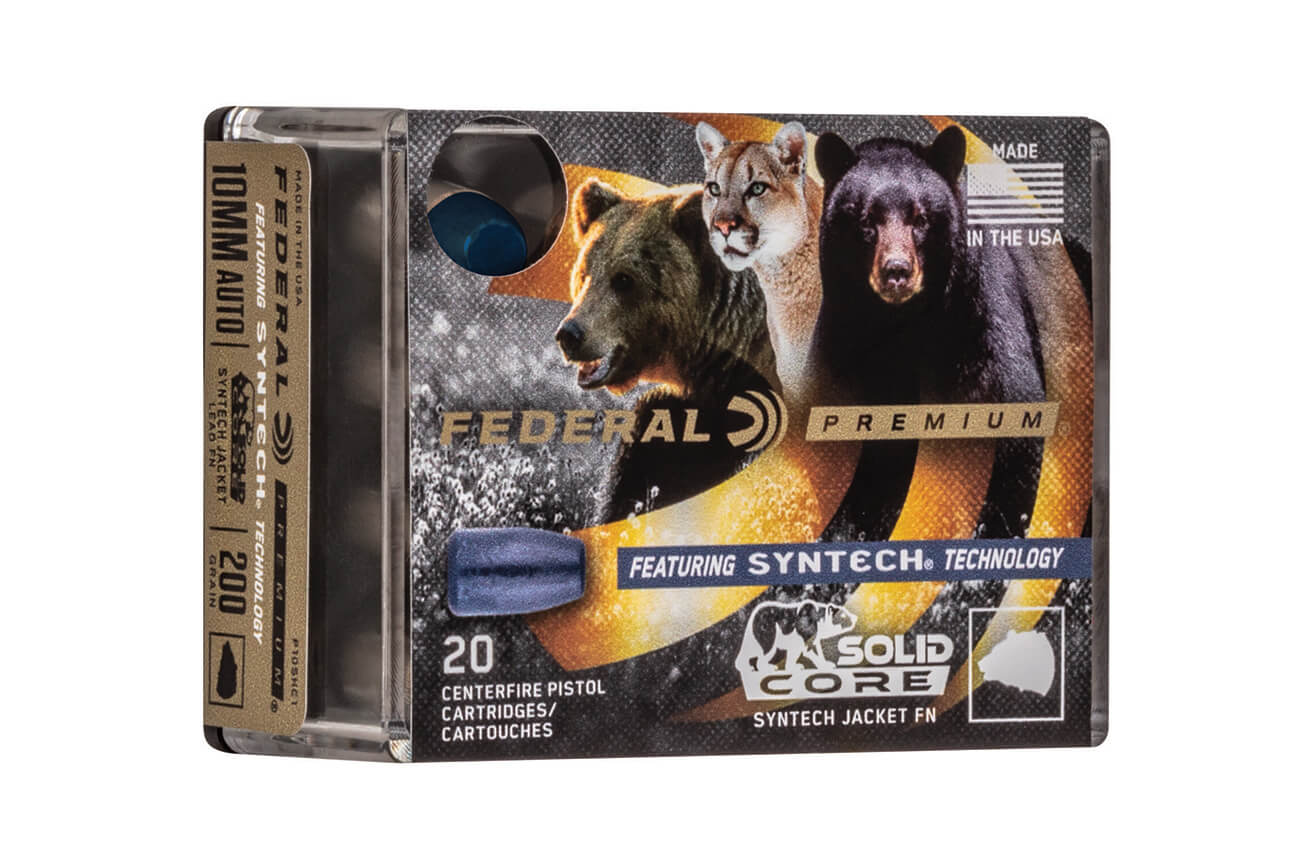 Federal utilizes their Syntech polymer jacket technology which reduces friction and leading commonly found in hard cast bullets. For us 10mm enthusiasts, this is an ideal load when the possibility of bears or other such critters may be a problem. If fishing on an Alaskan stream, this is the load I'd be packing in my 1911 in 10mm. Now if I can just procure some of this ammo before a spring black bear hunt.
Familiar Friends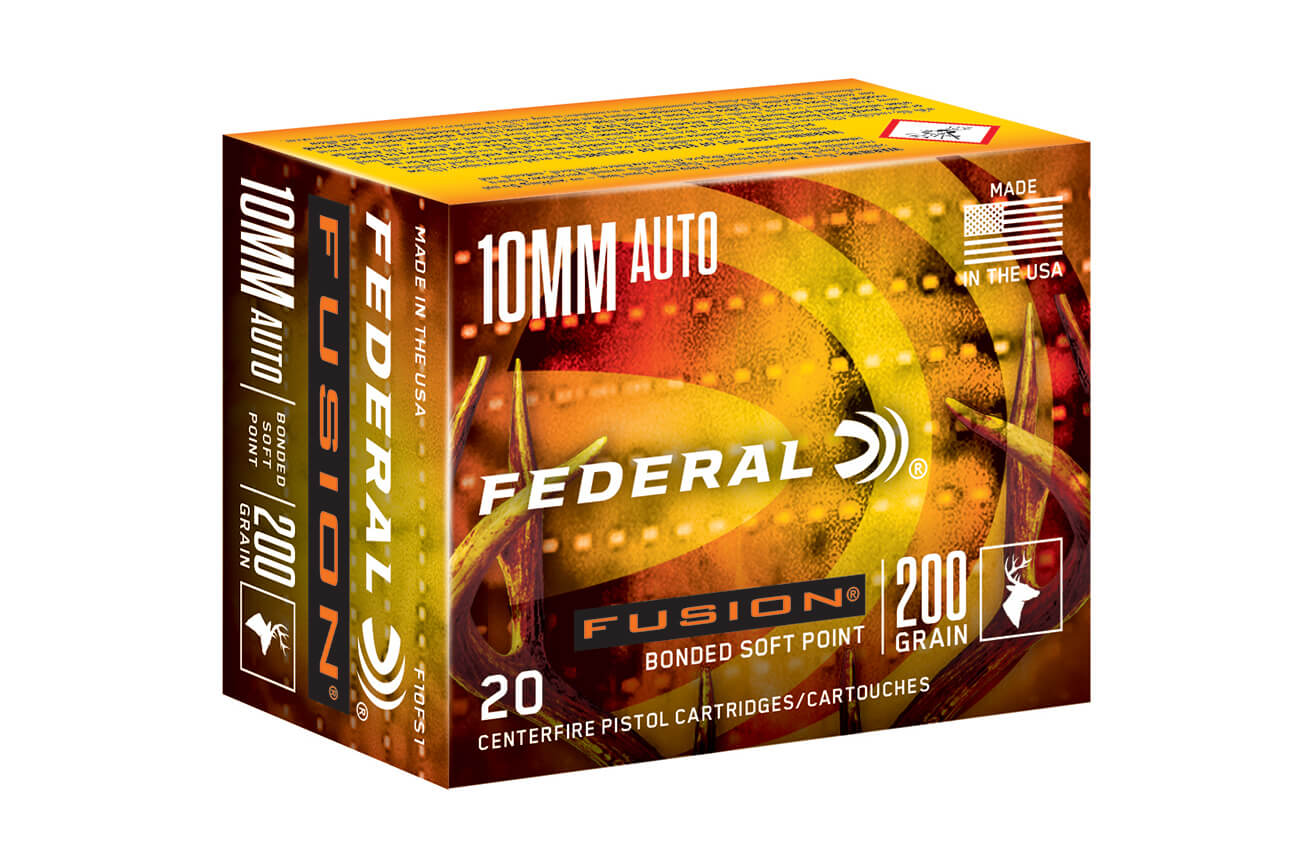 Unfortunately, I had shot up my short supply of Fusion 10mm ammo, but I've always found this 200-gr. load to be a real shooter. The skived nose provides consistent expansion, which I find most beneficial when hunting deer or hogs. The copper jacket is electro-chemically applied to the core, and the bullet will maintain integrity for penetration. The company claims 1,200 fps muzzle velocity, but from a 6″-barreled 1911, you can expect a tad bit more. It's a quality round for hunting, and the cost won't send you in shock.
For shooting pleasure and practice, I lean toward the American Eagle 180 gr. FMJ round. This option allows the shooter to enjoy quality range time without depleting those hard-earned dollars. Shooting steel plates on the farm or punching paper at the range, I always carry American Eagle in the shooting bag.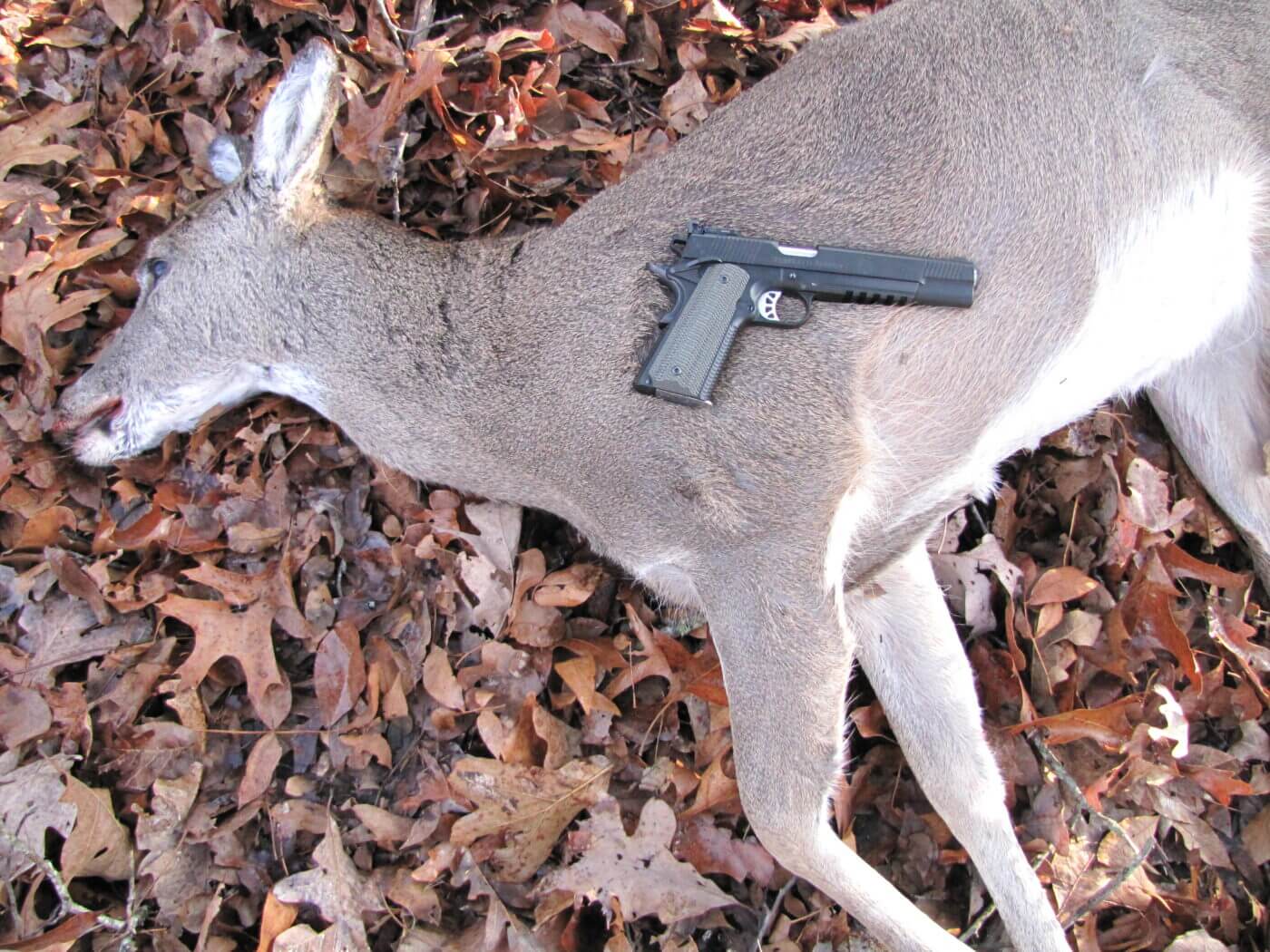 Another premium hunting choice can be found with Federal's Trophy Bonded Bear Claw 180-gr. offering. This is an ideal bullet for those big mean hogs or whitetail deer. The well-constructed bullet is designed to break through the bone and tough muscle often encountered with wild boar. The nose of the bullet is specifically devised to ensure consistent expansion —and the bullet will penetrate! I wouldn't hesitate for a moment using Federal's Trophy Bonded Bear Claw for black bear.

An Eye on Defense
One of the attributes exhibited with the 10mm is the capability not only to perform as a hunting round, but also serve double-duty as a personal defense choice. Federal Premium offers two products specifically loaded for personal defense. Their Hydra-Shok 10mm is available with a 180-gr. bullet. The bullet's notched copper jacket initiates reliable expansion and has undergone rigorous testing to ensure accuracy and consistency. This ammo remains a popular choice for those looking to protect their home and family.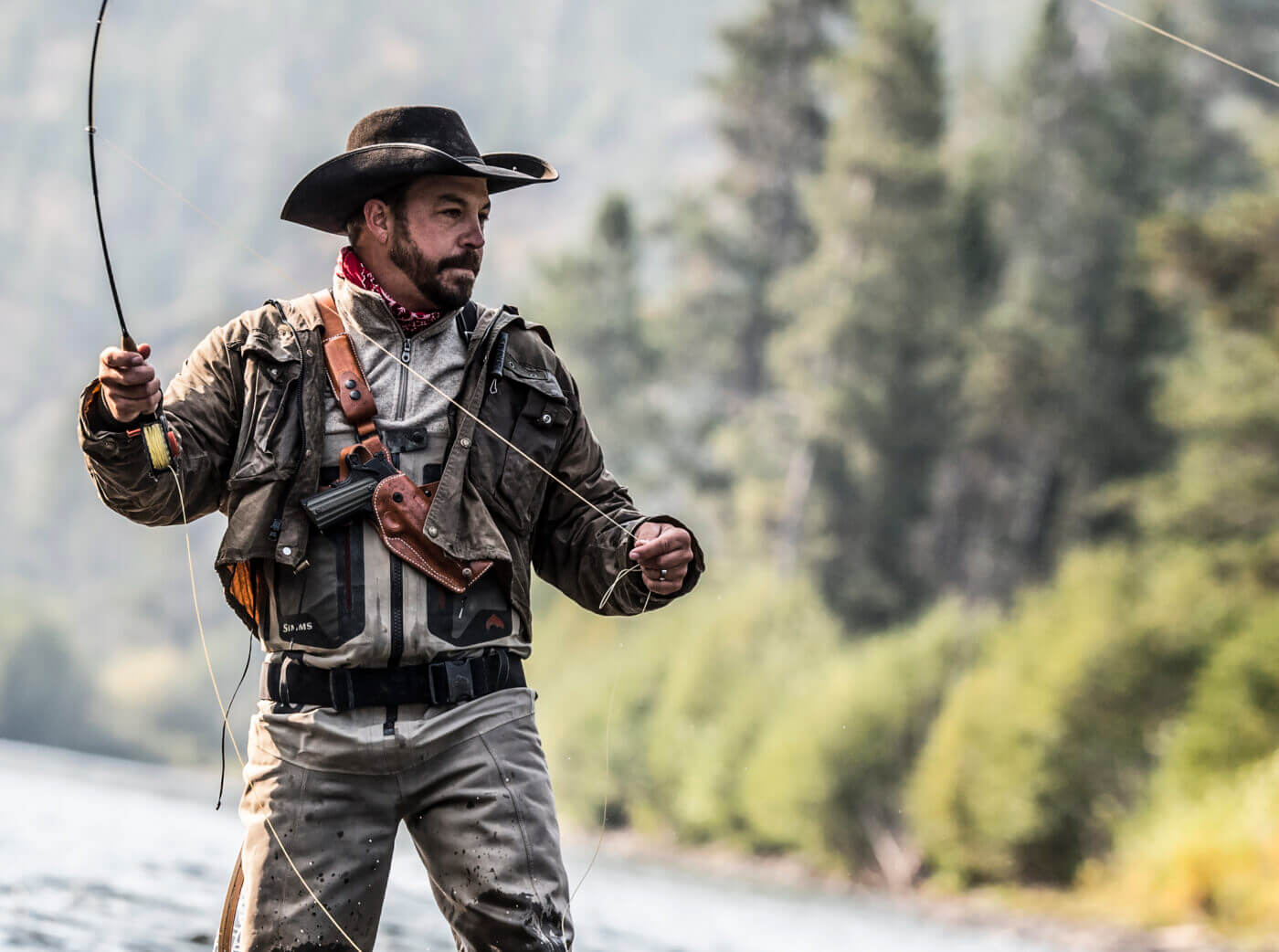 Another version of protection Federal manufactures is its HST 10mm self-defense load utilizing a 200-gr. hollow point that expands reliably through a variety of barriers. This is a full-power 10mm load with 1,130 fps muzzle velocity from a 5″ barrel. For personal or home protection, this is a logical choice.
Conclusion
As you can see, Federal Premium ammunition continues to pave the way for 10mm fans with new products. The company clearly sees the value in 10mm for both personal defense and handgun hunting – and manufactures premium ammunition for all applications.
Editor's Note: Be sure to check out The Armory Life Forum, where you can comment about our daily articles, as well as just talk guns and gear. Click the "Go To Forum Thread" link below to jump in!
Join the Discussion
Featured in this article
Continue Reading
Did you enjoy this article?
71