Bear & Son 502D Bowie Knife Review
November 1st, 2023
6 minute read
In today's article, resident knife expert Randall Wilson examines the Bear & Son 502D Bowie Knife. Made with Damascus steel and India Stag bone, this strikingly beautiful American Bowie knife is a head turner. But how does it perform? Read on to find out.
When Bear & Son Cutlery hammered out the materials and specifications for their 502D Bowie knife, they joined in the myth and mystique of both a man and an iconic American blade design that date back nearly two hundred years.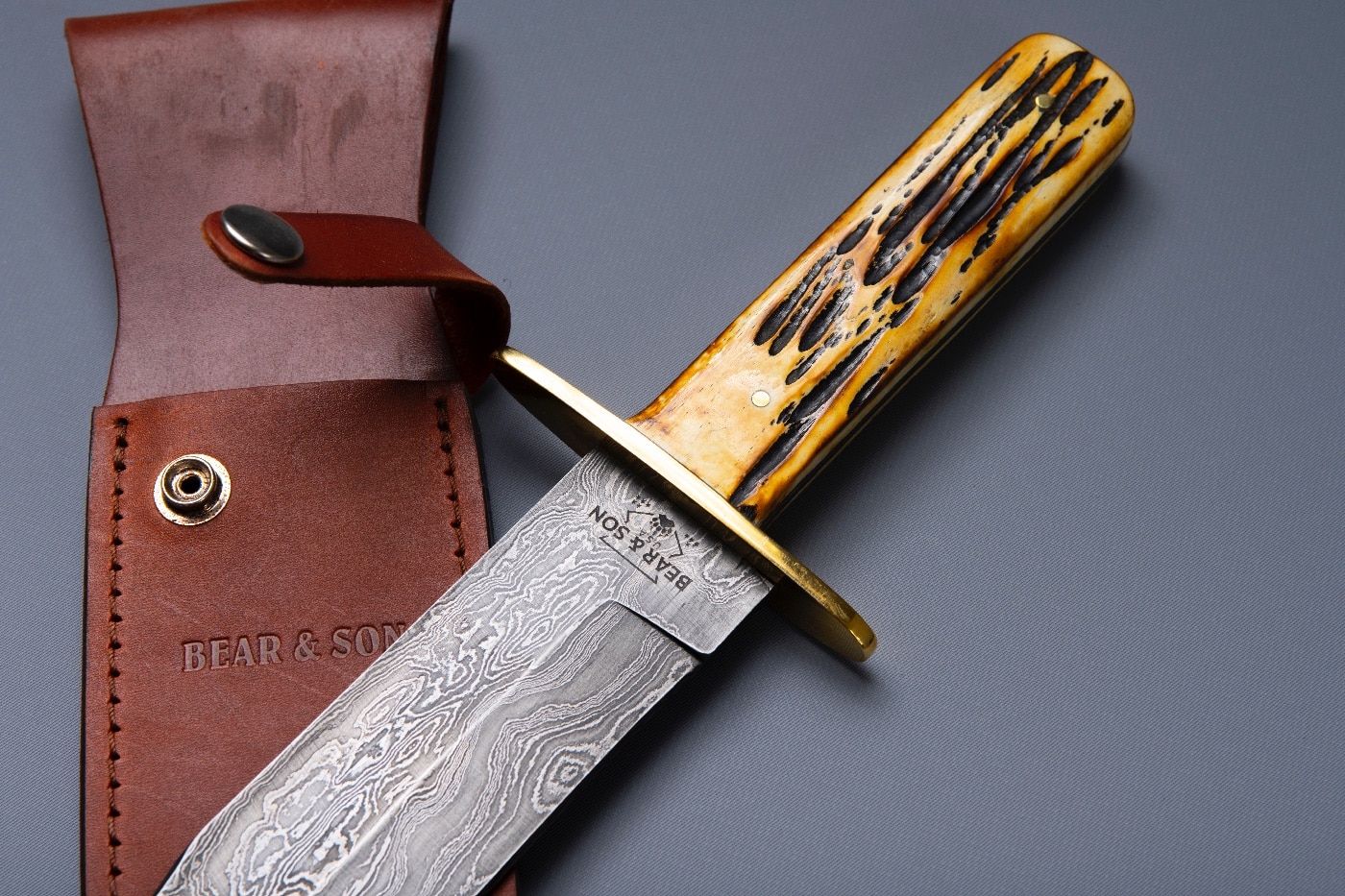 James "Jim" Bowie (pronounced, "BOO-ee") and his brother Rezin (REE-zin) P. Bowie were born in Kentucky in the late 1700s. Raised in Louisiana, they became planters, businessmen, and adventurers at a time when Southern sensibilities and frontiersmen ethics would sometimes lead disagreements into violent conclusions.
A Necessary Tool?
Firearms of the era were finicky single-shot affairs, and gentlemanly duels to settle differences required seconds and back-up weapons. At the Sandbar Fight of September 19, 1827, Jim Bowie was a close supporter of one grieving faction. After honor had been satisfied between the principal duelists before a gallery of witnesses, a separate fight broke out among those gathered. Shot and stabbed, Bowie killed his assailant, Major Norris Wright, with a knife of Rezin Bowie's design.
In the "Planters Advocate" of August 1838, Rezin Bowie wrote: "The first Bowie knife was made by myself in the parish of Avoyelles, in this state (Louisiana), as a hunting knife, for which purpose, exclusively, it was used for many years." Rezin commissioned friend and local blacksmith Jesse Clifft to forge the knife that Rezin gave to Jim for protection.
And here is where the controversy enters. The design of what became known as the "Bowie knife" has been argued through centuries. Rezin further wrote, "The length of the blade was nine and one-quarter inches, its width one and one-half inches, single-edged and not curved." If you do a bit of reading, you will see early versions of the Bowie with names such as the Shively/Perkins knife, Searles/Fowler knife, Stafford/Searles knife, and a host of others that claim to be direct descendants of Rezin's first sketch.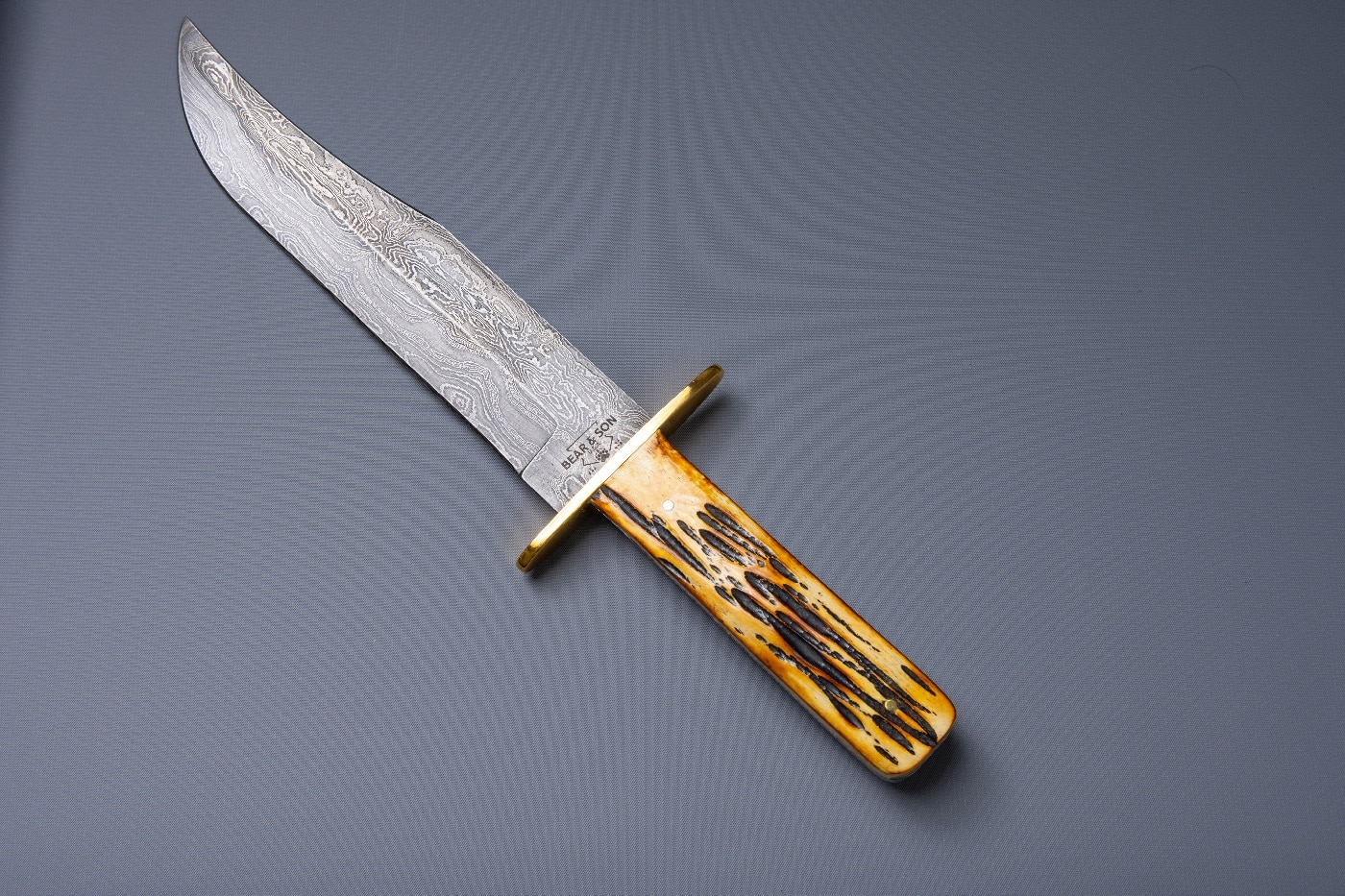 Heck, even the name and details of that early Code Duello are not agreed upon. The Mississippi River affair has been variously called the Sandbar Fight, the Vidalia Sandbar Fight, or the Natchez Sandbar Fight. Jim Bowie killed Wright by stabbing him directly in the heart or lacerating him open from neck to groin. Accounts, even from the late 1800s, vary wildly. An article in the Baltimore American from 1895 quotes Jim Bowie as saying, "Now, Major, you die!" before the lethal thrust. This fanciful retelling sounds like a line from a modern Bond film.
The Details
So, Bear & Son's take on the blade is a classical rendition reflecting many replications. It is visually what we think of when someone says Bowie knife. The long, wide blade, upswept clip, double quillons, and straight handle are right out of Hollywood's 1952 docudrama film "The Iron Mistress," starring Alan Ladd as Jim Bowie. The movie was more fiction than fact, but solidified Jim Bowie holding his historic knife to a new generation of Americans.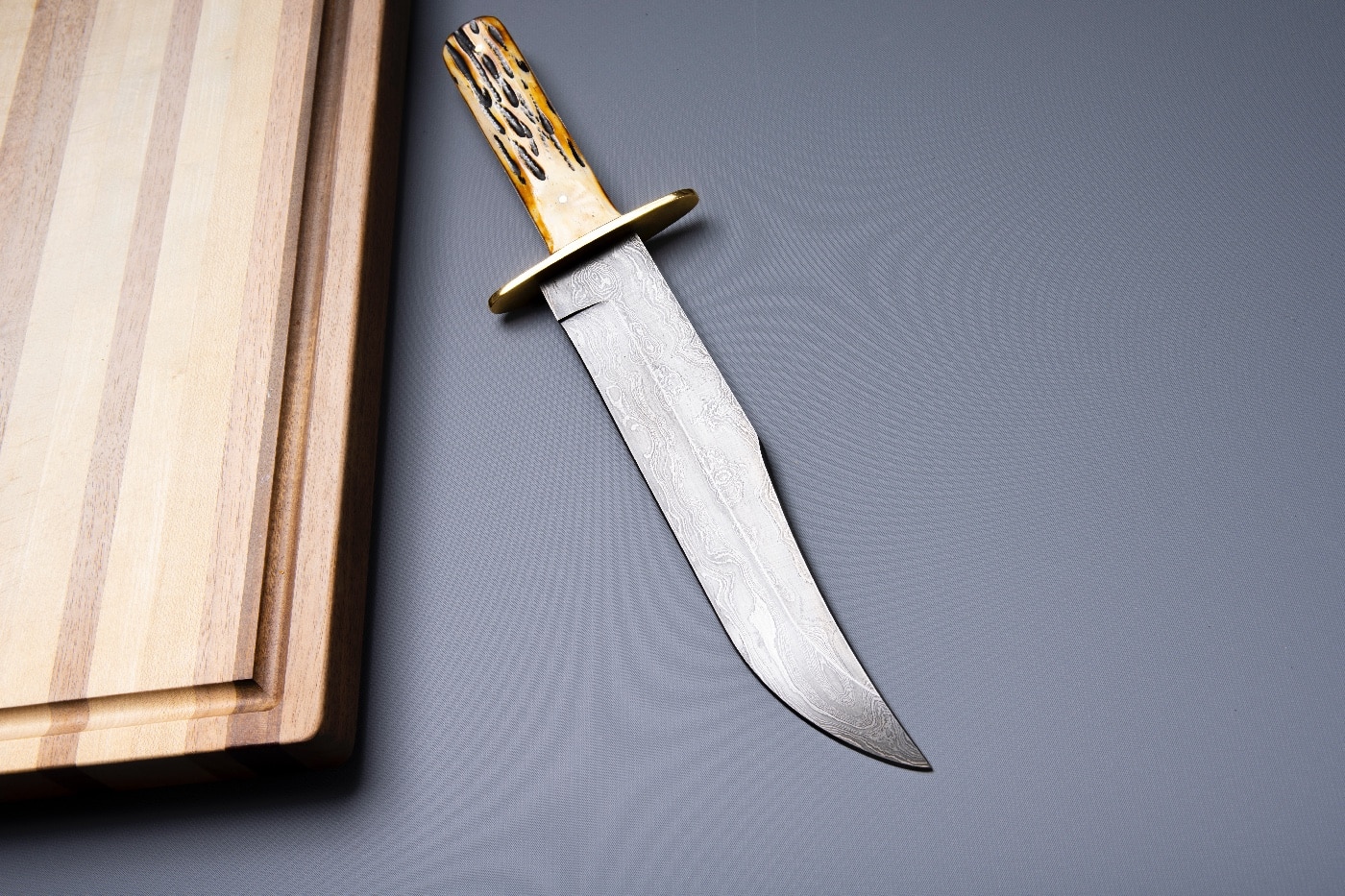 Casting off the shipping materials, I found the Bear Bowie to be an absolute brute of a blade with nine inches of edge and five and three-eighths inches of handle. I own no knife of its sheer dimensions or fearsomeness. Bear made the 502D Bowie more of a presentation knife, it having select Damascus steel in the blade and real bone for the scales.
Bear's Bowie comes with a neatly stitched brown leather sheath with a single strap/snap to secure the knife. It has a generous belt loop which will accommodate belts of nearly three inches. The edges of the sheath itself are burnished and then finished in a contrasting dark dye. The brand's logo is stamped on the front of the leather.
| | |
| --- | --- |
| Blade Material | High Definition Damascus Steel |
| Handle Material | Genuine India Stag Bone |
| Rockwell | 58-60 |
| Overall Length | 14-3/8″ |
| Blade Length | 9″ |
| Weight | 11.5 oz. |
| Extras | Brass Guard, Hollow Ground Blade & False Edge |
| Includes | Quick Release Leather Sheath |
| Origin | USA |
The Damascus pattern of the blade is very distinct and reminds me of the patina a Bowie might have accrued in the old West or Civil War era, but nicer. Bear didn't specify, but if I were to guess, I think the Damascus would be 1095 and 15N20, standard steels used in some high-carbon production versions. The blade is hollow ground with a very long swedge, about half its length. This imbues the knife with a sleek, classic, and definitely dangerous visage.
Bear & Son uses what they term Genuine India Stag Bone they source from India. This is bone that is jigged and dyed to look like Stag Horn. Bear stands by the quality of the bone and their name for it. Thus, this is not an example of a manufacturer putting a faux plastic "horn" on a knife and calling it a day. Bear did research and put the best product available into their scales. I rather like them. They have a weathered quality that fits with the Damascus steel.
The twin guards, or quillons, are brass, as are the two scale pins on this full-tang knife. There is no solder at the ricasso, but the fitment between the blade and guard is tight. The scales are mated to the tang precisely, with the steel extending barely past the scale. You can feel the cool Damascus versus the warm scales when you grip the blade.
Hands-On
The 502D Bowie is naturally blade heavy. That said, it wields almost like a short sword. It is quick and decisive in the slash and thrust. With the quillons interfering in a saber grip, you heft this knife in a hammer grip. I taped the blade and went through the 12 angles of attack taken from Filipino Visayan knife combatives. After warming up, my speed increased, and I found this Bowie would move fluidly and with momentum. Manipulating a blade this large is empowering.
A knife this impressive begs to be cleaving things. I obliged it with 9-oz. leather scraps, cardboard, a downed tree limb from Hurricane Idalia, and nylon rope. The factory edge was not touched up beforehand but came to me keen. It processed all the materials without issue and stayed sharp. I was especially careful since the length of the edge is more than I am used to when slicing.
Conclusion
What happened to the actual knife Jim Bowie carried in the Sandbar Fight will be forever unknown. The Bowie brothers were reputed to have given away many replicas of that first knife. Others want to believe Jim Bowie carried that very same blade all the way to the Battle of the Alamo, where he, Davy Crockett, William B. Travis, and over 200 other Texian soldiers died for Texas Independence.
Whatever your take on the mysteries, the Bear & Son 502D knife is a pleasing American-made compilation of things both real and imagined when the word "Bowie" is uttered.
Editor's Note: Please be sure to check out The Armory Life Forum, where you can comment about our daily articles, as well as just talk guns and gear. Click the "Go To Forum Thread" link below to jump in and discuss this article and much more!
Join the Discussion
Featured in this article
Continue Reading
Did you enjoy this article?
72