Springfield Custom Clip Point Field Knife Review
April 19th, 2023
7 minute read
From Guadalcanal to Okinawa, America's World War II Pacific island-hopping campaign against the Japanese was a nightmare in volcanic ash beaches, fetid jungles, and labyrinthine caves. The ferocity of the enemy and the elements proved especially harsh on the U.S. Marines and their equipment. I suspect it was in respect of these brave fighters and their equipment that led to the development of the Springfield Armory Limited Edition Custom Clip Point Field Knife, which is clearly inspired by the stoic U.S.M.C. 1219C2 pattern knife.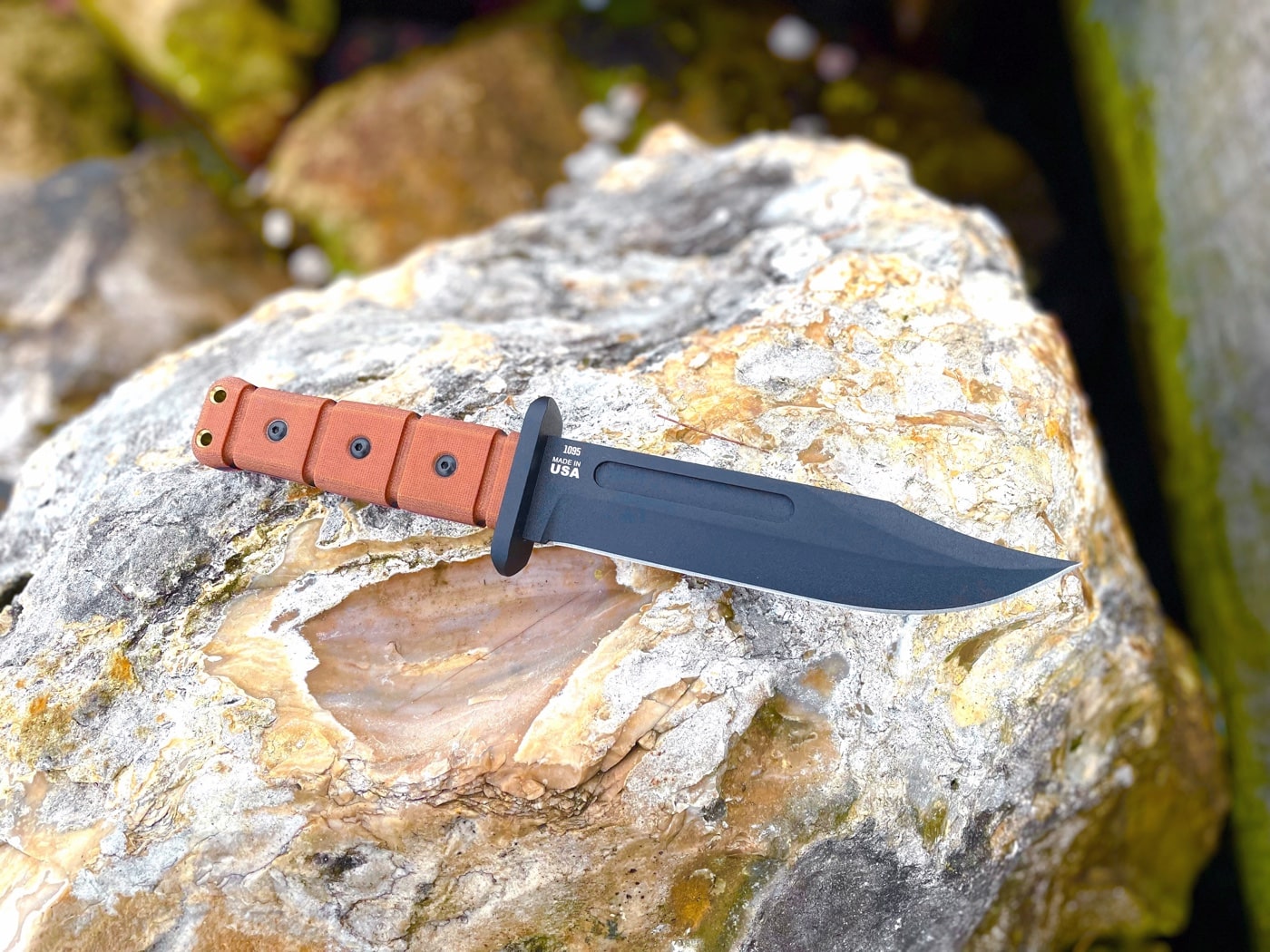 The 1219C2, later known as the U.S.M.C. Mark 2 Combat Knife or just "Knife, Fighting Utility", was a modification of the Navy Mark 1 Utility Knife, conceived with input from U.S.M.C. Colonel John M. Davis and Major Howard E. America in late 1942. Made under contract by cutlery companies such as Camillus, Conetta, Ontario, Pal, Robeson and Utica, over one million of the Mark 2 knives were made.
A New Classic
Springfield Armory's Accessory Product Manager Allen Remley, who was involved with the custom knife's conception, stated that the S.A. knife had to be U.S.-made and over-engineered. To do this, Springfield Armory turned to TOPS Knives of Ucon, Idaho. Remley conferred with TOPS on the specifications for the Field Knife. TOPS made the excellent Model 2020 knife as a companion to the Waypoint rifle, so Springfield Armory was assured that there would be a successful collaboration for its limited run of only 300 of these knives.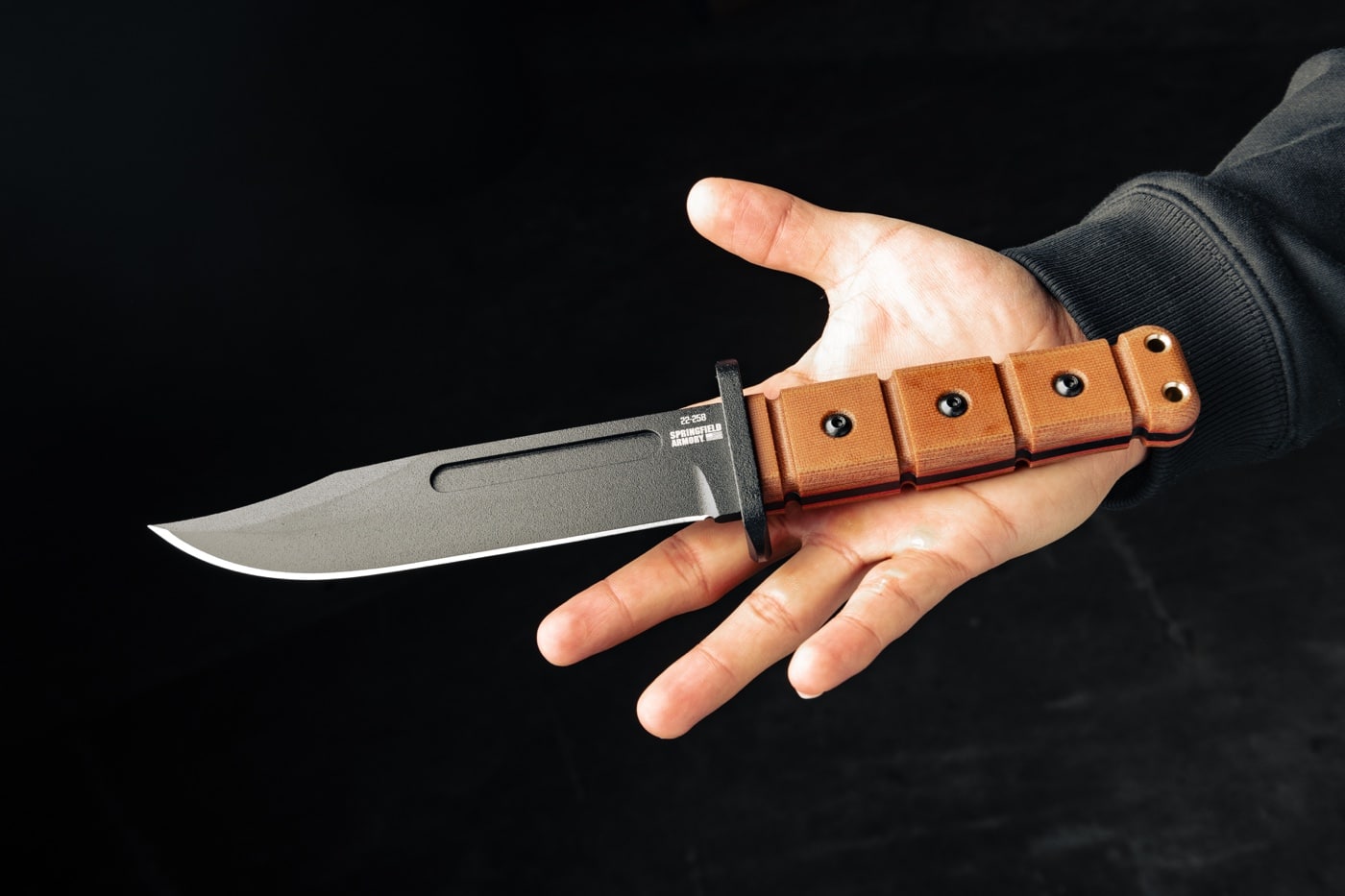 Springfield Armory wanted the Field Knife to closely spec to the original 1219C2. Both blades are/were constructed from 1095 high carbon steel, but there are departures. The Field Knife is of full tang construction and not the stick tang with stacked leather washers and a welded pommel as on the 1219C2. The Field Knife has very durable Micarta scales bolted to the tang. This gives the modern version a handle as tough as a coral head.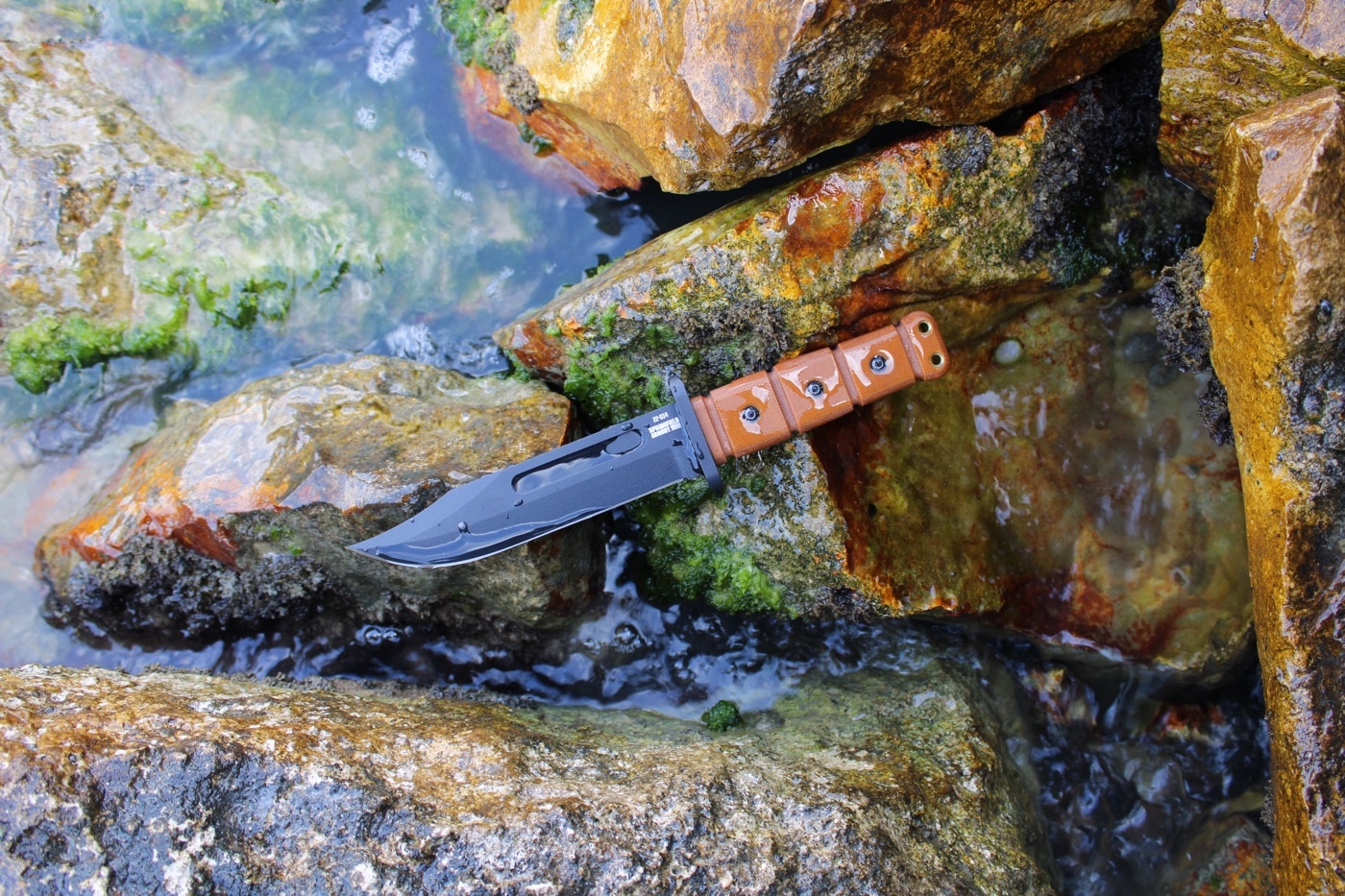 The Field Knife's steel is 0.19" thick. This compares to the 0.16" width of the original. Again, S.A. wanted their knife to be overbuilt. Finally, the S.A. Field Knife is differentially heat-treated, unlike its predecessor. The spine of the Field Knife is slightly softer than the blade's edge, equating to more malleability and less brittleness when used as a digging or prying tool, as the wartime 1219C2 once was.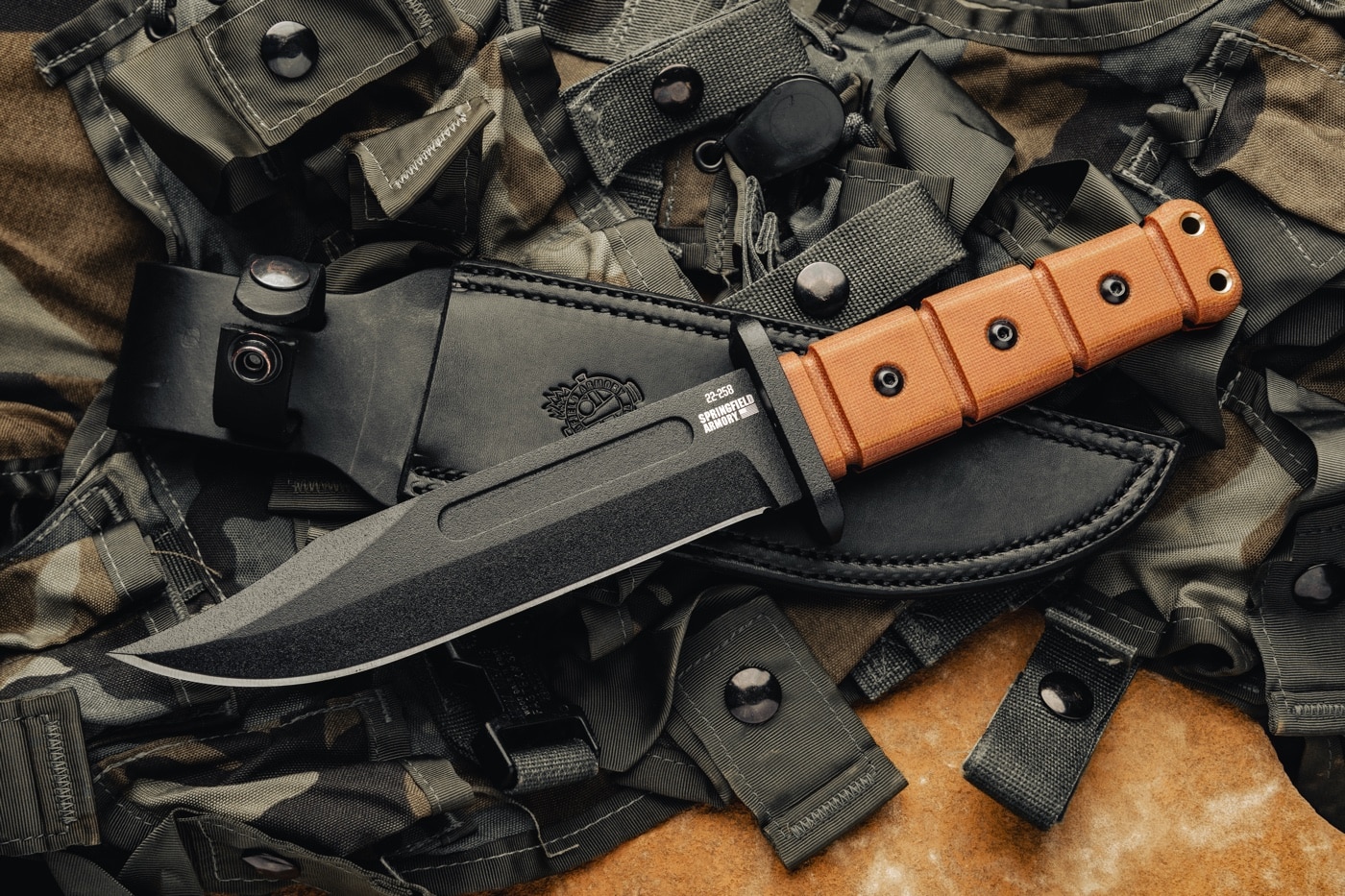 While original diagrams for the 1219C2 show a blade length of 7", the Field Knife stretches the tape to 6.88". Its clip point follows the WWII contours, with the profile of the tip ever-so-slightly upswept. The distinctive fuller grooves are present on either side of the Black Traction powder-coated blade. 1219C2's came with blued or phosphate-coated blades.
Clip Point Field Knife Features
Blade Length: 6.88″
Overall Length: 12″
Blade Thickness: 0.19″
Blade Steel: 1095 RC 56-58
Blade Finish: Black Taction powder coating
Handle Material: Tan canvas Micarta
Knife Weight: 13.9 oz
Weight with Sheath: 19.6 oz
Includes leather belt sheath with Springfield Armory Logo
Limited Edition — only 300 manufactured with a custom serial number on each knife.
Aluminum bolster to prevent hand slipping onto the blade
2 lanyard holes for lanyard attachment
Differential heat treatment, allowing the spine to be softer than the edge, giving the spine some flexibility without being brittle
Lifetime warranty
Made in the U.S.A.
The Details
Let's talk fuller grooves for a moment. A fuller is a knifemaker's tool which leaves depressions on the sides of a sword or knife blade. The fuller is used for pushing hot material aside and leaving an I-beam effect in the steel during forging. The depressions are called fuller grooves. They allow the blade to retain strength while lightening it.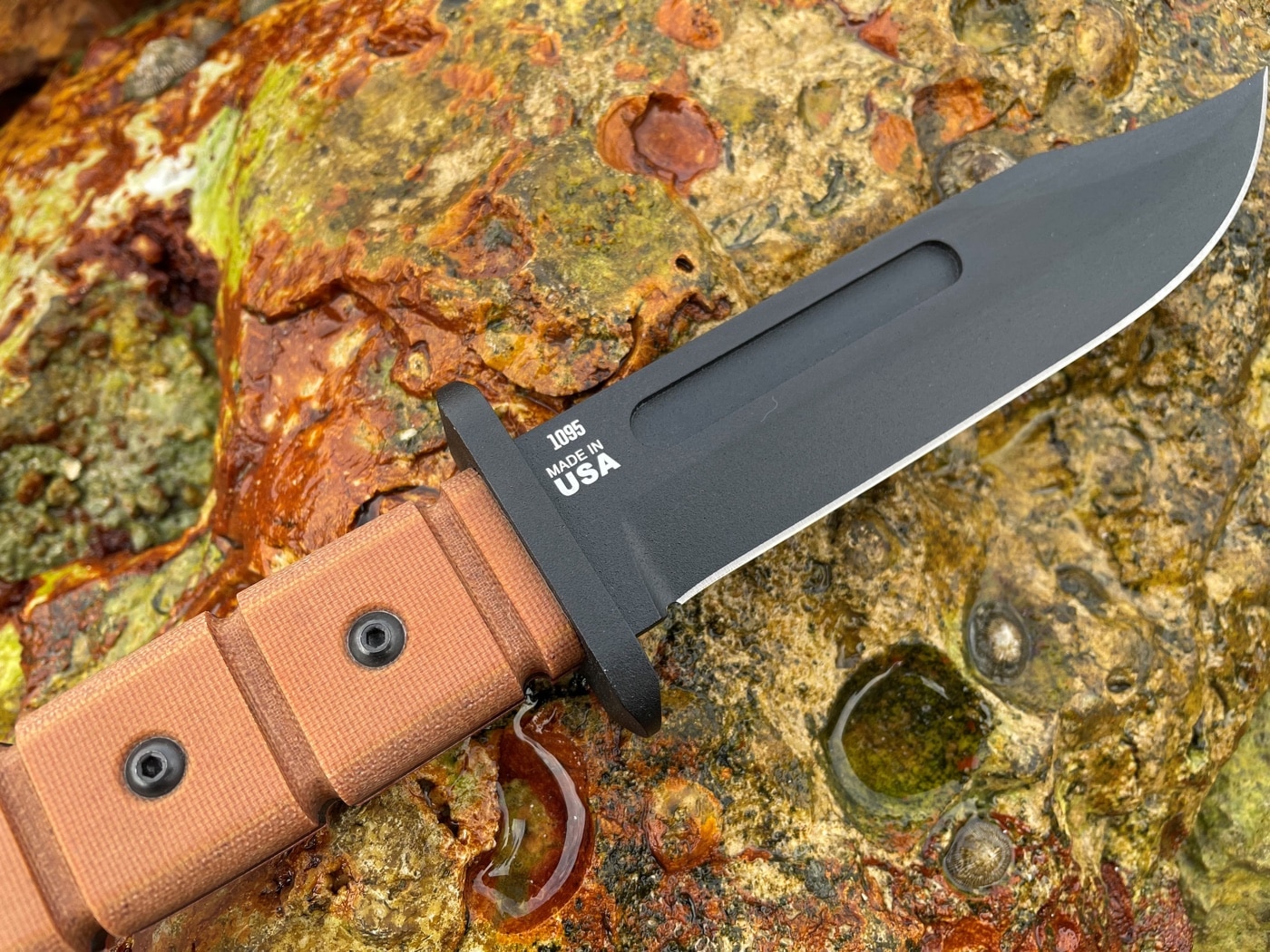 Yes, I know, they are also referred to as "blood grooves" by some because it is thought that they assist with exsanguination by allowing blood to flow through the grooves and out of a torso that is pierced by said blade. In my experience, that's just so much hokum because penetrating wounds of this type tend to self-seal — especially in shallow grooves such as these. That theory also must presuppose that you intend to leave your knife in the opponent for a length of time.
However, there may be validity to the assertion that "blood grooves" allow a blade to be withdrawn more easily. I conferred with The Armory Life's resident medical expert and Emergency Department physician, Dr. Will Dabbs, MD. He stated, "I was shocked at how hard it was to withdraw a deeply embedded blade. A couple of times it just seemed like the object was fastened onto something in there. I am assuming that is a function of the way the elasticity of human flesh causes it to seal tightly around the offending steel. The addition of fuller grooves might actually help break that suction."
Gripping Selection
Moving on, the handle of the Field Knife has textured and channeled tan canvas Micarta scales that provide tactile traction even when wet. Curiously, TOPS added red liners under the scales. Is this a nod to the Union Cutlery's first production red spacer knives? Those early-war knives featured a red leather spacer beneath the guard and red and black spacers at the pommel. But TOPS has been using red liners on some of its offerings since 1998. Hmmmm.
Micarta was a solid choice for the Field Knife since stacked leather washers tend to degrade over time. Actually, they disintegrated in the unforgiving 1940's South Pacific.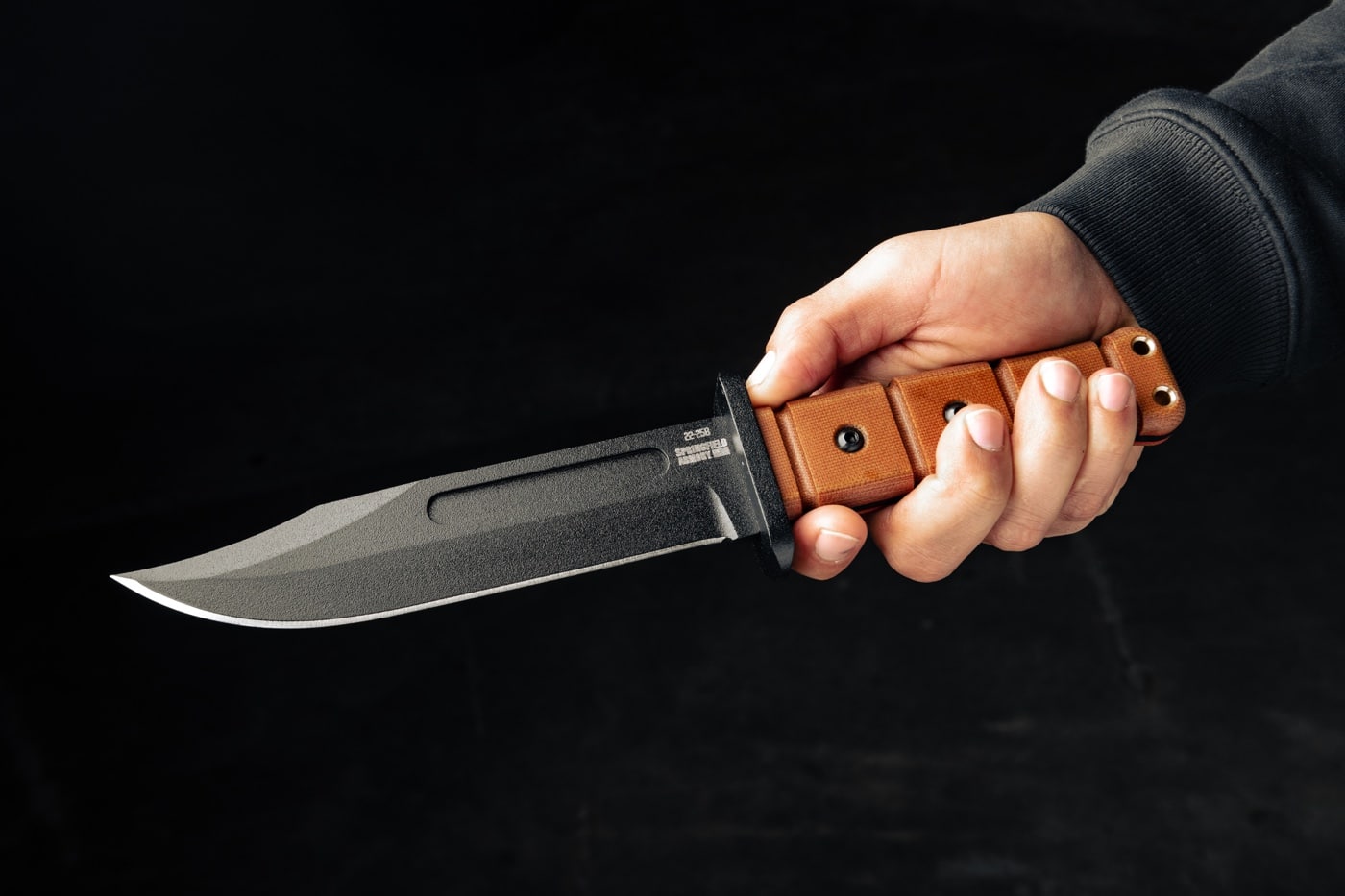 As a remedy, servicemen of that era made what are now called WWII Theater Knives, where they took their issued knives or personal hunting blades and replaced the eroded leather handles with whatever materials they had on island or shipboard. Many beautiful handmade examples had new spacers layered from combinations of acrylic, phenolic, aluminum, brass and/or steel.
The Field Knife's guard is another interesting feature. The original knives had thin, stamped steel guards to keep the user's hand from advancing onto the sharp parts. Springfield Armory decided to give the Field Knife more robust powder-coated guard and imbued it with a more forgiving shape. The improved oval version is built from aluminum for safety and weight-saving, and it is press-fit to the blade tang.
Something the 1219C2 did not have were lanyard holes. The S.A. Field Knife has two at the butt, made of brass, for those who choose an additional method of retention for secure chopping, hacking, or lashing. I like having options, especially ones which add usability.
Packing It In
The Springfield Armory Field Knife carries courtesy a black leather belt sheath with a heavy welt to prevent the blade's edge from cutting the very even double stitching. The construction of the sheath mirrors the fine quality of the 2020 Knife's version. The embossed crossed cannon logo of the Springfield Armory is a nice accompaniment.
As expected, the S.A. Field Knife gunned down my hardwood boughs, cardboard, and rope while taking no prisoners. I even attacked a pressure treated 2×6 for giggles. That old ammo can from my Kangee review? Hell, the knife laughed off being hammered into it, suffering only very minor scuffing of the blade's powder coating. With the thin clip point of this knife, no fool should do this. Yeah, that's me. After enough cutting to tucker me out, the Field Knife's edge bounced back after a few passes on the sharpener.
The 1219C2 was used in the Pacific Theater not only as a combat device, but also for grunt tasks in opening cans and crates, digging, hammering and cutting. While a large blade can be reassuring on the hip of a warrior, in everyday use, the Springfield Armory Clip Point Field Knife also provides yeoman's service as a camp, hunting, or utility knife. With only 299 SA Field Knives available (minus #22-014 tested here) at a per-unit-price of just $249.99, we say, "Pipe this one aboard!"
Editor's Note: Please be sure to check out The Armory Life Forum, where you can comment about our daily articles, as well as just talk guns and gear. Click the "Go To Forum Thread" link below to jump in and discuss this article and much more!
Join the Discussion
Featured in this article
Continue Reading
Did you enjoy this article?
85