Victorinox Farmer Alox Review
December 22nd, 2022
6 minute read
Carrying a pocketknife is as part of the American culture as is hard work, innovation and self-reliance. And ironically, few pocketknives in America have as much cache as the Swiss Army Knife.
Growing up, my dad always carried a knife. Regardless of where he was or what he was doing, if he had a pocket, he always carried his Swiss Army Knife. Dad is long since gone on to his reward, but his Victorinox knife toils on in my collection with no sense of slowing down.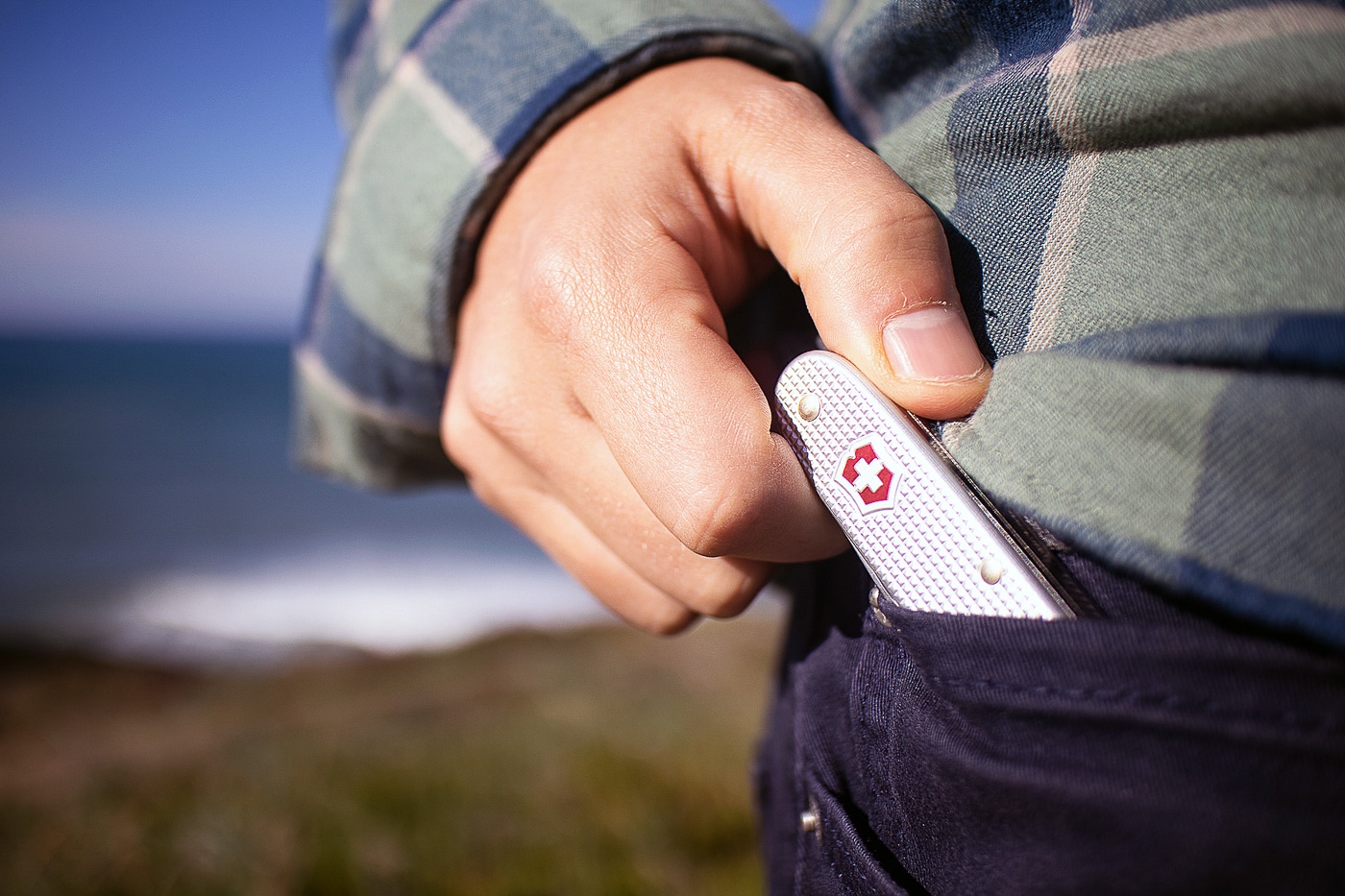 Known for making knives with unmatched versatility, the roots of Victorinox trace back to 1891 when founder Karl Elsener delivered the first soldier's knife to the Swiss Army. What we now think of as the "Swiss Army Knife" was developed in 1897.
Farmer Alox Features
I wanted to see how another Victorinox knife performed in the modern world. The knife I chose to test is the Farmer Alox. Similar in functionality as other multi-use knives made by the company, the Farmer Alox has a distinctive silver-tone instead of the traditional red.
Alox refers to the unique aluminum scales used on the knife. First developed for the company's Pioneer knife more than 50 years ago, the Alox scales have been used throughout its commercial line as well as on the Soldier's Knife from 1961–2008. The embossed surface offers a good gripping surface while keeping the knife lightweight — weighing in at only 3 ounces.
The Victorinox Farmer includes nine tools, all of which could be used by a farmer or someone working outdoors. The tools are:
Knife blade
Bottle opener
Flathead screwdrivers (two: 3mm and 7mm)
Wire stripper
Reamer, punch
Wood saw
Can opener
Key ring
Several of the tools have multiple uses. For example, the 3mm flathead screwdriver will also work as a driver for many Phillips head screws.
Let's take a closer look at some of the tools.
Knife Blade
The Victorinox Farmer comes with one single blade that is used for cutting. Out of the package, mine was very sharp and had no difficulty in slicing through rope, paracord and leather. I also found it was perfectly useable for thinning wood and food prep. Around a camp or on the farm, the blade should serve well for all but heavy-duty projects where a fixed blade knife should be employed.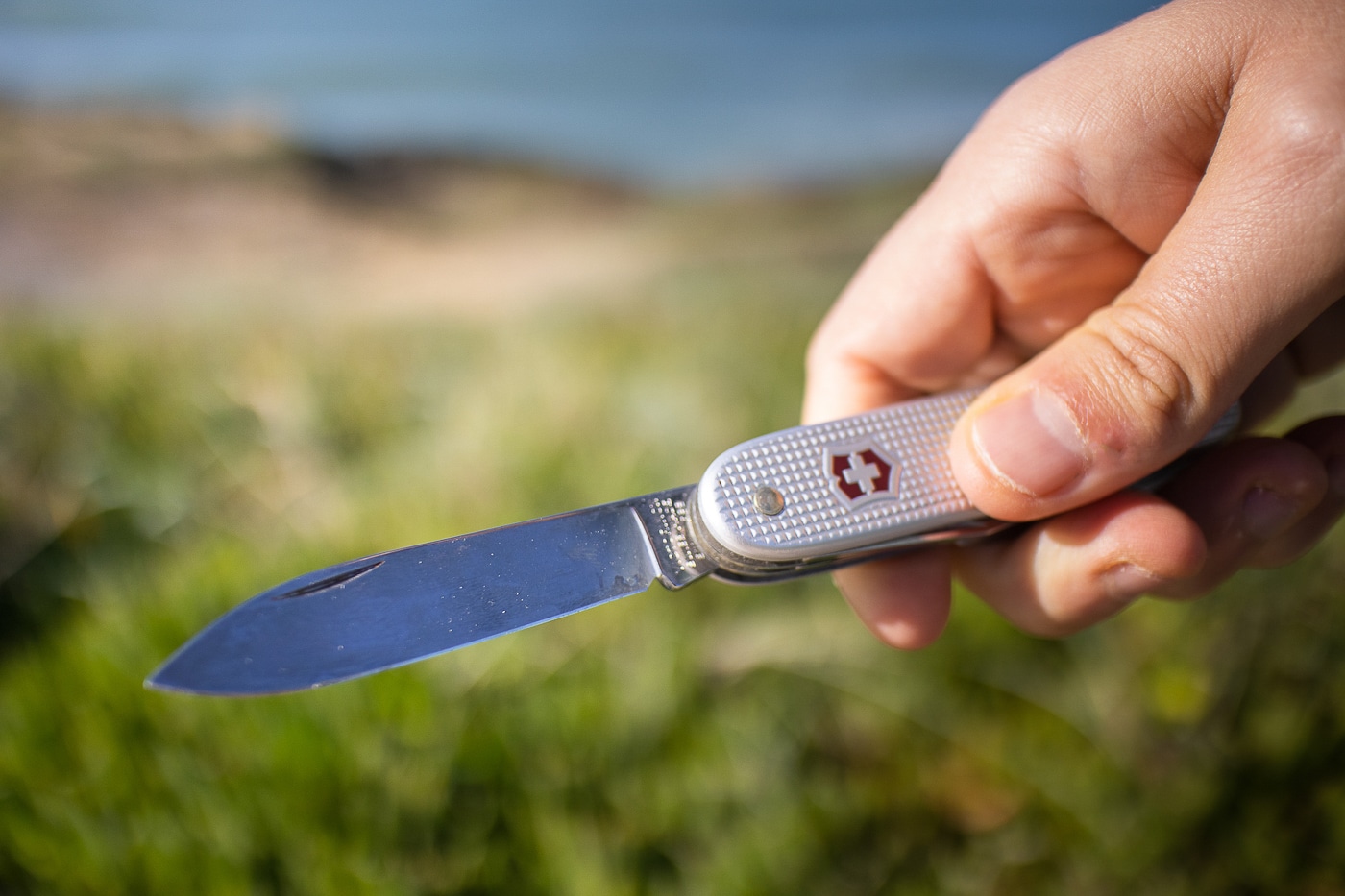 The blade is made of stainless steel, which helps prevent corrosion. However, stainless steel can still suffer the ill effects of exposure and misuse. I recommend the occasional cleaning — with frequent cleaning if you use the knife regularly.
I found the body of the knife offered ample grip for employing the blade. Keep in mind that this is a utility knife for EDC. I would not recommend it for defensive use unless it was all you had.
Bottle Opener
The bottle opener is a multipurpose tool. It serves the obvious function of popping the top off of a beverage bottle. As a kid, I drank many a cold Coke from a glass bottle after working in the fields with my grandfather. To me, a bottle opener is a perfect addition to an EDC knife — especially one named the Farmer.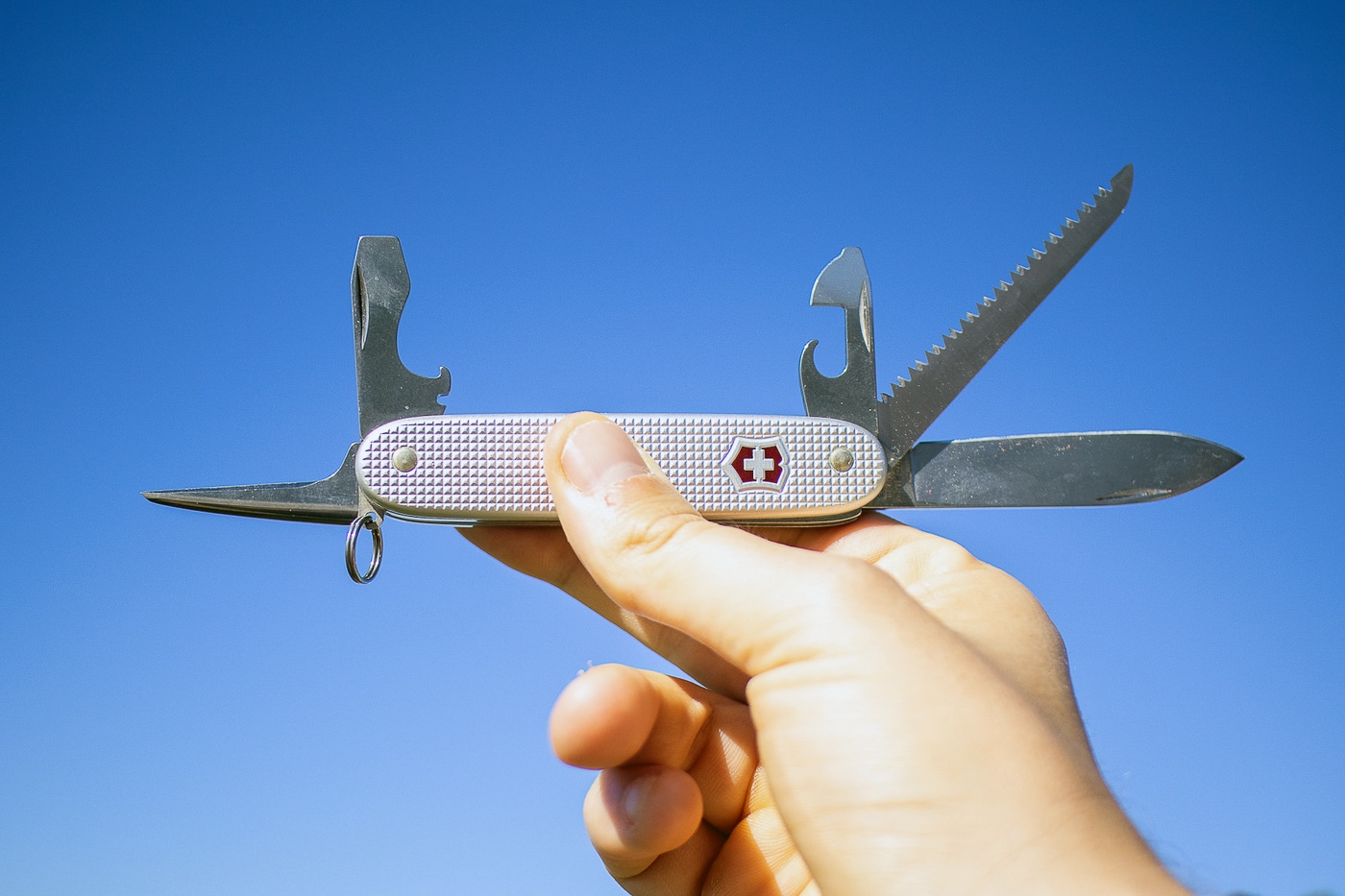 On the tip of the bottle opener is a 7mm flathead screwdriver. In addition to opening it completely for use as a driver, you can elect to open it to 90˚ and use it as a T-handle driver. This might be a better fit depending on your task.
Built into the body of the bottle opener is a wire stripper. While it works, it is not as convenient as a purpose-built wire stripper. The design will work in a pinch, though.
Wood Saw
Granted, the saw is relatively small and won't lend itself to property clearing. However, for saplings and smaller branches, it's very effective with aggressive teeth. For small things, the wood saw is effective and only limited by your endurance. For a camping or EDC knife, this feature works well.
Why the Victorinox Farmer?
Although the name is Farmer, I find this a great knife for everyday carry. It doesn't have a crazy amount of unnecessary tools, but still has more options than a simple folding knife offers. I have several folders from Spyderco, Benchmade and others that would work exceptionally well for defensive use and emergency cutting chores. Beyond those essential tasks, however, they lack broad usefulness.
That's where I think the Victorinox Farmer Alox really shines. If you envision ever needing a tool that can do a lot, yet is small enough to slip into a pocket, the Farmer Alox is worth considering. For my EDC needs, I'm unlikely to need the wood saw. Nevertheless, I am in regular need of a bottle opener and am constantly having to grab screwdrivers for a never-ending series of tasks around the house. Having something in my pocket offered an immediate solution that saved me time and frustration.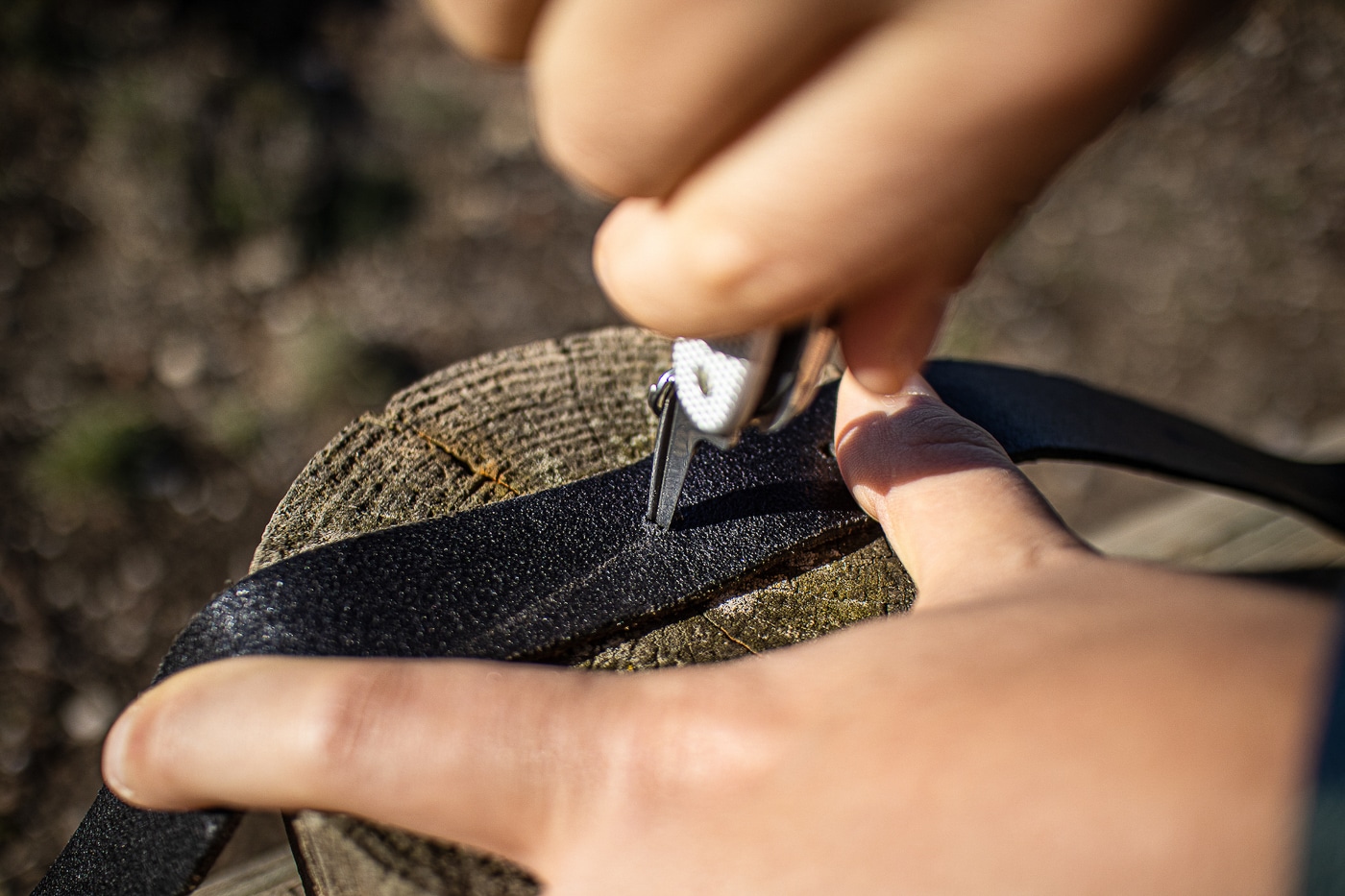 I think, the addition of the can opener, wood saw and other tools gives me greater flexibility. When in the woods, I carry the tools I expect to need. But the Farmer Alox is a perfect backup to those full-size camping tools, giving me an additional layer of redundancy. I find that to be extremely valuable.
Pricing on the Farmer Alox is quite reasonable. The suggested retail price in the U.S. is less than $60, but I was able to pick mine up for less than $45 online with free shipping. For the amount of versatility this knife offers with the quality construction Victorinox delivers, I haven't found a better deal.
Final Thoughts
Victorinox and the Swiss Army Knife have been around for a long time. In my experience, the company delivers quality products, and the Farmer Alox is an example of that. My knife performed admirably in testing and continues to serve me well today. It's sitting in my right front pocket as I type out this review. It may be the sentimentalist in me, but I am wondering if my own son will look at my daily carry of the Farmer in the same way I recall watching my father with his Classic.
Editor's Note: Please be sure to check out The Armory Life Forum, where you can comment about our daily articles, as well as just talk guns and gear. Click the "Go To Forum Thread" link below to jump in and discuss this article and much more!
Join the Discussion
Featured in this article
Continue Reading
Did you enjoy this article?
90