Springfield Armory Model 2020 Knife Review
September 16th, 2022
7 minute read
I recently touched down in Boise on a much-needed vacation, ironically bringing with me one of Idaho's finest products. No, I didn't deplane clutching some locally grown russet in hand. I had carried a Springfield Armory Model 2020 Custom Carbon Fiber hunting knife back to its state of birth (in my checked baggage, of course). Since I had been sent one to evaluate, it was a fortunate happenstance I was traveling from the Sunshine State to the Gem State for a bit of hiking and relaxation.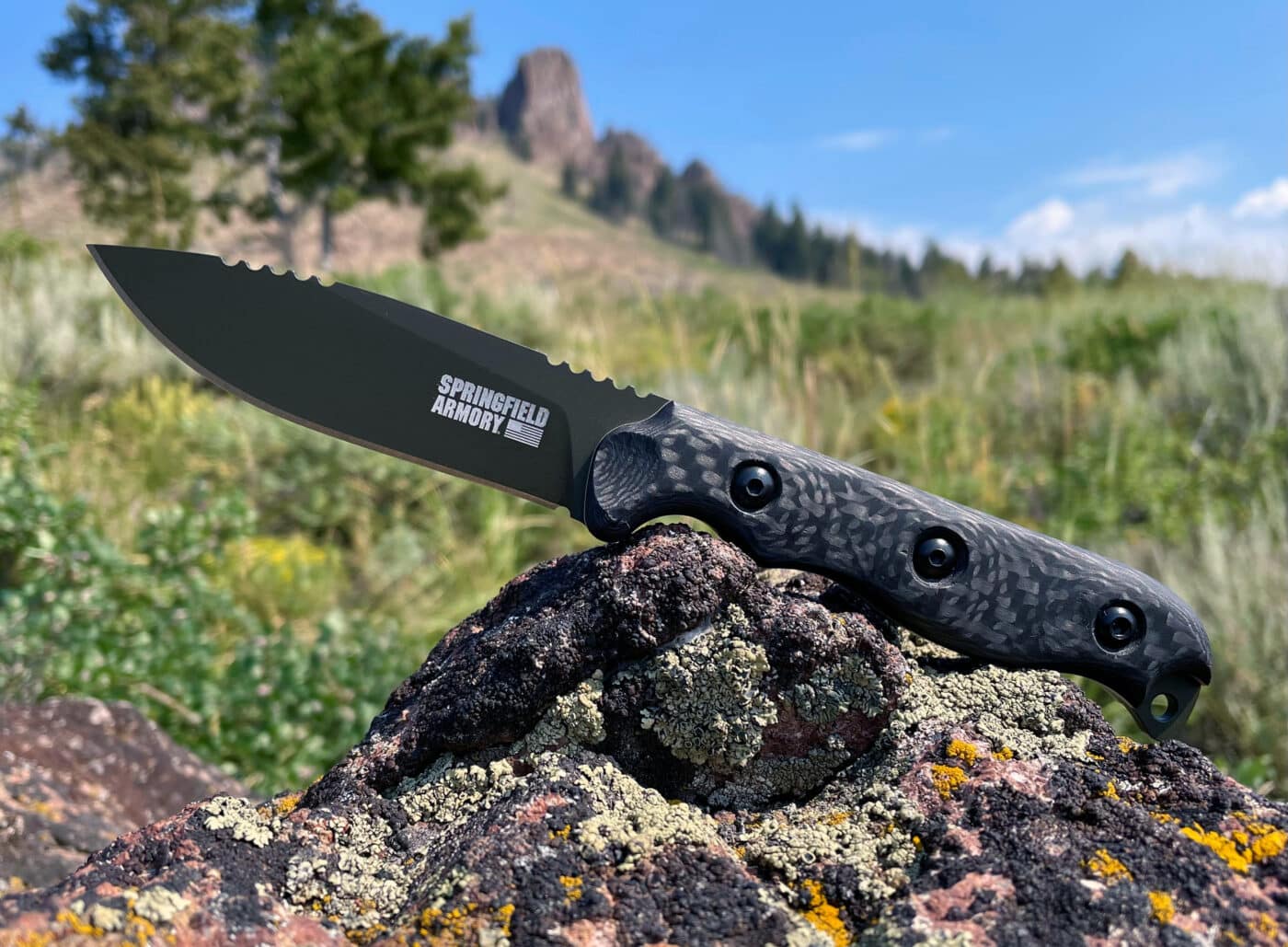 Springfield Armory needed a worthy knife to accompany its Model 2020 Waypoint centerfire rifle. Idaho's preeminent TOPS Knives, Inc. was chosen to produce this exclusive drop point hunter. To quote the accessory product manager at Springfield Armory, "Springfield wanted a Made in USA knife. Period. The Model 2020 rifle has a unique look. We wanted to have a knife that would share those similar looks."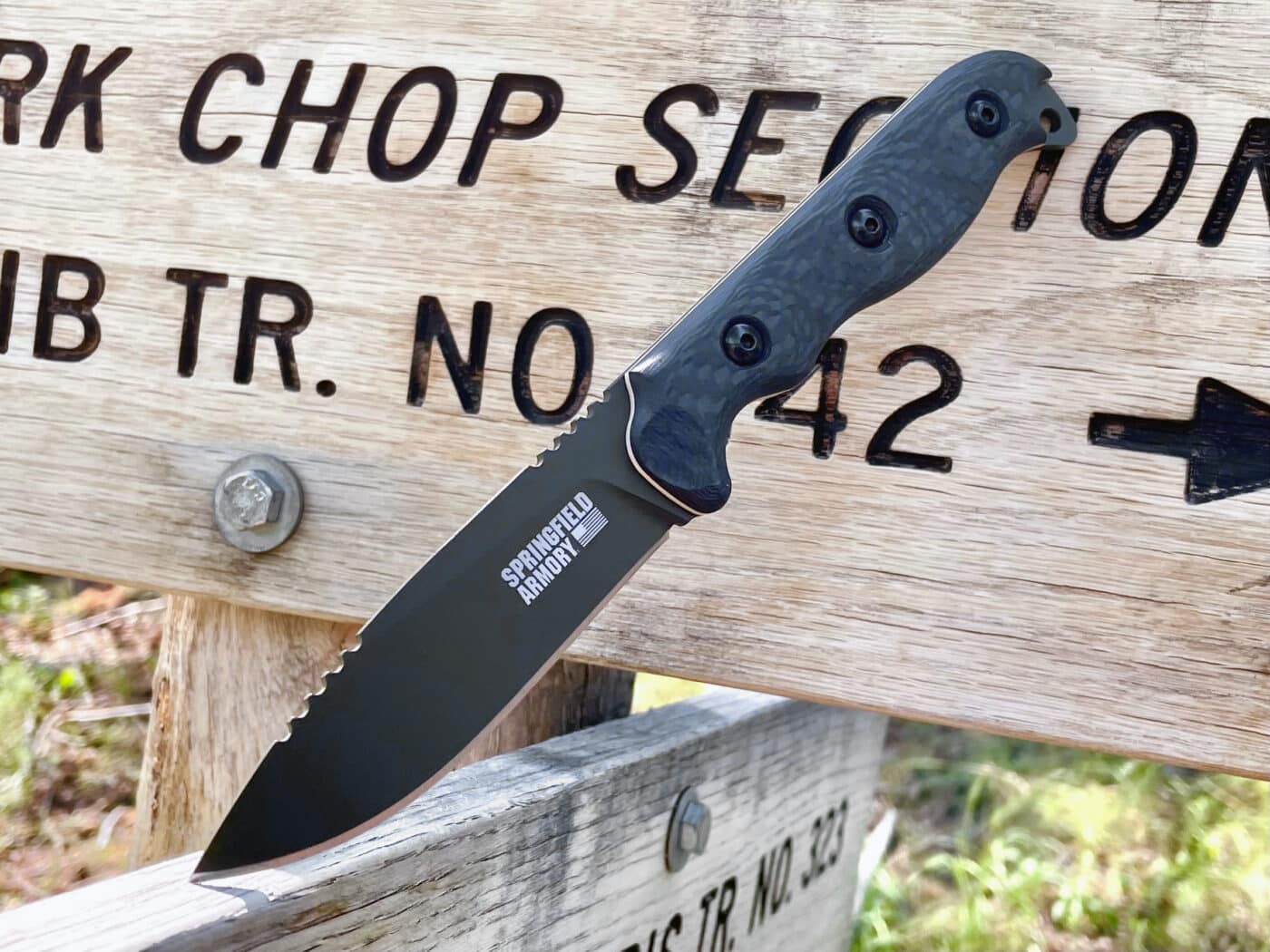 He continued, "TOPS Knives has a reputation in the knife world for building a really strong, really rugged knife. They are made in the USA and have great connections to the veteran and military communities. Seemed like a perfect fit with the Springfield Armory brand and our customers. We had Tops design the blade shape and used a traditional 'drop point hunter' blade design. This is a tried-and-true design made popular by Bob Loveless and is a classic in the world of hunting knives. After the blade shape was settled upon, we went about getting the proper thickness, and handle for a serious hunting knife."
The Details
Just before the trip, I had unboxed the Model 2020 knife, much to my delight. It had a gorgeous dark olive Cerakote finish and mesmerizing carbon fiber handle scales. This was one nice fixed blade. To its credit, the 2020's factory edge was unnervingly sharp. I liked it already. So many knives come out of their packages requiring a touching-up, or worse, a nearly full regrind of their most useful sections.
To get down to "brass specs," the 2020 knife checked in with a 3.75" flat-ground blade on an 8.5" full-tang handle. It weighed 5.2 ounces on my digital scale. The steel was flat-ground high-carbon 1095, known for its edge-holding, ease of resharpening, and durability.
The evenly applied Cerakote was a nod to both steel protection and positive aesthetics. The carbon fiber scales were securely bolted to the frame. Tan liners made for good contrast between the green and black. A lanyard hole completed the tang.
Carry of the 2020 knife was achieved via a black friction-fit leather sheath with a drop belt loop. The quality of the hide, dye, stitching, and embossed Springfield Armory logo befit a knife of its station. A great knife is of no use without a commensurate method of travel. The belt loop positioned the knife just right below the hip. It did not interfere with activity or sitting.
In Practice
Once on the Sawtooth Mountains' breathtaking hiking trails, I found the Model 2020 to carry easily. It felt light and unobtrusive. I performed some camp/bushcraft functions — shaving, whittling, and batoning wood. The 1095, known as a user's steel, drove through all with no concerns. Because it is high-carbon and not rust-resistant, I was mindful to rinse and oil the exposed steel after use. I used food-friendly canola.
After some spirited field play, the Model 2020 needed very little re-touching to the edge, but a few swipes on a ceramic rod for good measure and the blade returned to a near-factory sharpness with ease. Kudos to the TOPS' edge geometry and heat treat. Rockwell hardness was done at 56-58 HRC by the maker.
Since there was no game to harvest in mid-July, I relied on a diet of kitchen analogs to test the knife's usefulness on proteins. I dissected a five-and-a-half pound pork roast for carnitas. Because the Model 2020 was infinitely keener than any of my kitchen knives, I was very careful while making cuts that were at times precise and then not so much. I tried out the forward jimping on the blade's spine for more delicate work around the pork bone. The jimped portions are lightly smoothed and did not cause abrasions to my hand. For no other reason than to test the edge, I hammered through the pork bone with a makeshift mallet. The bone splintered apart without argument.
One week later, I needed to clean up some pork tenderloins and portion out some chicken for the freezer. Out came the Model 2020. I touched up the edge on a kitchen steel and went to task. Again, it was easy work with this hunter. I certainly enjoyed using this knife as a butcher's tool.
Continued "torture" testing was done on cardboard, hardwood branches, and some poor random pool noodle. The knife's edge only slightly dulled and never chipped. The Cerakote took a few dings on the knife's spine when I was using a plastic-coated wrench to baton the knife through the branches. Some spirited swings took place, but I did not notice that the last several hits were metal on metal. Yes, that will defeat any coating you put over steel.
In all my uses of the Model 2020, the handle configuration was comfortable. The contours are rounded or relieved so as not to cause hotspots during hard cutting and/or repetitive motions. Out of curiosity, I took the handle scales off of the knife by using two 3/32" hex wrenches. An owner could leave the scales off and wrap the tang with paracord if one wanted a more survival-oriented version of the blade.
The Model 2020 Custom Carbon Fiber hunting knife was made as a companion to the Springfield Armory Model 2020 centerfire rifle. Said Springfield Armory's representative, "We wanted to complement the looks of the Model 2020 hunting rifle. The carbon fiber handle with the Cerakote green seemed to do the trick. But when we looked at it, we thought it needed something more to make it 'pop.' That's when we settled on the tan micarta liners to give it that extra color combination and really match the rifle stock of the Model 2020."
Springfield Model 2020 Knife Specifications
Here are the specs on the Springfield knife:
| | |
| --- | --- |
| Knife Type | Fixed-blade, full-tang |
| Blade Length | 3.75″ |
| Overall Length | 8.5″ |
| Blade Material | 1095 carbon steel |
| Blade Finish | Olive Cerakote |
| Warranty | Lifetime |
| MSRP | $249.99 |
Conclusion
The price point of the Model 2020 knife, at $249.99 retail (Editor's Note: As of publication time, the price is reduced to a sale price of $199.99), is in line with TOPS' other excellent semi-custom options and far below what some handmade hunters will set you back. I found the cost to be very reasonable for the performance and quality of this blade and its sheath.
My wife and I hiked 57 challenging miles during our trip. The knife was with us for every step. The Springfield Armory Model 2020 hunter proved to be Idaho strong, reflecting the beautiful nature of its backcountry and the practical utility one would expect for a tool born from the robust state. I expect all three of us will be back.
Editor's Note: Be sure to check out The Armory Life Forum, where you can comment about our daily articles, as well as just talk guns and gear. Click the "Go To Forum Thread" link below to jump in!
Join the Discussion
Featured in this article
Continue Reading
Did you enjoy this article?
86