Chris Reeve Green Beret Knife
July 24th, 2019
3 minute read
This superb knife was first brought to my attention by Kevin O'Brien (deceased), a former US Army Special Forces 18B (Weapons Sergeant), on his now-defunct blog, Weapons Man. The post was called Legendary Knives of the Special Forces. In that post, he basically described the knife (and how to get one) pictured below this paragraph, along with a couple other nice knives including the Gerber Mark II and the V-42, still part of the SF flash and made famous by "The Devil's Brigade" of WWII.
The only way to get the original and authentic Yarborough like the one above is to be a bonafide graduate from the US Army Special Forces Qualification, or "Q" course. It's been "the knife" for newly minted Green Berets since 2002. Originally it was issued, but is now purchased through the SF Museum by graduates who may purchase only one serial-numbered knife.
The rest of us can't get one.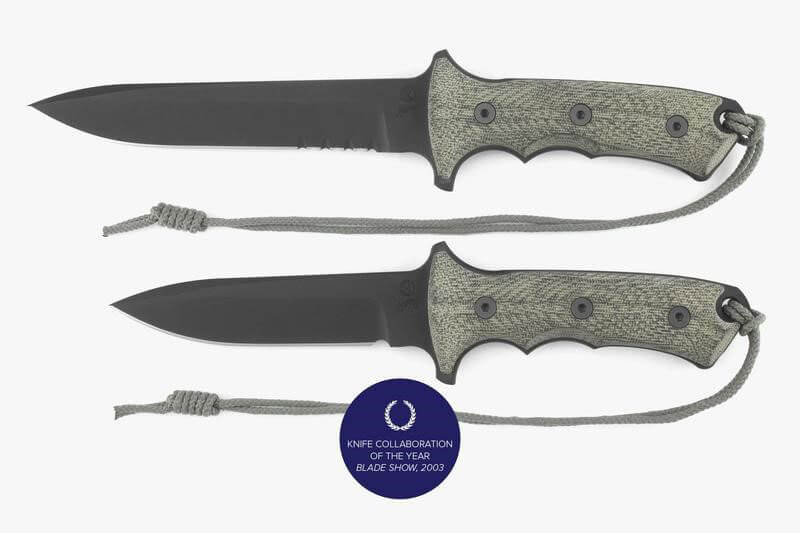 However, Chris Reeve of Boise, Idaho offers a similar (but just a tad different) knife aptly named "The Green Beret Knife." Not too hard for him to do as he also manufactures the Yarborough, which was designed by William Harsey, as is the Green Beret Knife. If it's not the perfect field knife, I couldn't say what might be improved upon.
It is simply "bomb proof" that has had no corners cut, down to the Spec Ops type sheath that comes with it. The retaining strap is sewn and measured for the GB Knife (see in the pic below) and the plastic sheath liner has been lined with felt for noise reduction and keeping it snug against the blade. Quality, through and through.
It comes in two versions – a plain blade and a semi-serrated blade. I prefer plain blades, so that's what I chose. Mine's also in Flat Dark Earth KG Gun Kote with the green micarta slabs for the handle. The sheath is also FDE, and has MOLLE attachments on it to put, say, a multi tool carrier on it.
Here are the specifications, right from Reeve's web site:
BLADE
Material: CPM S35VN
Hardness: 55-57 RC
Length: 7″ / 5.5″ (177.8mm / 139.7mm)
Thickness: 0.220″ (5.588mm)
HANDLE
Material: Black Canvas Micarta
OVERALL
Coating: KG Gun Kote
Length: 12.375″ (315mm) / 10.875″ (276mm)
Weight: 12.8oz (363g) / 11.8oz (335g)
When you pick up the Green Beret, the first thing you notice is the balance. It fits your hand very nicely and the grip feels very natural with the two forward finger grooves. The grips are bolted on the full tang with Allen screws. Not going to come off quickly, that's for sure. The false edge is not sharpened, but you could do that if you wanted, depending on your skill and patience level. Removing material from the edge is going to take patience!
Price is more than fair. The knife runs $320 for the 7 inch model and you can also get a 5 inch model if you like shorter blades. Reeve also has a list of authorized dealers if you can't get to Boise.
All in all, for a great knife that emulates what our Special Forces troops can choose to carry, Chris Reeve has knocked it out of the park!
I may have occasion to be in Boise before year end, and if I am, I'm going to make a point to get to his store near Gowen Field and stop in for a visit. You should, too. He's got many designs that fit many, many roles.
You can find him at chrisreeve.com or by phone at 208-375-0367, hours Monday-Thursday 7am – 5:30pm.
Join the Discussion
Continue Reading
Did you enjoy this article?
65