Defeating My Swine Gene: MTM Case-Gard Tactical Range Box
October 4th, 2020
5 minute read
Full disclosure — I'm a card-carrying pig. There are a couple of things I'm pretty decent at. Neatness, however, is not counted among them. But thanks to the MTM Case-Gard Tactical Range Box (TRB), I might have found a solution.
Seriously. I'm really not kidding. I have on occasion needed something, bought what I needed, lost it, bought a new one, and then lost that one before I actually got my chore completed. Archeologists generations from now will be poking around the petrified remains of my home scratching their heads in amazement that anyone actually owned more than a dozen rolls of pipe tape. I just kept losing it. Home Depot should send me Christmas cards.
Now, however, the good folks at MTM Case-Gard have contrived the ultimate organizational tool for neatness-impaired guys like me. The TRB is the optimized AR-style rifle parts organizer. Designed specifically to help with maintenance and organization chores, the TRB is like having a portable gun workshop in a box.
Two in One
The MTM Case-Gard TRB is actually two boxes in one. Formed from rugged injection molded polymer material, the TRB is as tough as your favorite black rifle. The cavernous bottom "tub" has room for the big stuff — magazines, ammo, accessories and optics. This space also packs the removable gun forks, and there are three of these nifty rascals.
Two conventional forks include soft over-molding to keep from damaging the finish on your expensive firearm. Slip one in each end of the box and the TRB becomes a cleaning and maintenance platform. While designed specifically for AR weapons, these universal forks would accommodate most anything that shoots.
There is also a .223 magazine well fork. Drop this in place and you can secure your rifle via the magwell for easy access and maintenance. All three forks store inside the box, and two separate mounting points on one side let you arrange the gun at an angle if needed.
The upper half is designed to manage cleaning supplies. There are plenty of divided spaces for cleaning supplies, jags, brushes and solvents. Eighteen different compartments come in all sizes. Sixteen screwdriver bit holders help manage your tools, while a nifty removable plastic jag gauge measures calibers at a glance.
How Does It Work?
Two rugged side latches hold the top and bottom sections rigidly together. Front latches hold the hinged lid in place. Once everything is secured the box is easy to tote. Frankly, the whole rig is ruggedly overbuilt.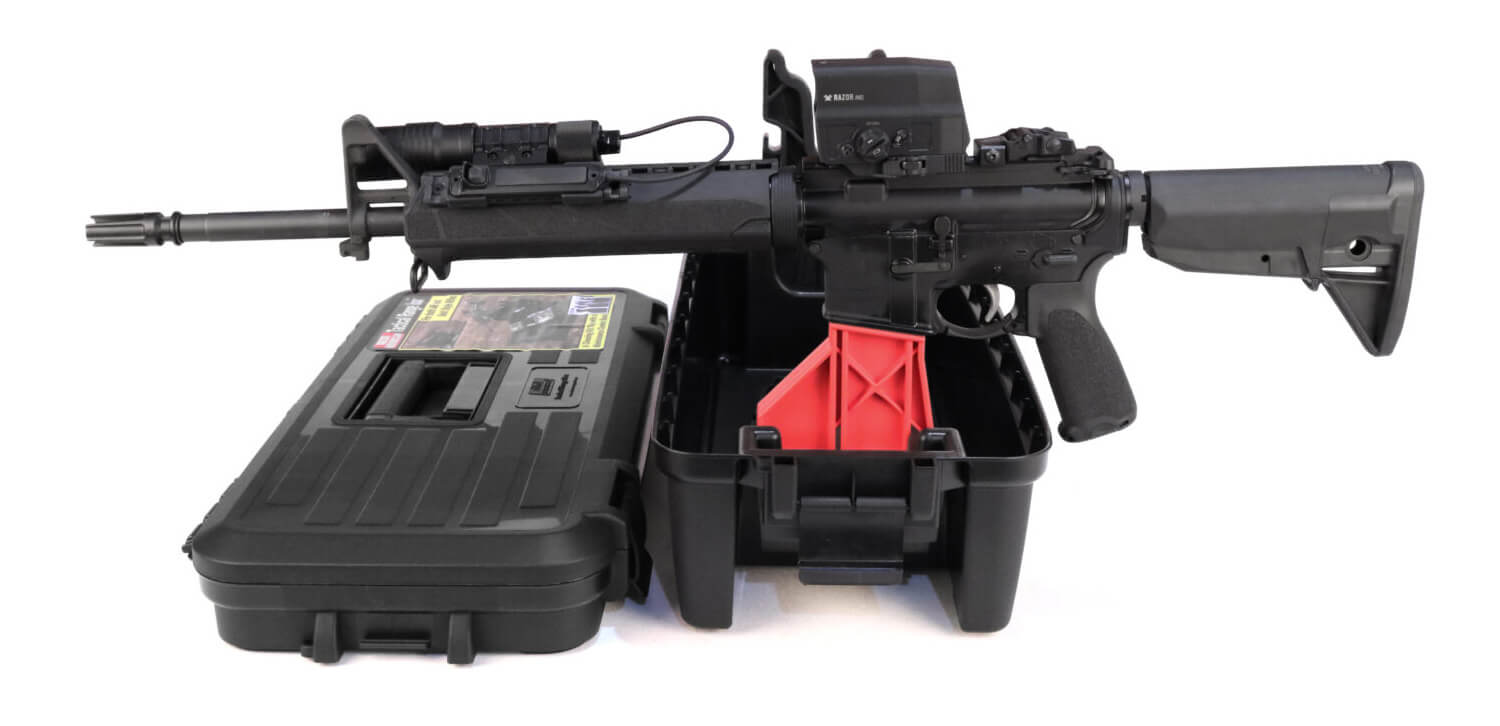 The TRB is designed for both portability and efficiency. Pack your cleaning gear in the top and your magazines, ammo and accessories in the bottom. Remove the top half, set it aside, and drop the forks in place. Now you can clear and secure your weapon for maintenance or inspection right at the bench. Pop the lid on the top half and all your support gear is handy and organized. When it is time to head home just pack everything up and drop it in your truck.
War Story
I was at a machinegun shoot running an MP5 when the little retaining plate on the top of the bolt broke in two. If you haven't poked around the entrails of an MP5 before, it is like the space shuttle — only more complicated. A failure typically means some tedious Internet work followed by a week or longer wait before the part I need arrives. No matter how you slice it, my afternoon at the range was going to be ruined.
I'm nothing special myself, but I do have cool friends. A buddy at the range produced a gigantic plastic tackle box, poked around a bit, and emerged with a replacement retaining piece and the tools we needed to fix the gun. Five minutes later we were back turning ammo into noise. The MTM Case-Gard Tactical Range Box lets even neatness-impaired Philistines like me enjoy these same organizational benefits that range day-saving friend had.
I use my TRB with my trusty Springfield SAINT rifle. It's not like anything on the gun will ever break, but it still needs to be cleaned periodically. The MTM Tactical Range Box keeps everything I need organized and where I need it. When I get back home it tucks comfortably underneath my work bench as well.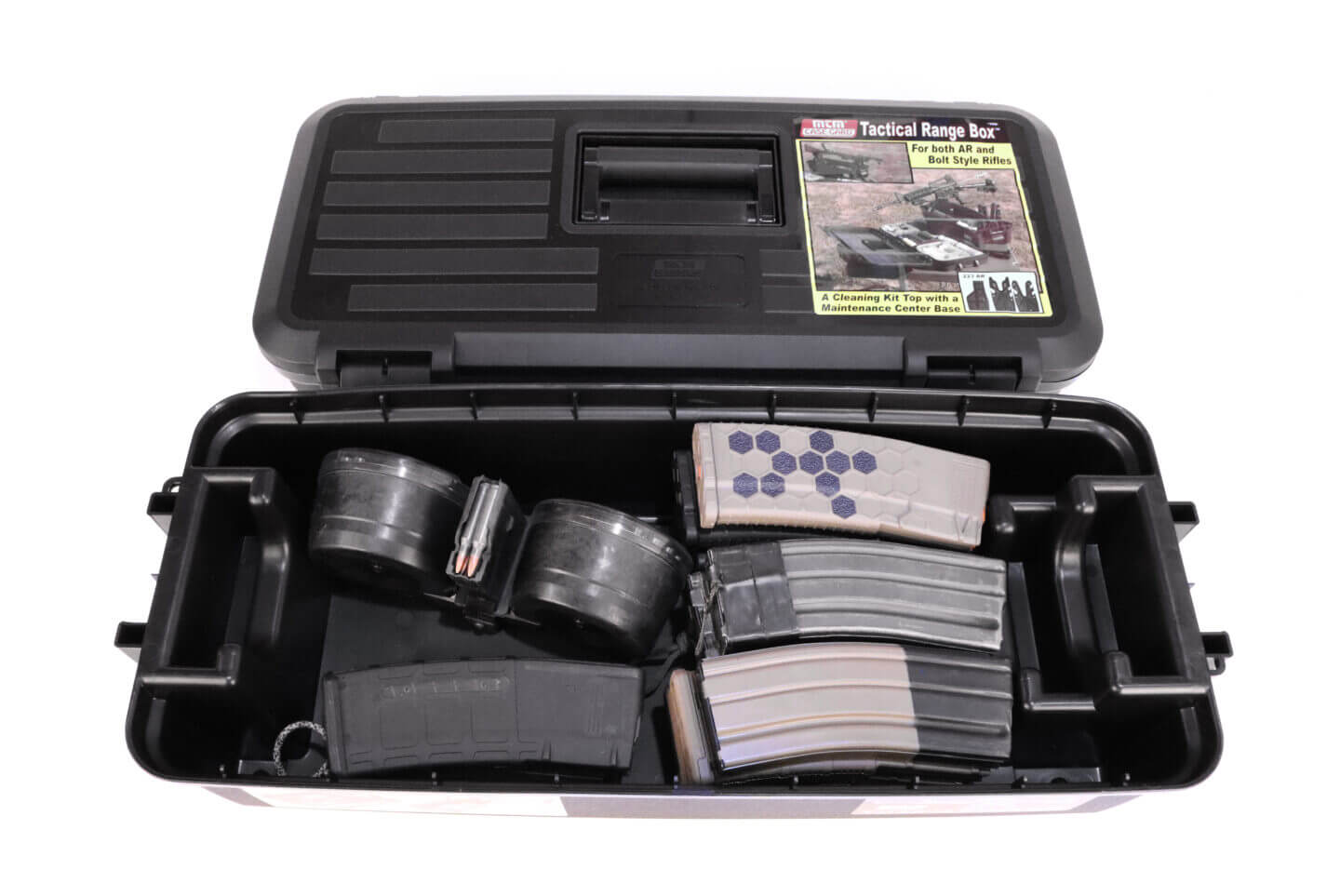 Denouement
I view my untidiness as a sort of disability. I think I should get a special place to park and maybe my own telethon. Oddly, my wife just feels that I should stop whining and pick up after myself.
Whether you possess the swine gene as do I or are already neat and tidy, the MTM Case-Gard Tactical Range Box will help you better organize your gun world. Tough, clever and cool, the TRB is also that third hand you need to help with those pesky gun maintenance chores. I'm smitten with mine.
Editor's Note: Please be sure to check out The Armory Life Forum, where you can comment about our daily articles, as well as just talk guns and gear. Click the "Go To Forum Thread" link below to jump in and discuss this article and much more!
Join the Discussion
Featured in this article
Continue Reading
Did you enjoy this article?
37