See The Way: Springfield Armory Model 2020 Waypoint
September 29th, 2020
7 minute read
That the name "Springfield Armory" is one rich with tradition and history is beyond dispute. However, that name is most often associated with storied military firearms and modern self-defense rifles and pistols. That is, until now.

Enter the new Model 2020 Waypoint rifle, the first new bolt-action rifle with the Springfield Armory name since cars all sported spoked wheels. And this premium American-made firearm represents the company's move into the competitive field of bolt-action hunting rifles.
A Modern Classic
Depending on your age, you could call it a hunting rifle or a long-range match rifle. Old-timers can hardly envision a sporter with the Waypoint's hand-laid carbon fiber stock. Its steep grip and tall comb, reinforced M-Lok slots in the forend belly and five QD swivel cavities reflect tastes and priorities of a new generation.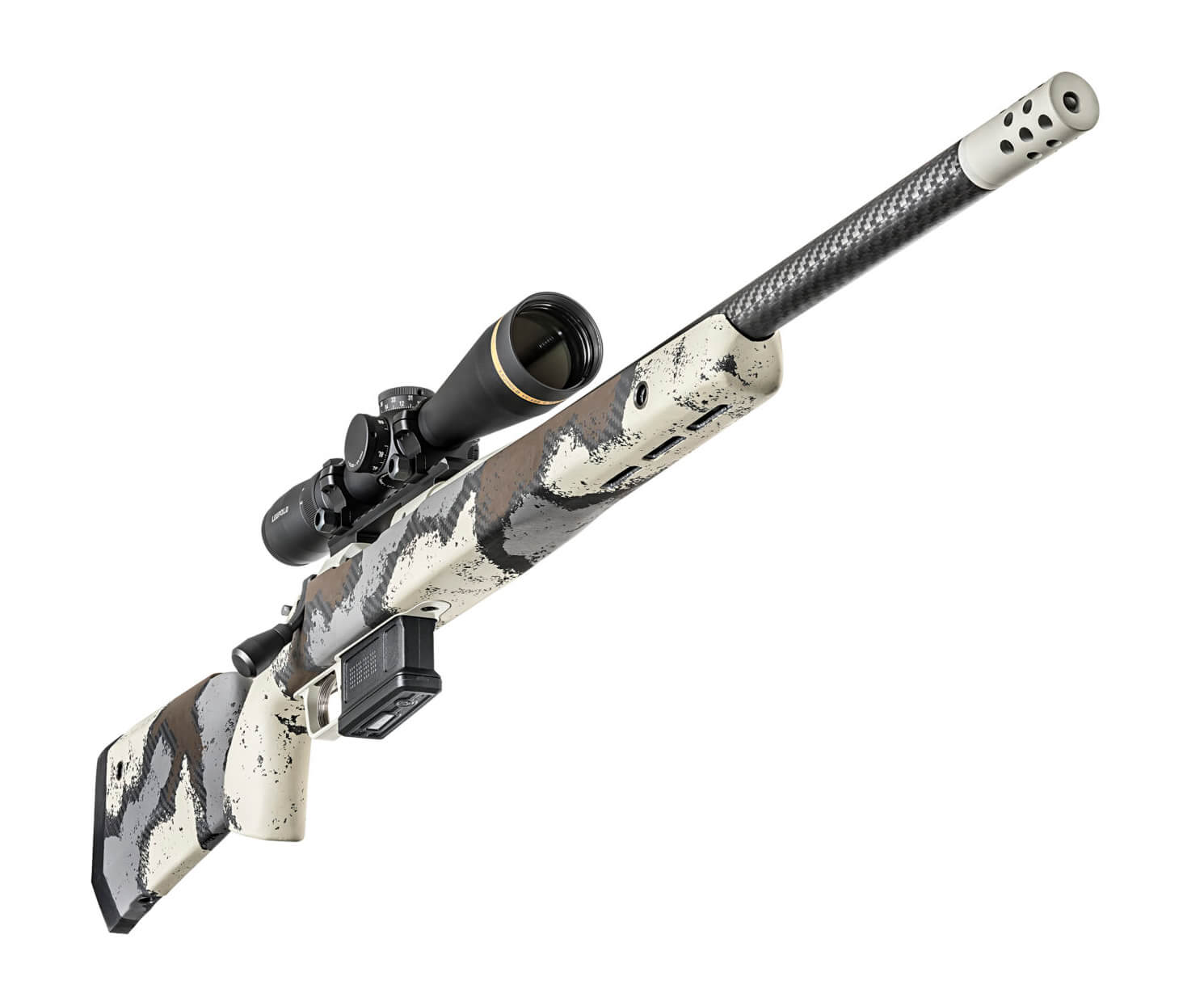 On the other hand, even shooters who recall the Truman Doctrine approve light weight. The Waypoint's stock scales just 1 lb. 15 oz, with a standard comb, and 2 lbs. 11 oz. with adjustable cheek rest. Supplied by AG Composites, the stock is pillar bedded, has a 1″ Pachmayr Decelerator pad, and is available in Evergreen and Ridgeline Camo finish options.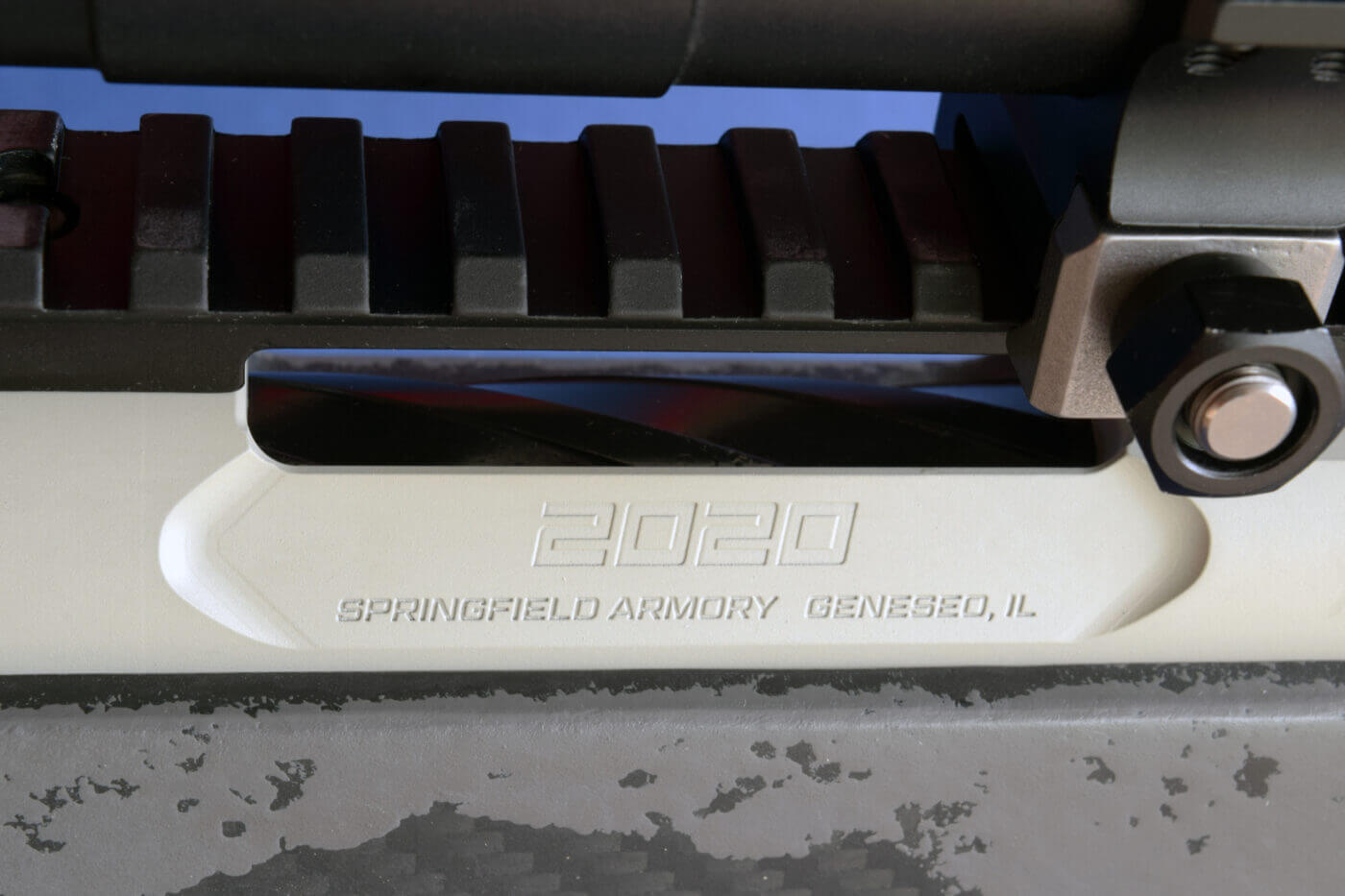 Springfield Armory's U.S.-made Model 2020 action has the popular Remington 700 footprint, so it will fit scope bases and accept triggers for the 700. However, I doubt you'll want a replacement for the furnished TriggerTech "Field" trigger, externally adjustable from 2½ to 5 lbs. of pull. Its "free-floating roller" helps ensure smooth release.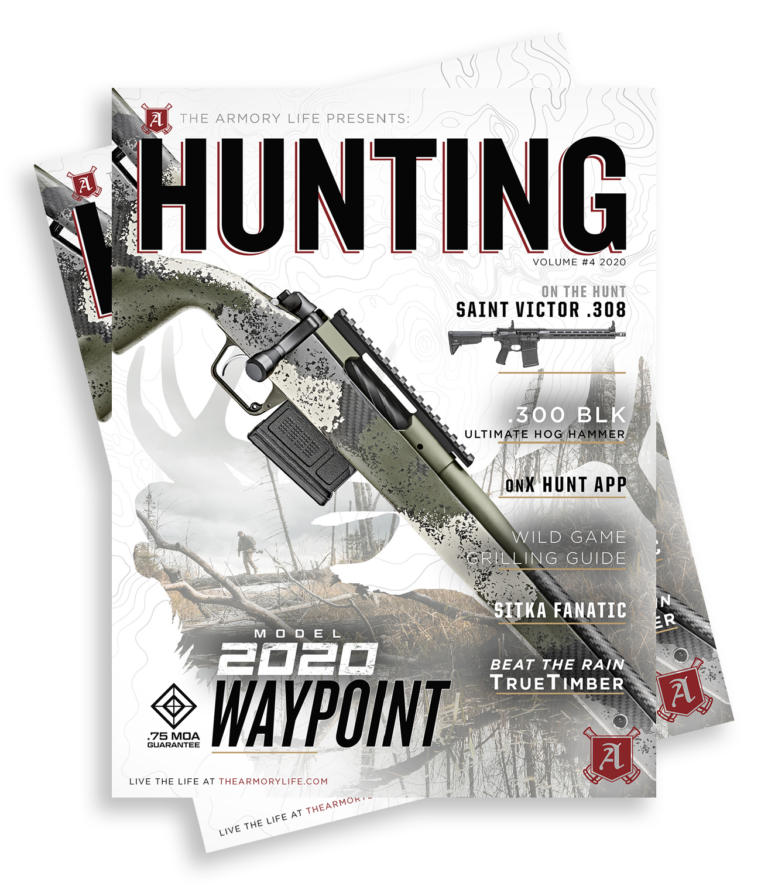 A low-profile, two-position safety blocks the trigger but permits bolt manipulation when "on." Springfield also shaved lock time, a critical element in field accuracy. The Waypoint's 1.9-millisecond ignition makes an eye-blink seem glacial.
A spiral-fluted, two-lug bolt glides in raceways electrical discharge machine (EDM) cut in the stainless receiver. This ensures precise dimensions and slickly smooth surfaces. The bolt and receiver are machined after heat-treating to ensure the dimensions of the finished steel match specifications. Additionally, the bolt is nitrided for wear and corrosion resistance.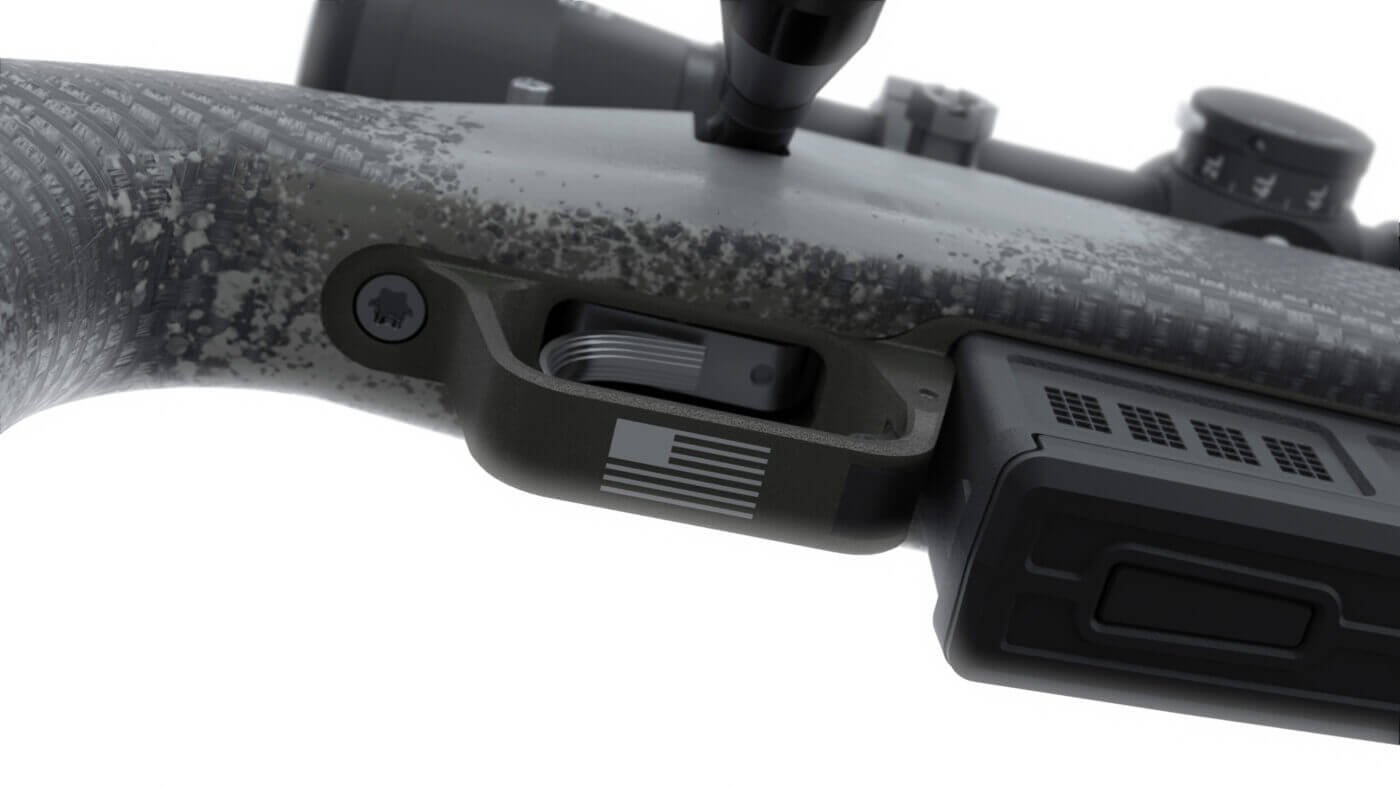 Dual cocking cams boost the bolt's already-easy 90-degree lift, and afford tool-free disassembly. The knurled, cylindrical bolt knob is removable. The Waypoint's recoil lugs are integral with the receiver ring, and four 6-48 screws and two recoil pins secure the Picatinny top rail. Receiver, bottom metal, barrel shank and muzzle brake are Cerakoted. Springfield Armory settled on a detachable AICS-pattern, single-stack magazine, for sure, slick, centerline feeding. It is securely held but easily released by a latch inside the triggerguard.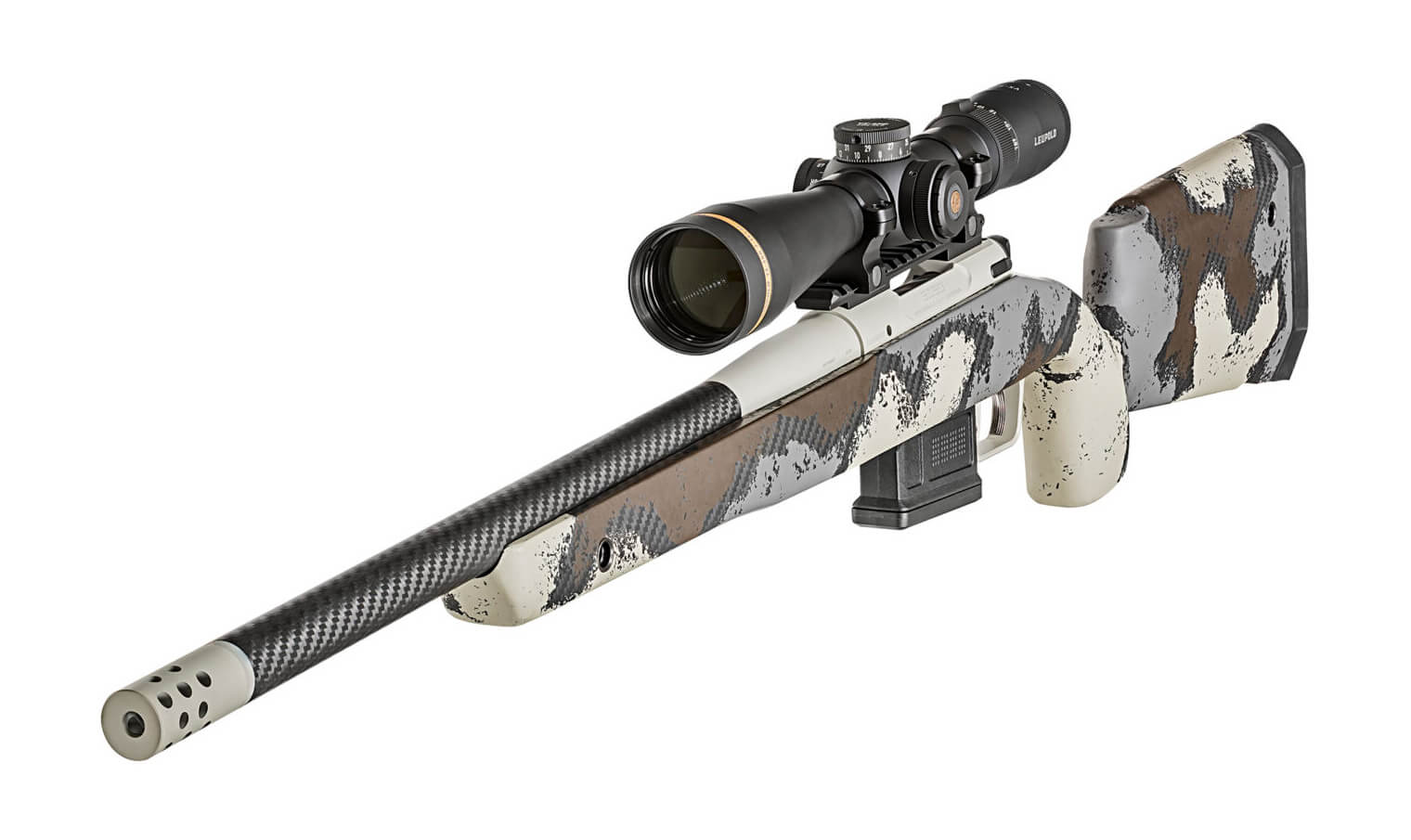 Path to Precision
Chambered in 6mm Creedmoor, 6.5 Creedmoor, 6.5 PRC (Precision Rifle Cartridge) and .308, the Waypoint offers BSF carbon fiber sleeved barrels as well as standard fluted stainless barrels. Twist rates accommodate the long, ballistically efficient bullets now popular with hunters and long-range target shooters: one turn in 7½" for the 6mm Creedmoor, 1:8″ for the 6.5 Creedmoor, and 1:10″ for the .308. All barrels are free-floated and threaded 5/8-24 for the included SA Radial Muzzle Brake.
According to Springfield Armory, each BSF barrel is "jacketed in a roll-wrapped carbon fiber sleeve and loaded under tension [so] 95 percent of the sleeve doesn't contact the barrel, providing cooling air gaps and promoting cold bore to warm bore repeatability." Fluting under that sleeve trims weight and increases surface cooling area. The proof of any barrel, however, lies in the measure of shot dispersion. The Waypoint boasts a .75 MOA guarantee with match-grade factory loads and a skilled shooter.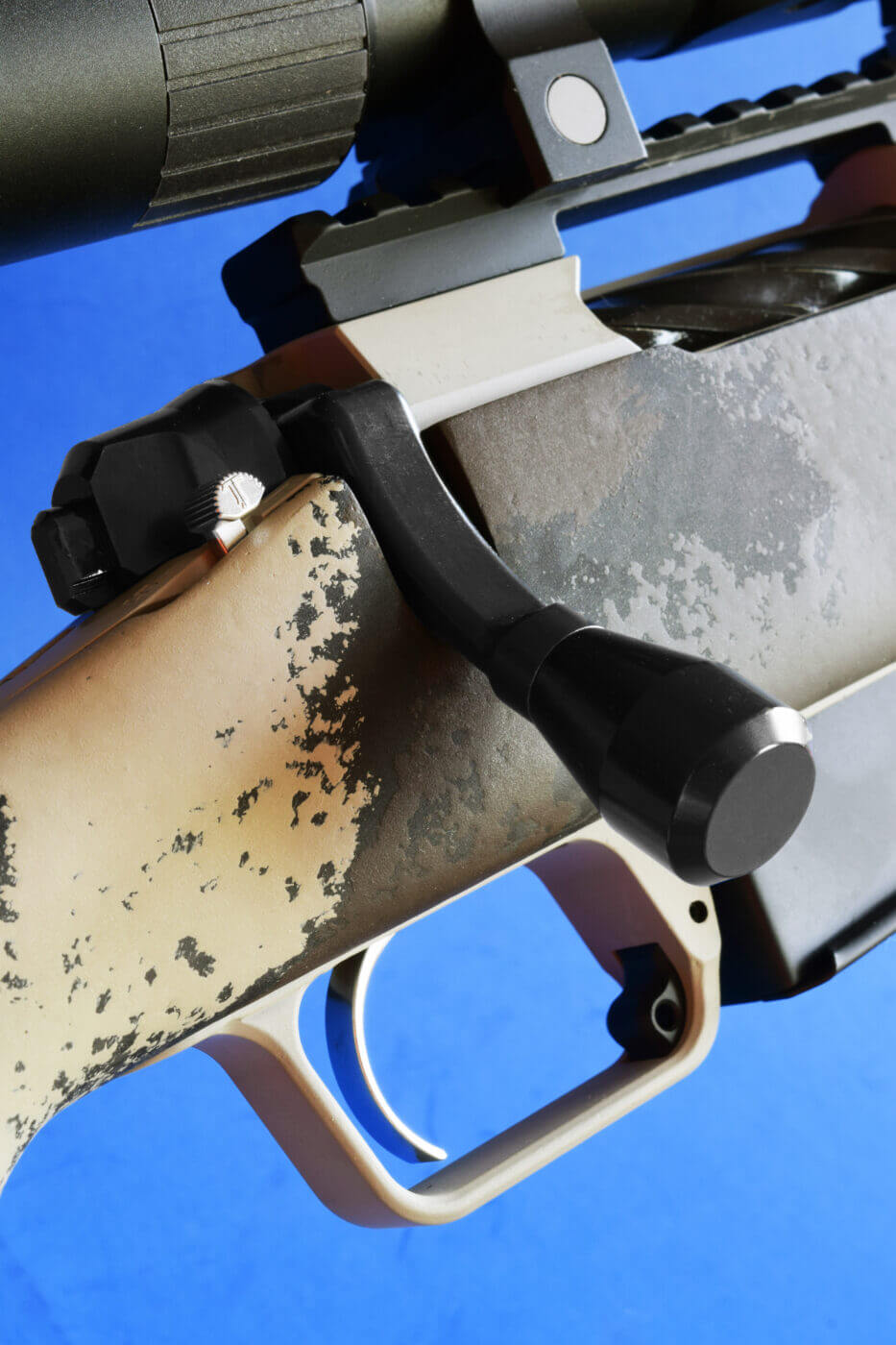 To test that accuracy guarantee (OK, mostly to get to fire a Springfield rifle without a gas port), I snared one of the very first Waypoints to leave Geneseo. It has a 24″ carbon fiber barrel in 6.5 PRC and a standard stock in Ridgeline finish. My 2.5-10×45 Leupold cinched to the rail brought weight to an even 8 lbs. — less than a glance might tell you. The trigger broke at a clean 3¾ lbs.
Hands-On
This rifle balances well. While I've warmed to vertical grips about as fast as a hound to spinach, I must concede this one feels good, both at the bench and standing. It's just long enough, the dip to comb just deep enough for my pork-chop hand. It has a pleasing palm-swell, gentle flare below to keep any hand in position. From prone it puts my firing finger a tad too far forward, meaning it will delight practically all of you shooters out there with no path to the NBA.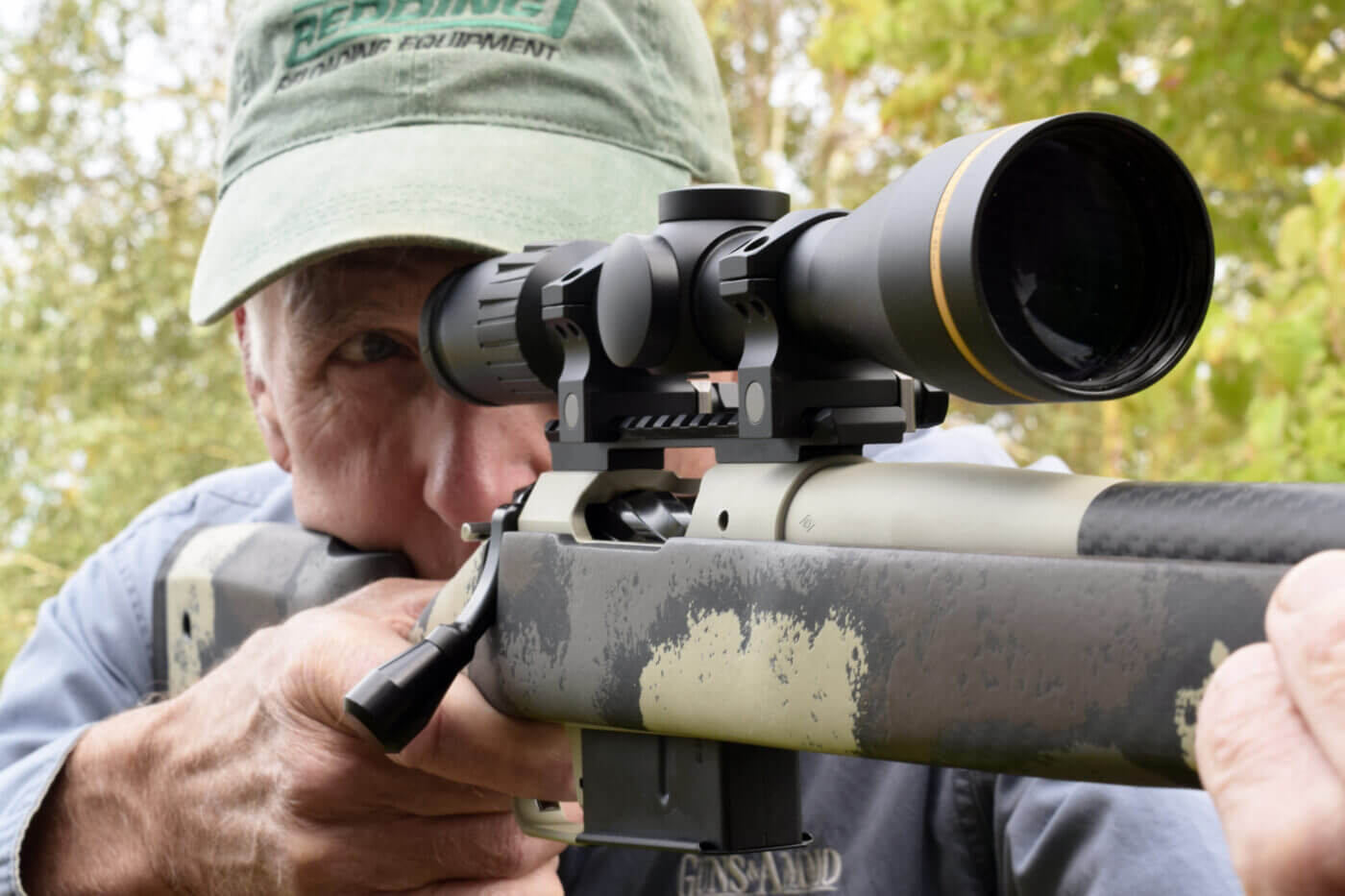 While M-Loks and QD swivel pockets speak to the times, I think traditional QD studs fore and aft would be helpful, to add a Harris bipod or switch a sling with another rifle so fitted. The forend has a pleasing profile. Squarish in cross-section, it marries nicely to a rest and to thumb-and-fingers or open-hand support standing. It has the beginning of a belly up front, to better fit the palm. I like its generous length — 12¾" from the front guard screw.
The stock surface is smooth, with a subtle texture. It feels better than velvet or sandpaper. I also like the Ridgeline Camo, an open patch-work of brown, cream and shades of gray, with dark speckling. The stock is closely inletted around receiver and bottom metal, which stands slightly proud. Its channel lets the barrel float, but without gaps big enough to swallow your car keys.
To my mind, the Waypoint's bolt shank has just the right outward sweep. It drops nicely in front of my trigger finger. The cylindrical knob is well proportioned and properly smooth for fast cycling. The shroud is trim, cleanly shaped. Vertical in form, the striker protrudes 3/16 when cocked. No unnecessary bulk or colors back there. Bolt travel is piston-slick, with almost no rattle. There's very little end play at full retraction.
Running this rifle is a delight! It slurps cartridges seamlessly from the box and is easy to top-feed with single rounds. The magazine is a cinch to release and easily inserted. It's secure in the rifle. Encouraged, it has a little play.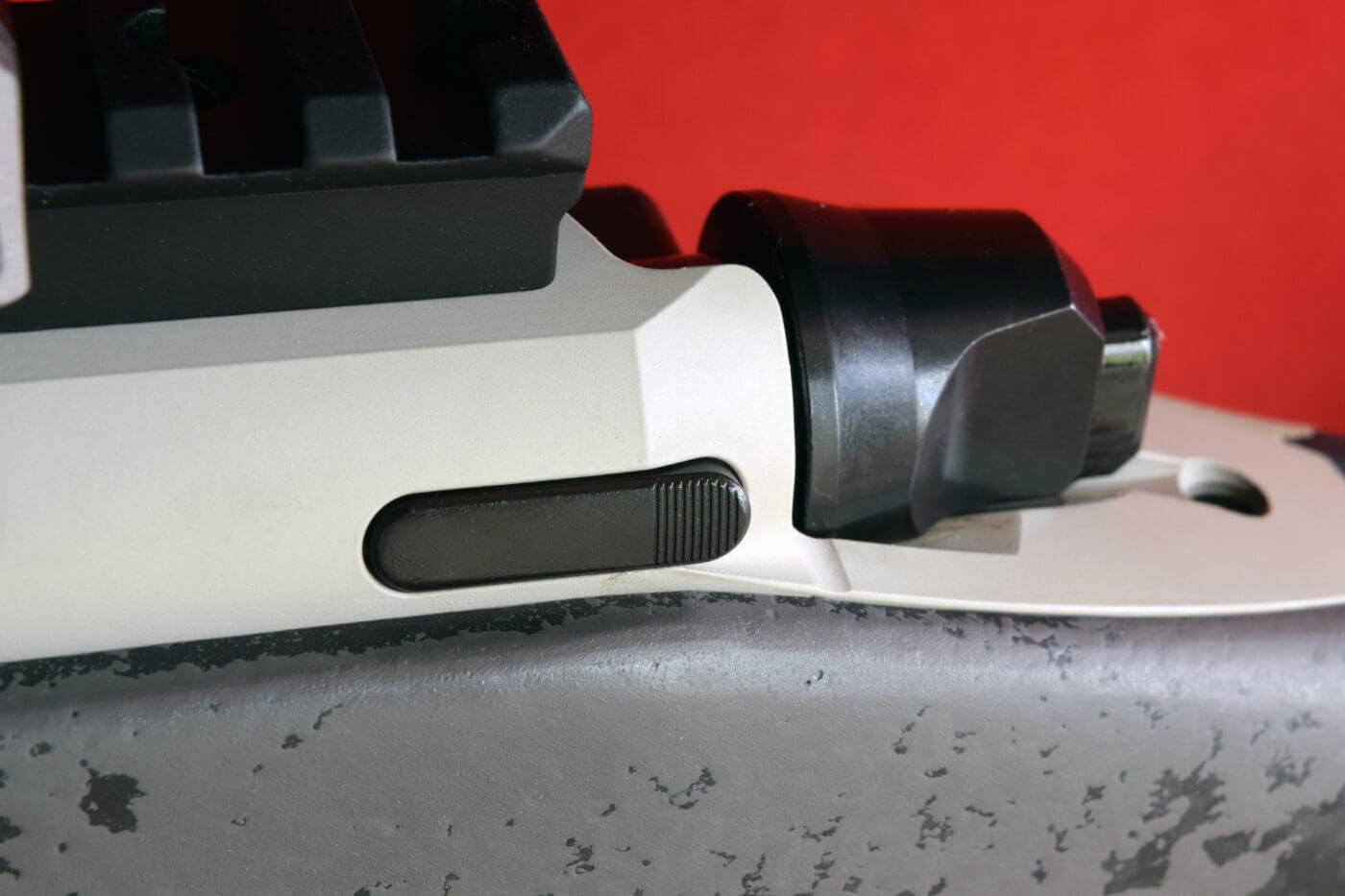 Extraction and ejection are fault-free. The extractor is inserted through a slot in the center of the right-hand (lower) locking lug. Beefy shoulders hold it securely and resist breakage, should you get too ambitious with handloads and stick a case. The claw itself is 6mm wide across most of its face, 5mm at its leading edge. The face angle makes for easy push-feed engagement. The Waypoint's plunger ejector is peppy and kicks from 4 o'clock.
The barrel-diameter SA Radial Muzzle Brake, Cerakoted to match the action, is very effective. Recoil from Hornady's 6.5 PRC loads thrusting 147-gr. ELD Match bullets at 2,910 fps hardly bumps my cheek or clavicle. The Decelerator pad adds its cushion. The Waypoint's crisp trigger also encourages tight groups.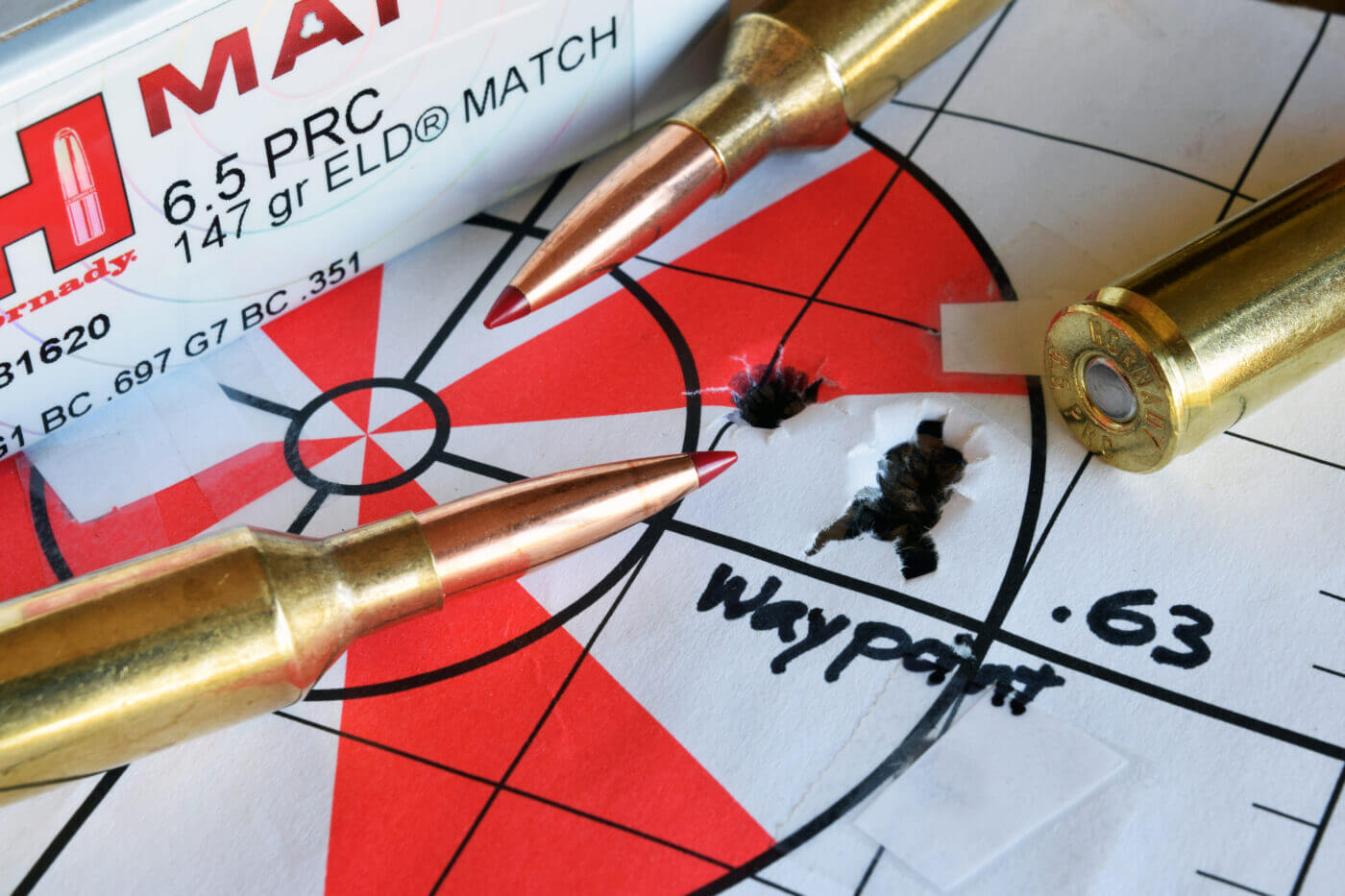 How tight? My first three shots, after bore-sighting and two to zero, cut a .62 knot. I printed some more groups, which measured .63 and .70. Such accuracy from a rifle that, stripped, scales under 6¾ lbs. should please any shooter! It's also a credit to Hornady's excellent ammunition.
Conclusion
Carbon fiber-stocked, carbon fiber-barreled bolt rifles on actions with Remington 700-compatible footprints are popping up like dandelions. The best custom-shop renditions are frightfully expensive, and those coming off assembly lines show their pedestrian pedigree in forgettable components, fit and finish, with accuracy a sometime thing.
Springfield Armory's Waypoint Model 2020 is notable for its relatively modest price – under $2,400 for even the most expensive version, and a starting price of $1,699 – and the quality of its parts and workmanship. Inspect the Waypoint's machining, the union of steel and carbon fiber, details like the deep-socket hex-head guard screws, fine ribbing on the bolt release, classy lettering and numbering … Well, you get the point. Heck, just run the bolt, thumb the safety and dry-fire the trigger. You can do that blind-folded and know you've an exceptional rifle in hand!
In sum, the Waypoint offers features and performance now expected of top-rung multi-purpose rifles, without bleeding budgets. It should impress hunters as well as shooters scrambling in cross-terrain rifle competition and thumping steel at four-figure distance. The first new Springfield Armory bolt rifle in a century has impressed me!
Editor's Note: Please be sure to check out The Armory Life Forum, where you can comment about our daily articles, as well as just talk guns and gear. Click the "Go To Forum Thread" link below to jump in and discuss this article and much more!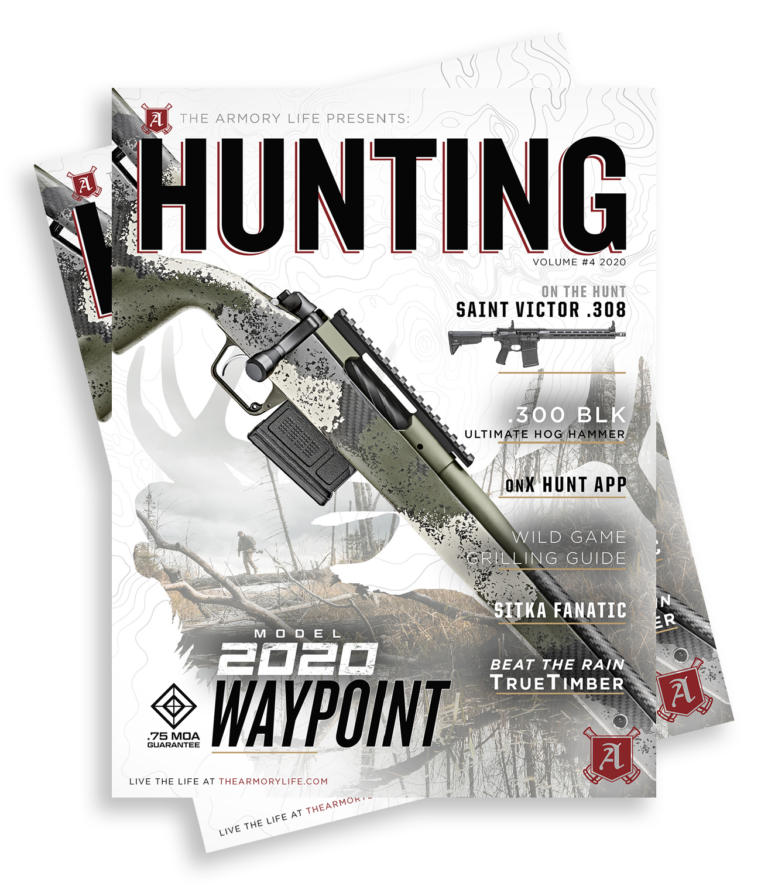 Join the Discussion
Featured in this article
Continue Reading
Did you enjoy this article?
189