CRKT Kangee
T-Hawk

Review
February 28th, 2023
7 minute read
Blade expert Randall Wilson returns to The Armory Life with a CRKT Kangee T-Hawk review. How did this tactical axe do? Wilson was impressed.
The word tomahawk conjures up images of warriors from early North America to the late-1960s Southeast Asia and the Middle East of today. From this storied lineage, edged weapons designer Ryan Johnson envisioned the CRKT Kangee T-Hawk, of which Springfield Armory offers its own version.
Columbia River Knife & Tool, or CRKT, also worked with Johnson on the Woods Chogan T-Hawk. More traditional in appearance, the Woods Chogan shares the same lineage as the Kangee: the tomahawk.
What is a Tomahawk?
Tomahawk is an Anglicized variation of a Native American Algonquin term for cutting tool, sometimes attributed to tamahaac or similar terms. A tomahawk refers to a small axe or hatchet that can be wielded with one hand.
Mr. Johnson is a mechanical engineer, Tennessee outdoorsman, and bladesmith who has been constructing tactical tomahawks for over three decades. His RJM Tactical tomahawks are prized in the load-outs of Special Operations soldiers, sailors, airmen and Marines.
Source of a Legend
"Tomahawks" were originally brought to North America in the 15th century by European traders. The Native Americans, who at that time still used stone-aged tools, were eager to trade with the Spaniards and French for the small metal hatchets. The Europeans packed away these hatchets in their ships explicitly to use as barter for the Native Americans' furs and foods. Soon after, the tomahawk became a symbol of both war and peace for the Native American culture. Think pipe tomahawk.
Major Robert Rogers, of Rogers' Rangers fame, mentions his 1750's British colonial soldiers being equipped with hatchets in his "Rules of Ranging" during the French and Indian War. Rogers' first rule: "All Rangers are to be subject to the rules and articles of war; to appear at roll-call every evening, on their own parade, equipped, each with a Firelock, sixty rounds of powder and ball, and a hatchet…"
From Rogers' 13th rule: "In general, when pushed upon by the enemy, reserve your fire till they approach very near, which will then put them into the greatest surprise and consternation, and give you an opportunity of rushing upon them with your hatchets and cutlasses to the better advantage." Roger's Rangers successful light fighting tactics led to his tenets and tomahawk being adopted by modern U.S. Army Rangers.
The Vietnam Tomahawk
In 1966, Peter LaGana founded the American Tomahawk Company and went on to make his legendary Vietnam Tomahawk. His tool had a straight bit (primary edge), a spike at the poll end, and a hickory wood handle. Most of the original LaGana tomahawks you have seen were olive drab in color. Scabbards came in an oxblood leather. Although tomahawks were not issued by a branch of the military, LaGana sold some 4,000 'hawks to soldiers and Marines for use in theater.
In 2004, the LaGana tomahawk was issued a National Stocking Number as firefighting, rescue and safety equipment, thus it became available to all branches of U.S. armed forces and government contractors. At least one U.S. Army Stryker Brigade stowed them away in their Class 9 rescue kits for duty in Afghanistan. Thus, the tomahawk's usefulness continued.
A Modern Classic
The CRKT Kangee T-hawk is solidly constructed of a single 0.23" piece of SK5 steel, hardened to 54-55 HRC. SK5 has a carbon content of .90%, so it is almost at the high carbon steel threshold of 1.0%. Chromium comes in at 0.3%, far from "stainless" or more properly corrosion and stain resistant. But CRKT gives the steel a durable black powder coat to protect from rust. The lower Rockwell hardness keeps the blade from being too brittle to take the shock of heavy impacts.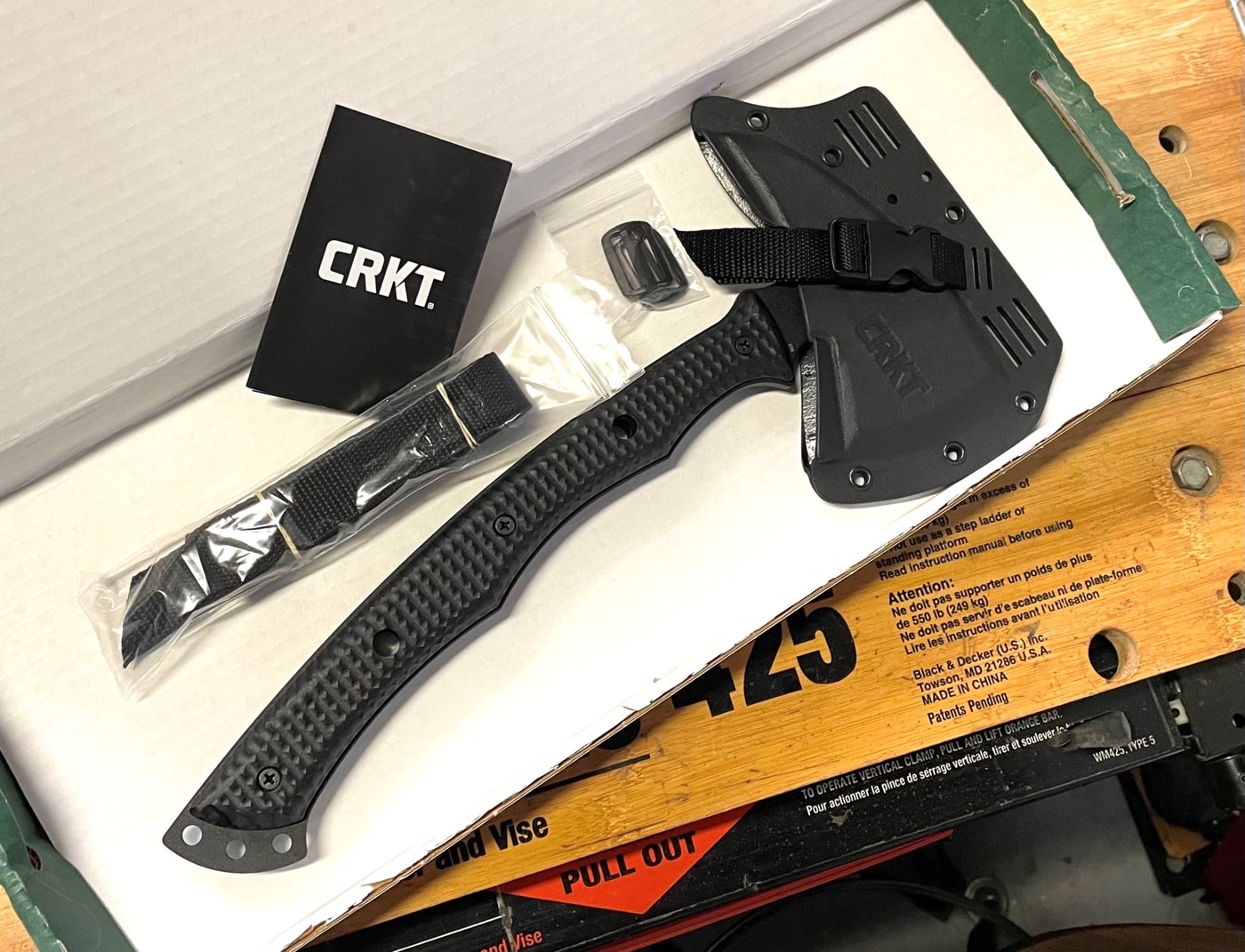 The Kangee is sharpened on its bit, underside of the bit, spike, and the top of the head. The bit is 2.93". While not typical for a tomahawk, the top grind does give an extra edge for scraping or thrusting. I found all the flat-ground cutting surfaces to be work-worthy keen out of the green CRKT box.
Measuring 13.75" in length, the Kangee weighs a pound-and-a-half of cold steel. Very portable. The Boltaron sheath is friction fit and has a retaining strap and buckle. It carries courtesy MOLLE-compatible slots or lashing eyelets. A 63" length of webbing and two plastic sliders come with the Kangee for improvised transporting. I used two MOLLE clips to hook the Kangee up to an old backpack. While wearing the pack, I was able to access and unholster the tomahawk one-handed without difficulty.
Full-tang construction eliminates the weakness of any axe, the junction of the head and handle. The knob of the handle is exposed so it can be used as a blunt striking surface. It is also drilled for lanyard holes. The glass-reinforced nylon scales give the Kangee a very positive hold. Further, the curves of the tang lock into the hand in multiple grips. That makes this tomahawk amazing to wield. Kangee means Raven in the language of the Sioux Native American tribe. I can visualize this in its spiked beak, swooping handle and midnight appearance.
CRKT Kangee T-Hawk Specifications
| | |
| --- | --- |
| Blade Length | 2.93″ (74.42 mm) |
| Blade Edge | Axe with spike |
| Blade Steel | SK5 carbon steel |
| Blade Finish | Powder coat |
| Blade Thickness | 0.23″ (5.84 mm) |
| Overall Length | 13.75″ (349.25 mm) |
| Weight | 1.53 lb (0.69 kg) |
| Handle | Glass-reinforced nylon with textured grip |
| Style | Tomahawk |
| Sheath Features | MOLLE compatible with buckle strap |
| Sheath Material | Boltaron |
| Sheath Weight | 3.60 oz. (102.06g) |
| MSRP | $147 |
CRKT provides a lifetime warranty on this axe. Should you ever encounter a problem with this product, contact their customer service team and they should get you taken care of.
Where It Counts
Of course, I had to venture into the woods to verify the Kangee's mettle as a piece of survival gear. Instead of taking materials with me, I foraged for things that looked like they needed … altering. I found some hardwood boughs, survey stakes and plastic containers to test the blade on.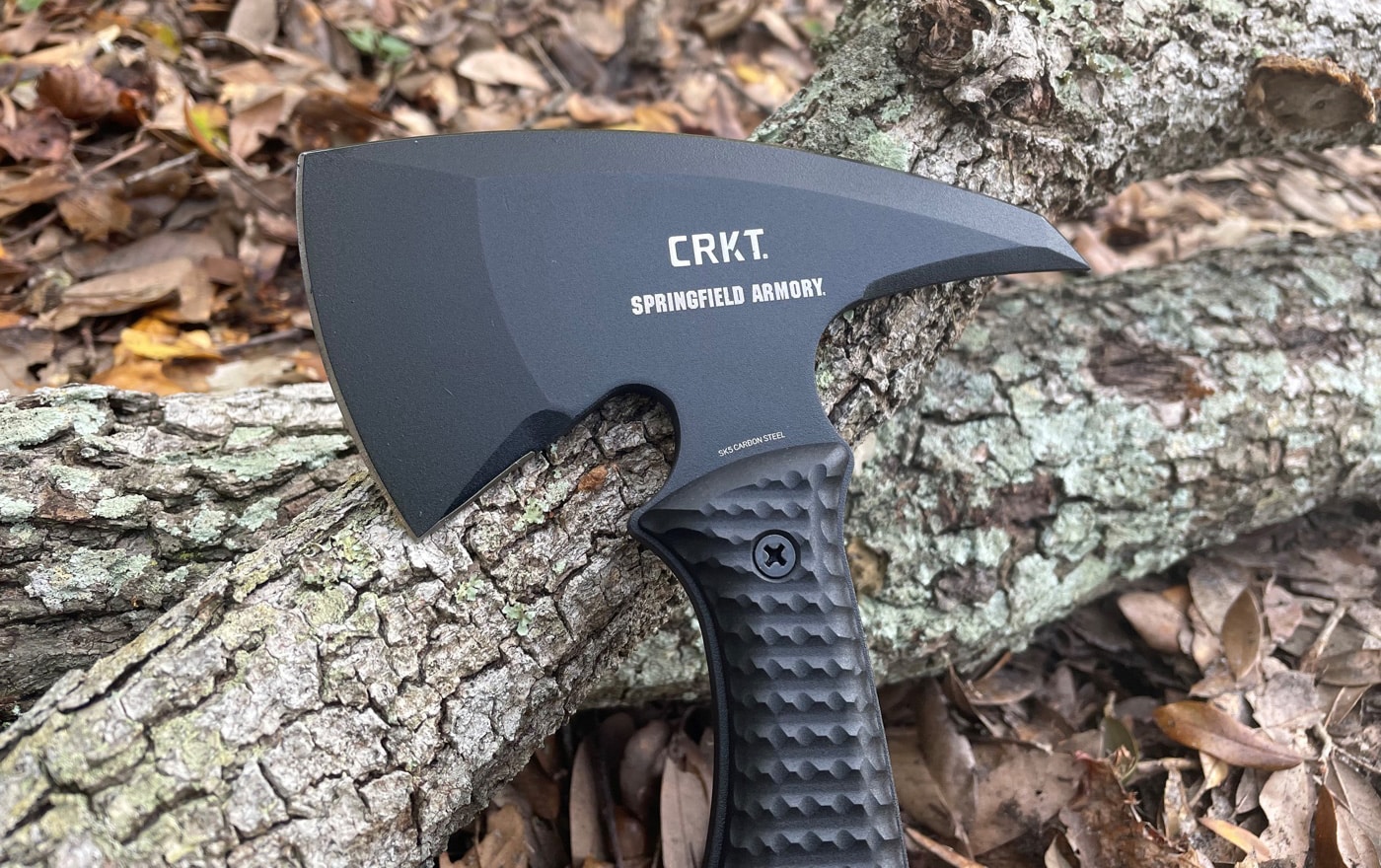 Whack, whack, whack. The Kangee's edge remained sharp. When swinging any tool, I am mindful of where it could follow through. I hadn't chopped anything with a hatchet or tomahawk in some time, so I used care.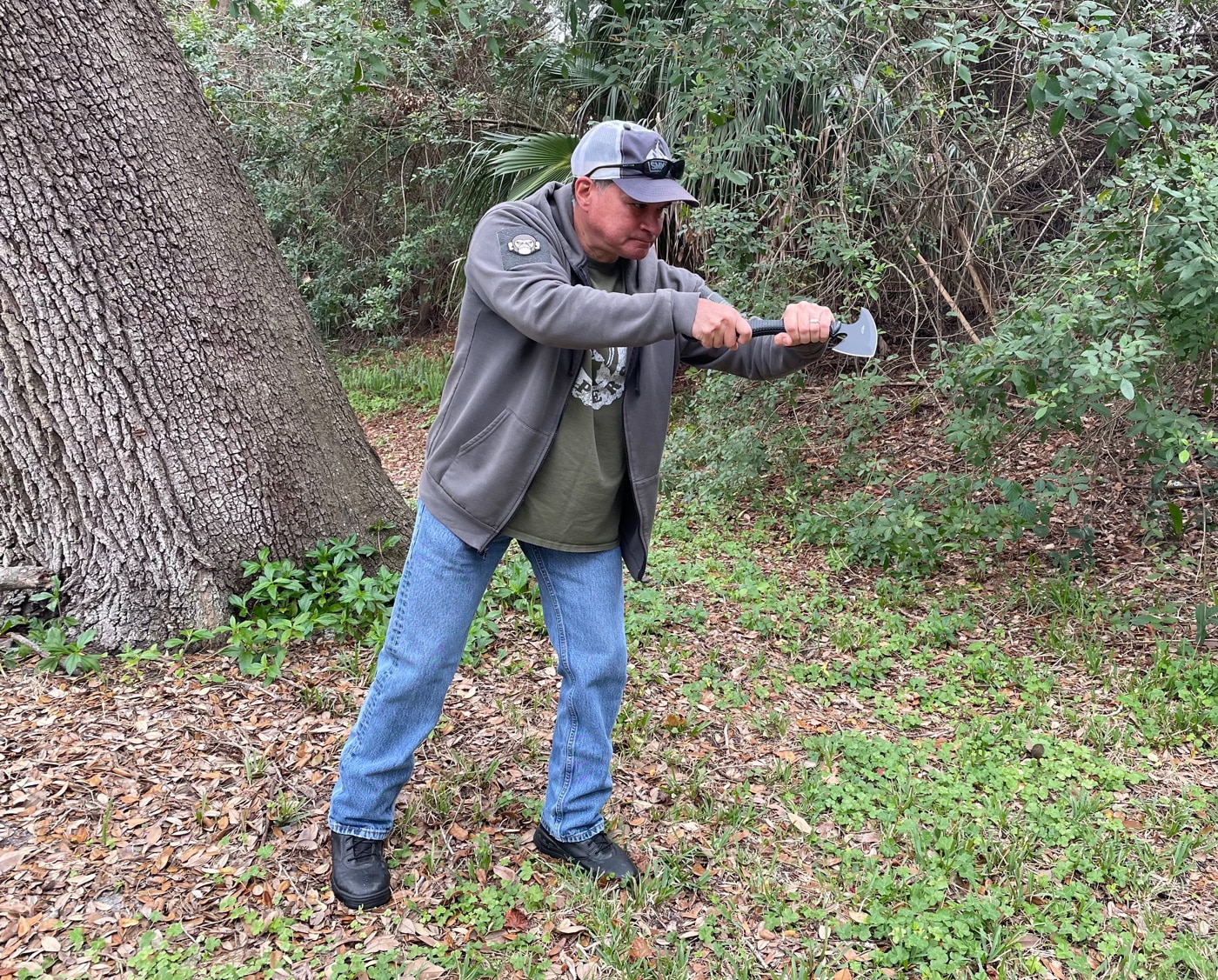 What I did not find in the woods was a suitable analog for punching through metal. Yeah, there was a thick cast iron curb box lid, but that would be an unfair test. Arriving back at my lair, I found an old ammo can. Perfect.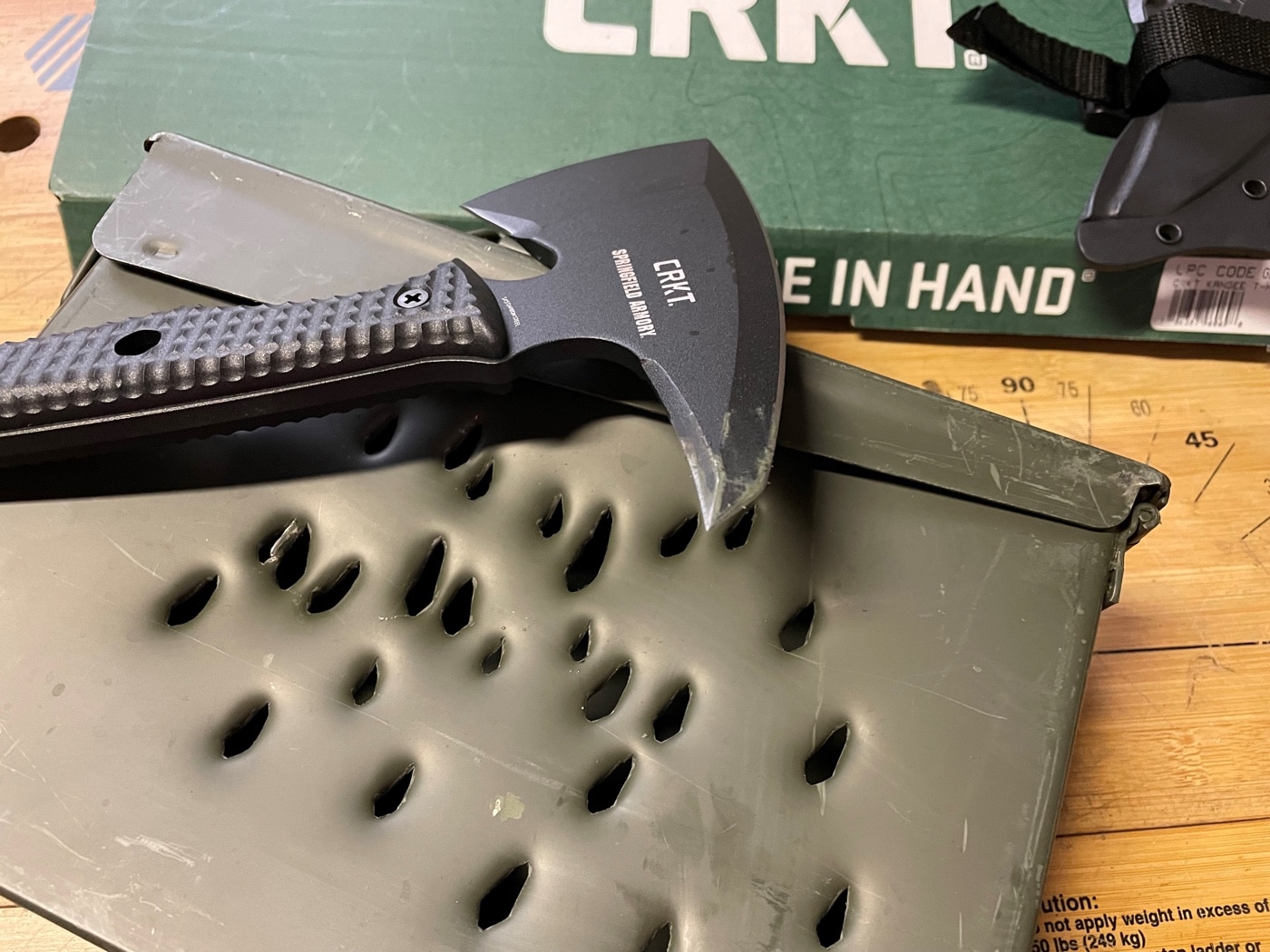 For this evaluation, I wore safety glasses and a glove. I pierced the ammo can's steel 30 times with the spike on the rear of the Kangee. Although there was green paint transfer, the spike was only slightly dulled and certainly not damaged in the least. A good grind and heat treatment on the tomahawk's head made this happen.
CRKT Kangee T-Hawk Review: Final Thoughts
Over a decade ago, I carried a tomahawk on my SWAT ballistic vest. The 'hawk was used to defeat lock hasps, break windows, chop holes in sheetrock and pull up indoor fields of illegal vegetation on search warrants. That particular tomahawk has already been replaced with the Kangee in my Police Interceptor. It proved itself in my trial. The Kangee has superior ergonomics. Kangee's curved handle and knob give a much more secure grip over a straight haft.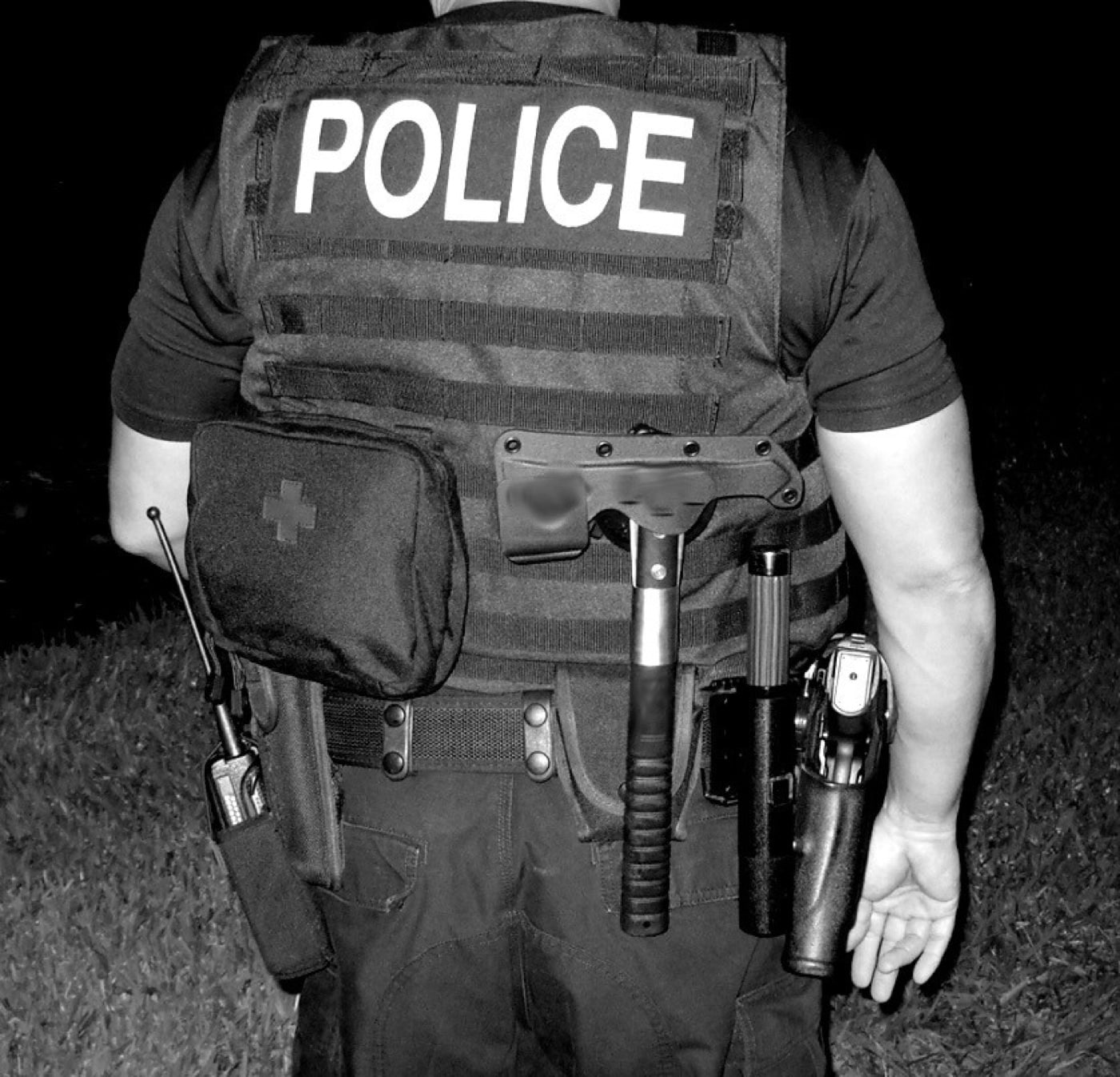 A tomahawk can be a versatile tool at camp, on a pack, or in the trunk of a vehicle. CRKT's Kangee is a deserving inclusion available in Springfield Armory's store at $147.00. Maker Ryan Johnson's custom tomahawks will set your credit card back over half a grand. Why not buy one you won't be averse to banging up?
Editor's Note: Please be sure to check out The Armory Life Forum, where you can comment about our daily articles, as well as just talk guns and gear. Click the "Go To Forum Thread" link below to jump in and discuss this article and much more!
Join the Discussion
Featured in this article
Continue Reading
Did you enjoy this article?
82