Best LPVO Scopes for the Hellion
July 7th, 2023
12 minute read
This article offers an in-depth exploration of low-powered variable optics (LPVOs) for the Springfield Hellion. The Hellion, a bullpup rifle, features an extended 1913 Picatinny rail making it easy to mount on of these scopes. A low power variable optic allows for fast target acquisition in close quarters with a 1x magnification similar to a red dot sight. But you can also achieve greater magnification for long range shots, just like any other rifle scope. GunSpot surveys a range of these to help you find the best LPVO scope for your bullpup rifle, regardless of your budget. All opinions are the author's, and readers are encouraged to join us in the forum to discuss these and other LPVO options.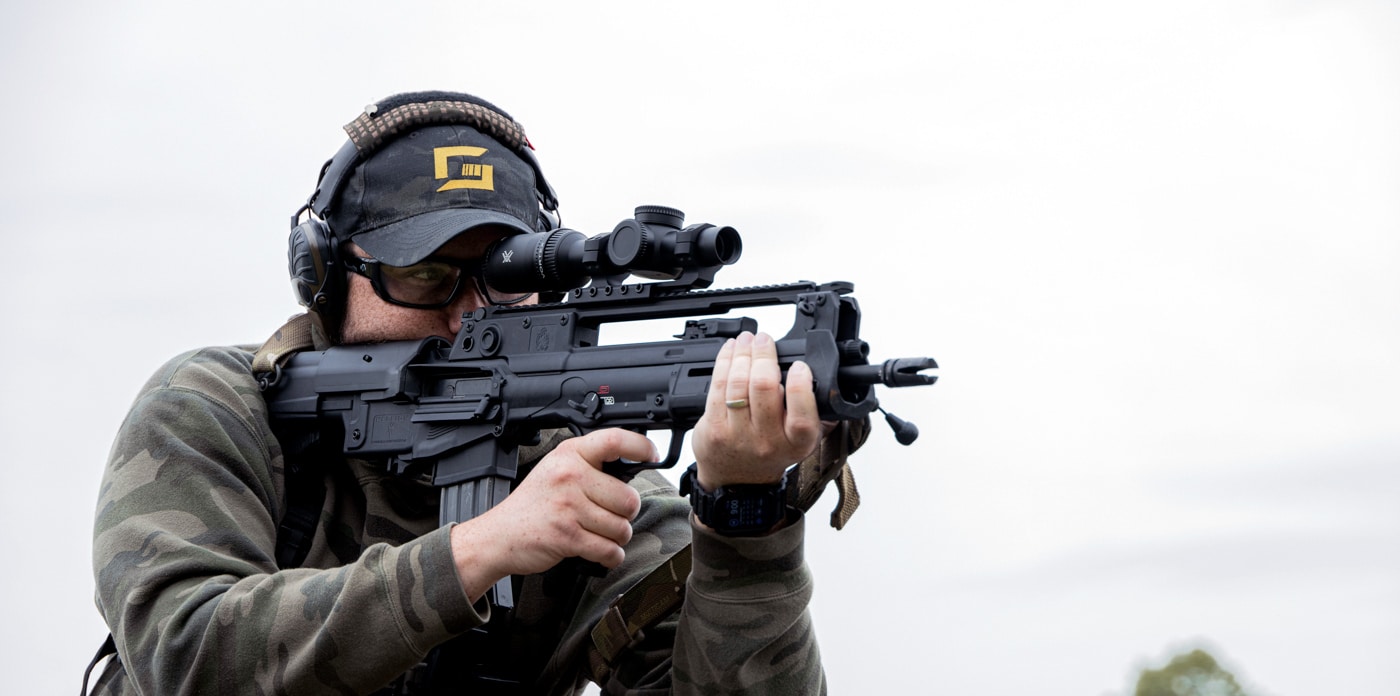 This article will look at five different low-powered variable optics (LPVO) for the Springfield Hellion. You've probably noticed how often bullpup rifles like the Hellion are equipped with magnified optics. One of the reasons is that you can easily get the proper eye relief with bullpup rifles.
If you are unfamiliar with these optics, check out our article "What Is an LPVO Scope?"
In the case of the Hellion, one reason is its large 1913 rail that runs along the top nearly the entire length of the gun. While bullpup rifles can be accurate, they are generally not known for being long-range shooting rifles. So, that leads us to focus on prism scopes, or LPVOs, that are most effective in close to medium ranges, areas that the bullpup rifle will dominate.
We worked closely with Optics Planet to comprise a list of optics that could appeal to various shooters. They provided each of the scopes we tested in this article so we could really test them on the range and provide useful feedback.
So, whether you are interested in spending $300 on a scope or $3,000, fear not. We got you covered. We also have a variety of zoom ranges in our selection that all fall in the LPVO range.
All the terms and numbers confusing? No worries — we explain them all in the article "Rifle Scopes: Terms You Need to Know".
Best Budget LPVO — Trybe SLED 1-6x 24mm SFP
The first scope on our list is from the manufacturer Trybe. The scope model is the S.L.E.D. 1-6, which has a street price less than $250. This scope has a 30 mm tube, and it has a second focal plane reticle. This scope adjusts for both windage and elevation via capped adjustments on the top and side of the tube in ½ MOA increments. The scope has a 24 mm objective lens diameter with a multicoated lens.
When looking through the scope, you will have an eye relief of 5 inches and a field of view of 19 to 116 ft at 100 yards from the highest part of the zoom range to the lowest. The reticle is a BDC reticle with drop and wind holds. Since the scope is a second focal plane reticle, it means it doesn't grow or shrink as the scope zooms in or out. That means the power level you zero the scope at is your true zero. It also means that the holds in the reticle match the ballistic drops at the maximum power only.
Long story short, to zero and use your holds effectively, you must have a true zero on the six power and at 200 yards, according to the manual. That will equip you to shoot at the drop marks for distances: 300 yards, 400 yards, 500 yards, and 600 yards.
The reticle is illuminated with ten different levels of illumination, and it is powered by a single CR2032. The battery can power it for up to 300 hours on the medium setting. The scope ships with a handy plastic tool that's used to take off the battery cap. This tool is fantastic as it will not mar the scope's finish.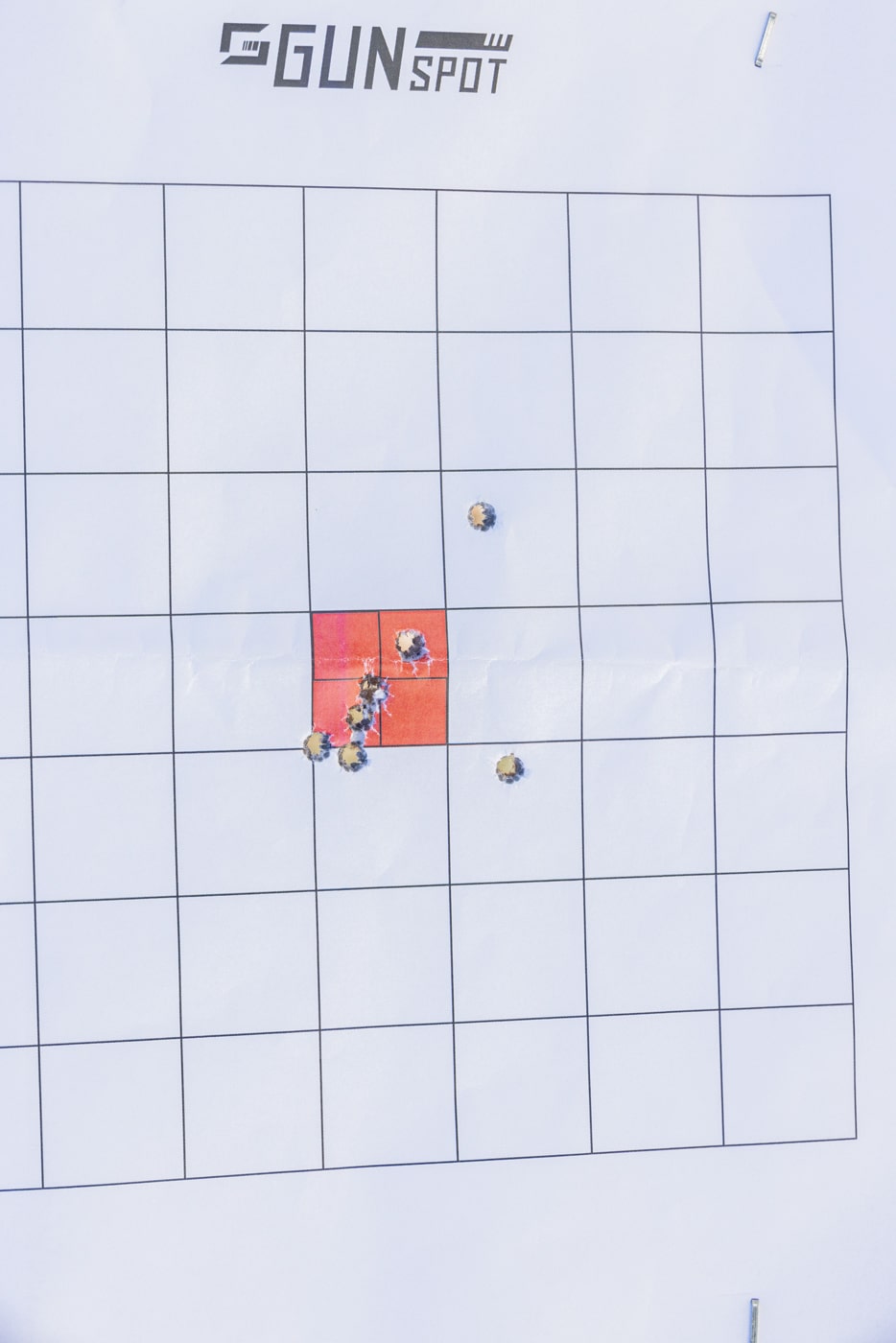 Our final group with this scope at 100 yards was around the 1 MOA size, which was quite impressive. The refined aiming point of this scope and the refined holds make this scope easy to aim.
However, don't expect daylight brightness out of this scope's illumination. LPVOs, in general, are not as bright as red dots, and this one has considerably lower output compared to other scopes on our list. Overall, it's a great cost-effective option that zeroed easily, with positive adjustments that had an audible click. For us, it could keep a tight group and was one of the easier scopes on the list to aim with. This is due to its precise aiming point and reticle that doesn't overwhelm the sight picture.
Trybe SLED 1-6x 24mm SFP Specifications
Objective Lens Diameter: 24mm
Magnification: 1-6x
Tube Diameter: 30mm
Reticle Focal Plane: second focal plane
Illumination Color: red
Battery Type: CR2032
Weight: 18.3 oz
Length: 11.5″
Water Resistance: waterproof (unspecified rating)
Vortex Strike Eagle 1-8x 24mm FFP — Best LPVO for the Money?
The second scope in our tier is the Vortex Stike Eagle 1-8, which is priced around $600. This scope steps up the magnification range from the previous model, getting us all the way up to a whopping eight power. This scope is built on a 30 mm tube with a 24 mm objective, multicoated front lens.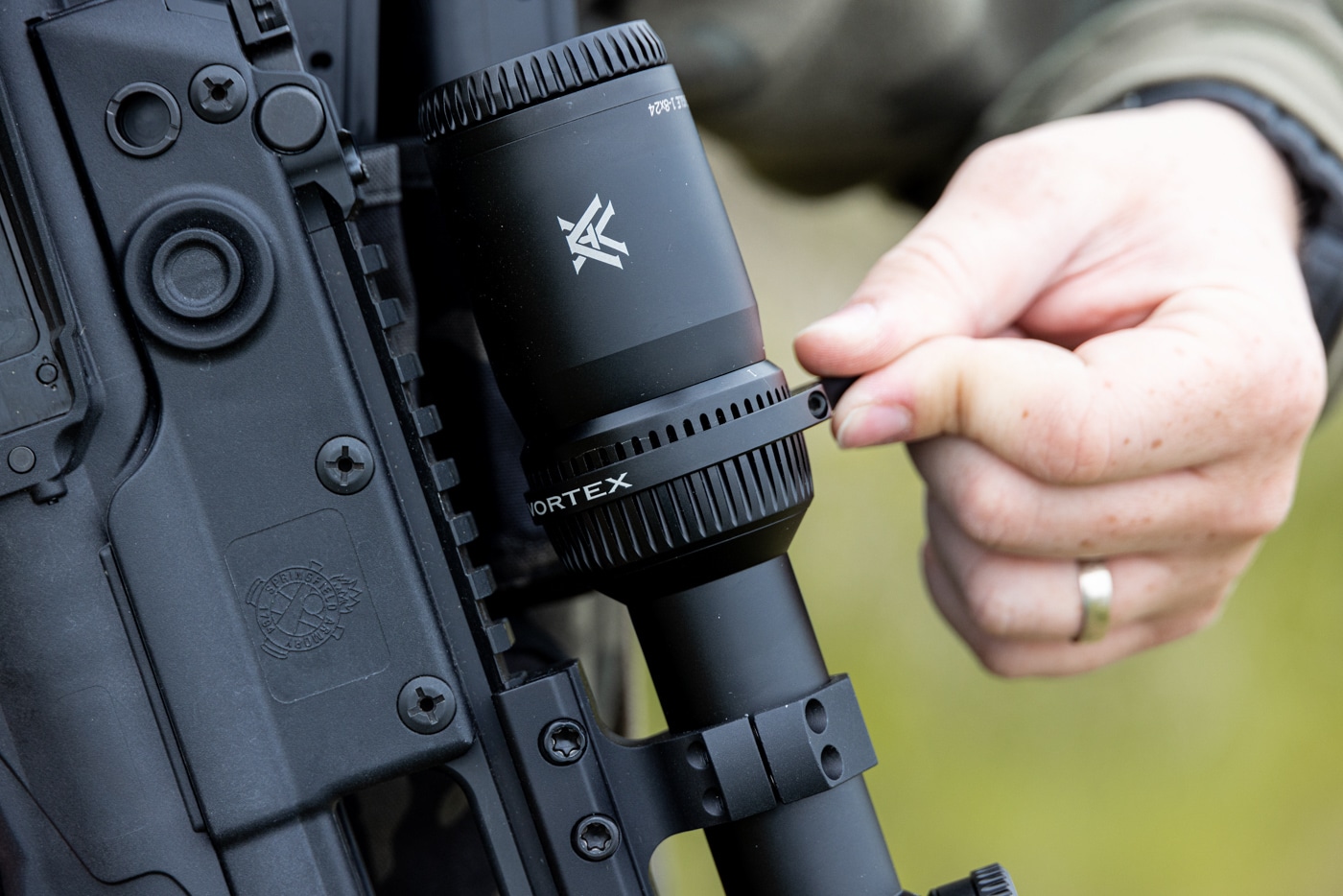 When looking through the scope, you will find eye relief at 3.5 inches away, and the field of view from low to high power at 100 yards is 109 feet to 14.4 feet. As you power up the scope through its zoom ranges, you will also notice that it is a first focal plane scope. This means the reticle grows as you zoom the scope in, and that means all of the drop compensation marks in the reticle are valid at any zoom level throughout the full range. This reticle is also illuminated, and it uses a CR2032 battery which, as you will see, goes for all the scopes on this list. 
The scope ships with flip-up style covers and a quick throw lever to help assist you as you power through zoom ranges.
By the time we shot our final group on the Hellion, we ended up with under a 1 MOA 5 shot group which I was ecstatic about. This is again attributed to the precise aiming point present in the reticle when powered up all the way to the eight power. The reticle is a little busier, but all in all, it's still highly usable. The thicker parts of the reticle work well once illuminated and in the one-power setting. It creates almost a red dot effect. However, again, don't expect to get Aimpoint brightness; that's unreasonable for an LPVO at this point in time.
Vortex Strike Eagle 1-8x 24mm FFP Specifications
Objective Lens Diameter: 24mm
Magnification: 1-8x
Tube Diameter: 30mm
Reticle Focal Plane: first focal plane
Illumination Color: red
Battery Type: CR2032
Weight: 23.9 oz
Length: 10.4″
Water Resistance: no rating provided
Steiner P4Xi 1-4x 24mm SFP
Our following scope is going to step down in power level from a max of 8 power down to 4 power with the Steiner P4xi 1-4x 24mm. This particular model we received is built on a 30 mm tube with a 24 mm coated objective lens and a very fashionable FDE-coated body. This scope is very light, with a weight of only 17.3 oz. This scope ships with an included throw lever to assist you in quickly zooming the scope up or down. This is very beneficial as without it; the power ring has a fair amount of friction.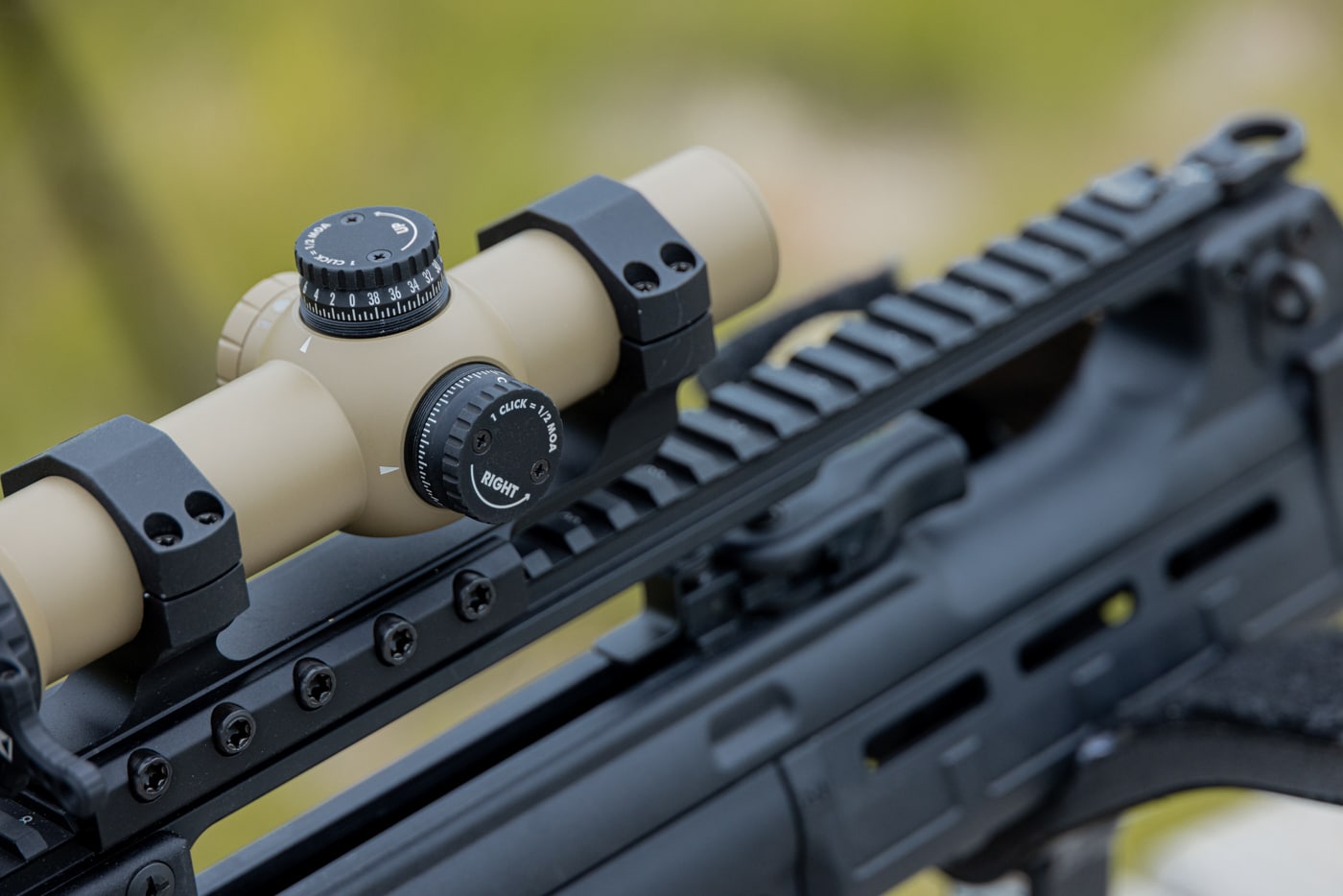 The scope's P3TR reticle is on the second focal plane, so it does not scale as the scope zooms in or out. First focal plane scopes are quite popular at the moment, making second focal plane scopes a bit more difficult to find. Read our article on first focal plane vs. second focal plane scopes for more information.
The P3TR reticle does have illumination, but it's only the center point of the reticle, which is similar to a red dot. The reticle lights up via a CR2032 battery and has 11 total brightness settings.
This scope, compared to the others in our list, has a less detailed, simple reticle. So if you are not interested in having drop and wind holds clogging up your viewing window, then this scope might be of interest to you.
The Steiner P3TR reticle can leave a little to be desired since it is more simple than any of the others on this list, being most similar to a duplex reticle. A factor that made this optic more challenging than the others to zero did not have a precise aiming point, such as broken stadia with a dot. All that said, I still got a really good zero, and once I did, it was a dang good group. So while it has its challenges, it's still highly functional. This scope's illumination is also incredibly bright, and the illuminated section of the reticle is large. This makes quick target acquisition extremely easy with this optic.
Steiner P4Xi 1-4x 24mm SFP Specifications
Objective Lens Diameter: 24mm
Magnification: 1-4x
Tube Diameter: 30mm
Reticle Focal Plane: second focal plane
Illumination Color: red
Battery Type: CR2032
Weight: 17.3 oz
Length: 10.3″
Water Resistance: waterproof (submersible to 33′)
Ideal 1-6x Scope? Trijicon Credo HX 1-6x 24mm FFP
The second to last scope in our lineup is going to be the Trijicon Credo HX 1-6. This is the first scope that I have had prior experience with. A while ago, I reviewed the Trijicon Credo HX 1-4. This is also the first scope to be listed as a hunting scope specifically.
Trijicon has two series of Credo scopes. The Credo is a tactical series, and the Credo HX is a hunting series of scopes. Now here is what is interesting between the Credo 1-6 and the Credo HX 1-6. The only difference I could find was the fact that the HX had MOA-based adjustments while the Credo had MRAD adjustments. Both scopes had the same reticle, just different units of measurement. So don't discredit the Credo HX line because it's a "hunting" scope. 
The Credo HX 1-6x has a 30 mm tube with a 24 mm multicoated objective lens. It has an illuminated reticle, using a CR2032 battery, and it can get up to 68 hours of battery life. There are a total of 10 brightness settings, and the scope can be had in red or green illumination.
The one we tested out was green illumination. The illuminated part of the scope is chunky, so it shows up well; however, the illumination is not nearly as bright as the Steiner or the Vortex scopes on this list. The scope itself will ship with an attached throw lever and bikini-style scope caps.
The group out of this scope was great and ended up being around the 1 MOA mark. The Trijicon Credo HX reticle is awesome, with very refined aiming points that allowed us to see our target really well as we shot. The end result was a fantastic grouping at 100 yards. The wider circle parts of the reticle are spaced far enough apart that I don't feel the inhibit viewing like the reticle in the Stryke. Trijicon did a fantastic job on this optic, for sure.
Trijicon Credo HX 1-6x 24mm FFP Specifications
Objective Lens Diameter: 24mm
Magnification: 1-6x
Tube Diameter: 30mm
Reticle Focal Plane: first focal plane
Illumination Color: red or green
Battery Type: CR2032
Weight: 18.2 oz
Length: 10.9″
Water Resistance: waterproof (unspecified rating)
Vortex Razor Gen III 1-10x 24mm FFP Rifle Scope
As we make it to the final scope on our list, the first and most significant difference will be, no doubt, the price jump. This Vortex scope jumps up roughly $1500 dollars compared to our last model putting it well above all the others on the list. If you are wondering why well, it's because this scope is, without a doubt, awesome. But is the awesomeness worth the price tag? Let's find out.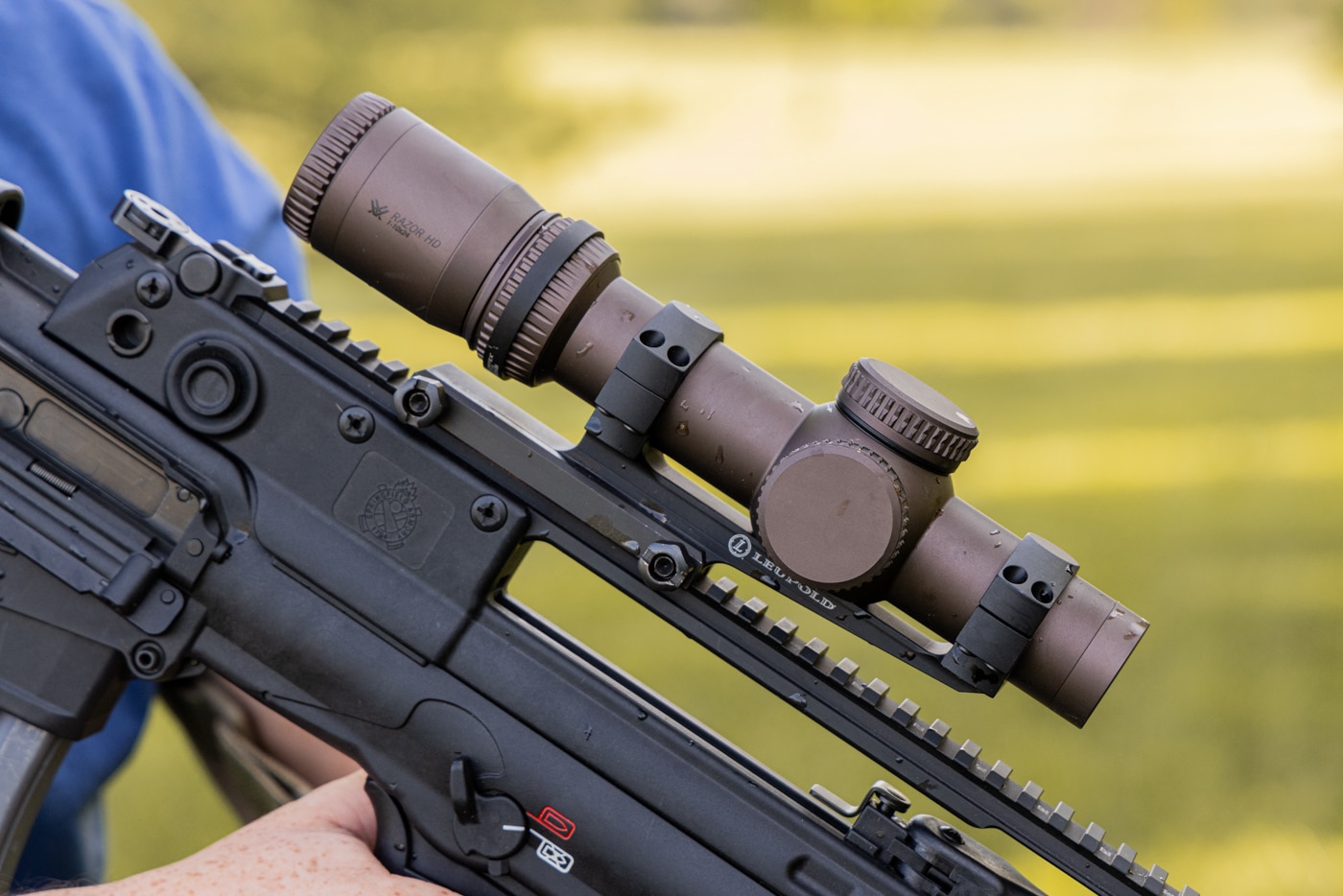 This Vortex Razor Gen III boasts a 1-10 with a 24 mm objective lens and a 34 mm tube for improved light transmission. The scope is a first focal plane scope with a reticle that can come with MOA or MRAD measurements. Because the scope is a first focal plane scope, the measurement holds are useable at any power setting through the scopes 1-10 range.
The scope's body is larger and heavier due to the 34 mm tube, but it's also robust. The adjustments turrets are large, and they are capped to preserve you zero. The adjustments are .25 MOA at a time to allow you to adjust your scope. The illumination knob is a locked knob which makes it unique to other scopes in our lineup. To change the illumination, you must pull out the knob and then make your adjustments from there; you can leave it unlocked or push it back in to be locked in. The scope itself has an aesthetic that some may not like, but I happened to love it. The scope has a unique brown color that is similar to burnt bronze but perhaps a little bit darker.
The Razor Gen III comes with a sun shade, a throw lever, and an L-TEC tool for working on the scope. I will say that Vortex spared no expense with the packaging. When you unbox this scope, you can feel that it's a high-quality scope just by how well it's packaged. Vortex was trying to make a first impression for sure.
Shooting with this optic was a great opportunity. Its price point puts it in a tier that will keep it out of the hands of many. So is the price tag of $2,499 worth it? That might be in the eye of the beholder; I can, however, tell you what you get with this scope and the noticeable differences when shooting all these scopes back to back.
First off, considering the illumination, this is the brightest scope on our list with an obvious step up in clarity. The reticle is also well balanced by having tons of information but in a clean, presentable way that doesn't leave you missing integral parts of the sight picture. The reticle center is also unusual as it appears to be translucent to a degree, allowing you to see what's behind the aiming point but still see the aiming point itself. This is a highly unusual but very welcomed feature. The build, glass, quality, adjustment knobs, and light transmission are also outstanding. The thing one must ask themselves is if $2,499 for an optic and another few hundred for a high-quality mount is in the budget.
Vortex Razor Gen III 1-10x 24mm FFP Specifications
Objective Lens Diameter: 24mm
Magnification: 1-10x
Tube Diameter: 34mm
Reticle Focal Plane: first focal plane
Illumination Color: Red
Battery Type: CR2032
Weight: 21.5 oz
Length: 10.1″
Water Resistance: waterproof (IPX7 rating)
Final Thoughts on LPVO Scopes
All of these scopes shine in their own way, and all of them worked well on the Hellion's large optic rail. The Hellion is perfect for magnified optics. The Hellion has really exceptional accuracy for a semi-automatic bullpup rifle. That accuracy, though, would not have been possible without Fiochii providing .223 MatchKing ammo for our test.
Any of these models of scopes would fit the Hellion and its capabilities well. It all comes down to preference. For example, each of the scopes offers a different reticle design, which is likely to be important in your decision-making. Likewise, you might be looking for an optic with a 1-6x magnification while someone else would prefer a 1-10x LPVO.
Editor's Note: Thanks again to Optics Planet for their assistance with reviewing these scopes. All of them can be found on their website and they are offering readers a 5% discount with the code GUNSPOT5 should you purchase anything. None of the links on this page are affiliate links, and TheArmoryLife.com doesn't earn a dime if you decide to purchase anything.
A special thank you to Fiocchi for donating a generous supply of its Hyperformance Match ammunition. The author used this ammo exclusively in the Hellion to test the scopes. The Hyperformance Match load is designed for competition where precision is exceptionally important. Be sure to give it a look!
Also, be sure to check out The Armory Life Forum, where you can comment about our daily articles, as well as just talk guns and gear. Click the "Go To Forum Thread" link below to jump in!
Join the Discussion
Featured in this article
Continue Reading
Did you enjoy this article?
51