Blue Force Gear is a company that needs no introductions. They create some very awesome gear that ranges from chest rigs to backpacks, and it all is designed to work — all the time.
I recently had the chance to try out the Springfield Armory SOCOM 16 CQB .308 rifle, and I knew I'd need some heavy-duty gear to keep up with this full-powered rifle. The SOCOM is a powerhouse of a weapon, and you need powerhouse-worthy gear to keep up with it. We turned to Blue Force Gear for some basic tactical essentials. Check out my video review of it above, and keep reading below for the rest of the article.
Vickers Padded Sling
Slings are a must-have and with a rifle like the SOCOM 16 CQB, and I want a sling that's both supportive and handy for close quarter's use. This Blue Force Gear Vickers Padded Sling features a wider and thickly padded rear section that greatly increases the comfort of carrying the heavier M1A rifle. The SOCOM 16 CQB is definitely short and compact, but it is not as light as an AR. You need a good sling for this rifle, and the Blue Force Gear definitely fits the bill. Check out our article on the pros and cons of two-point slings.
Additionally, the CQB is designed for close to moderate ranges, and for those ranges, you need a sling that allows for maximum mobility. The Blue Force Gear Vickers Sling does just that. The quick-adjust pull tab makes it easy for you to tighten the sling — so much so that you can go hands-free and accomplish tasks that might require both hands.
Hit the quick-adjust tab and now the sling is loose enough to provide maximum maneuverability. It's a truly awesome sling and I've used a wide variety of variants of the sling including the ONE, the Standard, and the AK model.
Ten Speed .308 Chest Rig
Here's the star of the show. The Blue Force Gear Ten-Speed .308 Chest Rig is ridiculously adjustable and allows for users both big and small to wear the rig — and to wear it well. It also allows you to adjust it to easily fit over body armor of all kinds or to go low profile and conceal under a windbreaker or heavy shirt.
It gives you three Ten-Speed magazine pouches that are made from military-grade elastic that clings to these magazines like a wild animal on its prey. I might have hit myself in the face once because, once it let go, I was applying a ton of pulling force to it. This is a good thing because there is no retention device. The elastic friction holds it, which makes reloads more intuitive and faster. Your M1A mags are not going to accidentally fall out of this rig.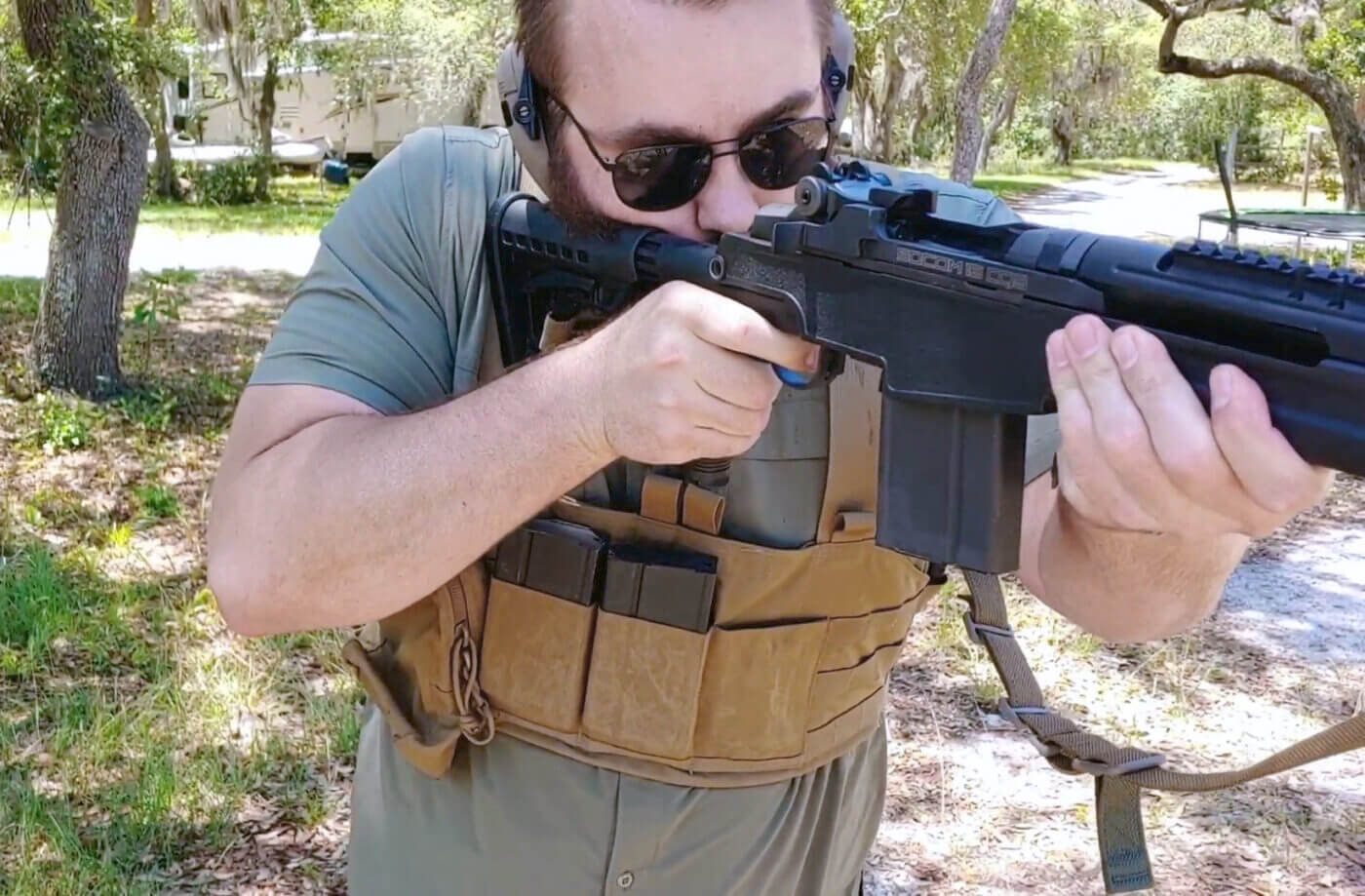 Lastly, the rig is comfortable, even when loaded down with 60 rounds of Atlanta Arms .308 ammunition. The rig never dug in or annoyed me. The wide front straps do an awesome job of supporting the ammo, and if you so choose any additional pouches. On either side of the Ten-Speed in a 3X3 row of MOLLE that allows you to attach pouches at your heart's content. I'm running a simple Admin pouch that can hold anything from medical gear to candy.
Ten-Speed Single Mag Pouch
If you have a rig you already enjoy and simply want to add mag pouches, Blue Force Gear has single magazine pouches as well. These magazine pouches use the same Ten-Speed material and are ultralightweight and compact. Outside of M1A magazines, you could shove a tourniquet or Israeli bandage in it as well.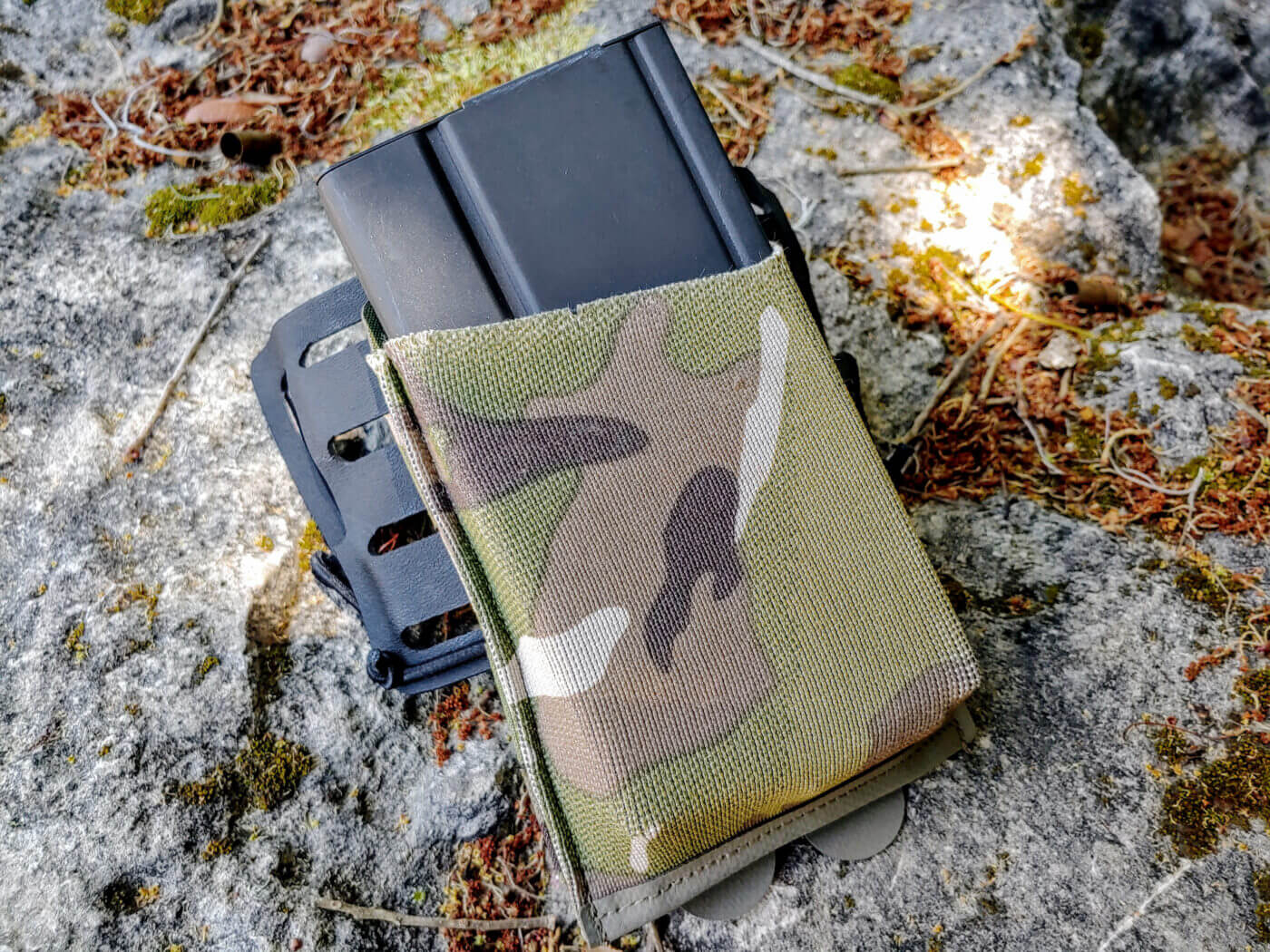 I run it on a SpecOp Shop Go Panel and turned it into a belt-mounted option. Sometimes I don't need an entire chest rig, but don't want to leave home without a reload. So, here's a quick and simple option. Should I want to carry a fourth and/or fifth magazine on my chest rig, I can add one of these on either side and call it a day.
Conclusion
I'm a big fan of Blue Force Gear, and it's not without reason. They make quality, high-end gear, and the stuff lasts. I've been using my Marine-issued Vickers sling for almost a decade now and it hasn't even frayed. If you need some gear to outfit your SOCOM, your M1A or even a 7.62 AR like the SAINT Victor .308, all of the above gets my hearty recommendation.
Editor's Note: Please be sure to check out The Armory Life Forum, where you can comment about our daily articles, as well as just talk guns and gear. Click the "Go To Forum Thread" link below to jump in!
Join the Discussion
Featured in this video
Continue Reading
Did you enjoy this video?
69