BOG Hunting Gear: Not Just Shooting Sticks
December 25th, 2020
7 minute read
My youngest son continues to drive me into exploring "new" things. His aptitude and passion for hunting has led us to exploring how we can maximize our deer season. While rifle/optic/ammunition (to see a review of the Springfield Armory Waypoint hunting rifle, click here) are important components of a successful hunt, there are other gear considerations that will increase the odds in your favor. After all, you are on your quarry's home turf.
When it comes to hunting gear, BOG is a name that pops up on my radar a lot. It has emerged as a great source of products such as trail cams, ground blinds and folding chairs to go along with their more well-known tripods and shooting sticks.
The First Shot
The woods are a big place when looking for a good buck. BOG's Blood Moon and Clandestine game cameras provide technology that helps a hunter to identify game habits, enabling more efficient hunting. BOG game cameras feature best-in-class imagery with lightning-fast .2 second trigger speed, five capture modes (including 1080 FHD video w/ auto-adjust flash), one-year battery life, 120' flash range and a large variety of image tag information designed to help you track your deer herd.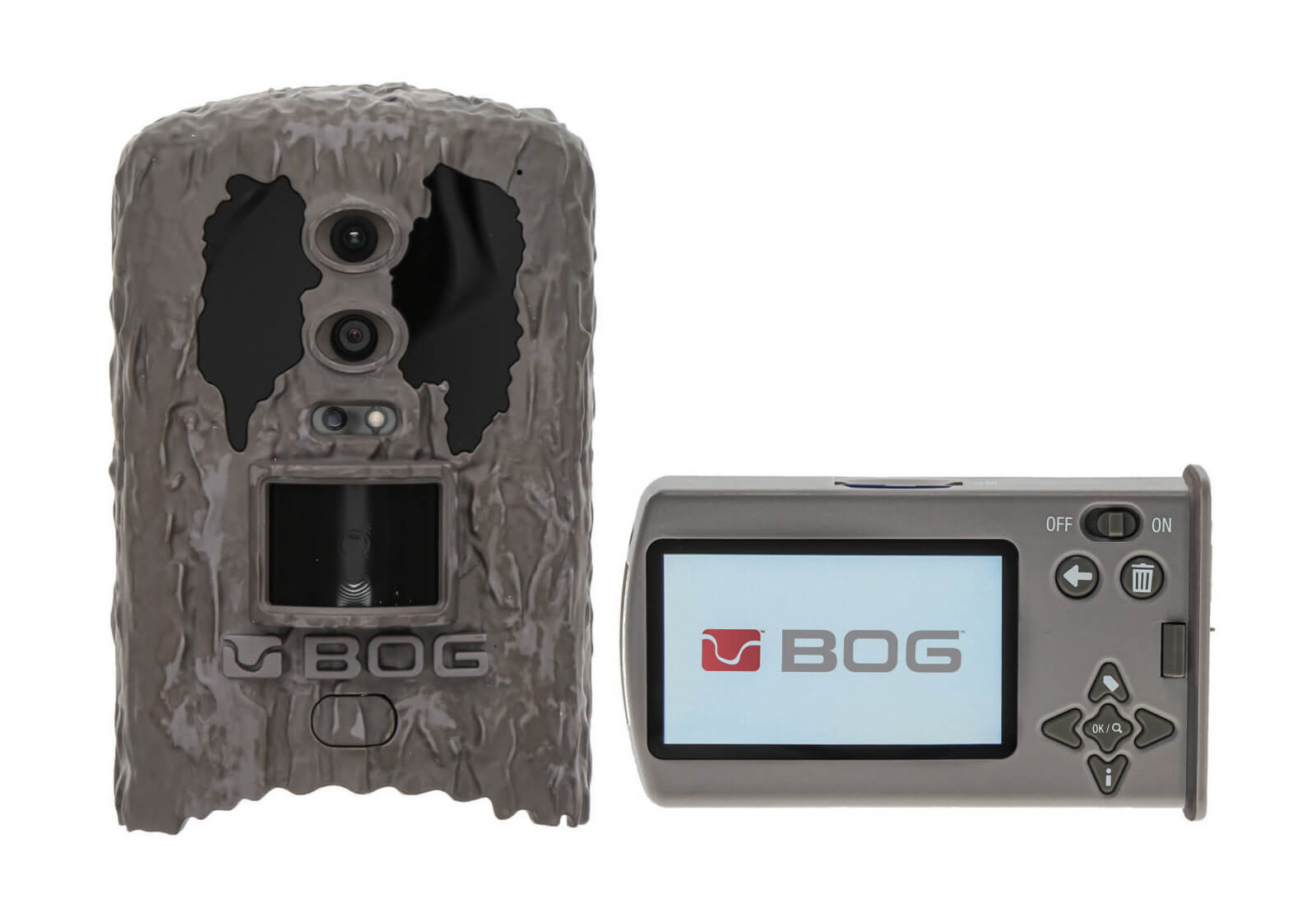 BOG game cameras enhance game scouting capabilities. No one wants to set up a blind at an area devoid of activity. In addition, each photograph includes time stamp, barometric pressure and temperature. Hunters can get a clear idea if there are certain times of the day or weather patterns with more activity. BOG game camera takes a lot of the guesswork out of the hunting equation. Multiple game camera mounts are available from BOG. I used multiple methods to place the Blood Moon and the Clandestine afield: strapped to a tree, mounted to free standing tripod, augur mount screwed into chosen location.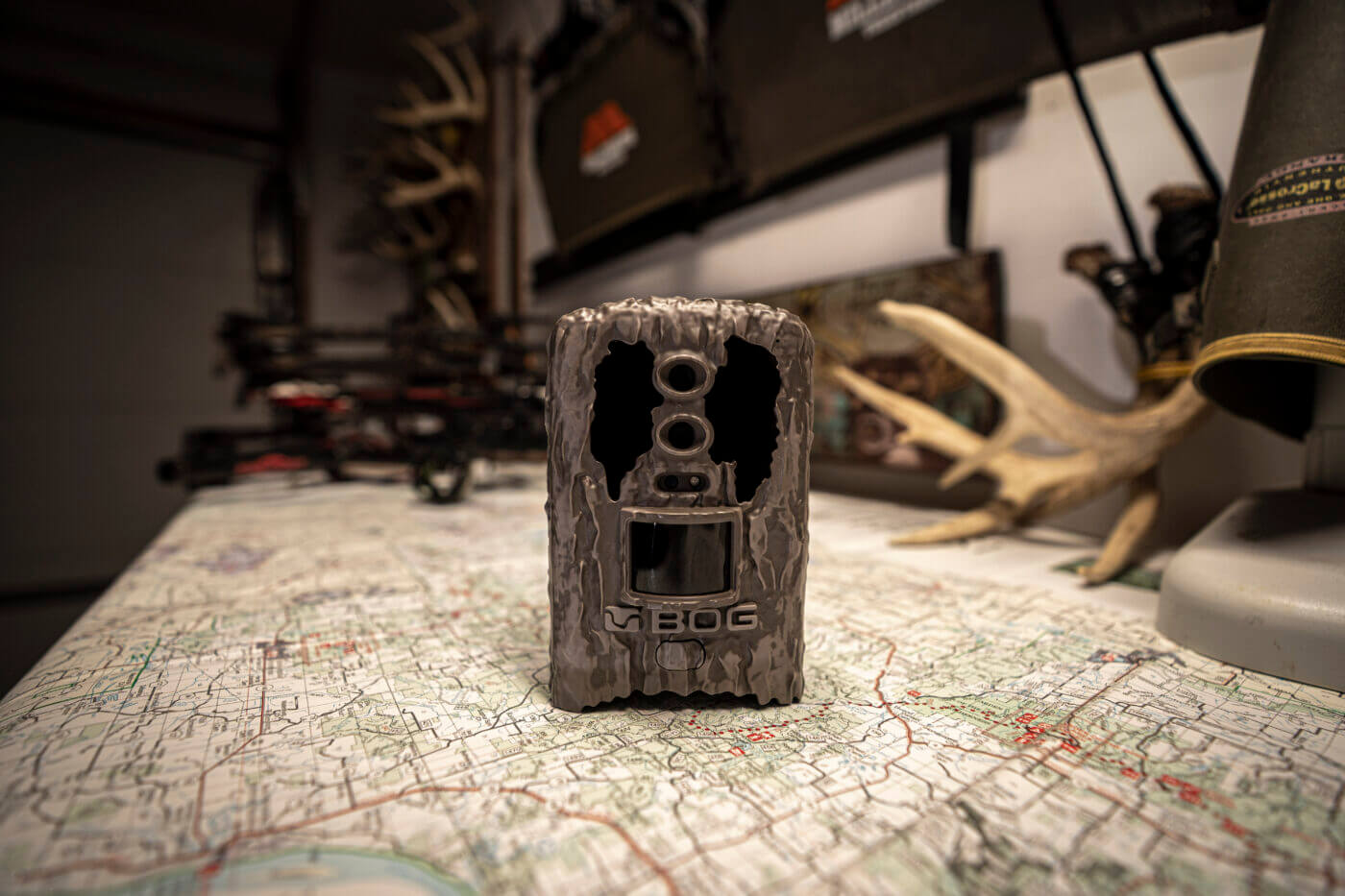 The BOG game cameras feature patent-pending BOG Dominion menu system, with a 3″ full-color viewing screen with an easy to use, icon-based operating system. This allows for quick onsite assessment of what your BOG game camera captured since placement. This is superior to removing an SD card for evaluation back at your laptop. With the onsite removable BOG Dominion viewer, quick decisions can be made as to best course of action for hunting plans.
Hide for Hide
Once your deer habits are better defined, a BOG Circle of Death Hay Bale or Grave Digger ground blind can be set up. Both of these products will be available in March of 2021, so be sure to keep an eye out for them. Each will be offered at an MRSP of $399.95.
The BOG Hay Bale fits up to four hunters. The BOG Hay Bale blind features steel frame construction with heavy-duty synthetic blanket made of 600D polyester with PU coating for water resistance. A flip-open waterfowl trap door/window is also part of the frame. A silent zipper track system is present on the wide windows placed on each side of the blind. The window openings can be height adjusted and mesh curtains can be deployed if extra discreteness is necessary. An extra-large zippered door is convenient for easy entry/exit.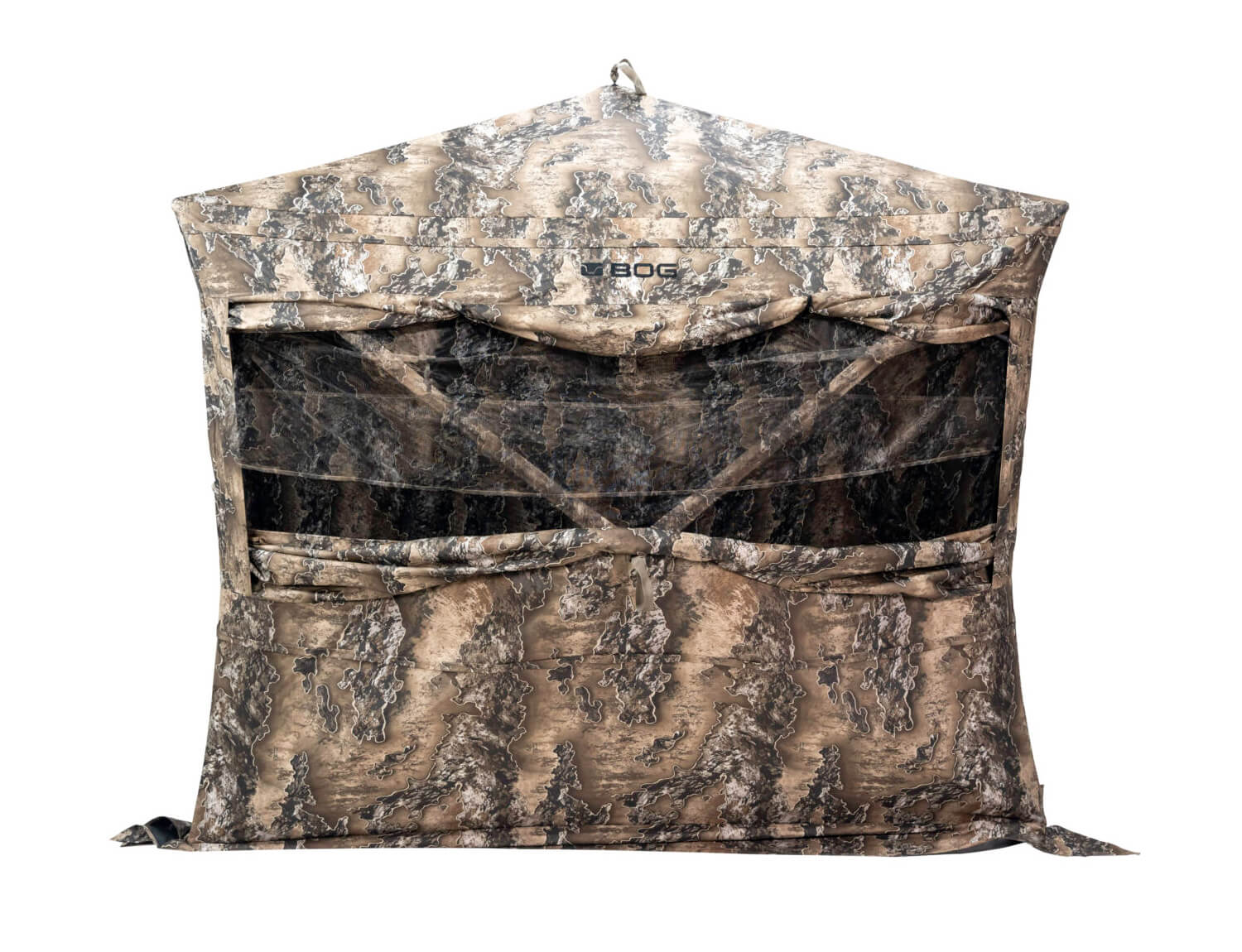 The BOG Hay Bale's steel frame took approximately two hours to assemble with the snap button cover system quickly put in place on frame. I suggest building in place versus constructing and then transporting due to weight and girth of BOG Hay Bale. Rebar-style ground stakes anchor the BOG Hay Bale down.
Ground blinds have become favored by me over the years for a variety of reasons. The main one is the constant presence of my youngest son on hunts since he was seven years old. Even though he is 16 now, we continue to utilize ground blinds. The ability for multiple people to fit comfortably inside the BOG Hay Bale is a huge plus. A ground blind allows you to get away with much more movement without getting busted by prey — a real consideration when hunting with a youngster or inexperienced hunter. A ground blind allows for eating/snacking, lifting a binocular to view, or getting a rifle/bow/muzzleloader in position for the shot. The BOG Hay Bale's large door is great for entry without spooking animals in the area out of immediate view. One consideration often overlooked with a ground blind is scent containment. We have had game pass only 10 yards away, oblivious to our presence.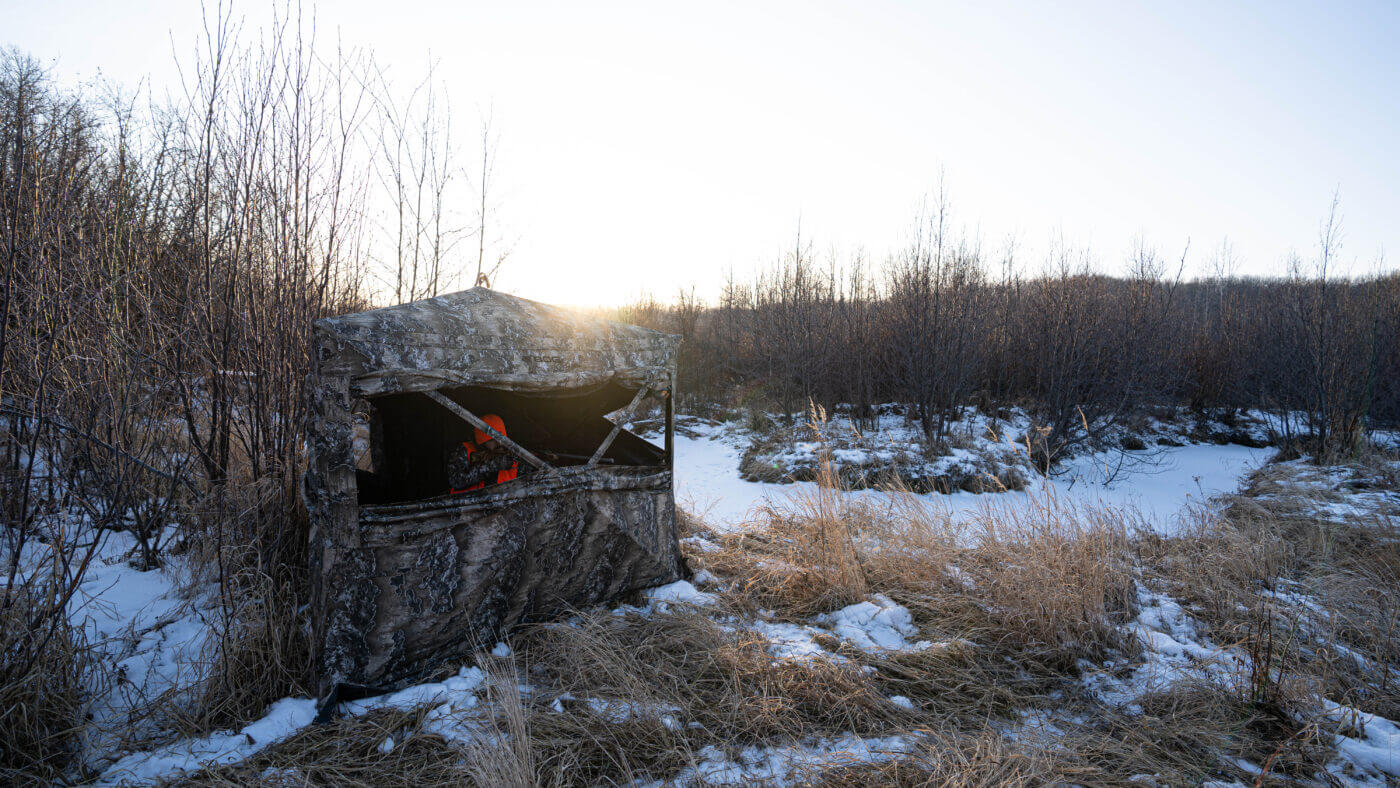 A ground blind is flexible in its deployment not dependent on correct size of tree being present. At no point during years of hunting have I felt a ground blind could not be situated to cover a prospective game area. The BOG Hay Bale offers a modicum of protection from rain and/or snow. It is no fun sitting out in the rain all day. We only get so many days in a hunting season, so we need to be out in the woods no matter the conditions. Lastly, a ground blind is safer than a tree stand. Tree stands can only be so big…even two-man stands are tight on the space offered. Gravity never takes a day off, with falls a much too common hazard with tree stands.
The Next Step
Once scouting is done and the ground blind set up, it is time to set up shop in your location. BOG has products that can help with your wait and make shots more likely to succeed. BOG "4 On the Floor" and "Triple Play" folding chairs are well designed to keep you comfortable for hours of sitting/waiting.
The 4 On the Floor chair weighs 5.5 lbs. and can support up to 400 lbs. Comfortable Textilene fabric on a wide seat area adds to comfort. The 4 On the Floor sits higher than typical folding chairs for superior viewing out of Hay Bale ground blind windows. The Triple Play chair is a more compact offering, weighing 4.5 lbs., yet still supports 300 pounds. It is truly portable if a hunter wants to be more spontaneous in choosing a position during a spot/stalk foray.
Familiar Fields
I have come to rely on BOG Great Divide and DeathGrip tripods. When used inside the Hay Bale blind, either work great for lending a steady rest when opportunity appears. Each have characteristics — i.e. range of adjustability, head styles, weight, etc. — that lend better to certain situations.
My first in-depth exposure with the BOG tripods came a few year back at an Outdoor Solutions Long Range Shooting Course held in the Coalville, Utah area. Participants got to hone skills in a setting that resembles what will be encountered on his/her future hunt. You were definitely not on a sterile flat range.
We moved up into the Utah mountains with Outdoors Solutions placing steel targets on opposing hillsides anywhere from 150 to 1,100 yards away. Up and down angles introduced further complications. Simply going prone was not practical … just as it is not during real hunting situations either due to vegetation or other obstructions to the quarry.
Each engagement station had an Outdoor Solutions instructor present to offer guidance as to how best to build a stable shooting position from the assortment of BOG tripods, bipods and shooting sticks. It was eye-opening how stable you could make a sitting or standing position via a few lightweight shooting bags, backpack and/or BOG tripod. Application inside the BOG Hay Bale was a no-brainer.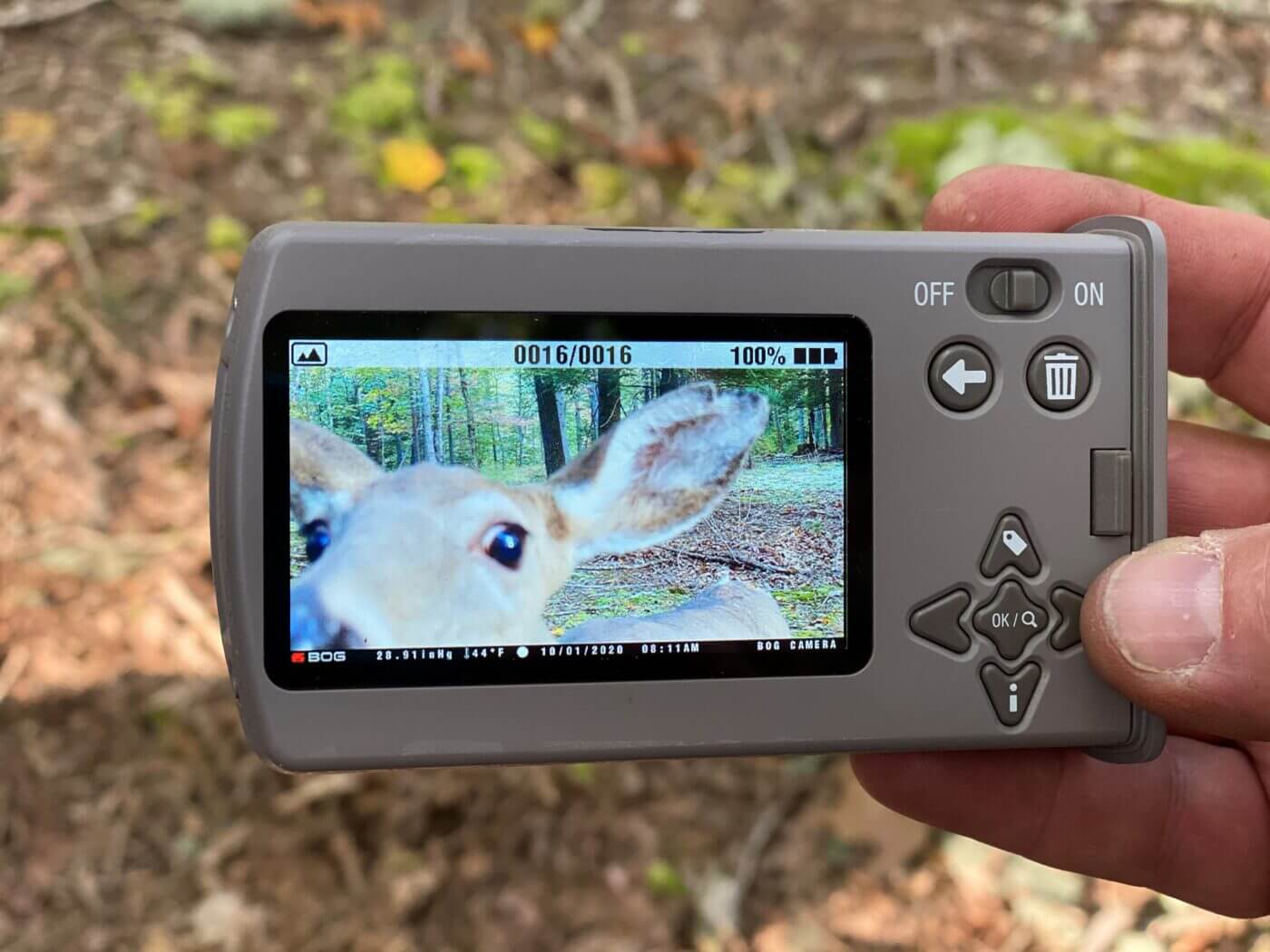 Conclusion
The aim of the BOG items featured is to enhance your hunting experience. Each contribute to planning or successfully lying in wait for your quarry to arrive. Happy hunting.
Editor's Note: Please be sure to check out The Armory Life forum, where you can comment about our daily articles, as well as just talk guns and gear. Click the "Go To Forum Thread" link below to jump in and discuss this article and much more!
Join the Discussion
Featured in this article
Continue Reading
Did you enjoy this article?
23