Bridget's Off-Grid Bianchi Remedy Holster Review
April 20th, 2022
6 minute read
In today's article, Bridget Fabel brings us her Bianchi Remedy holster review. This open-top leather carry rig is designed for outside-the-waistband carry in a concealed or open manner. As it turns out, the Bianchi Remedy proved rugged enough for use in the great outdoors. ~Editor
As an avid outdoorswoman, I do a lot of different activities while alone in the mountains. I've always loved roaming the hills by myself, and as a young woman people have always found it odd that I felt comfortable doing that since a young age.
In high school, I was a straight "A" student and never got into trouble. Despite this, some parents of my friends did not want their kids hanging out with me because my desire to take hikes in the woods as camping and fishing every day was "not something young girls do on their own."
My Own Path
Despite it being out of the ordinary for a lot of people, I've always found comfort in my solo adventures. Never once have I ever felt alone or afraid. I find peace knowing that I can do what I want, when I want, in the woods. I don't need someone to take me fishing or hunting; I can simply go out there to the beat of my own drum.
Yes, doing these tasks alone in the woods has its risks, but I've always taken personal defense very seriously — and always have a 1911 on my hip. I began open carrying the second I legally could, and it's been about 10 years now that I've done so. I have a conceal carry permit and I love concealing a weapon when necessary, but because of my time in the woods, I prefer to open carry my different varieties of Springfield 1911 pistols.
Hunting, fishing and guiding for a living, I'd guess I spend at least 200 days a year open carrying in the mountains. With this amount of time carrying, having the perfect holster is crucial. There are a lot of things I look for when carrying a pistol, and I've had a lot of years to become picky when it comes to picking out the perfect holster. My open carry holster of choice is the Bianchi Remedy Belt Slide Holster. It is also known as the Model 57.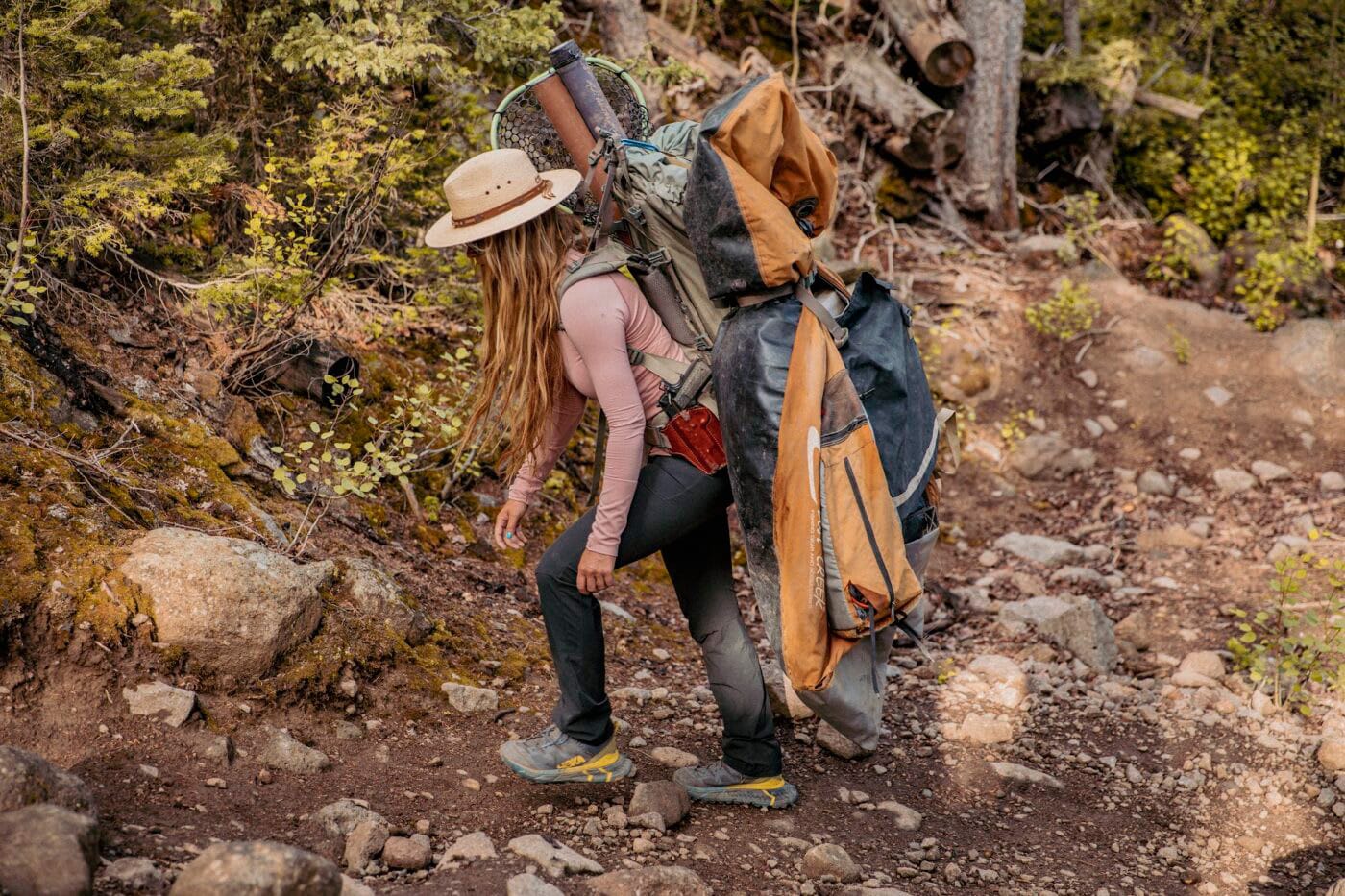 Making My Choice
I used to use Kydex holsters and, while they offer a lot of great features, I hated the fact that they scratched my beautiful 1911s to pieces. I decided in the past couple of years that I was going to make the switch to leather. We all know that leather will wear on a gun, but the wear is significantly reduced in my opinion.
Let's be honest, leather holsters have been around for generations. Since the cowboys slung bullets in the Old West, leather holsters have been an outdoorsman's top pick. When looking for the perfect leather holster, I needed something that I could easily use on a belt and on the hip strap of my backpack.
When hunting and fishing, I love attaching my gun's holster to the hip strap of my pack. This has a comfortable feel and gives you fast access for a draw. The Bianchi Remedy Belt Slide Holster has been the most stable leather holster on my backpack. It holds tight and doesn't bounce as I bounce on my hikes.
Different holsters in the past have bounced and moved so much as I walked that they'd actually leave little bruises on my thigh. The Bianchi Remedy Belt Slide Holster holds that gun in place securely and comfortably on all my outdoor adventures.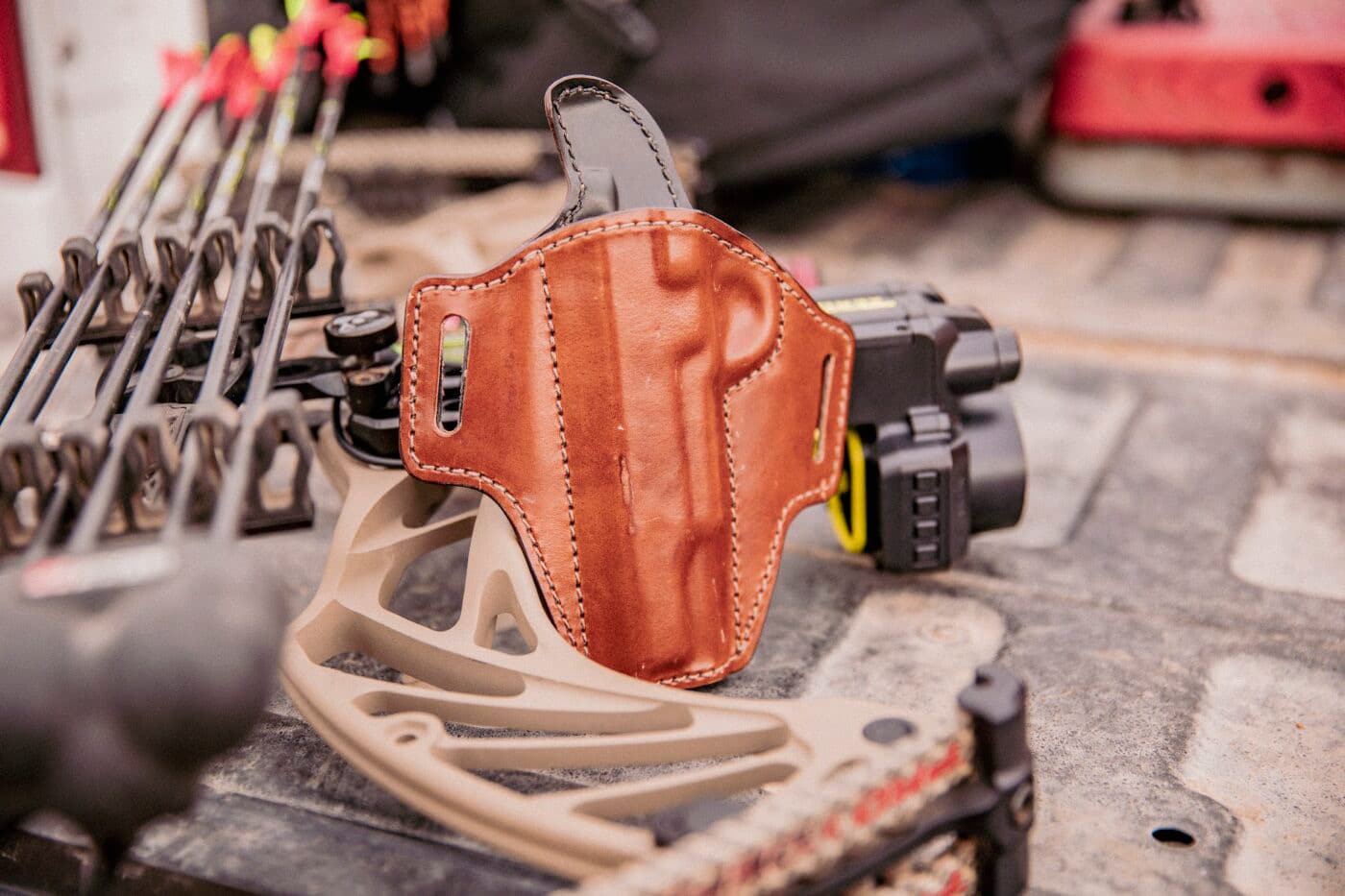 The outside-the-waistband (OWB) holster, available in tan or back (with a "weathered tan" version also available), is an open-top design that offers quick access and an easy draw. It has belt slots for belts up to 1.5" in diameter and is a very low-profile design. Available in left- and right-hand versions, MSRP of the holster is $63.50.
Close At Hand
Besides carrying my Bianchi Remedy Belt Slide Holster on my pack, I need a holster that is comfortable and secure on my belt. When fishing from shore, a float tube or boat, I like to have my gun easily accessible and on my person at all times.
I've been stalked by mountain lions, come face to face with bears, been charged by a moose and have been approached by sketchy people within the past several years on the mountain. For those reasons, it's clear that I need to be able to access my gun in a fraction of a second.
The Bianchi Remedy Belt Slide Holster lies comfortably on my belt for every adventure. It stays in place, and the barrel of the gun lies flat against my hip with no bounce. The trigger and majority of the gun are protected as I walk through tight trees and climb mountains. The quality and craftsmanship of the leather is noticeable from the second that you take it out of the box. I love the simplicity of this holster — it really is exactly what every outdoorsman is looking for.
Every good open carry holster needs to hold your gun tightly while also allowing you to draw quickly. I've been really impressed with the tight hold of the Bianchi Remedy Belt Slide Holster. While it holds my Springfield 1911 snugly, I'm also able to remove my gun from it quickly and smoothly with one hand.
Bianchi Remedy Review Conclusion
Through the years of testing it out, it has not stretched on me or worn to the point where I can no longer use it. It's held its form and function through hundreds and hundreds of hard days on the mountain, and for that reason and many more I'll always choose to pair the Bianchi Remedy Belt Slide Holster with my Springfield 1911 when I'm open carrying on the mountain.
Editor's Note: Please be sure to check out The Armory Life Forum, where you can comment about our daily articles, as well as just talk guns and gear. Click the "Go To Forum Thread" link below to jump in!
Join the Discussion
Featured in this article
Continue Reading
Did you enjoy this article?
342