Today, Mike Mills gives us his review of the Bushnell RXS-250. New reflex optics incorporate updated technology, improved electronics and more rugged housings. How does the new Bushnell red dot perform? That's what we find out.
If you have wondered whether optics are here to stay for pistols, I will answer the questions as simply "yes"!
For a variety of reasons, including speed and accuracy — especially to shooters with aging eyes — optics are just the way to go. Even if you have been pushing off upgrading to a red dot, thinking you are just fine with iron sights, why not see if you can level up without breaking the bank.
Let's talk about the Bushnell RXS-250 miniature red dot.
Maximizing Performance
Even though we have lightly touched on a few of the benefits that red dot sights offer, there is a deeper level of understanding we need once we have chosen to put the Bushnell RXS-250 on our pistol or rifle. Yes, I said rifle, because offset red dots on rifles are the perfect backup to your magnified LPVO-style scope for up-close targets.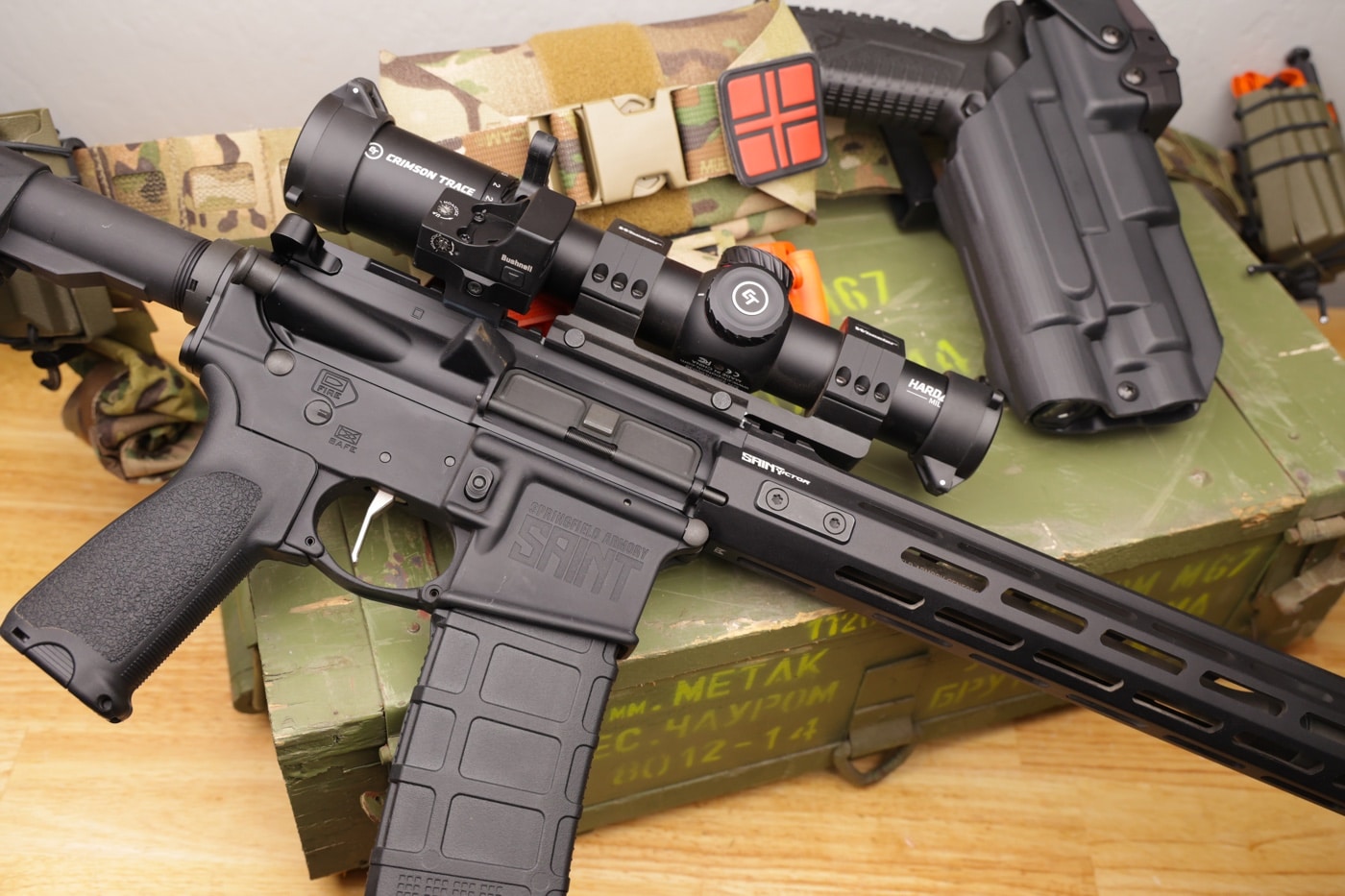 For me, the main advantage of a red dot on a pistol is target focus. Let me say again, target focus. The reason I said it twice is because you have all probably heard the phrase "front sight focus" thousands of times on the range when we are talking about pistol shooting.
There are several reasons we want a target focus, the most important of which is positive target identification. You don't want to endanger anyone that isn't a threat. The target-focus nature of the red dot sight improves your ability to make a proper identification.
Another advantage of target focus is speed. And this speed not only comes from instantly seeing your red dot on the target, but also because your eyes are not bouncing back and forth from different focal planes.
Think about it this way. If you are using iron sights, you have to see the target, align your sights and then focus on the front sight then break the shot. With a red-dot sight on a pistol, your eyes stay at the same focus distance from target identification to breaking the shot. It may only be a tenth of a second, but that is enough to win at your local Tuesday night steel match.
Bushnell RXS-250 Features
All red dots are definitely not the same. And there are some big differences in the robust design of the Bushnell RXS-250. This dot was designed for hard use in any condition.
I spoke with an engineer at Bushnell who took the time to walk me through the improved design of this optic. The primary changes have been in the carriage. The carriage is the housing within the optic that holds the LED emitter and allows it to be adjusted via the windage and elevation adjustments. Bushnell has beefed up this portion of the internal mechanism because this is the main failure point on other optics. This ensures you are not going to have failures or wandering zero, even under hard use.
The new RXS-250 micro red dot also has all of the much-desired attributes we want from modern optics. With its durable aluminum housing design, it has been tested and proven to survive the United States Military Standard 810H specifications. The housing has been specifically designed to give maximum window view without sacrificing durability.
When it comes to the glass, there is no blue hue here. Bushnell has used their proprietary multi-coating process for true tone colors when looking through the glass with an impressive 86% average light pass through.
The clear 4 MOA dot is very crisp, with 10 brightness settings so you can use it in any brightness setting. Settings range from bright daylight to low settings that are night vision compatible. You get an estimated 50,000 hours of battery life on setting #5 from the top-loaded CR2032 battery. This suggests you won't have to re-zero after you change your battery every few years. And if you are one to work in those wet or dusty conditions, it just so happens the RXS-250 is IP67 dust and waterproof-rated, so it can be submerged without damage.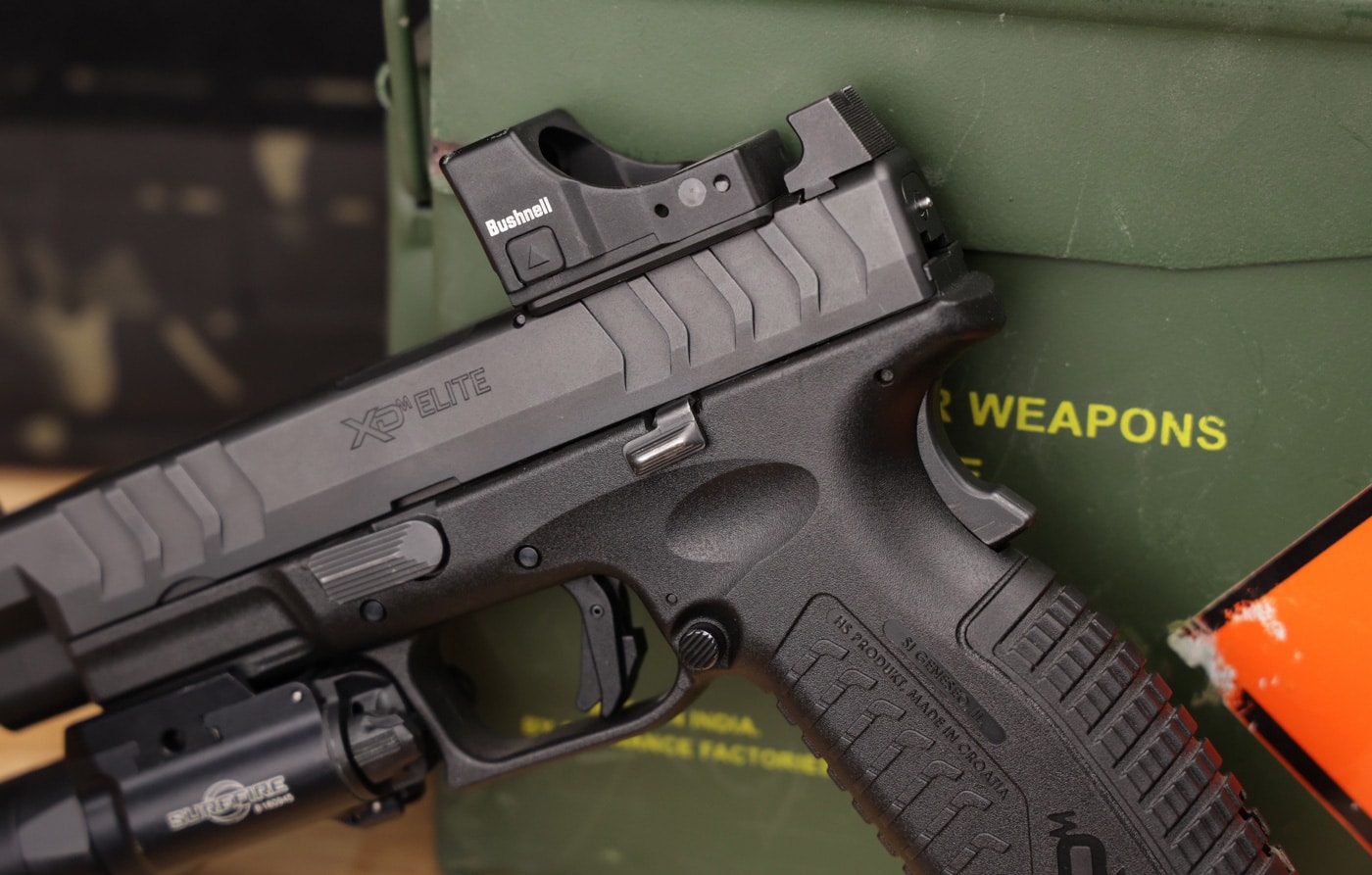 Bushnell packs other great features in this sight, including a user-selectable auto-off timer that will turn off the emitter after 12 hours of no button presses. If the user prefers to disable this for full manual control, it's a simple process of pressing and holding both buttons for 4 seconds until the LED flashes to let you know the change was accepted. Turning the timer back on is the same process.
You also get recessed rubberized adjustment buttons on the left and right for brightness. When you go to zero, your adjustments for windage and elevation will be a familiar 1 MOA per click. The sight uses a DeltaPoint Pro footprint, and it can also be used on an optics-ready rifle with the included Picatinny mount. In the box, you will get a Bushnell multi-tool, lens cloth, battery, screws and an optic cover mount. When you read the included pamphlets, you will also see it is covered by Bushnell's Ironclad Warranty
Putting the Red-Dot Sight To Work
For the range work, I put it on what I have affectionately named the "big monster." That gun is better known as the Springfield Armory XD-M Elite Tactical OSP Threaded model. This 9mm handgun gives you all the options you could want, from the tall sights, optics ready, META Trigger, ambidextrous controls and that threaded barrel.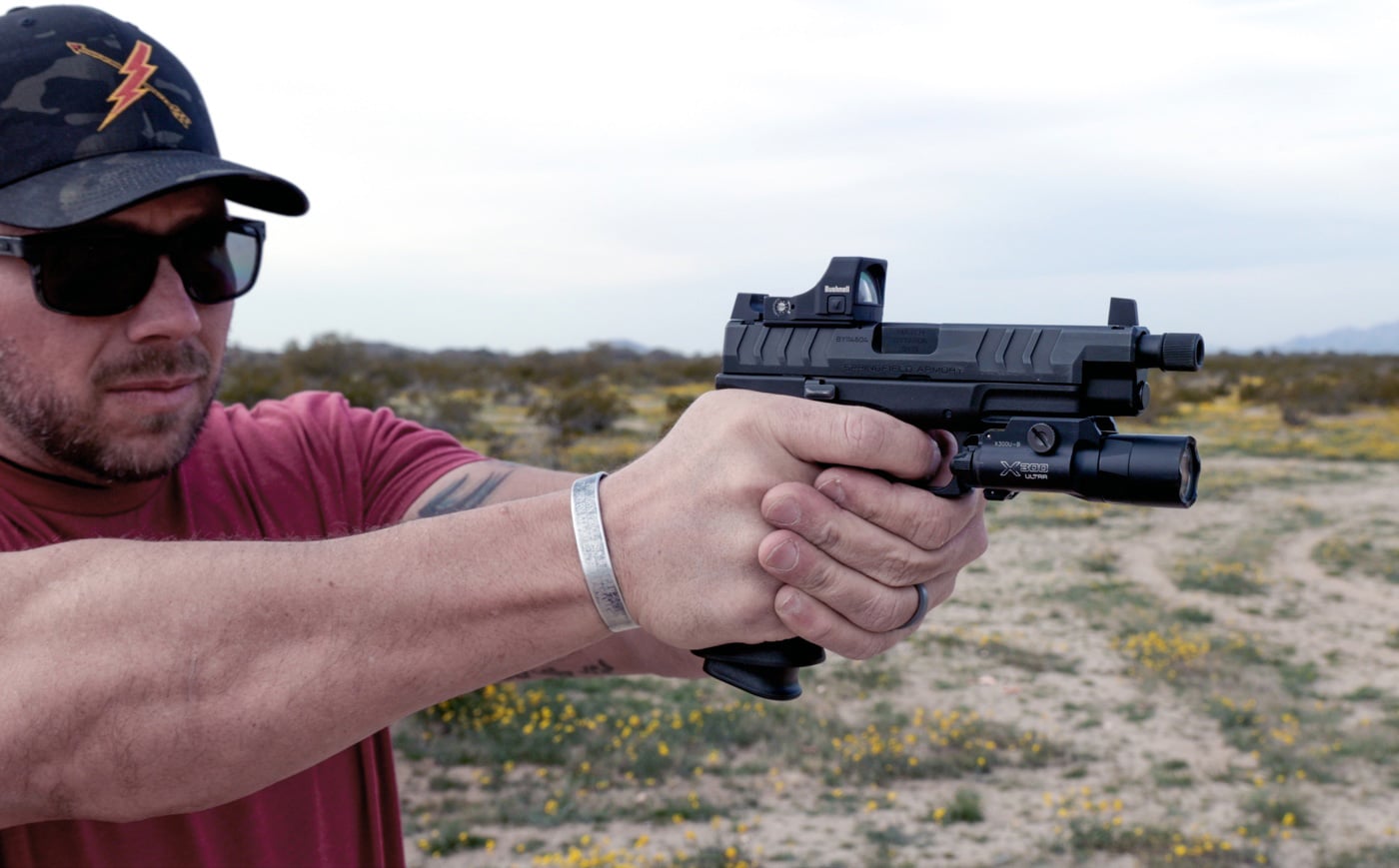 Hitting the range, I instantly noticed how clear the glass was with great clarity all the way to the corners of the glass. The 4 MOA dot is very clear, even with my slight astigmatism. There were no blinking or refresh rate issues with the LED emitter when transitioning fast from one target to the next.
The squared-off housing design makes bringing the optic into your eye-line easy and instantly aligning it to a target with precise dot placement. The Bushnell units provide a large field of view without any issues with the housing interfering with the sight picture. It fits all modern optic-ready holsters like the Comp-Tac I was using that day on the range.
The brightness adjustments were easy to use with the tactile feel of the rubberized buttons that are sub-flush of the housing to avoid snags. The buttons had a positive snap feel when activated, so you know by feel how many adjustments you have made. The smooth design lends itself to quick draws from a duty holster without worrying about snags or hang-ups. And the recessed design of the glass ensures that even if you use the sight to rack the slide, you won't damage the glass.
Conclusion
Ultimately Bushnell's RXS-250 gave me all of the options I would want in a miniature red dot from durability to auto-sensing technology for a great price of $249.99 MSRP. It performed admirably throughout my testing and the rugged cast aluminum housing was tough enough for daily carry. As a bonus, the sight's rounded edges prevent snags on clothing. It's a great reflex sight and worth your consideration.
Editor's Note: Please be sure to check out The Armory Life Forum, where you can comment about our daily articles, as well as just talk guns and gear. Click the "Go To Forum Thread" link below to jump in and discuss this article and much more!
Join the Discussion
Featured in this video
Continue Reading
Did you enjoy this video?
53