Carrying the XD 3″ Sub-Compact 9mm
June 11th, 2022
5 minute read
I've always loved the Springfield XD Sub-Compact. Besides all the good stuff that its name implies, it's a concealed carry favorite for me for four key reasons: full-size feel, metal trigger and trigger safety, ambidextrous safety, and grip safety. And with the right holster, this well-established handgun will make you rethink the benefits of its larger dimensions and greater weight.
Full-Size Feel
This pistol is sort of a big-little handgun. With a grip width measuring 1.2", you get a full-width grip feel — even with the shortened stocks of a subcompact. With the flush-fit magazine, the height of the Subcompact is 4.75" — tall enough to get two fingers around the stocks and allow a pinky finger to fall underneath the baseplate. Overall, the gun is small enough to be easily concealed. But, unlike other small guns, not too small that it is difficult to grasp or control.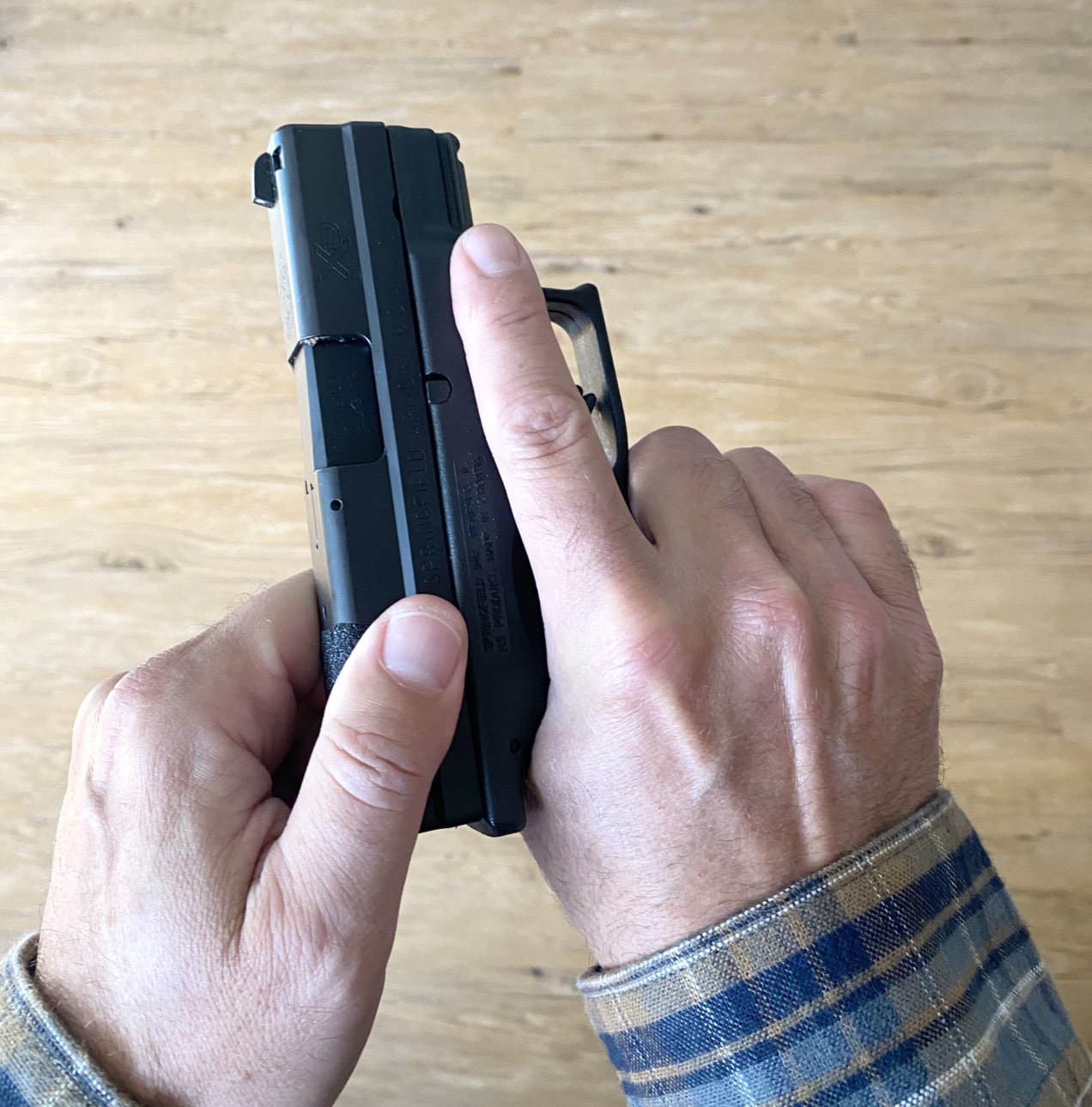 As for weight, the pistol weighs in at 26 ounces with the flush-fitting magazine. Loaded with 13 rounds of 9mm, the gun's weight increases to around 32 ounces. That's relatively heavy, but remember there are 13+1 rounds on board in a flush-fitting magazine. And any proper holster and gun belt can handle the weight.
Yes, you can find other guns that are much smaller and lighter than this one (the Hellcat, for example). Sometimes, however, smaller and lighter means more difficult to manipulate and more difficult to shoot. I'd rather have a bit more bulk in my handgun and be able to use its size and weight to my advantage when it comes time to shoot it.
The Controls
I've got nothing against plastic triggers or other plastic gun parts. I just like metal in triggers and trigger mechanisms like with this pistol. It feels more durable. And feel is an important, albeit subjective, part of owning and using a firearm. Related to trigger feel, the trigger stroke on the handgun is smooth but with a relatively long-take up. Once it breaks, resetting is relatively long as well. All in all, the metal trigger communicates with my trigger finger very well.
Nine times out of 10, when I go to reload it, I'll be pushing the ambidextrous magazine release with my strong-side thumb. Sometimes — that 10th time out of 10 — I'll go for releasing the magazine from the other side of the gun using my trigger finger. Why? Because I can and I prefer to practice using as much of a handgun's capabilities as I can. Or, I'll practice off-hand — not just shooting, but also reloading. The XD Sub-Compact lets me do that with more options than other guns.
There's not really any active thinking about a passive safety like the grip safety. Activating it happens naturally when you grip the pistol, meaning I've got a proper grip on the gun. And it works in collaboration with the gun's other safeties to make sure the gun only fires when I intend it to fire — the gun in my complete control, all gun safety rules being followed, etc.
Carrying Concealed
When I carry the pistol concealed, I like to use a Galco High Ride Silhouette holster (and a real gun belt). This outside-the-waistband (OWB) leather belt slide holster sports a thumb retention strap and holds the XD Sub-Compact at a slight forward cant and at a perfect height.
It's called a High Ride, but in reality, it's not that high. Carried at around 3 or 4 o'clock, the handgun's stocks point up, and any protrusion from the top of the slide under the retention strap hides easily under an untucked shirt. My strong-side arm falls naturally over the gun and further helps hide it.
This holster, like many from Galco, is molded around the gun, keeping the holster as tight to the body as possible and as little leather protruding as possible. Working in conjunction with a gun belt, it's a very good system for OWB carry — my preferred method for a gun with slightly wider dimensions.
In addition, I carry a 16-round back-up magazine with an extension that makes room for my pinky. Depending on my carry protocol for the day, the backup mag either goes in my front pocket or in a magazine holster on my weak side. With 13+1 and 16 as backup, that's 30 rounds of 9mm on my person — more than enough for daily civilian concealed carry.
One other piece of gear I like on this gun is an ArachniGrip SlideSpider. This slide grip enhancer looks like a precision-cut piece of skateboard tape and fits over the back of the slide and down into the rear grooves of the slide. It provides significant help in grasping the slide in order to pull it backward — a typical racking motion. I don't add the SlideSpider because I have weak hands; I add it because I may have to deal with weak hands or a slippery slide in an emergency situation and don't want to lose the ability to easily manipulate the slide.
Conclusion
So there you have it, my take on why I think the XD 3" Sub-Compact is a great CCW option. Proven, powerful and reliable, this packable 9mm deserves serious consideration as your next EDC pistol.
Editor's Note: Please be sure to check out The Armory Life Forum, where you can comment about our daily articles, as well as just talk guns and gear. Click the "Go To Forum Thread" link below to jump in!
Join the Discussion
Featured in this article
Continue Reading
Did you enjoy this article?
81