If you're anything like me, you spend a ton of time in your vehicle commuting to work, chauffeuring kids around, running routine errands, and hitting the range for work and play. Over the years, my truck had become an extension of myself, affording capability, comfort, and the ability to adventure and make memories with friends and family.
This is why when it came time to trade the old ride in and outfit my newly acquired 2021 Nissan Titan Pro4x, I saw it as an opportunity to enhance its capability even further by adding a truck bed drawer system. I was already looking at options and products on the market, watching YouTube videos, reading reviews, and deliberating over the best choices before I bought the truck. Choosing exactly the right options for me meant affording me extra storage for range gear, tools, a get-home bag, and space for other assorted everyday cargo.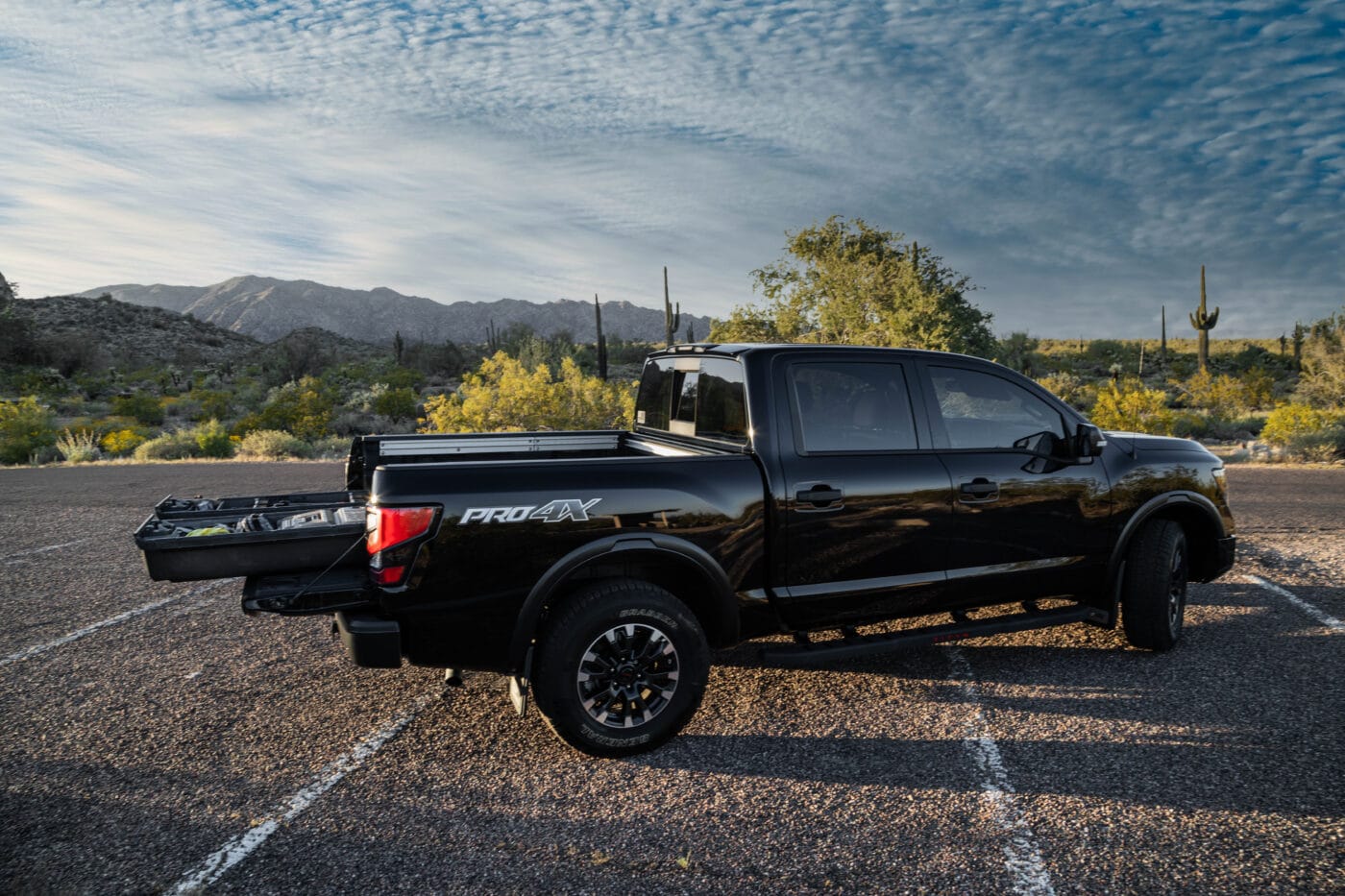 Considering the best all-around options really presented more considerations than I had expected, as there's a wide variety of seemingly great truck bed organizers on the market for every imaginable situation and storage configuration under the sun. Of course, there is also an equal number of polarizing opinions on the internet to sift through with all the products and options as well.
Prioritizing my particular needs, I knew I required a drawer system that would be extremely rugged, weatherproof, and absolutely secure for the type of firearms and photography gear I often take out into the field and need to leave locked away while I am not near the vehicle. I also wanted to have a highly organized and compartmentalized system that would afford me a high degree of modularity and could be configured and reconfigured to my liking with minimal effort and hassle.
Even though the storage would often be for all the "fun stuff" that makes expensive noise at the firing range, sometimes it's nice to have space that isn't cramping the cab of the truck for groceries, the kids' skateboards and soccer balls, and all the other more domesticated variety of cargo as well when the family is in tow with me.
The Decked Truck Bed Storage Solution
Timing is everything, and it just so happened that it was only a week after I had purchased my new ride when my badass editors at The Armory Life emailed me in a complete Matrix moment and asked, "Hey, do you happen to have a truck and would you be willing to modify it? We're looking to do a review on installing the Decked brand's Truck Bed Storage Systems."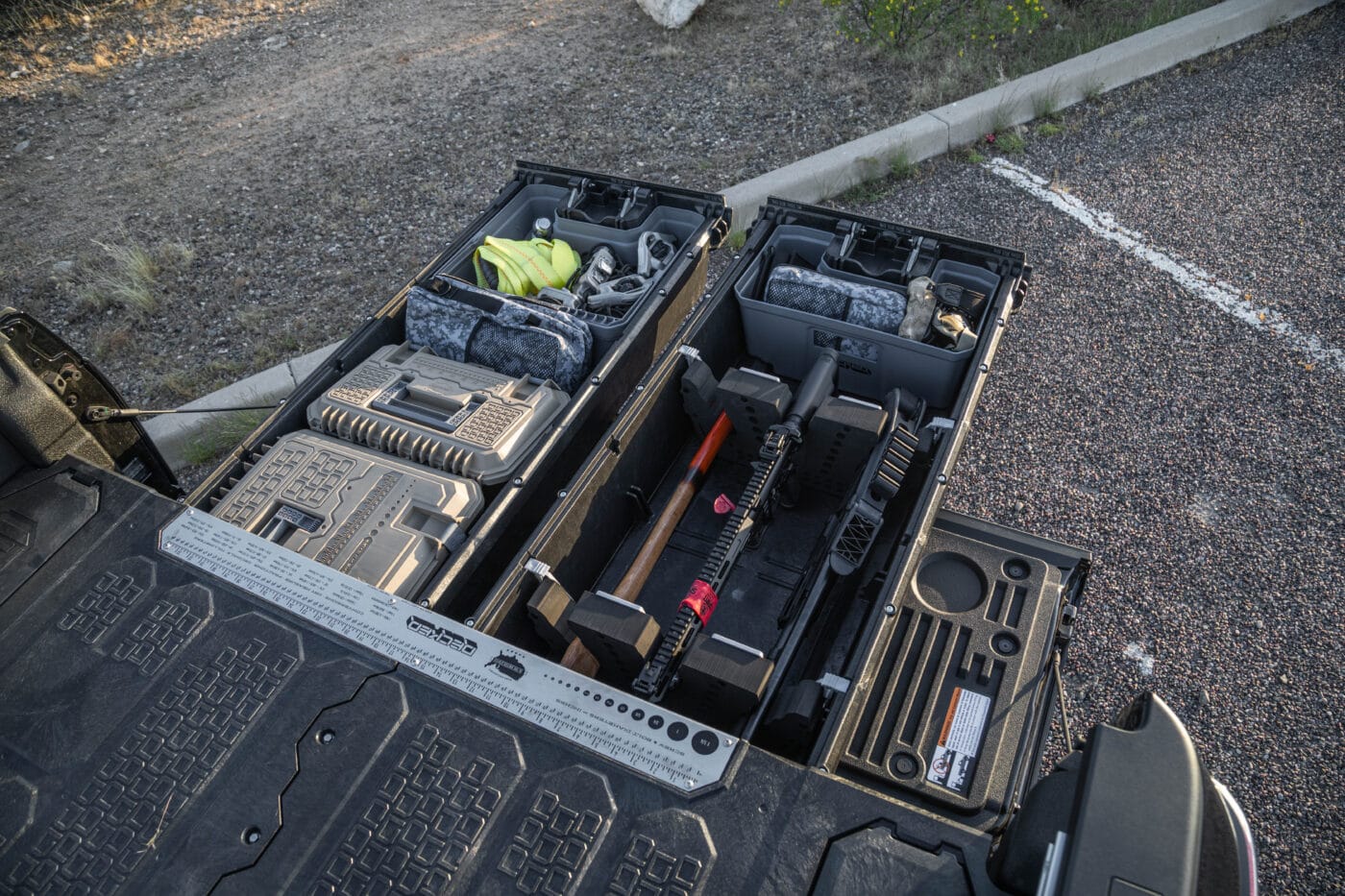 Of course, I jumped at the chance, as Decked had honestly been at the top of my obsessive-compulsive search browser history list and was in my "saved" tabs during my research. So, I emailed the Decked team my truck's make and model info, bed size (5'7"), and a few weeks later a big box on a palette arrived at my house via freight. I have to say, I am sort of a packaging snob and love attention to detail, so it was a good sign when the Decked box came so well handled and in such cool-looking packaging.
Installing the Decked System
Unboxing the Decked Drawer System was an absolute breeze, and it can be done solo. One thing I immediately appreciated was not only the packaging, but the detailed and well-designed instructions. Anyone who has struggled with poorly translated and overly complex instructions, or worse, had to assemble IKEA furniture, knows the pain of poor and vague instructions.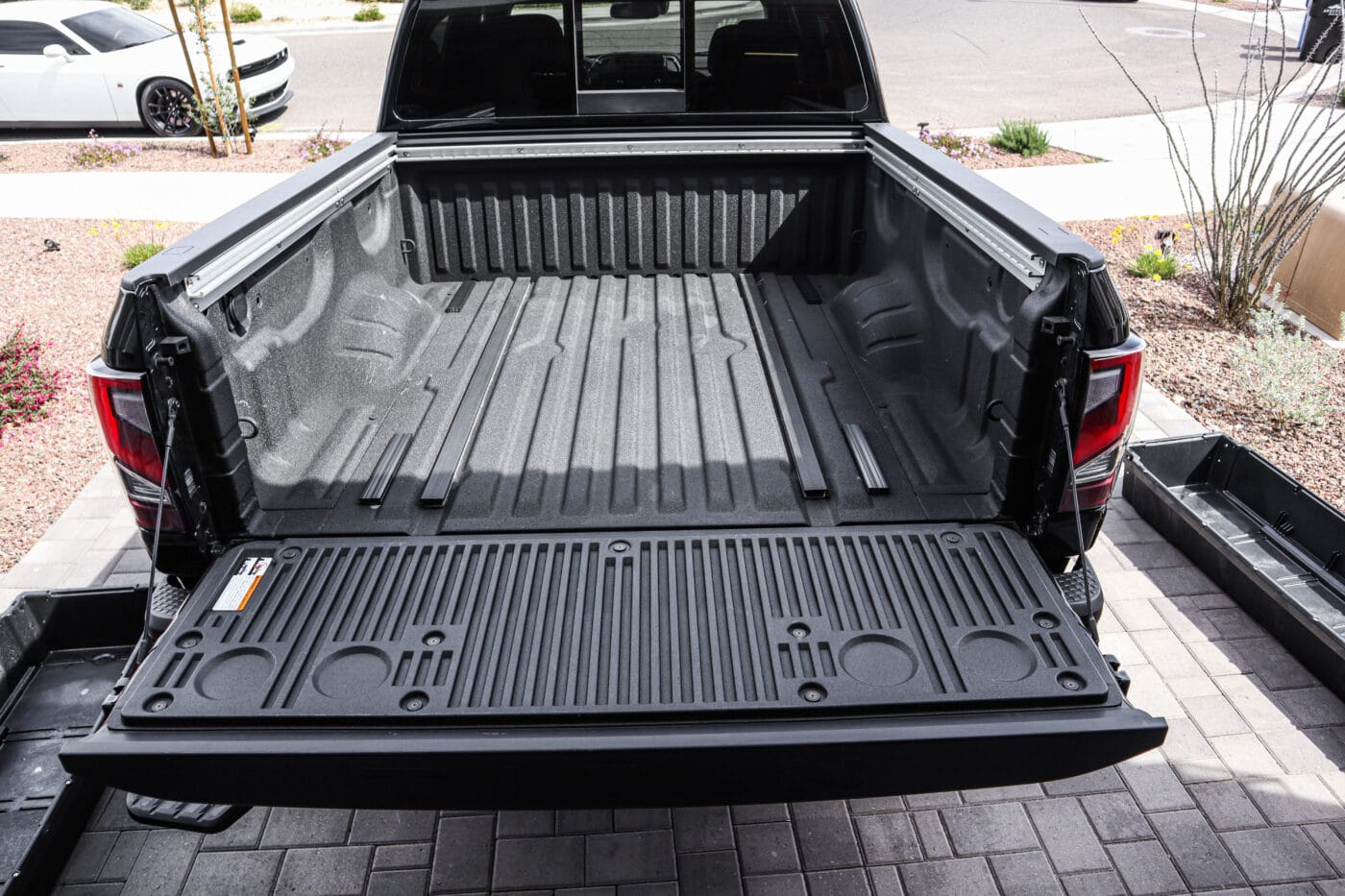 The Decked team not only has provided crystal clear step-by-step instructions for unboxing and assembling their drawer system — with fantastic visual aids in full color detail — but they also provide an excellently produced series of video tutorials for every product and accessory that they make.
Beyond that, I have a suspicion the team over at Decked may be moonlighting as stand-up comedians, because they have worked in some genuinely hilarious dialogue and comedic bits to the instructions that keeps you engaged, entertained and on your toes. Cheeky lines like "We don't recommend using power tools for this portion of the assembly, but because we know you're going to use them anyways, here's the torque we recommend on your drill/driver" are absolutely brilliant. The point is, they know their audience of knuckleheads, and they cater to them without pandering, and it just works.
I timed myself and was able to unpack and install the Decked Drawer System — with a bit of help from my son and wife at critical steps to maneuver the large drawers into the bed properly — in under two hours. Keep in mind, this was with me running cameras to document the install and triple-checking every step so I didn't do it improperly for the video portion of this review. That said, I would be willing to bet a skilled and attentive installer who is paying attention to the instructions could install this system in an hour and a half or less if they really pressed themselves.
The Details of the Truck Bed Drawer System
The Decked Drawer System consists of two rugged drawers and frame made of high-density polyethylene with a steel subframe that inset within a texturized two-panel "decked" platform. The system truly fit like a glove into my truck's bed, and I liked how heavy duty and smooth all of the components functioned, like the hinged handles and urethane wheels with sealed ball bearings. I also liked the thoughtful touches like the ruler and bottle opener that are integrated into the unit.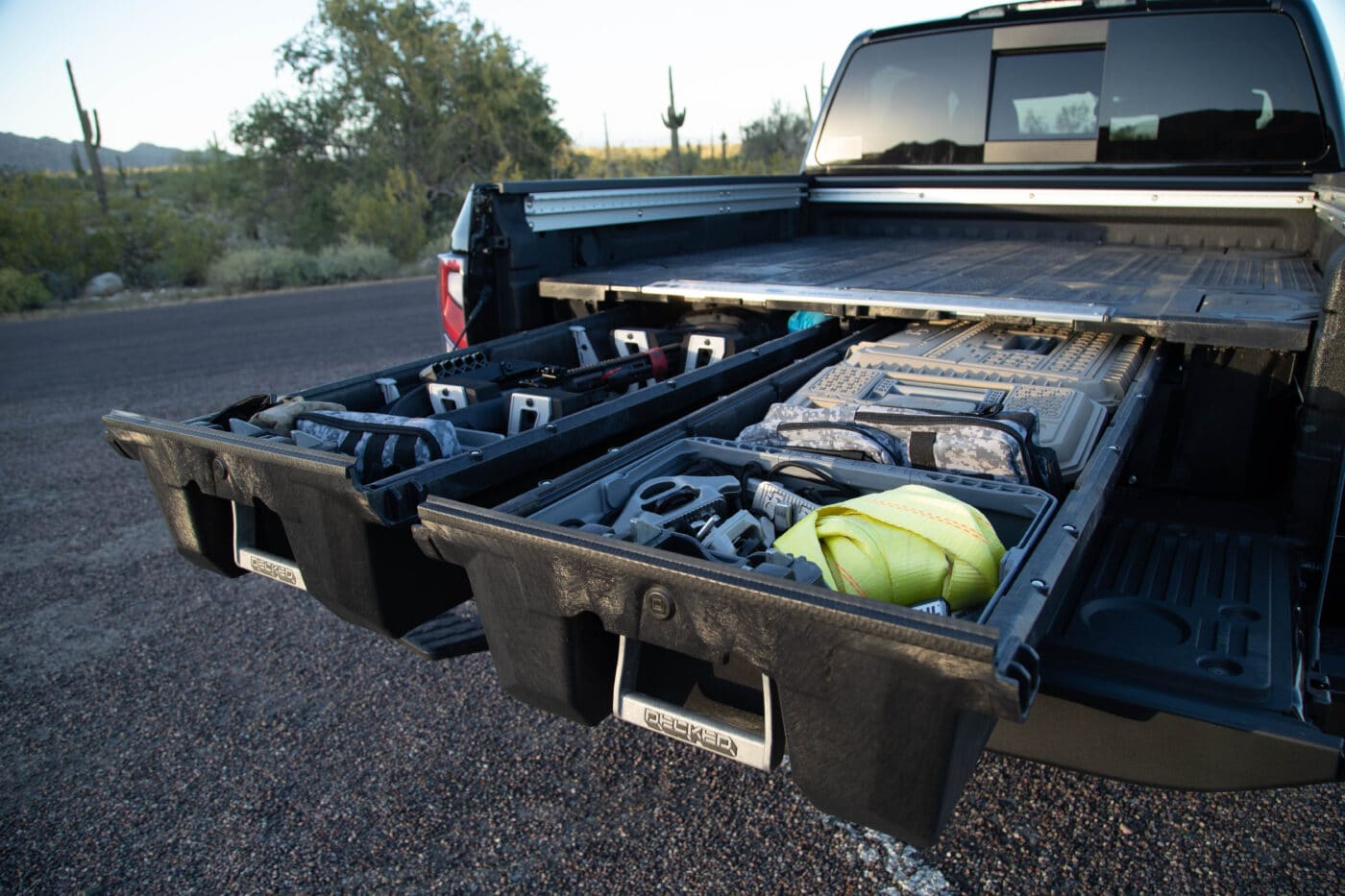 Each Decked Drawer System comes standard with some truly awesome and useful accessories including the Drawerganizer Drawer Cargo Bin, D-Box Desert tan Drawer Cargo Box, Drawer Dividers (set of two), and a Crossbox desert tan drawer cargo box. The D-Box and Crossbox are essentially rugged and sturdy toolboxes and have rulers for measurements on their lids, a nice touch that runs through certain products in the Decked line.
The company also included the Piecekeepers padded firearm holder inserts for the review that can store three average-sized rifles and shotguns and the intentionally/comedically named D-Bag. The D-Bag is an ultra-rugged hybrid hard shell, soft-sided tool and gear bag for storing tools or survival gear that is designed for Decked drawers that also can fit inside the Decked Tool Box.
In Practice
As I went through the install process, one aspect that I really gained an appreciation for with the Decked Drawer System is the non-destructive installation procedure. You don't have to drill through your bed, or otherwise alter it. You essentially just anchor the unit to the bed system by employing J-hooks and spherical nut washers through the four recessed "ammo can" storage wells to attach the system to all four corners to the bed's existing anchor points within the bed. It's secure, simple, and doesn't require any modification to your vehicle.
All that being said, please note that every make and model of truck may vary in terms of how the system is specifically fixed to your bed, so check out the Decked website to see how it may install in your specific make and model of vehicle. My truck's gate locks, preventing access to the Decked Drawer System altogether, but if your gate doesn't lock, you can also buy optional keyed drawer locks for each of the drawers for security and safekeeping.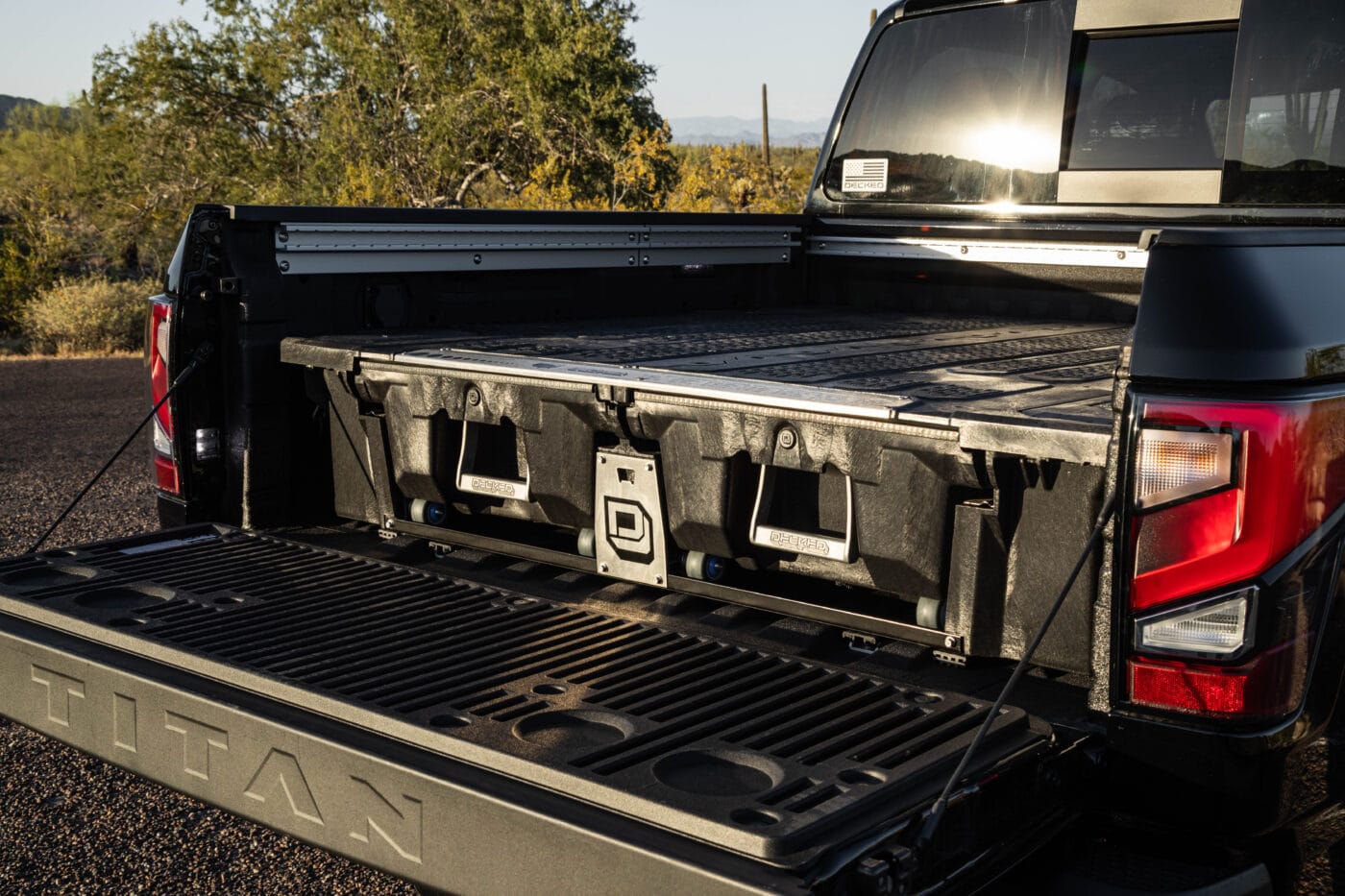 My initial impression after the system was installed in the bed of my truck was just how sturdy the entire platform felt. The Decked Drawer System is rated as having a 2,000-lb. payload capability on top, and I had seen videos and photos on the Decked website and on YouTube showcasing torture tests with palettes of cinderblocks, dirt bikes and more being piled on top of the textured black Decked platform and not impeding the rolling drawers function. Even so, I couldn't resist jumping on it, and even had the kids climb on top of it to feel just how rock solid it was. There was zero wiggle, jiggle or movement, and that inspired a lot of confidence.
I spent more time that day having fun organizing, reconfiguring and playing with possible Decked drawer "loadouts", and truth be told, due to my nature and obsession with trying new systems for storage, organization and preparedness, it will likely be an ongoing process. But that's what I love about the Decked system; it presents unlimited opportunities to set up your drawers for whatever your needs may dictate.
I had to test the weatherproofing, which for me in Arizona meant first kicking up some dust in the desert and then running the truck through the car wash. I got it nice and dusty on the outside and even sprung for the "hot lava" deluxe wash to give me more time in the psychedelic automated car wash to test out the system's rubber waterproofing seal. I am happy to report that I didn't detect a speck of dust or droplet of water on the inside of the drawers after this experiment.
Conclusion
My takeaways on the Decked Drawer System is that it's an extremely well-designed, modular and capable system for storage. I really enjoy the high quality that has been used in manufacturing the materials for each component of the product, and the attention to detail and passion that the brand genuinely seems to have for the products they've developed.
They seem to really have fun with the process, take pride in what they produce and know their customer base very well. All of these are huge positives to me when it comes to a large piece of kit that I will surely rely on in my day-to-day life and want to take pride in showing off to my friends and family. I am excited to keep experimenting with storage configurations and can't wait to see what accessories and add-ons Decked comes out with next.
Editor's Note: Please be sure to check out The Armory Life Forum, where you can comment about our daily articles, as well as just talk guns and gear. Click the "Go To Forum Thread" link below to jump in and discuss this article and much more!
Join the Discussion
Featured in this video
Continue Reading
Did you enjoy this video?
41