Review: Tuffy Products Center Console Security Safe
December 2nd, 2021
5 minute read
I am a big advocate of having a high-quality truck gun. Personally, I like having a pistol within my reach as I drive. Especially in today's world, you just never know when you may need your gun for self-defense, and more than likely you will need it while in or around your vehicle.
As a firearms trainer, one of the questions I often hear is, "How do you secure your truck gun when not in your truck?" In the past, securing that pistol has proven to be a bit challenging at times. Sure, at night when you are home you can easily just bring it in the house. But what about when you are out just running errands and such?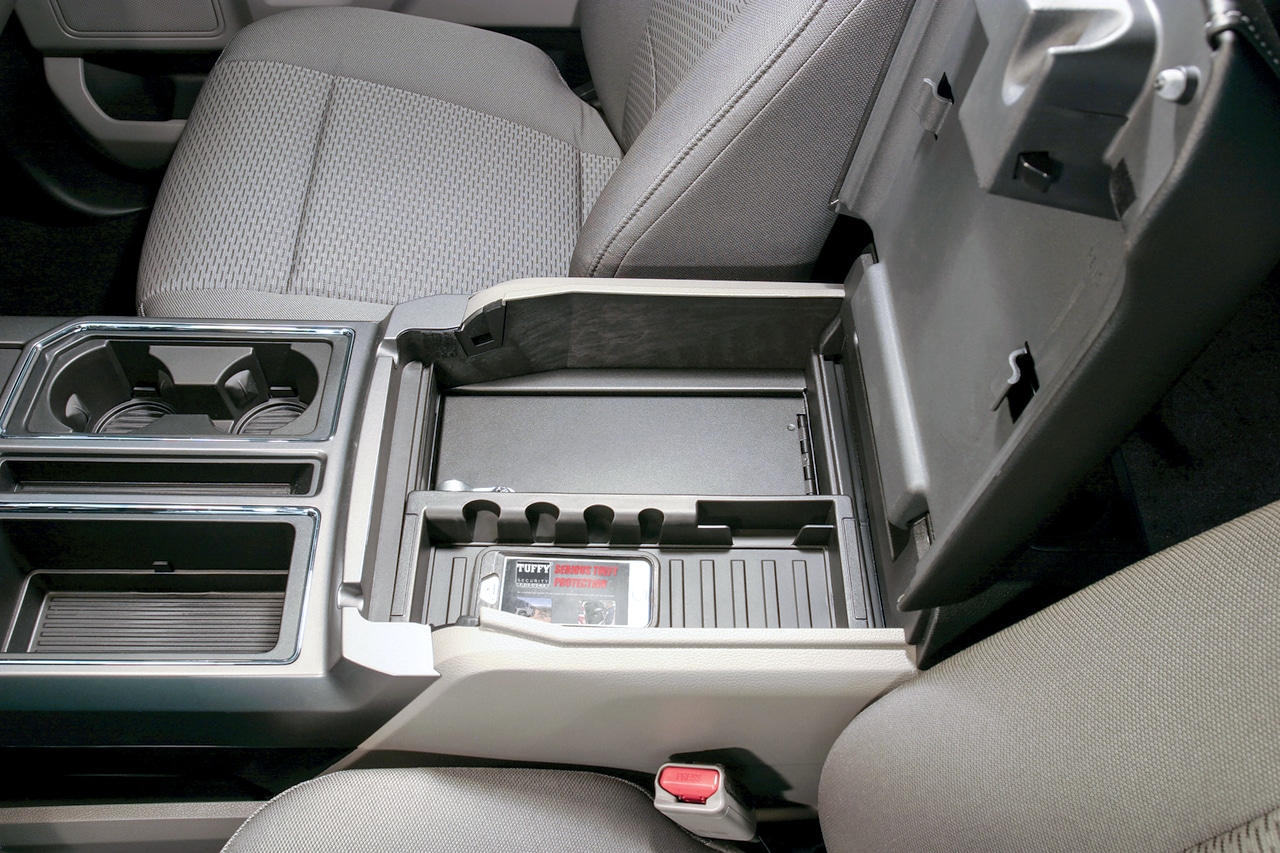 If you carry a pistol in your vehicle, you know exactly what I am talking about here. You pull into the service lane at the dealership to have some work done on your vehicle only to realize you have a gun in your vehicle that cannot be left unattended. Remember the rule that your gun is always somewhere. That rule applies in your vehicle, for sure. I have ended up having to shove that truck pistol in my pocket or a laptop bag while the truck was being serviced to ensure no one has access to it that should not have access.
What if you are heading to a sporting event or concert and want to have the gun in the truck even though you cannot carry it into the event? The problem is door locks only keep honest people out and a vehicle is not the most secure thing in the world.
I needed a solution to these problems and a way to secure my truck pistol while it is in my truck. I did not want to drill holes in my brand-new F-150, and I did not want to install something that would stand out and broadcast "I have a gun inside." Well, I think I have found the perfect solution when I reviewed the Tuffy Products Center Console Security Safe.
Tuffy Choices
I have tried a few different vehicle safes and lockboxes in the past and just had not found one that worked very well for me. They either stood out and screamed "steal me" or they were so well concealed they were tough to access or took up space I needed.
Tuffy designed their Center Console Security Safe to integrate directly into the design of the truck, just like most of their other products. The safe utilizes Tuffy's Pry-Guard locking system with a strong 10 tumbler double-bitted security key which helps keep everything secure.
My F-150 has USB ports inside the center console, and I use them often because they are always powered — unlike the ones in the dashboard. The Tuffy Console Safe allows me to still have access to those. The design ensures that no space is lost inside the center console as well. In fact, I personally think you gain more space because the console safe sits low enough to still use the little change tray while creating a shelf with the top of the safe.
The lid features a tension system that keeps the lid open while the door is up. It's fantastic that it maintains a completely stock look inside the truck while keeping your valuables hidden.
The Tuffy Products Center Console Security Safe was not the lockbox I expected. It consists of the lid, some legs, and crossmember supports. It is very simple and very tough. It all fits tightly inside your existing center console using the structure of your factory console to create a secure box that obviously is not foolproof but definitely would make it pretty tough for someone to get inside easily.
Installation
Installing the Center Console Safe in my truck took me about 10 minutes total using basic hand tools everyone probably has in their junk drawer. It actually took me longer to clean the center console out than to install the dang thing.
I could not believe that no drilling was necessary. It utilizes pressure and some clever engineering to securely lock the lid into the inside of the center console. You open the box to find a hardware bag and four parts. Your front plate, the backplate, center plates and the console insert — that's it. Just fold the legs out of the insert and put the screw in the lid holder that keeps the lid up when you open it. Then, strategically work the Security Console lid in the center console of the truck, install the front and rear plate and the center plates on the bottom and tighten it all down.
Conclusion
In about 10 minutes you have upgraded the security of your vehicle. Plus, the Console Security Safe looks fantastic when installed. Transforming that bottomless pit of a center console into a secured safe place for your favorite gun to hang out when you are not around is a great option. For even more security, you can always lock the lid of your factory center console and double up.
After reviewing the Tuffy Products Center Console Security Safe, I believe it is a solid solution to secure your valuables and pistols while not inside your vehicle. I recommend you take a look at the Tuffy Products Center Console Security Safe and all the Tuffy Security products in the product link below.
Editor's Note: Please be sure to check out The Armory Life Forum, where you can comment about our daily articles, as well as just talk guns and gear. Click the "Go To Forum Thread" link below to jump in and discuss this article and much more!
Join the Discussion
Featured in this article
Continue Reading
Did you enjoy this article?
85