Dominate the Night: Streamlight Super Siege
September 20th, 2020
4 minute read
We've all been there — in the dark, fumbling for our phone so we can use the flashlight on it. If you're a more prepared kind of person, you probably carry a small light in your EDC. There are times, however, when the little flashlights or even headlamps won't cut it.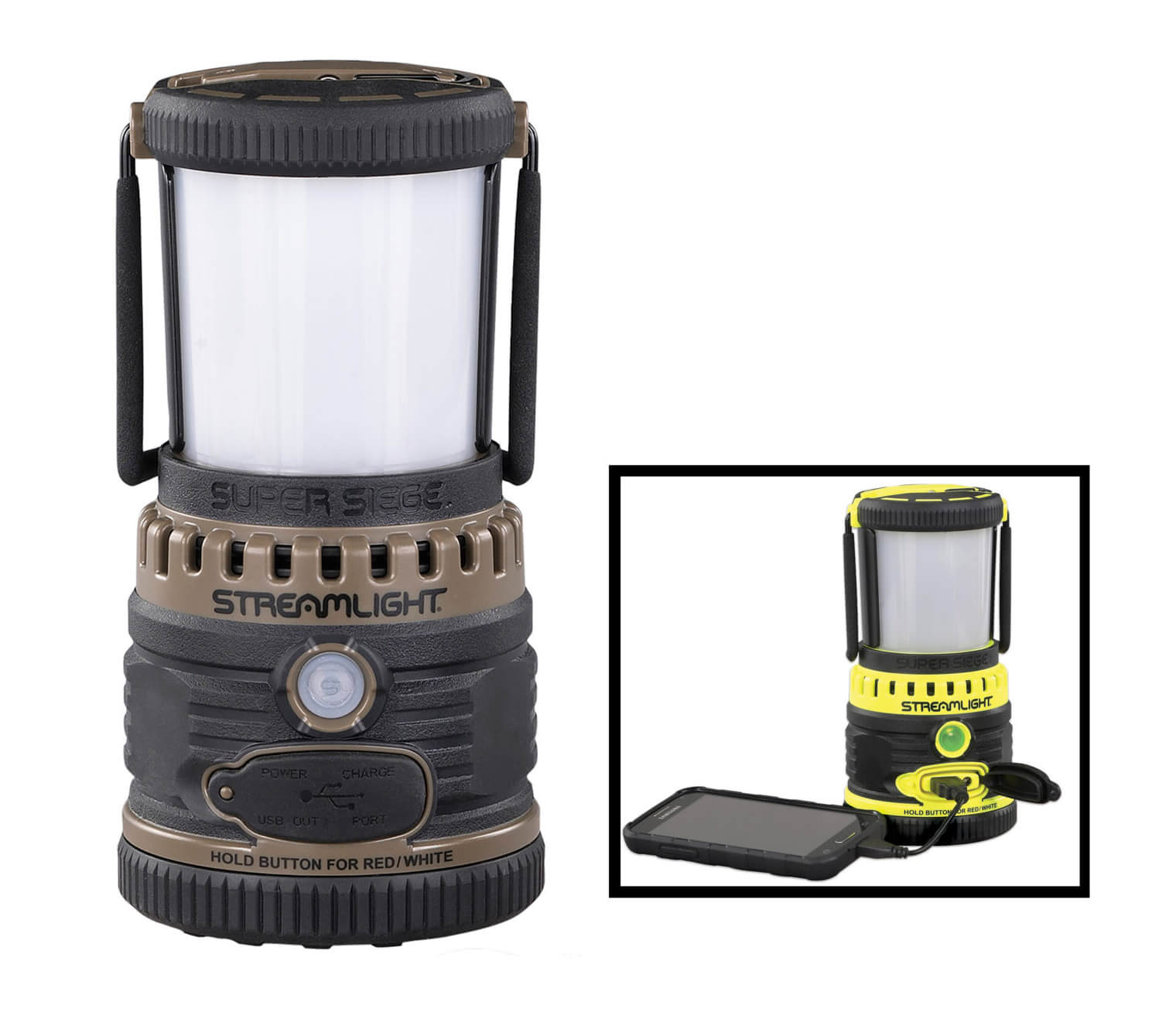 Cue the Streamlight Super Siege. This little lantern is rave-worthy for a long list of emergency and non-emergency uses, including overhead lighting or task lighting anywhere. Whether you're changing a tire at night, want to illuminate your campsite or need to signal rescuers, the Super Siege is a solid go-to survival tool.
The Basics
It's important to note that the Super Siege isn't just a lantern. With five output levels and settings, it can do everything from giving you 360 degrees of bright LED light to serving as a red flashing SOS beacon for up to 320 hours (that's nearly two weeks, by the way). This makes it a solid tool for campers, hikers, or anyone else in the backcountry. We carry one of these in our vehicles as well.
The SOS feature is fantastic, but the Super Siege's staying power is great on all outputs.
Low setting: 125 lumens, with 36.25 hour
Medium setting: 550 lumens with 11.5 hour
High setting: 1,100 lumens for 5.75 hours
Red light, low: 1 lumen for 348 hours
Red light, high: 2.7 lumens, for 140 hours
Between the three standard white LED lighting settings, the SOS mode and the four red LED lights, it's safe to say that the Super Siege has you covered in most situations.
It has a 10,400 mAh rechargeable lithium-ion battery, with solid construction that is waterproof to one meter. In fact, as long as the lantern globe is intact the Super Siege will float, which makes it great for on the water as well.
At only 7.5" inches high and less than two pounds with batteries in it, it's also super lightweight and small enough to stash in — or on — a backpack, store in a vehicle, or put just about anywhere else you want to keep one.
The Super Siege is easy to use; I didn't need to read all the documentation to figure out how all the features worked. Operation is very straightforward, with the "buttons that do stuff" labeled appropriately and in a way that won't rub off after you start using it.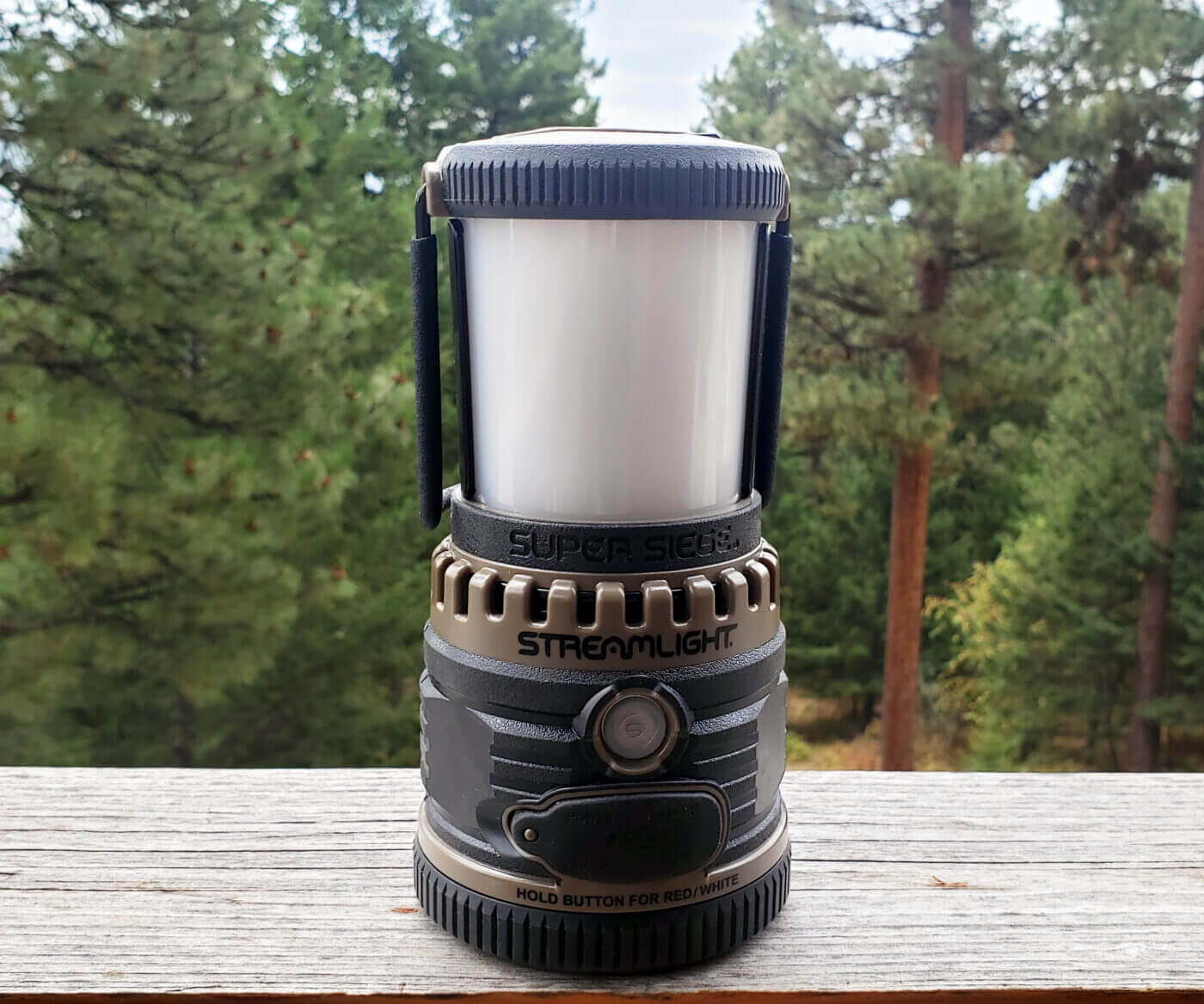 It's also impact-resistant; while the company only tested impact resistance to 2 meters, I dropped mine about 11 feet out of a tree, where it proceeded to roll down a steep, grassy hill for a while. It survived just fine. However, I don't recommend doing that with yours.
Extra Bonus Features
The Super Siege would be stellar even if everything above was all it had, but it also has several other features that push it over the edge into pure awesomeness for me.
First off, an included Glare Guard means I can take all those lumens and focus them on what I'm doing, making it an excellent task light as well as an overall area light. I can also remove it and light up an entire area.
It can charge your mobile devices as well. Your standard smartphone can charge fully four times, and your tablet can charge twice. In a survival situation, being able to access downloaded maps, reference material or even contacts can make a huge difference if you're using your phone as a survival tool.
The Super Siege even has a little compartment to stash extra keys, cash or other small objects you might need — and that compartment is watertight as well. Additional things like the spring-loaded D-rings on the top and bottom, that let you hang it from a horizontal rope or other suspension medium, just make the icing on the cake.
Where to Buy
The Streamlight Super Siege can be found all over the place. While prices vary widely, especially with online retailers, you can expect to spend between $100-150 for this lantern. And, it's available in yellow or coyote tan. In my opinion, this product is worth every penny it costs and more. Considering it's long-lasting LED light with a rechargeable battery, the Super Siege will pay for itself quickly just in battery purchase savings.
If you don't already have one of these, go get one. You won't be sorry.
Editor's Note: Please be sure to check out The Armory Life Forum, where you can comment about our daily articles, as well as just talk guns and gear. Click the "Go To Forum Thread" link below to jump in and discuss this article and much more!
Join the Discussion
Featured in this article
Continue Reading
Did you enjoy this article?
34