Red dot optics on rifles has become the de facto aiming system that nearly everyone uses these days. But, the reality is that there's more than one type of red dot from which you can choose. A traditional red dot utilizes a tube, glass and an LED to create a sight picture with the red dot being your point of aim. The other type of red dot is a holographic sight.
Not sure what a holographic sight is, exactly? These sights use a laser-transmitted hologram of a reticle recorded in three-dimensional space onto a piece of holographic film. These "red dots" are non-magnified, giving you a 1X field of view. Generally, holographic sights give you a larger window to see through and are often rectangular or square, whereas traditional red dots are circular with a smaller field of view.
My Choice: EOTECH EXPS3
Personally, I am in love with holographic sights, and I run EOTECH Holographic Weapon Sights (HWS) EXPS3 and EXPS2 almost exclusively on my AR's like my Springfield Armory SAINT Edge. The quick sight picture and larger field of view allow me to gain more information around the target as well as quick reference on range estimation.
EOTECH brilliantly designed its reticle as both a fast-aiming solution as well as a range estimator. If a man-sized target fills the circle from top to bottom, that target is at 100 yards. If the man-sized target is half the circle from reticle center to bottom, the target is at 200 yards. If the man-sized target fills 2/3rds of the reticle from center to bottom, the target is at 300 yards. Finally, if the man-sized target fills ¼ of the reticle from center to bottom, the target is at 400 yards. These estimates are based on .223-cal., 62-gr. projectiles at 2900 fps.
EXPS3 Reticle
I really like the circle dot design in a reticle these optics have. For me, the circle around an object makes acquiring my target that much quicker, and placing the center dot where I want my impacts to be is very intuitive. The other great thing about holographic sights is that you can be target-focused; it's as if the reticle is being projected onto your target.
EOTECH makes two different holographic sights: the EXPS/XPS series and the 5X series. The main difference between them is the batteries used. The 5X series utilizes AA batteries, and the EXPS/XPS line uses CR123A batteries. There are also two height variants in their respective lines. The EXPS is 1/3 co-witness height and uses a quick-release, clamp-style mount. The XPS is a co-witness height and uses an Allen screw to mount onto your rail. Similarly, the 512 is co-witness and the 518 is lower 1/3 co-witness.
Beyond height and attachment methods, the EXPS3/XPS3 and the 552/558 are also night vision compatible. This simply means the reticle can "dim" down so low that it doesn't flare out for night vision.
Battle Tested
EOTECH holographic sights have been in military service for many years, with the 553 and more current EXPS3 line filling this role. It's always nice to know the optic you are using is battle-proven and fielded by our nation's best. The holographic sights boast an 1,100-hour run time, which is lower than their red dot counterparts, but in my opinion, the trade-off is worth it.
EOTECH also makes multiple magnifiers for use with their holographic sights. These are magnified tubes that extend the field of view by 3X or 5X. They fold out of the way when not in use and can quickly swap the magnifier into place for greater target identification at range.
EXPS3 Evaluation
I purchased my first EOTECH XPS2 back in 2019, and since then I've been purchasing them for most of my rifles. I consistently beat them up on the range through high round counts, extreme heat, dust, and debris as well as being jostled around on body armor and rough terrain. I have yet to experience one issue between all my EOTECHs.
The main optic I keep on my SAINT Edge is the EXPS3, and I've run that thing through thousands of rounds in all conditions. It just keeps on keeping on. I think the EXPS3 is my favorite for any AR-type rifle. The heads-up position is natural, while still allowing a 1/3 co-witness with my iron sights. For rifles that have a lower stock, I prefer the XPS3 as it allows a lower position and full co-witness with my iron sights.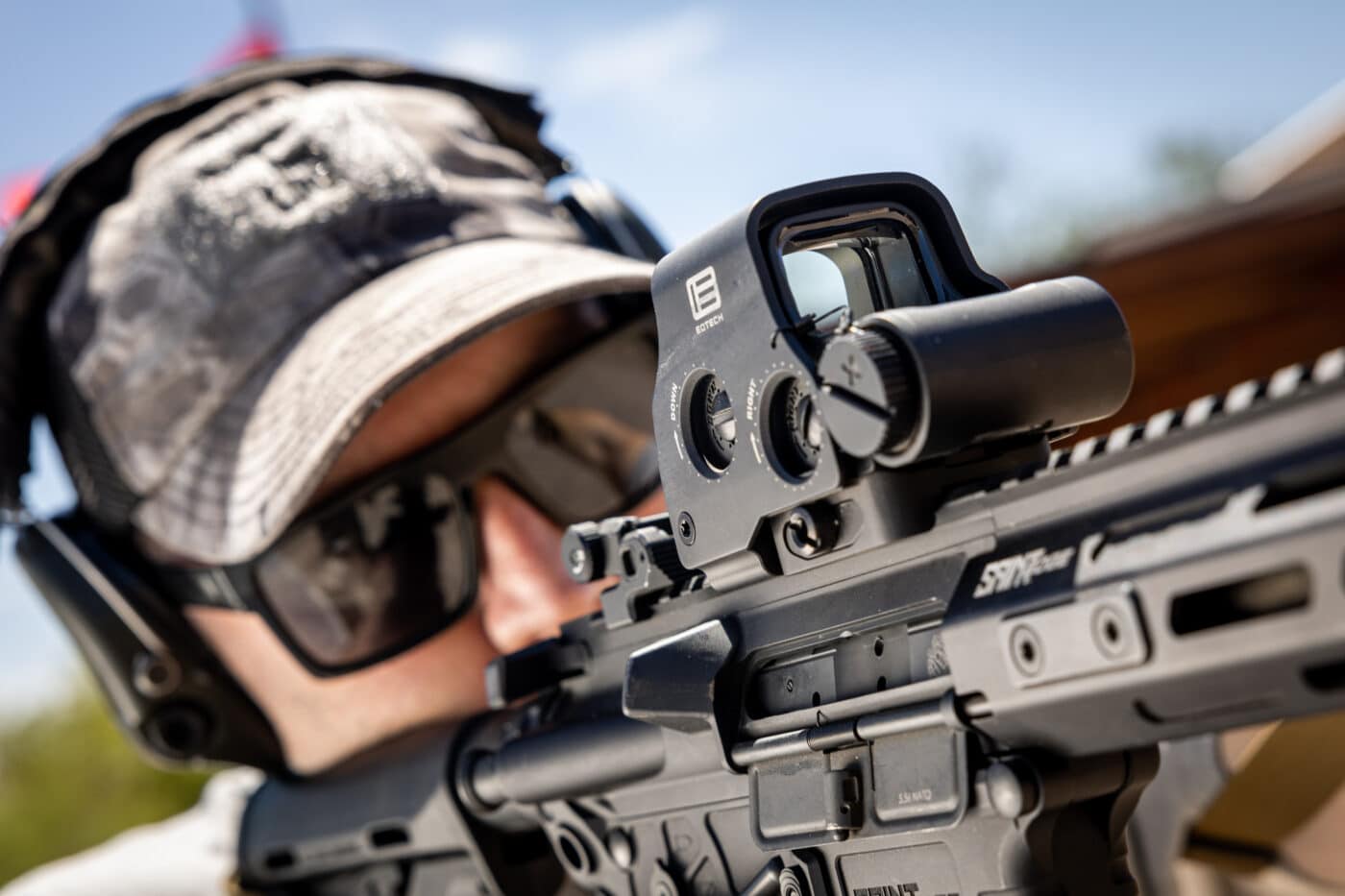 Often, I store my SAINT Edge in my locked Truck Vault when going to the range, on shoots, camping, etc. In the summer, that interior of the Truck Vault is pushing 130 degrees. The rifle and EOTECH shrug those conditions off, performing flawlessly every time. I think once you give an EOTECH holographic sight a chance, you will be hard-pressed to go back to a simple red dot.
Final Thoughts on the EOTECH EXPS3 Optic
If you are looking for one of the best rifle-aiming solutions, look no further than EOTECH Holographic Weapon Sights. If you want to save a few bucks, go with the non-night vision versions. EOTECH also makes some great color options in the XPS line including green, tan, grey and black. I've got one of their coveted tan EXPS3 units, and it's always a head-turner at the range. Join the holographic fan club and you might just never look back.
Editor's Note: Please be sure to check out The Armory Life Forum, where you can comment about our daily articles, as well as just talk guns and gear. Click the "Go To Forum Thread" link below to jump in and discuss this article and much more!
Join the Discussion
Featured in this video
Continue Reading
Did you enjoy this video?
56