Everything You Need to Know About Red Dots
May 14th, 2021
5 minute read
Simplicity is a virtue. In reticles, nothing is simpler than a dot. Grids bristling with tics and digits turn sight pictures into Sanskrit. Dots would have sold well during the Pleistocene and, later, to pikemen, had pikes worn sights.
Back in the days of horsehair reticles whose mass tore them apart in recoil, suspending a dot kept dot-makers up at night. T.K. Lee found black widow spider web remarkable strong and all but weightless. Etched reticles followed. Improving the dot itself was hard because it is so elemental. How to improve a raindrop, a spark? Shooters were giddy over new dot sizes.
Then, in Sweden, Gunnar Sandberg invented his "single-point sight." You couldn't look through its tube; you looked into it with one eye while your other saw a dot superimposed on the target. Sandberg refined the device and in 1974 founded Aimpoint to produce it. The illuminated dot was visible from just about any place behind the sight. Later Aimpoint installed compound glass to nix parallax.
This achromat brings the dot to your eyein a line parallel with the sight's optical axis, so you hit even if your eye is off-axis. Fully multi-coated lenses, half-minute W/E clicks ensued. Battery life is now five years if you never turn the sight off. Waterproof and stout as stone, Aimpoints have been adopted by U.S. and French armed forces, and by hunters in 40 countries, including one of every 10 Swedish moose hunters.
Through the Looking Glass
Aimpoint sights are reflex sights, sub-set of a group known as red dot sights — though green and amber dots have emerged. In primitive form, reflex sights date to 1900, when Irish optics guru Howard Grubb patented a "Collimating-telescope Gun-sight." A reflecting surface projected an adjustable reticle to the shooter's eye. During World War I, reflex sights helped German Fokker pilots aim their Spandau machine guns. Purists insist reflex sights are the real red dots. Elitists dismiss the open reflex, embracing only the closed or tube-type.
In both kinds of reflex sights, the reticle is an LED image reflected on glass. You get long battery life, but battery failure erases the reticle. Closed sights offer the brightest of illuminated dots and protect the light path from weather and obstruction. An advantage of the open design is light weight. Leupold's 33mm DeltaPoint Pro scales 2 ounces, as do Sightmark's Core Shot, Trijicon's RMR. The Burris Fastfire comes in at 1.5. Reflex sights have unlimited eye relief. Not all pair with magnifiers or night vision devices.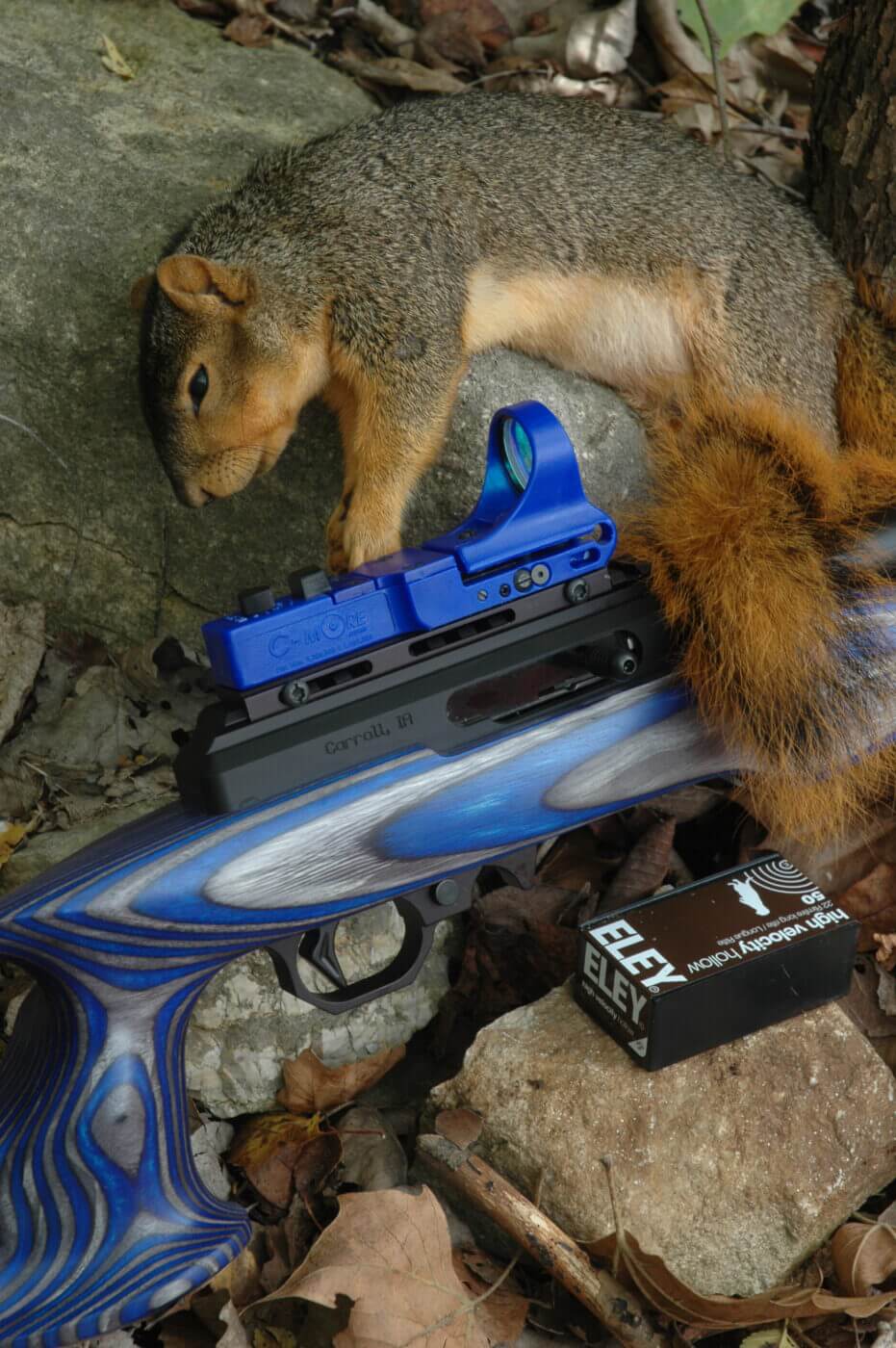 As "engine" describes steam, petrol, jet and diesel power plants, red dot sights comprise not only reflex sights but prism and holographic models.
While Sir Grubb labored over his gun-sight, Zeiss came up with a prism optic, essentially a rifle-scope with a prism instead of lenses inside. Like the reflex sight, it's garnered a century of improvements. You'll find them in Trijicon's ACOG (Advanced Combat Optical Gunsight). A fiber-optic tendril snaking about the tube pairs with a tritium element in the reticle to illuminate it. No batteries. Our Marine Corps, then the Army, adopted the 4×32 ACOG. Trijicon's sight for Special Ops has a Bullet Drop Compensator. It's also very popular with civilian shooters.
Prism or prismatic sights are generally heavier than reflex sights. (The ACOG weighs 10 ounces.) They're also battery-hungry. With few exceptions, eye relief is fixed. Fast-focus eyepieces are becoming common. Ditto glass-etched reticles, so if you lose battery power the reticle is still visible in daylight.
Prism sights vary a lot in features, weight, bulk and price. Trijicon's 1.5x, 4-inch TA44 weighs a feathery 5.1 ounces but lists for over $1,100. The 19.1-ounce, night vision-compatible T.M.P.R. 5x from Burris has 2.2″ of eye relief, a ballistic reticle in red, blue and green, for $900. The 10-ounce, 1x Cyclops from Primary Arms is ranging- and BDC-capable, with 3.7″ of eye relief, for about $240.
Bushnell pioneered holographic sights. Unlike the reticles in scopes and other red dot sights, a holographic reticle appears not against the target, but out there on it. Early reticles were grainy. They've improved, and come in many forms. Holographic sights weigh about the same as prism sights (e.g., the 11.8-ounce Vortex Razor AMG UH-1 and EOTech's 9-ounce XPS2-2). Like reflex sights, holographic sights have unlimited eye relief. Shooters with astigmatism may find them easier to use than prism and reflex sights. EOTech's holographic line includes a 25-ounce, 3x HHS III ("holographic hybrid sight") with 20 brightness settings. Its 1x sibling is available with a 3x magnifier you can flip out of the way.
Commonly sold as handgun sights for self defense or for carbines in thickets, red dot sights serve ably at mid-range. As a healthy human eye can distinguish a minute of angle, a 3-minute dot is visible at 1X. Popular 3¼- and 6½-minute dots obscure less of the target than do open sights. The key to accuracy with a red dot sight is dialing brightness down. The smaller a dot looks, the more precise your aim!
My choice among red dot sights is the open reflex with a 3¼-minute dot. Lightweight, compact and riding as low as an open iron sight, it can be as fast as a shotgun bead. A standout: Trijicon's RMR. Its 7075-T6 aluminum camel-hump frame is so strong you can beat it against a post to free a pistol slide without damage or loss of zero. (I've done it!)
New on the market are the HEX family of red dot optics from Springfield Armory. From the micro-sized HEX Wasp (ideal for a micro pistol like the Hellcat 9mm) to the larger HEX Dragonfly (designed with full-size pistols and long guns in mind), these optics feature IPX7 waterproof ratings as well as real glass lenses and tough machined aluminum bodies.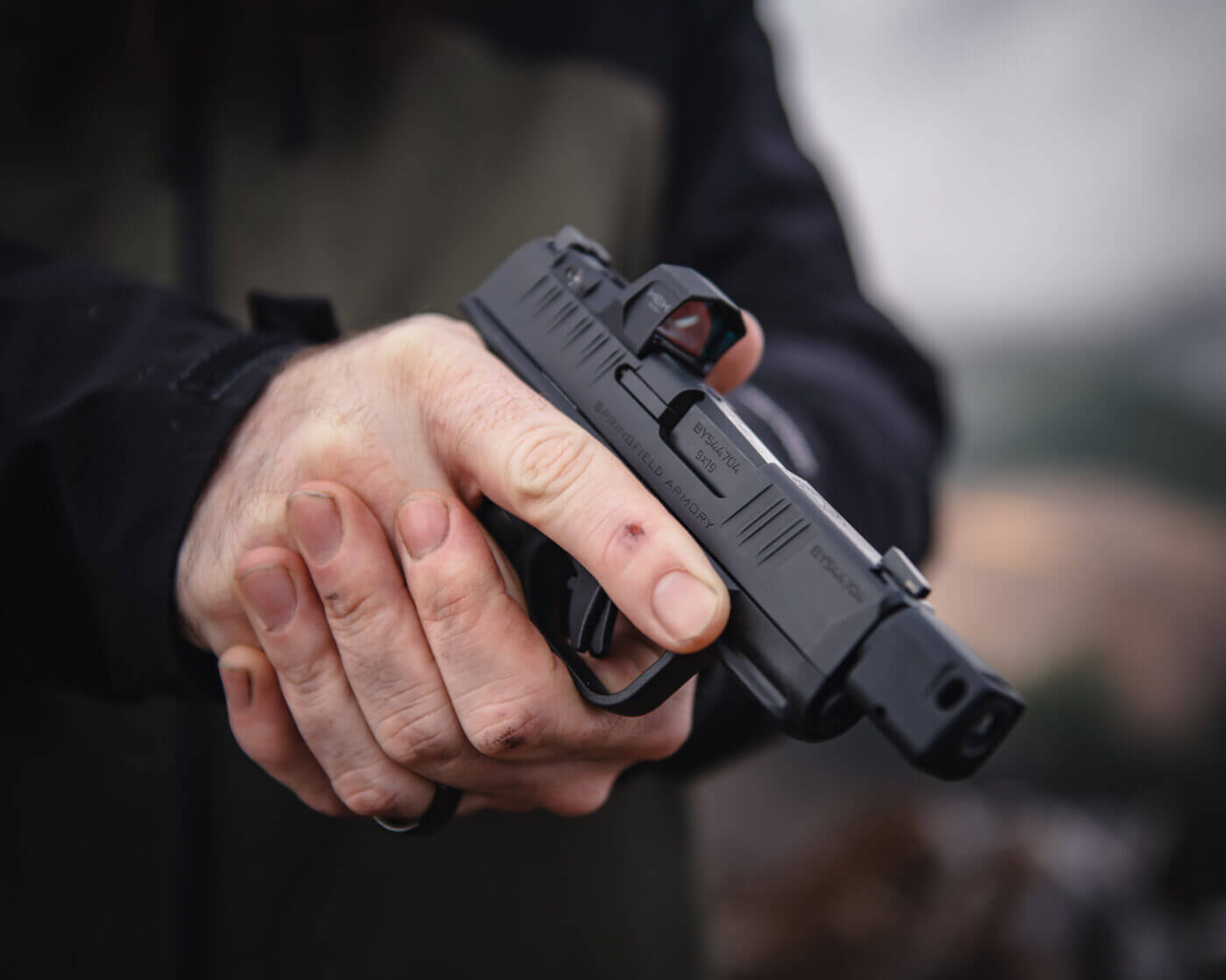 Conclusion
Sweet on iron sights for carbines and handguns, I no longer see those irons crisply. At ordinary hunting ranges, and certainly on pistols, a red dot sight is the natural alternative, faster and more precise than irons in any light. Place the dot and fire. So simple.
Editor's Note: Please be sure to check out The Armory Life Forum, where you can comment about our daily articles, as well as just talk guns and gear. Click the "Go To Forum Thread" link below to jump in and discuss this article and much more!
Join the Discussion
Continue Reading
Did you enjoy this article?
176