Review: Vortex AMG UH-1 Holographic Weapon Sight
April 22nd, 2021
5 minute read
Red dot sights saw their military debut during Operation Ivory Coast, the Special Forces raid on the North Vietnamese prison camp at Son Tay in 1970. Those rudimentary red dot optics were driven solely by fiber optic elements and ambient light, but they signaled a paradigm shift in the way tactical operations were conducted under conditions of limited visibility. Now fast forward some 50 years and everybody has something electronic and sparkly perched atop their favorite black rifle. The latest and greatest is the AMG UH-1 from Vortex.
The Edge
The Vortex AMG UH-1 combines the best features of a red dot along with the salient strengths of a holographic sight into a compact lightweight electro-optical gunsight tough enough to go to war. The UH-1 is just under 4″ long and weighs 11 oz. It features a bright red 1-MOA holographic EBR-CQB reticle with fifteen different brightness settings. The UH-1 also sports unlimited eye relief, so it really doesn't matter much how far your eye is from the sight.
The AMG UH-1 somehow seems to project the reticle out over the top of the target. I typically need reading glasses to see clearly up close, yet I retain aviator acuity at a distance. Despite the fact that the reticle is projected mere inches from my eyeball, it still remains crisp and sharp over a distant target. I have no idea how they do that. Magic pixie dust, perhaps?

Another interesting aspect of this technology is that angles between your eye and the target don't seem to matter much, either. You can hold the weapon out at arm's length or even peek into the sight from the side, and it will still stay true to the target if the reticle is properly oriented. Like I said, it's weird.
Multiple anti-reflective coatings on all air-to-glass surfaces enhance light transmission, and an integrated throw lever system accommodates any Picatinny or Weaver rail. The sight adjusts for windage and elevation easily in ½ MOA increments from the side and sports a 1X neutral magnification as it should. The sight runs off of a CR123A battery with a twist.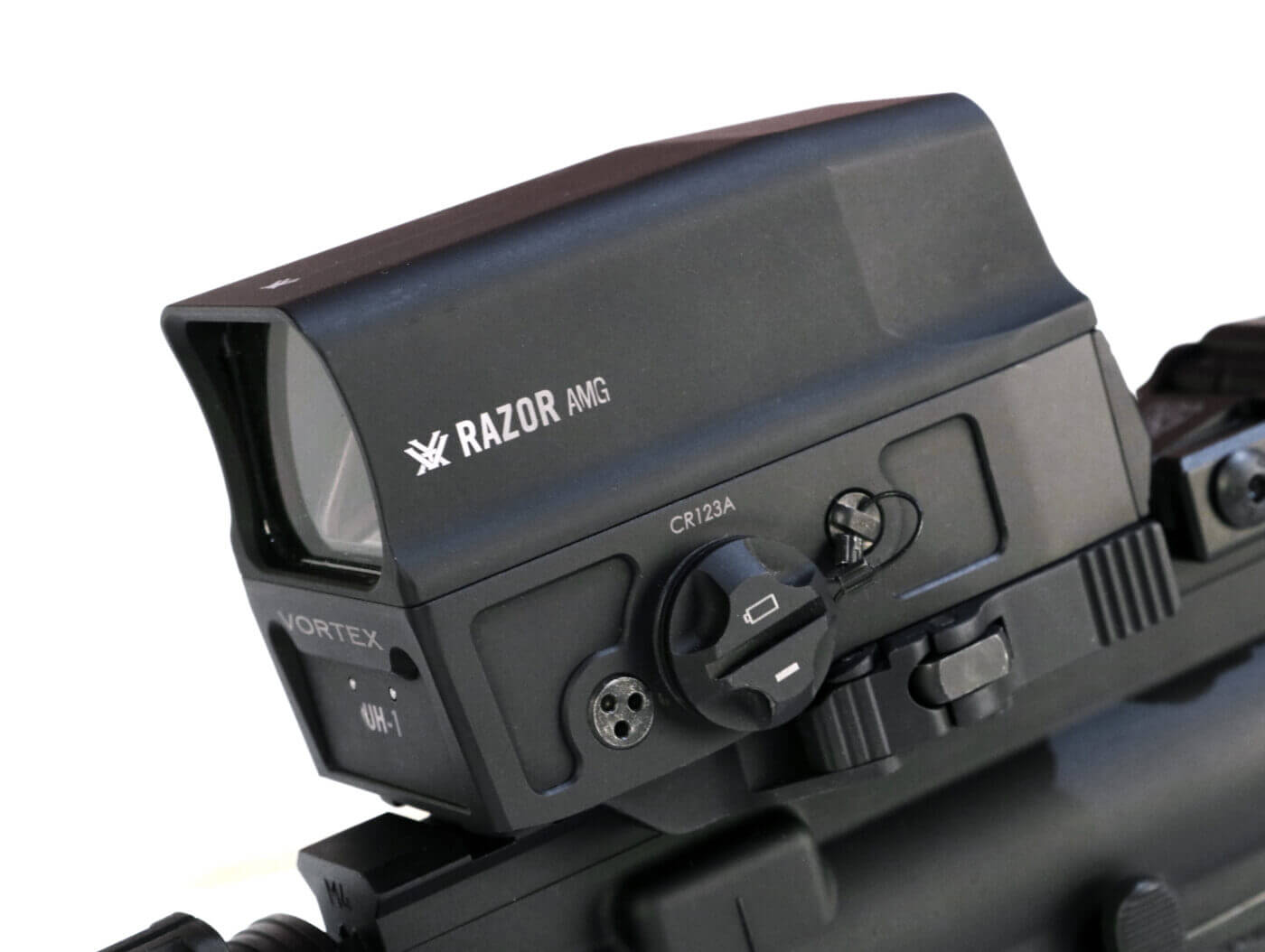 There is a USB fitting built into the sight so you can charge the sight externally should you outfit the rig with a rechargeable power source. While CR123A batteries are available at every drug store in America, replacing them can get expensive if you use your sight a lot. The rechargeable option can make things cheaper and more convenient.
Trigger Time
I mounted the Vortex AMG UH-1 up on my Springfield Armory SAINT rifle. I was an early adopter, so I have logged a lot of trigger time on this rarefied smoke pole. Lightweight, rugged, accurate and fun, the SAINT offers a robust feature set at a modest price.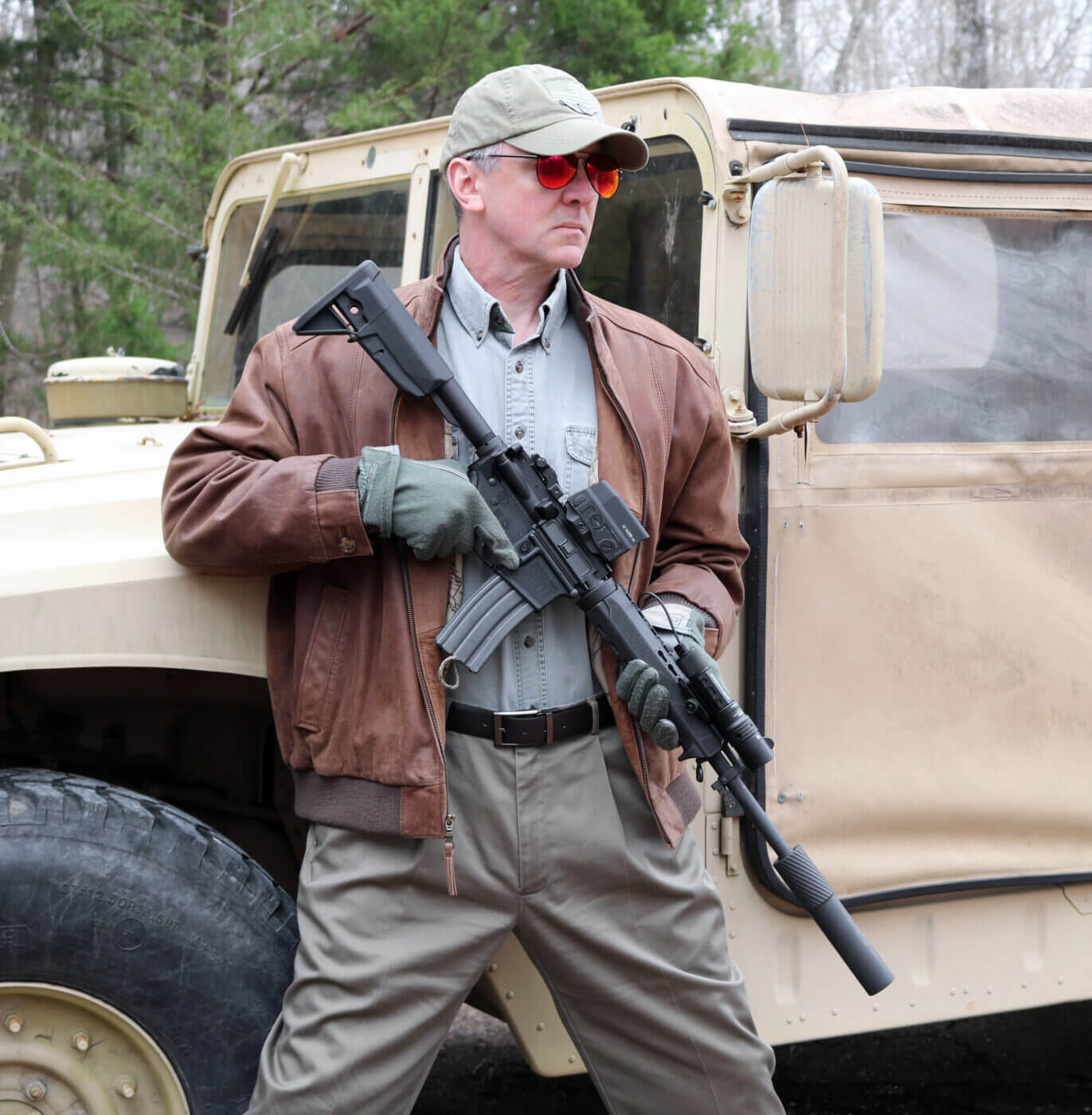 The rugged body of the UH-1 produces a nice, uncluttered field of view that lends itself to fast engagements at close to moderate ranges. The reticle draws the eye nicely and focuses your attention without seeming distracting. When moving indoors or from within an automobile literally nothing is faster.
The UH-1 is not unduly cumbersome, and the controls are mounted on the back for easy access. From bad breath range out to 100 meters or so the holy melding of my Springfield Armory SAINT rifle and the AMG UH-1 maneuvers like a sports car and reliably brings the pain. For home defense or Law Enforcement applications this is the apex predator.
Standing Behind the Sight
Vortex offers what is arguably the most generous unlimited transferable lifetime warranty in the industry. Lots of folks will warrant an electronic sight for a year or two. Vortex makes that forever.
They don't need to see a receipt, you don't have to be the original buyer, and they really don't much care how it happened. It doesn't matter where you bought the sight or who was at fault. If the Vortex AMG UH-1 ever becomes damaged or shows itself to be defective Vortex will repair or replace it at no charge. The only exceptions are loss, theft, or cosmetic damage. I live in this weird little tactical world, and that really is as good as it gets.
Ruminations
The field of electro-optical gunsights is crowded these days. You can dump sums ranging from paltry to astronomical on a proper gun sight with everything in between. In this Vortex AMG UH-1 review, I've introduced you to a state-of-the-art holographic sight tough enough to suffer real-world abuse and come out the other end gleaming. Additionally, the UH-1 is backed up by the best unconditional warranty in the business.
Whether the mission is competition, recreation, or home defense, the Springfield Armory SAINT and the Vortex AMG UH-1 holographic sight make for an exceptionally capable combination. The same rig would also be right at home inside a squad car. Easy to use, fast in action, and tough enough for combat, the Vortex UH-1 is tomorrow's electro-optical gunsight today.
Editor's Note: While this review is of the AMG UH-1, Vortex is now offering a Gen II version of the optic. It features the addition of night vision capability, a larger viewing window, and more.
Be sure to check out The Armory Life Forum, where you can comment about our daily articles, as well as just talk guns and gear. Click the "Go To Forum Thread" link below to jump in!
Join the Discussion
Featured in this article
Continue Reading
Did you enjoy this article?
37