The AR platform is a very mature firearm design. Born in the 1950s, adopted by the U.S. military as the M-16 in the 1960s (read more about the evolution of the AR here), and beloved by civilian shooters in the years following leading up to today, the AR is a proven firearm.
I have been wanting to add a new AR to my collection for some time, but was not sure what model I wanted. Did I want a base model I would then trick out with all the features I wanted? Would it try to find one already set up like I want, no matter how hard that might be?
I ended up going that second route on my journey to my next AR, and it led me to the SAINT Edge 5.56mm from Springfield Armory. The Edge is the top-tier offering in the SAINT family of AR-style firearms.
The Details
First of all, let me go over the features of this rifle. It's a semi-automatic AR-platform rifle and is chambered for the 5.56mm cartridge. One of the most appealing things about this rifle and what led to me buying it was the value of the rifle itself. I previously had a lower-end AR that I was considering using as a platform for upgrades. AR parts are cheap, right?
What I figured out was that the SAINT Edge rifle basically comes as a customized AR direct from the factory. It has an excellent BCM buttstock and a BCM Mod 3 pistol grip. It has a machined billet lower that has weight reduction cuts in it as well as a slightly flared magwell. An enlarged trigger guard is also included, making it easier to shoot with gloved hands.
Within that enlarged trigger guard is a flat-faced trigger, and my sample measured in at a pull weight of 4 lbs. An ambidextrous safety is included with the rifle, and three QD mounts give you a lot of flexibility on mounting a sling. Adding to the value of the SAINT Edge is the fact that it comes with iron sights, and some really good ones on top of it. They are metal and seem to be extremely well made.
The Edge comes with an enlarged charging handle, which again is something I would add to an AR. This rifle has a free-floated M-Lok handguard covering a 16" barrel with a Melonite finish and a 1:8 twist. The muzzle brake is also very effective at taming any amount of muzzle rise. The feature that will stand out to you as soon as you hold this gun is that it only weighs 6 lbs., much of which is attributable to the fact that it has a lightweight barrel.
Where It Counts
Okay, now here is the coolest part of this rifle. It has an MSRP of just $1,350. I'm seriously not even sure how that's possible. All the upgraded parts I have mentioned cost about $50 to $100 each if not more, if you were to build this rifle yourself. Flip-up sights, the BCM parts, a weight-reduction cut lower, an aggressive muzzle brake — all those things are guaranteed to run up the cost of an AR build. I know a good pair of iron sights is about $100, easily. So, this rifle has immense value.
You are probably wondering about the performance. The accuracy has been great. It's fun to shoot and the muzzle brake is highly effective. When I first took it out, I shot it on paper and within four rounds I had my red dot sighted in where it was dead on. Then, I took it out to 200 yards with no real effort. I also have taken this coyote hunting and successfully shot one on the run at about 100 yards.
While my coworker Grant LaVelle prefers the SAINT Victor rifle because the handguard runs all the way to the end of the barrel, I like the SAINT Edge's shorter handguard and the fact it has a top rail that runs the full length. This allowed me to put my pressure switch for my Olight Odin Mini on top. I have my rifle set up with the Olight Odin Mini, and for an optic I currently have a Holosun 403C. Also, I'm using the Armageddon Gear heavy carbine sling.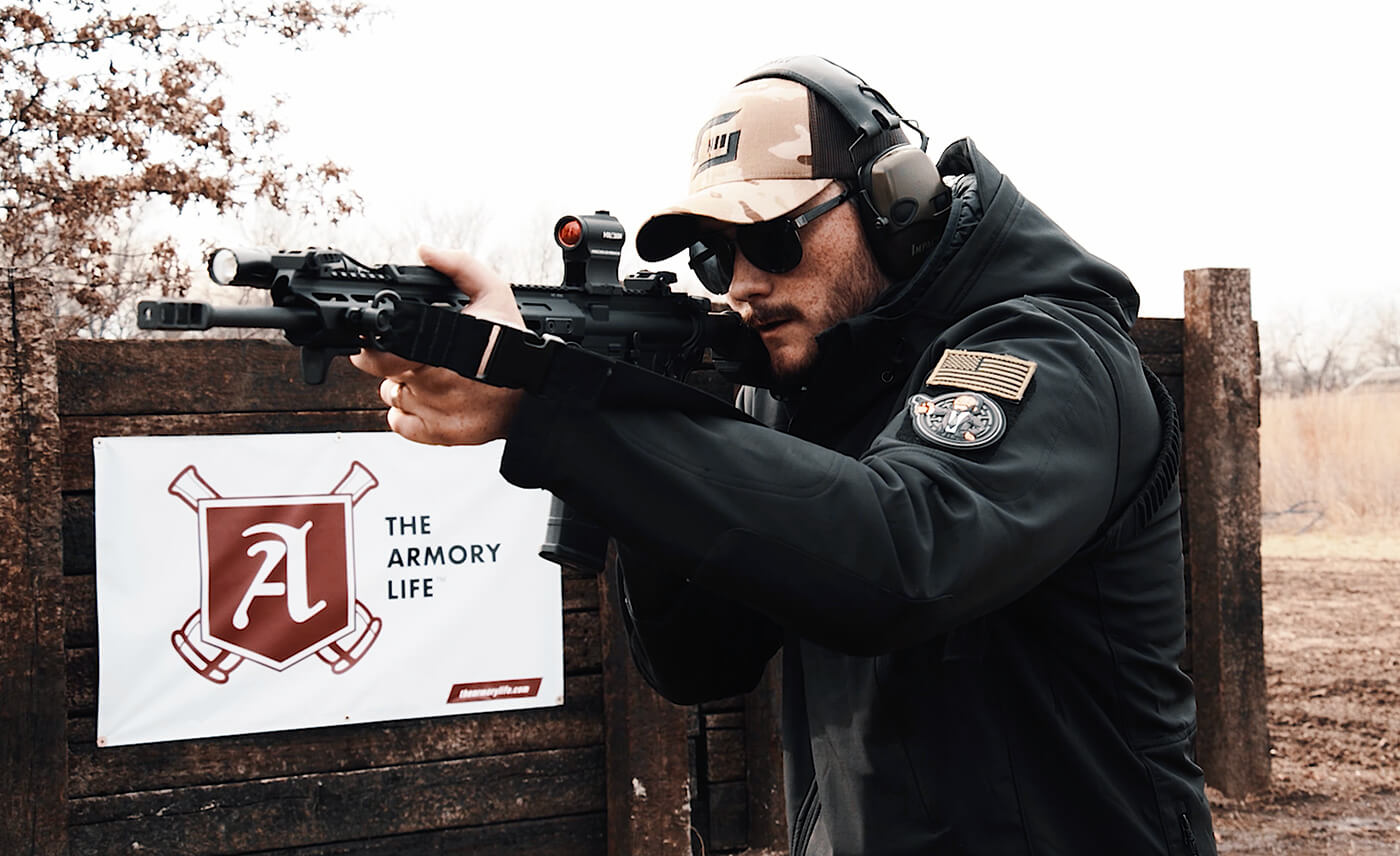 Conclusion
I am extremely pleased with my purchase of this gun. I absolutely love how lightweight it is, and I love that right from the factory the rifle came tricked out and ready for accessories. So, is there anything I would change about this rifle? No there isn't. I love this rifle so far and it's going to be my go to rifle for quite a few years.
Editor's Note: Please be sure to check out The Armory Life Forum, where you can comment about our daily articles, as well as just talk guns and gear. Click the "Go To Forum Thread" link below to jump in!
Join the Discussion
Featured in this video
Continue Reading
Did you enjoy this video?
61