When it comes to choosing an optic that offers both a solid solution for engaging targets at close range as well as variable magnification capability for targets at greater distances, low-power variable optics (LPVOs) have become the go-to. Because LPVO's allow you to utilize them at a 1X magnification, they effectively provide you with a red dot-style optic option while also affording magnification capabilities, allowing you to reach out and make successful hits at 400-600 yards and beyond in some cases.
Because of the versatility the LPVO affords, it has made this style of rifle scope the optic of choice issue for the U.S. Marine Corps, as all Marines are by training "riflemen". In my recent personal experience working with a range of EOTech scopes during range training and some precision long-range coursework, I've enjoyed the benefits of EOTech's Vudu line of optics.
[Learn more about LPVO scopes here.]
I have really enjoyed the Vudu 1-6×24 when running my SAINT Edge carbine during close- and medium-engagement courses. Likewise, I have also been very impressed with the VUDU 5-25×50 on my Model 2020 Waypoint during use in precision rifle classes.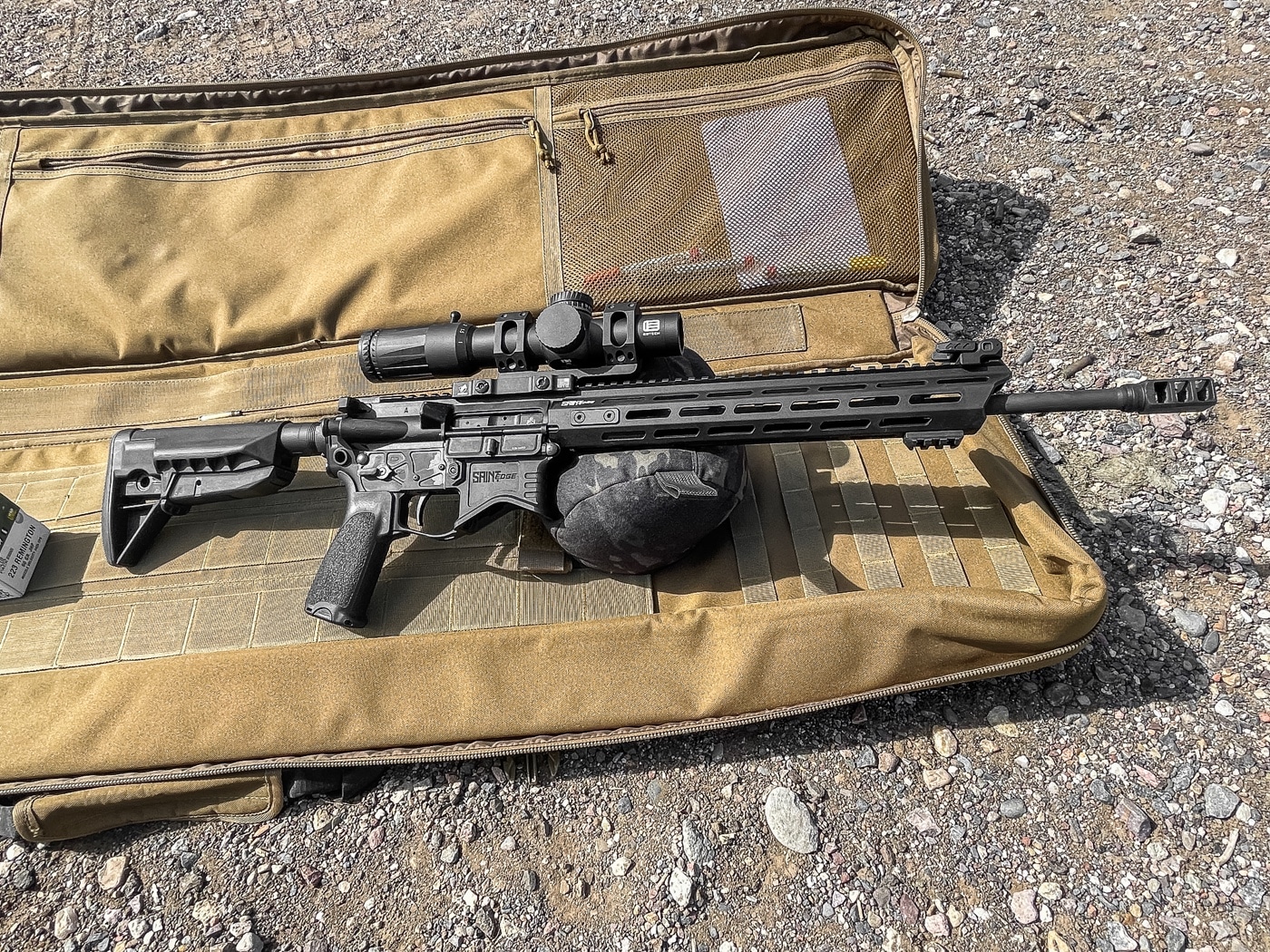 A fantastic option in the line-up has presented a very cool "sweet spot" for me that falls between the two with EOTECH's VUDU 1-10×28 FFP optic. The 1-10X range of magnification allows for engagement at greater distances than many traditional LPVO's, and preserves the 1X option for close-range work while providing a first focal plane (FFP) configuration.
[See our article comparing first focal plane and second focal plane scopes here.]
This essentially means you get a reticle that changes in size as you zoom and preserves your holds, unlike a second focal plane rifle scope. Let's dive into some of the specs and features included with this glass.
VUDU 1-10x FFP Details
The EOTECH VUDU 1-10×28 FFP is made from aircraft-grade aluminum and features single-piece construction with an anodized finish. The laser-etched adjustment indicators are crisp and easy to read, while the push-button illumination controls are highly tactile and afford users a high degree of easy manipulation and adjustments in light or dark conditions.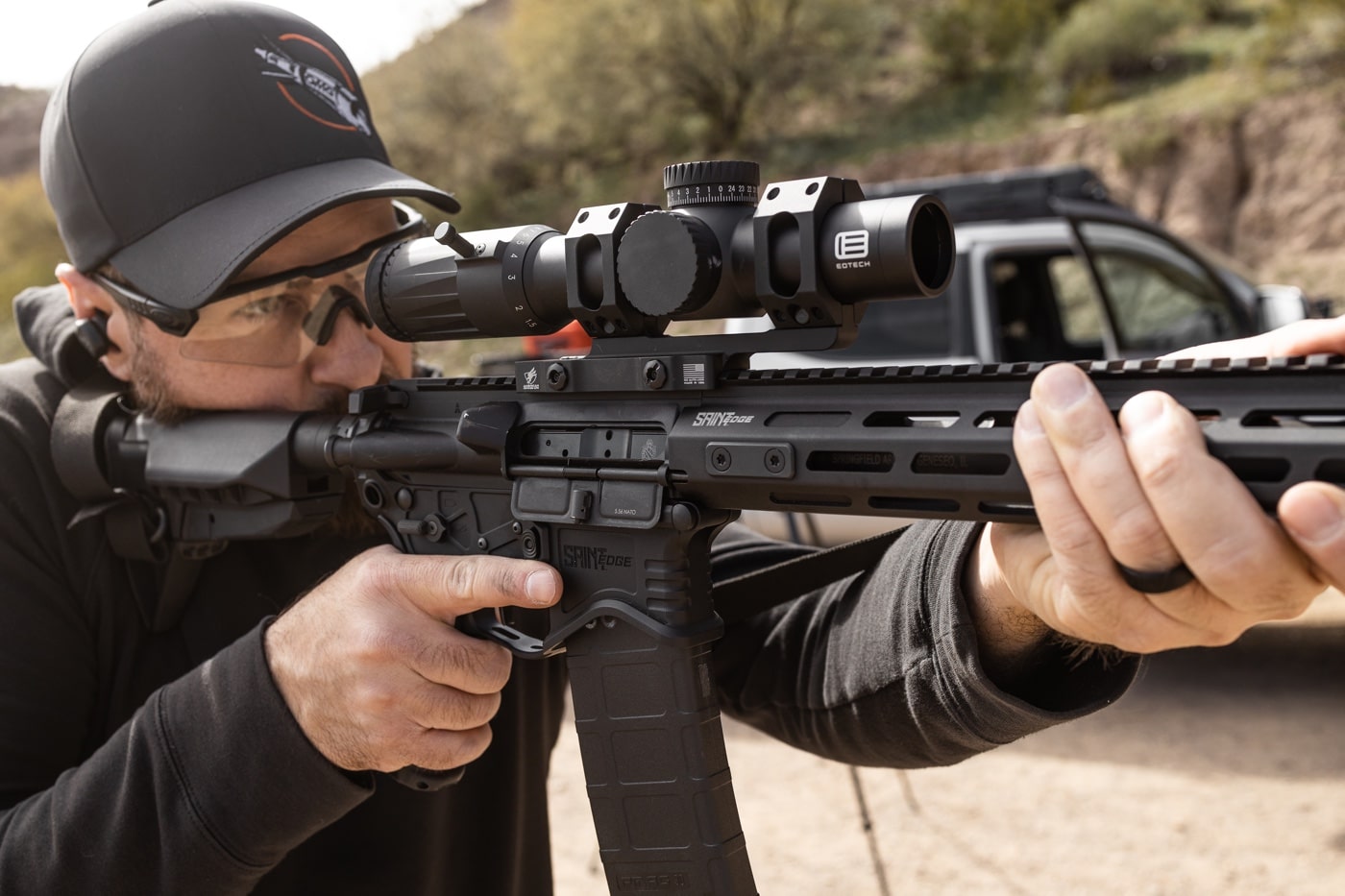 The low-profile turrets are locking, and you simply lift them up to adjust or manipulate your dial which has a nice tactile response per click, then you press them down to lock them in. The windage is also capped on this scope and the push button reticle adjustments are tactile and easy to find without taking your eyes off target.
You can power it on and off and adjust brightness of the illuminated reticle, with 10 brightness settings from which to choose. I found the reticle illumination to be great during dusk and night use, with it being bright enough to use during daytime usage as well. I put the illuminated reticle to the test when shooting during the day in the Arizona sun at a shooting range against sand-colored dirt berms — although I did prefer the contrast of the black reticle with no illumination in these conditions personally. I also particularly enjoyed how easy it was to install the battery without the need for any tooling to remove the battery cap.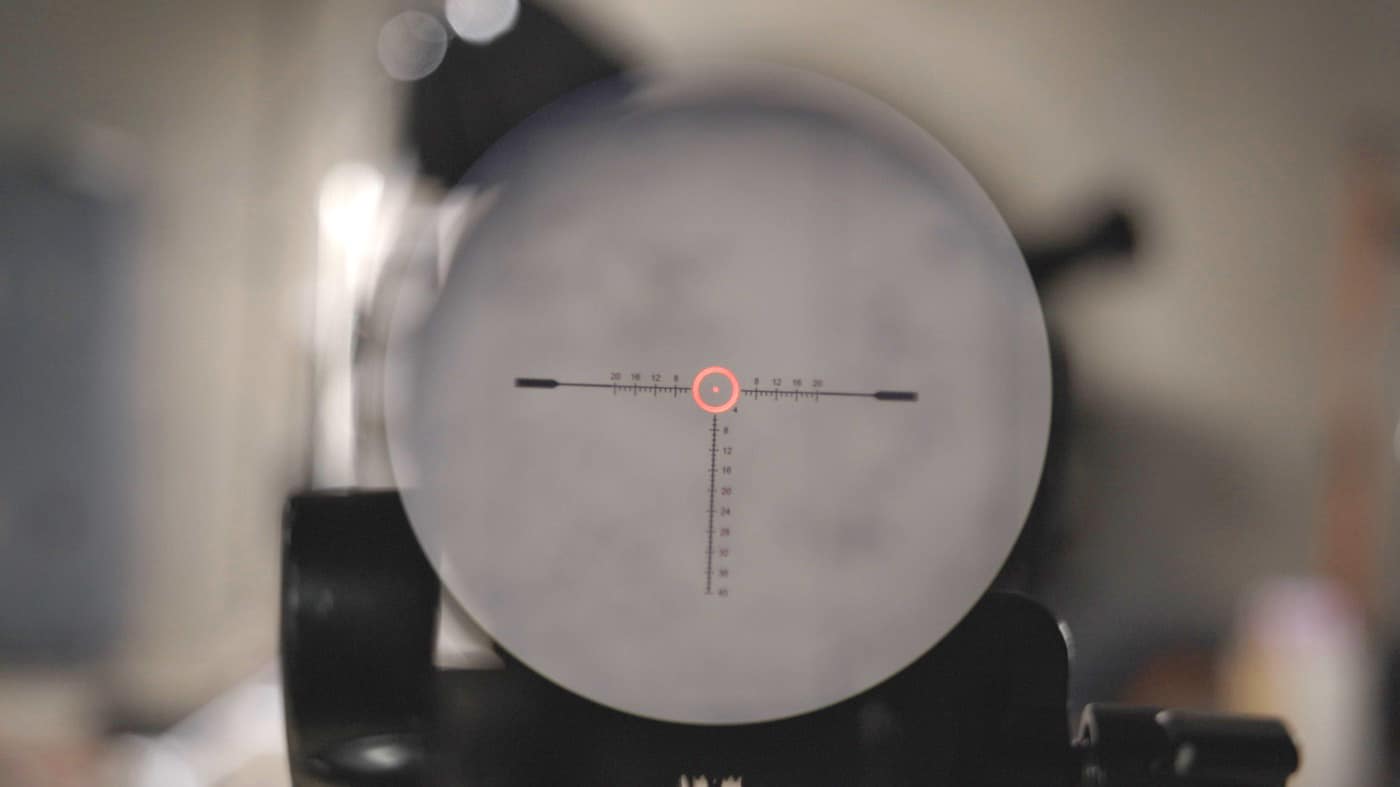 One thing I noticed mostly while trying to film with my camera through this scope was the subtle dimming that occurs when you get toward the 10x magnification, which occurs with all magnified optics to some degree as higher magnification settings inherently require more light. To the naked eye however, I didn't notice any dimming that hindered my shooting experience during bright daylight range sessions nor when working with this scope in low-light interiors.
One thing I have always appreciated is the genuinely rugged construction of EOTech's optics. The VUDU 1-10's are shock resistant which prevents damage from heavy recoil during firing bumps, tumbles and generally rough handling in the field, which I am inevitably going to experience with my two left feet. They have also been purged of nitrogen gas which prevents internal fogging during use in varying temperature ranges, and are also water-resistant as the single-piece tube and O-ring seals prevent moisture and dust from entering the rifle scope.
There is ample and comfortable eye relief at 1X: 3.27-3.90″ (83-99mm) and 10X: 3.35-3.62″ (85-92mm). The one-piece eyepiece makes transitioning magnifications a breeze, and the tactile serrations on the eyepiece are extremely easy to manipulate with and without gloves, making the throw lever unnecessary if you choose not to install it.
[Check out our "What Is Eye Relief?" article to avoid scope bite.]
VUDU 1-10×28 Specifications
The VUDU scope reviewed here has the following specifications and features:
| | |
| --- | --- |
| Magnification Range | 1-10x |
| Objective Lens Diameter | 28mm |
| Tube Diameter | 34mm |
| Overall Length | 10.63″ |
| Weight | 21.3 oz |
| Field of View at 100 Yards (1x Magnification) | 116.6′ |
| Field of View at 100 Yards (10x Magnification) | 11.7′ |
| Style Reticle Options | SR-4 MOA, SR-5 MRAD, LE-5 MRAD |
| Included with Scope | Throw lever, lens cleaning cloth, operator manual, reticle manual |
Hands-On with the EOTech VUDU
At 1X magnification, the VUDU 1-10×28 appears to me to be a true 1X and easily functions as a dot for me. I did a few drills and gauged this aspect by simply keeping both eyes open, and raised the optic into my field of view. The target through the glass at 1X appears to my eyes be exactly the same magnification as my normal eyesight, as if simply putting a window (or a dot) in front of my vision, which is exactly what I want.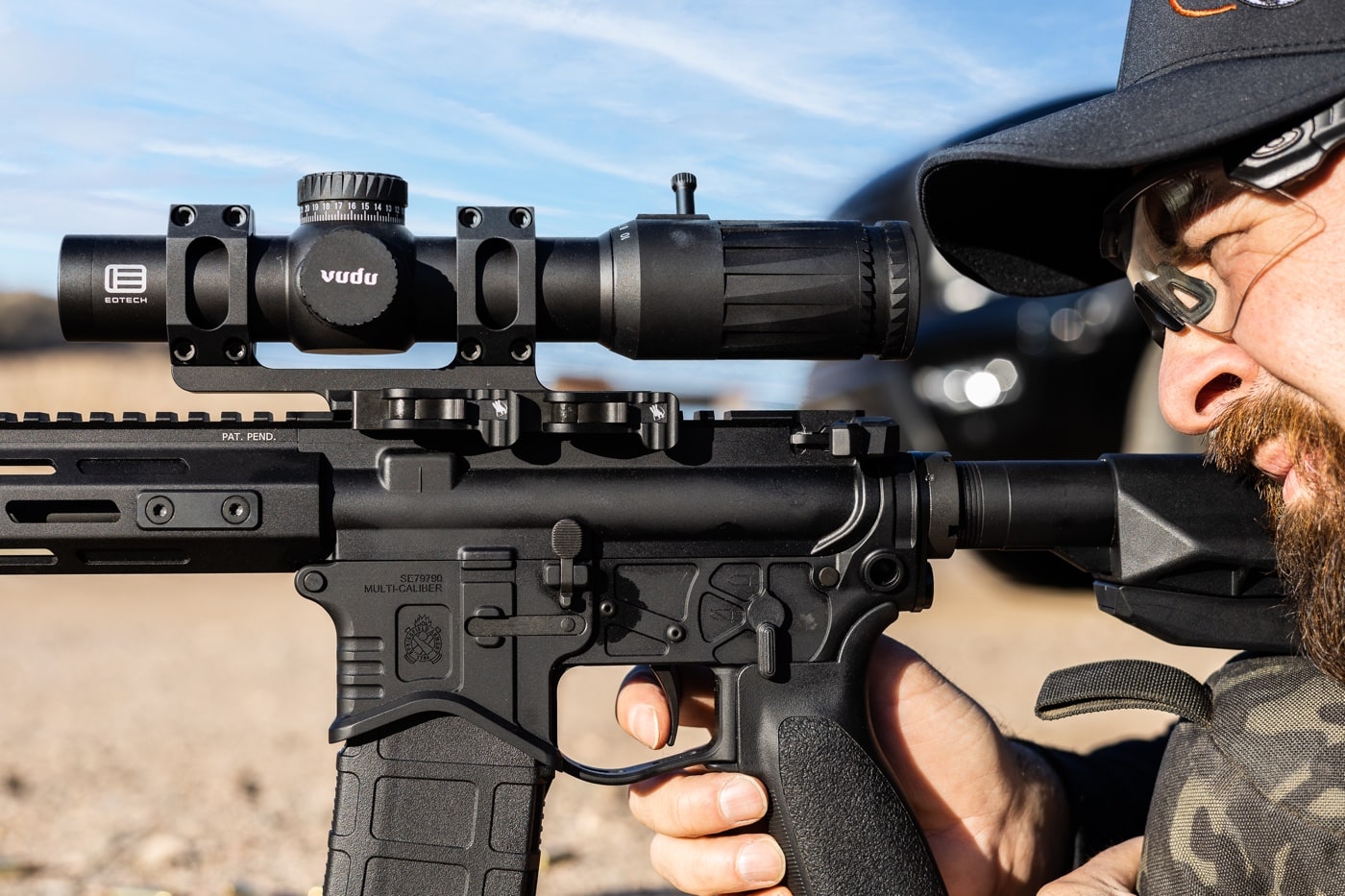 There are three distinct reticle styles offered in this rifle scope line, and I have been working with the VUDU SR-4 MOA reticle. The SR-4 incorporates the iconic EOTech illuminated speed ring along with a hash-marked inner crosshair reticle that uses MOA subtension lines for ranging, holdover and wind compensation. There is a 1MOA center aiming dot, and the clean sight picture provides improved downrange visibility while still allowing the full use of the horizontal and vertical stadia lines for hold-overs and wind calls. The much larger outer "speed ring" is clearly discernible and the center ring/dot works great for quick center of target acquisition.
The VUDU scope has easy-to-use illumination controls with a "push on" arrangement and 10 different brightness levels. EOTech incorporated a two-hour automatic shutoff function, which helps preserve battery life. When you do need to swap out the CR2032 battery, the process is simple and doesn't require any tools.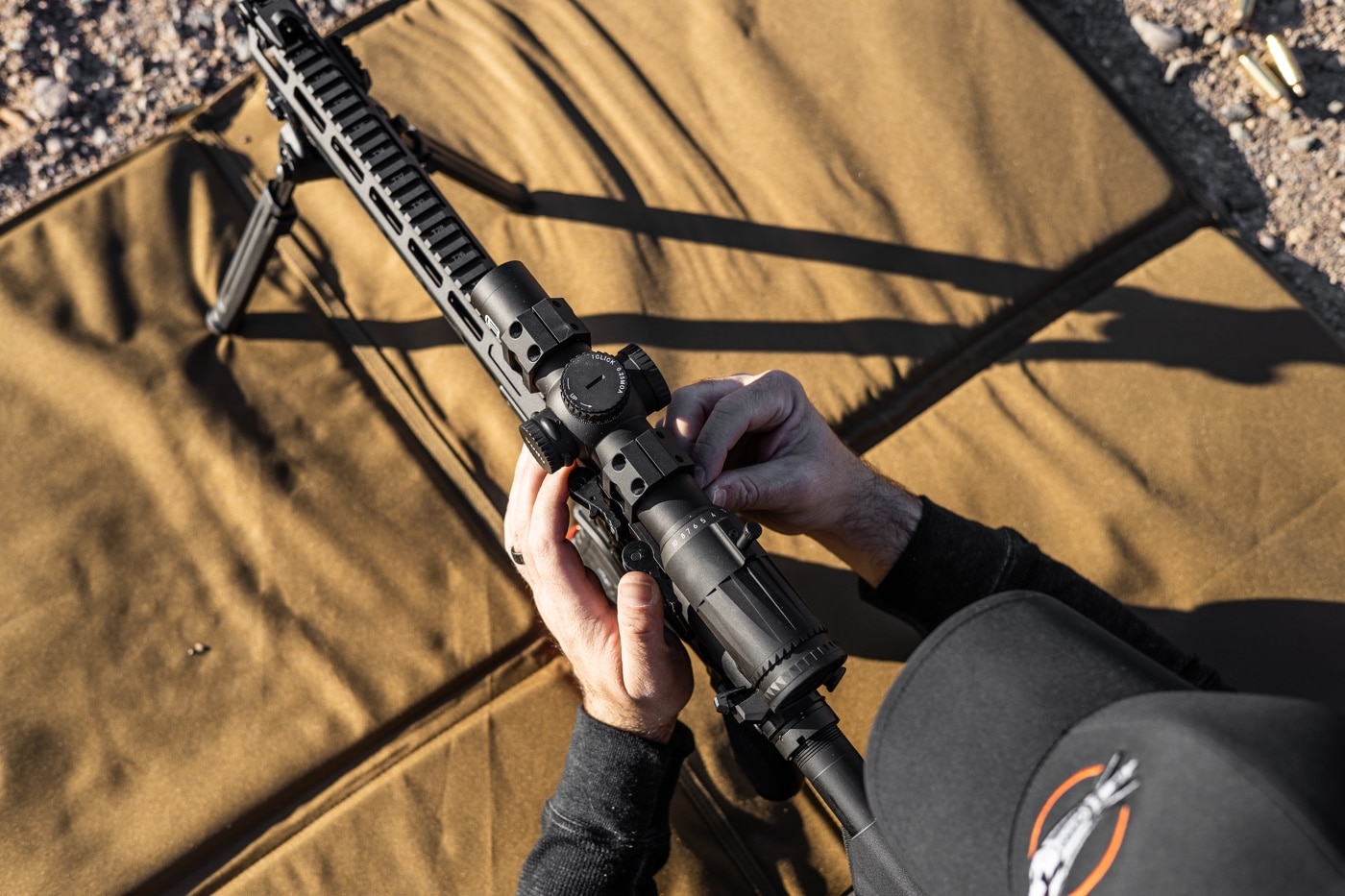 The glass was crystal clear, presented no aberrations or color variances, and presented no issues for my eyesight. This glass quality is consistent across all of the EOTech glass I've worked with. The VUDU 1-10×28 is pretty lightweight at only 21.3 oz., and relatively short as far as LPVOs go — 10.63″ in overall Length.
The 34mm tube mounted beautifully within the American Defense Manufacturing mount I was using. I believe this scope is an excellent option for a set-up where you want to have the capability to engage targets in close-quarters distances and then quickly magnify beyond what other traditional LPVO's out there may afford.
Scope Review Conclusion
It just works well and, paired with my SAINT Edge carbine, it makes for a very versatile combination. My takeaway is that it's an awesome scope, and it's a bargain at the price point EOTech is offering it at. With an MSRP from the factory of $1,839 you get a professional quality 1-10×28 LPVO that truly enhances your ability to reach out and engage at distance.
The company also makes 1-6, 3.5-18 and 5-25 magnification scopes in the VUDU line should you desire something with a little different magnification range. All of these appear to have the same quality of build with daylight bright glass and bright center dot aiming points.
Editor's Note: Please be sure to check out The Armory Life Forum, where you can comment about our daily articles, as well as just talk guns and gear. Click the "Go To Forum Thread" link below to jump in!
Join the Discussion
Featured in this video
Continue Reading
Did you enjoy this video?
34