Exclusive Hellcat Holster: DeSantis Slim-Tuk FDE
August 18th, 2021
5 minute read
The ambidextrous DeSantis Slim-Tuk is an ideal low-profile way to covertly pack your Springfield Armory Hellcat/Hellcat OSP or Hellcat RDP pistol. Produced in FDE (Flat Dark Earth) or standard black to match your Hellcat's particular hue (the FDE is an exclusive offering available only on the Springfield Armory store, and both colors are available for sale for all the Hellcat models).
Reasonably priced, rugged, comfortable, and cool, the DeSantis Slim-Tuk is both fashion and function all, masterfully formed out of indestructible Kydex.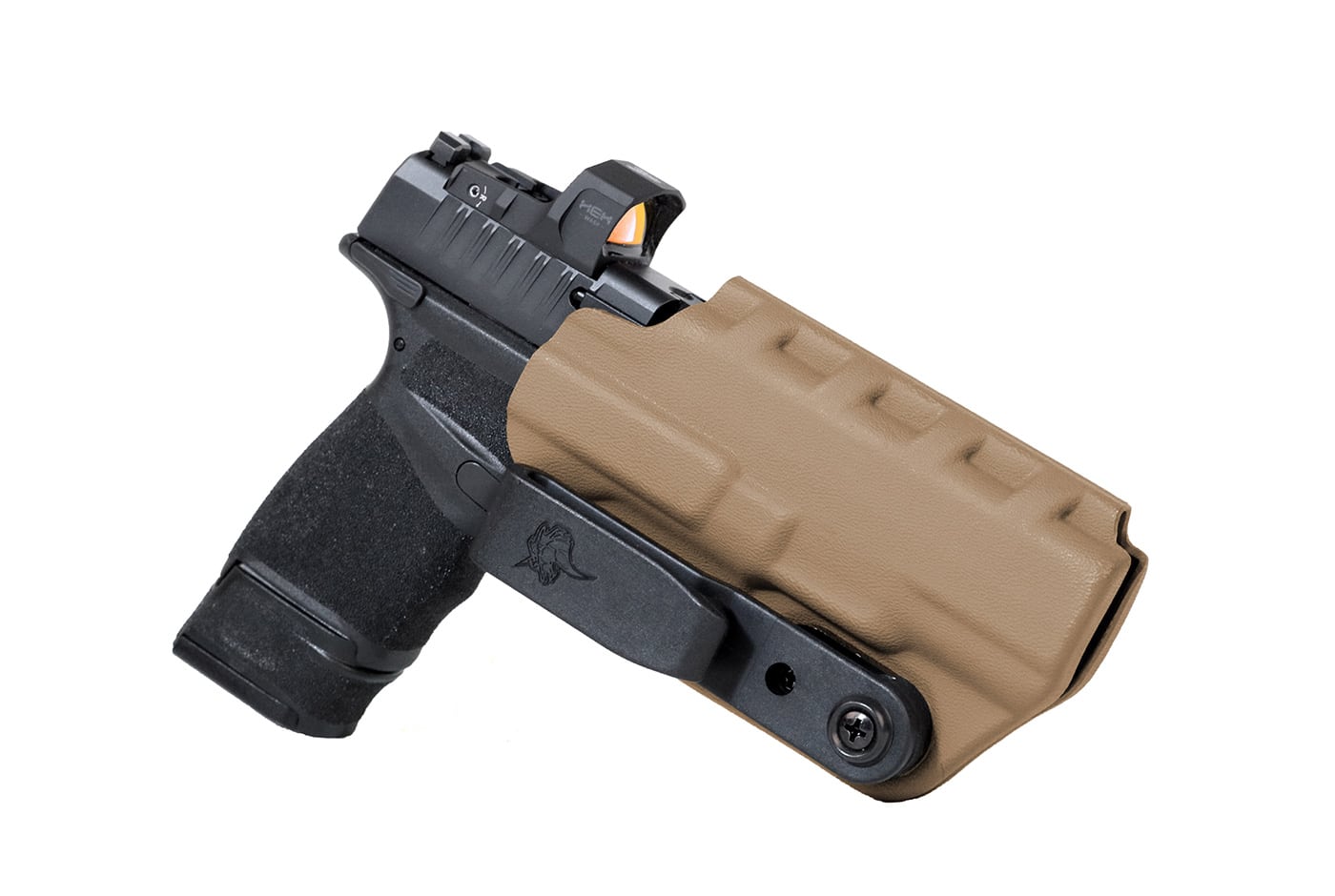 Accessorizing your defensive firearms is both half the fun and half the fight. I've found the Springfield Armory store to be a great resource for acquiring the gear I need, offering everything from magazines to carry gear to clothing and, I'm not making this up, dog collars and barstools.
Origin Story
The technical appellation is an eponym. This term describes a person's name having become indelibly associated with some physical place or object. Examples might include Rudolph Diesel, the 7th Earl of Cardigan, Daniel Fahrenheit, Captain Charles Boycott or George Washington.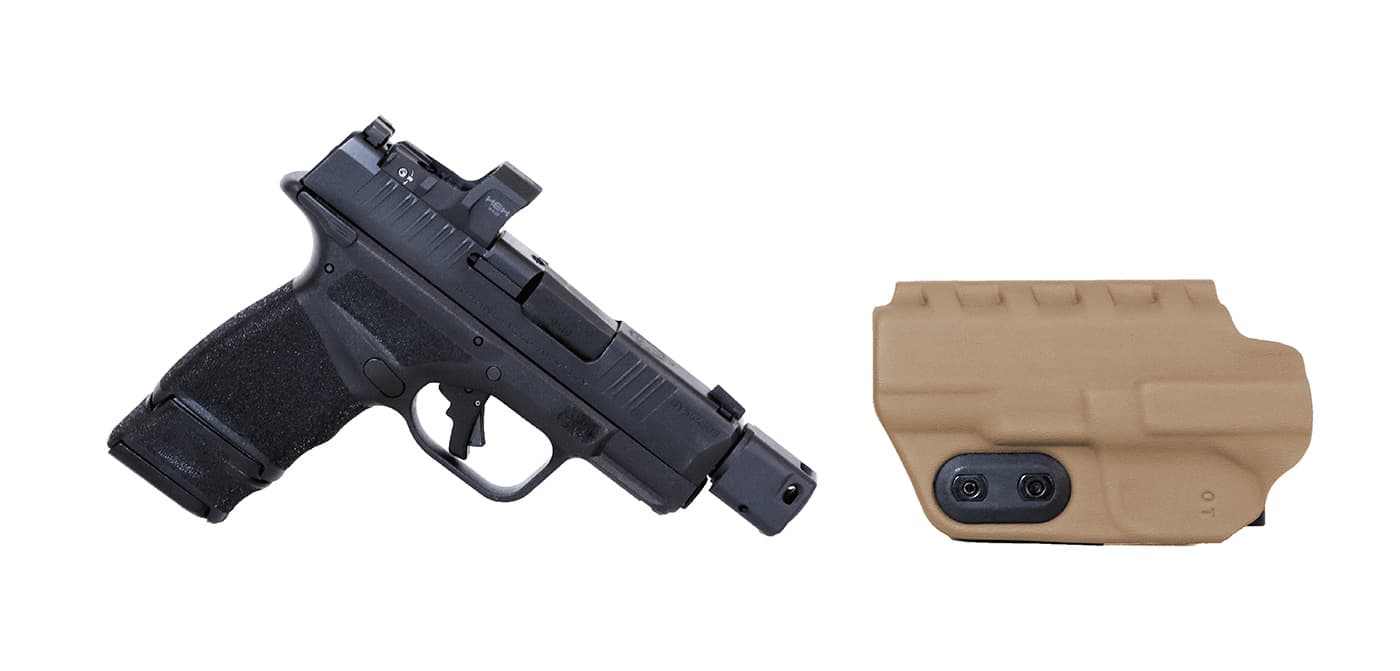 While not technically eponymous, some names nonetheless become seamlessly intertwined with particular products. Henry John Heinz began making ketchup in 1876, and Domingo Ghirardelli cooked up chocolate of some renown. William Boeing made an airplane or two, while Bernard Henry Kroger became America's grocer. Likewise, the DeSantis name has become forever associated with firearm holsters.
Gene DeSantis built the first DeSantis GunHide holster on his kitchen table more than four decades ago. Since then, DeSantis has grown into an international enterprise. DeSantis carry gear serves some of the most elite law enforcement and military units in the world. DeSantis holsters now incorporate Information Age materials and technology, but they are still made by hand in America by Americans. DeSantis still carries the name because it is a family company, not some massive corporate beast.
Philosophy
Picking the gun is always the fun part. The specifics of sights, magazine capacities, ergonomics and trigger comportment are what help keep me and my family fed and warm. However, the details of the pistol are only part of the equation. My gun collection is littered with cool-guy iron that is so ungainly, heavy or impractical that I can't actually use out in the real world. What is at least as important as the gun is how you carry it.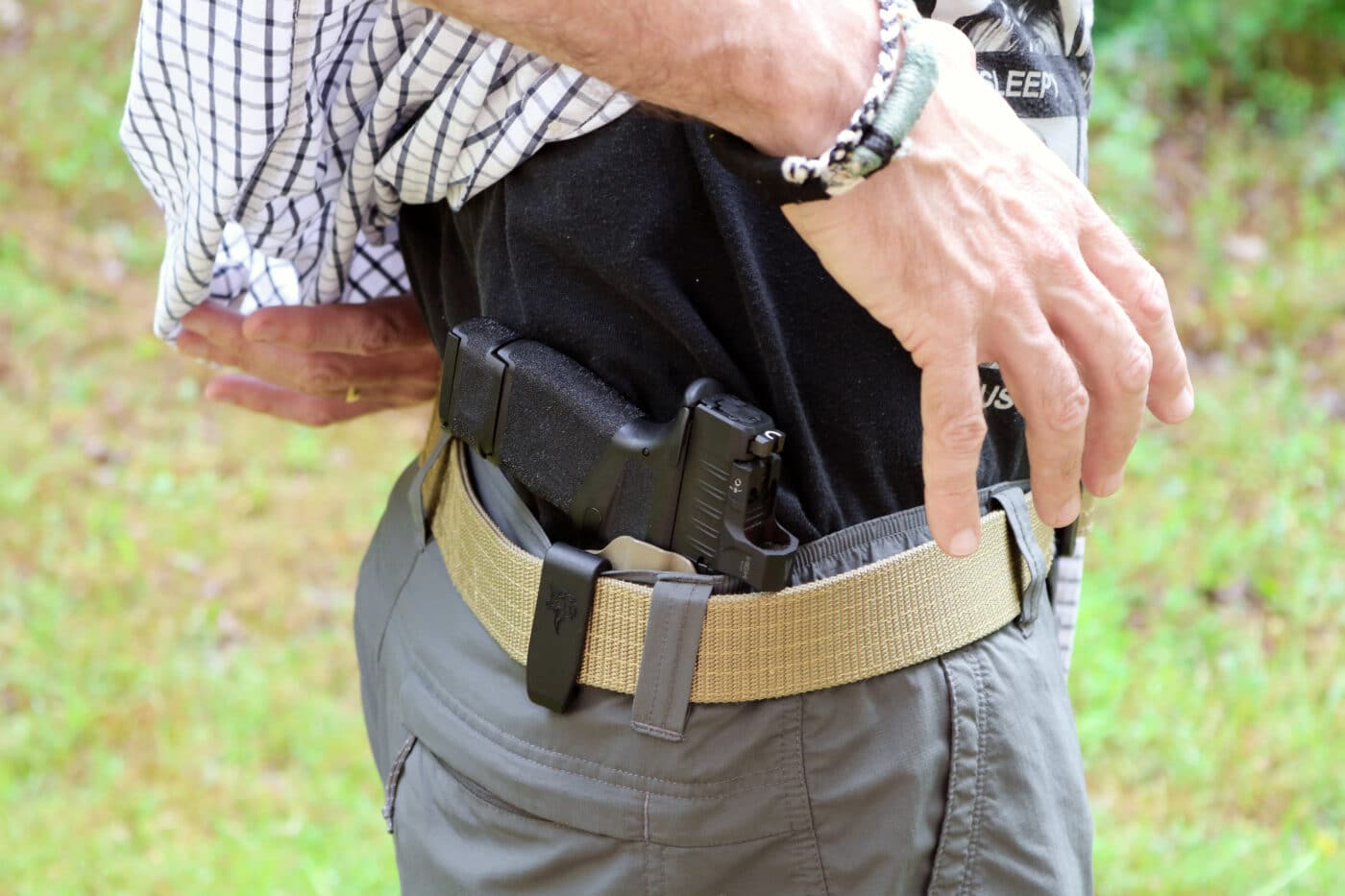 The sex appeal of concealed carry wore off for me about ten minutes after I first slipped my first carry gun into my belt back in 1994. A modest steel-framed gun, it was fairly comfortable when I was standing up or walking around, but it was like sitting on a brick while in the car or at a desk. Holster options back then were fairly limited. Nowadays, however, concealed carry is both mainstream and big business.
19.5 million Americans hold a concealed carry permit. That's one in 10 adult American citizens. Considering nearly half of the 50 states now allow constitutional carry, there is literally no telling how many Americans are legally packing heat these days. As regards criminal deterrence and as a hedge against despotism, that's kind of the point. As beneficiaries of the world's most refined capitalistic economy, this also means that the state of the art in support gear has become quite rarefied. Perched atop that highly refined heap is the DeSantis Slim-Tuk.
Details
The DeSantis Slim-Tuk is a minimalist ambidextrous inside the waistband (IWB) Kydex holster. The Slim-Tuk is impervious to sweat and environmental insults. This rig is custom molded to the particular host firearm. It also offers an adjustable tension system so the rig can be optimized to reflect your particular proclivities.
The beating heart of the Slim-Tuk is the tuck-able 360 C-Clip. This rugged nylon clip can be mounted for either left or right-handed carry and is adjustable for cant. The Slim-Tuk is compact and unobtrusive. It is also sufficiently substantial as to protect your gun along with your sensitive anatomy even under rough use.
By adjusting the angle between the clip and the holster, you can obtain the optimal presentation for your firearm. I use mine on my right hip, but it is comparably at home on the other side for lefties. The Slim-Tuk fully encapsulates the Hellcat's trigger and slips in and out of your waistband with minimal fuss.
The adjustable tension system lets you decide how much draw resistance you want. The custom-shaped architecture grips the Hellcat nicely. It took me maybe three minutes of tweaking with a Phillips screwdriver to find my sweet spot.
Practical Tactical
My Hellcat RDP features an auto-indexing compensator, HEX Wasp micro red dot sight, and manual safety. The DeSantis Slim-Tuk accommodates all that ancillary cool-guy stuff like it was born to be there. The compensator clears the snout of the rig easily, and the red dot doesn't contact the holster body.
I love the low-profile manual safety on my Hellcat RDP. Use it if you want, ignore it if you don't. It doesn't get in the way, and I like having the option. The Slim-Tuk doesn't care if your Hellcat has a safety or not. The safety rides comfortably both engaged and otherwise. Additionally, the Slim-Tuk's FDE color looks a bit exotic. We shouldn't care about such frivolous stuff, but we all do.
I slipped my Hellcat RDP into the DeSantis Slim-Tuk and secured the whole shebang to my ample carry belt underneath the hospital scrubs that are my standard daily work uniform. As scrubs are really just souped-up pajamas this is always my ultimate test of a concealed carry solution. If I can comfortably pack a proper defensive handgun gun throughout a long day at the clinic underneath my jammies I figure that means everything works as it should.
Conclusion
The Slim-Tuk is indeed convenient, comfortable, secure and fast. It is also not terribly expensive and remains rugged enough to outlive you. The Slim-Tuk perfectly complements the rarefied Springfield Armory Hellcat RDP pistol.
Editor's Note: Please be sure to check out The Armory Life Forum, where you can comment about our daily articles, as well as just talk guns and gear. Click the "Go To Forum Thread" link below to jump in!
Join the Discussion
Featured in this article
Continue Reading
Did you enjoy this article?
79