We have all been injured at some point in our lives, and some of us have experienced it affecting our favorite activities. I have personally had several injuries from work, sports or the rare golf accident … . Well, actually, that last one was a joke; no offense to my golfing readers.
Each of these injuries changed a lot about my shooting skills. Personally, I have had a spinal surgery, broke my left arm in half, have nerve damage in my right hand, and have had surgery on the left.
Needless to say, I have been around the block with injuries, from my days in the Army to building my favorite hot rods. The real trick is not the healing — generally your body does that for you — it's the comeback after the injury. And that is what we are going to focus on today.
Before we go any further, make sure you are healed and your doctor has signed off on you returning to normal activities. Now that the warning label has been read, once you are healthy there are a few exercises for your hands to regain strength and dexterity after injuries or minor nerve damage to those areas.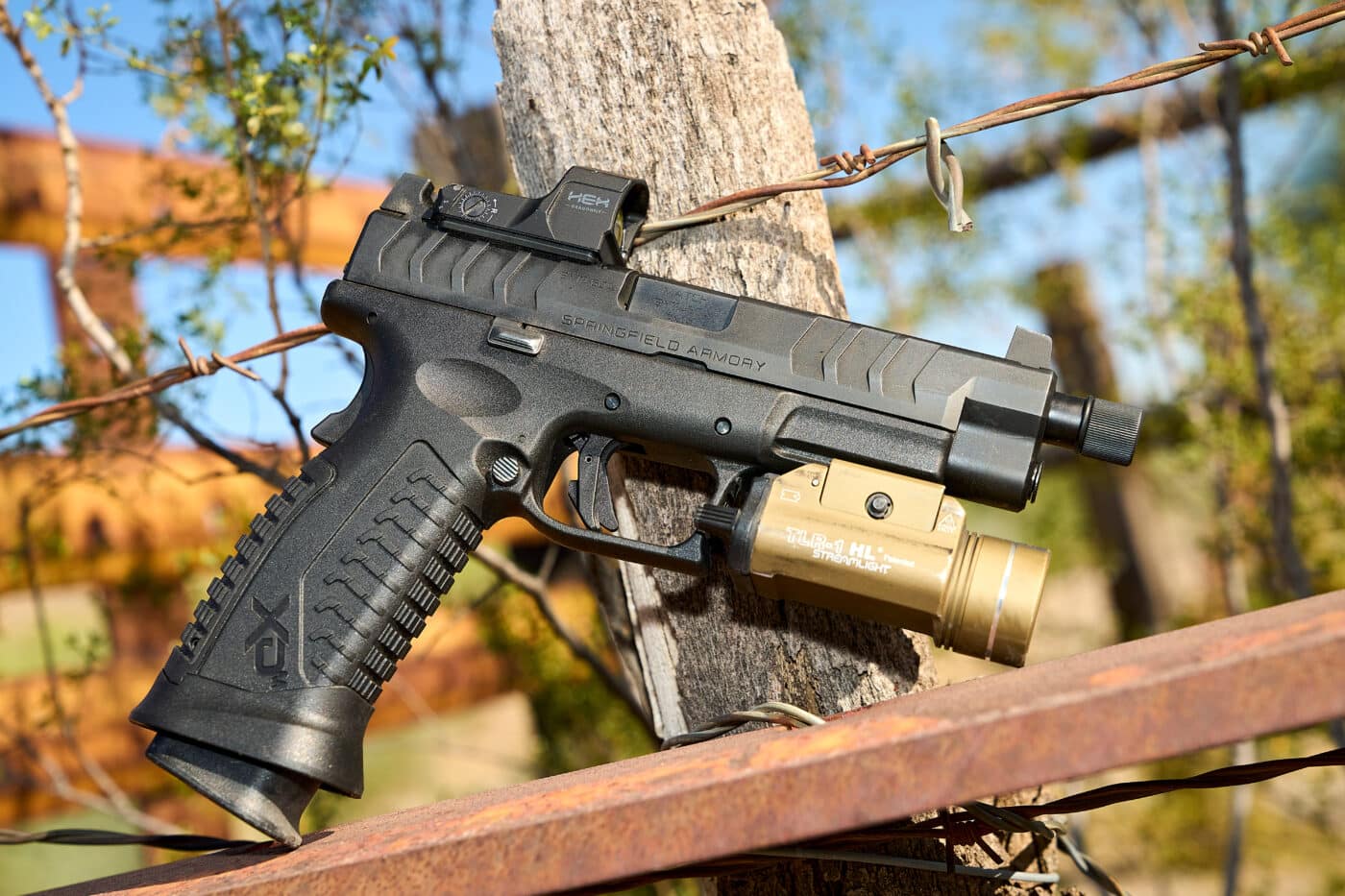 These include stress ball squeezes, a spring grip finger strengthening trainer, and simple hand movements for training your hand to grip again while only moving the trigger finger. Let's discuss these one by one so you can work on them and rebuild your skillset.
Getting Back to Your Best
First, let's talk about the stress ball. Depending on your injury you may need to regain strength and feeling, and simple squeeze exercises will help with this. Then, move onto squeezing each finger at a time, especially you trigger finger. When working the trigger finger, squeeze and concentrate on keeping constant pressure with your other fingers to retrain your skills.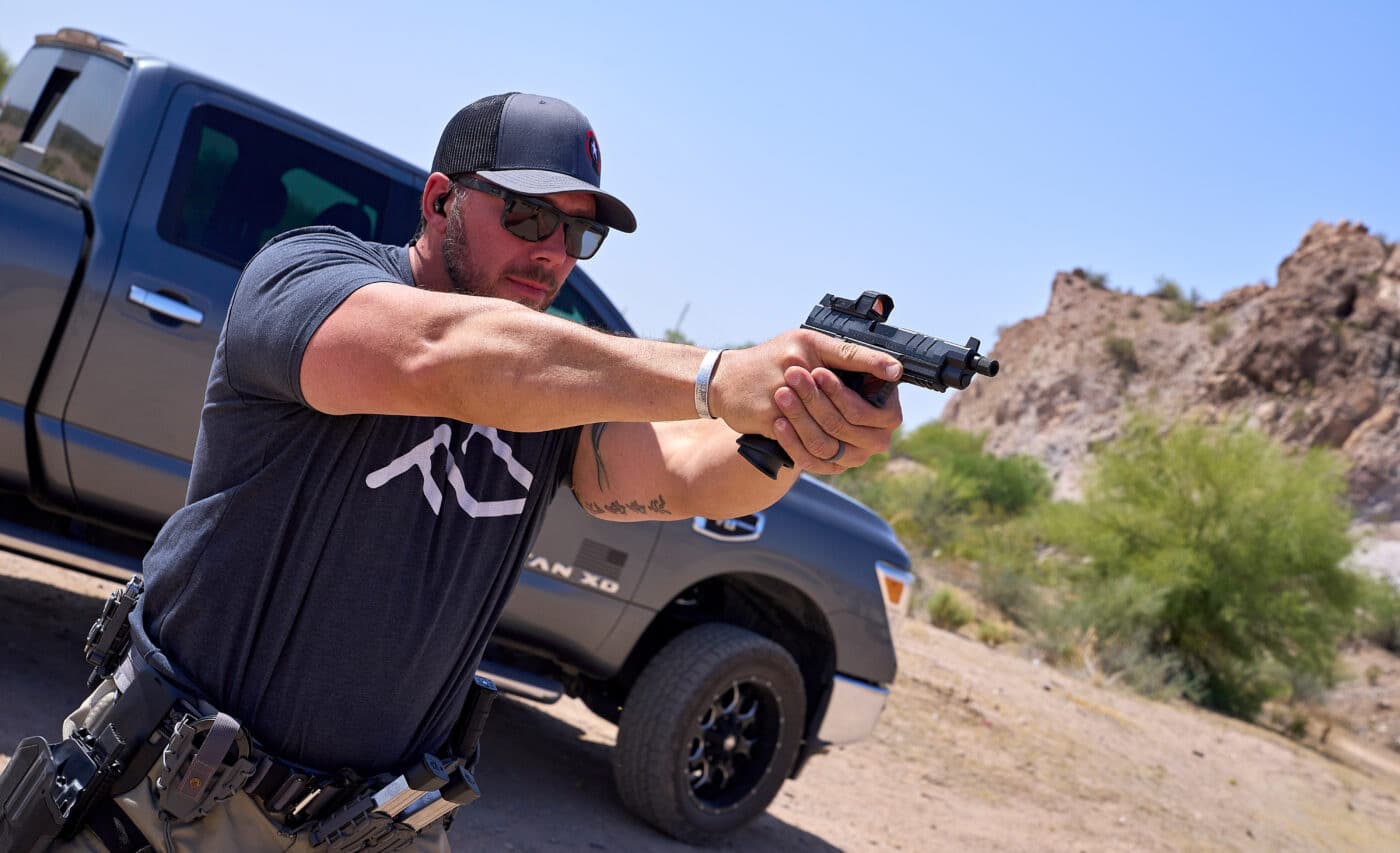 Next, let's go to the spring finger strengthening device. These were actually shown to me by a guitarist friend who had a bad injury and had to completely relearn how to work his hand with the neck of his guitar again. This tool helps you not only build strength, but also speed and finger isolation.
All of these are pretty self-explanatory, but there is something else that may also be the key to success. That is working with your best body angles. After an injury, especially to your wrists, you may need to change the angles you hold a pistol with both primary and support hands.
Angles Improve Control
Everyone's body is a little different, and each person will be more comfortable holding a pistol at certain angles. It is best to put your wrists and hands at the angles they most comfortably want to be at, within reason.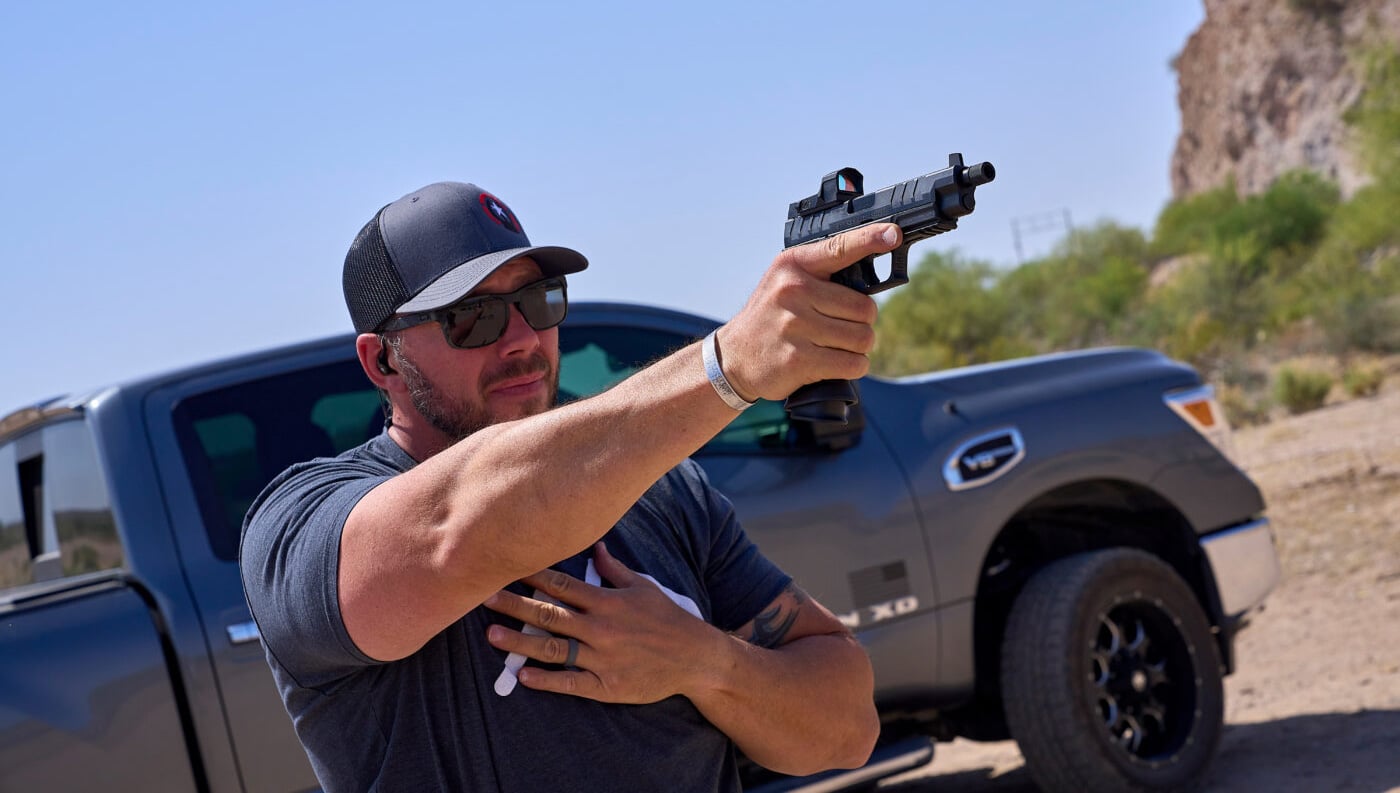 I explain this to new shooters when I ask them just to point at an object. Most of them will point with their palm down and knuckles to the sky. I have found very few people will naturally point with their thumb vertical as if they were doing the old "finger gun" motion. There is a reason for this: Your bicep muscle and tendon are tightened in that position causing stress, and this finds its way right into your hand and primary grip.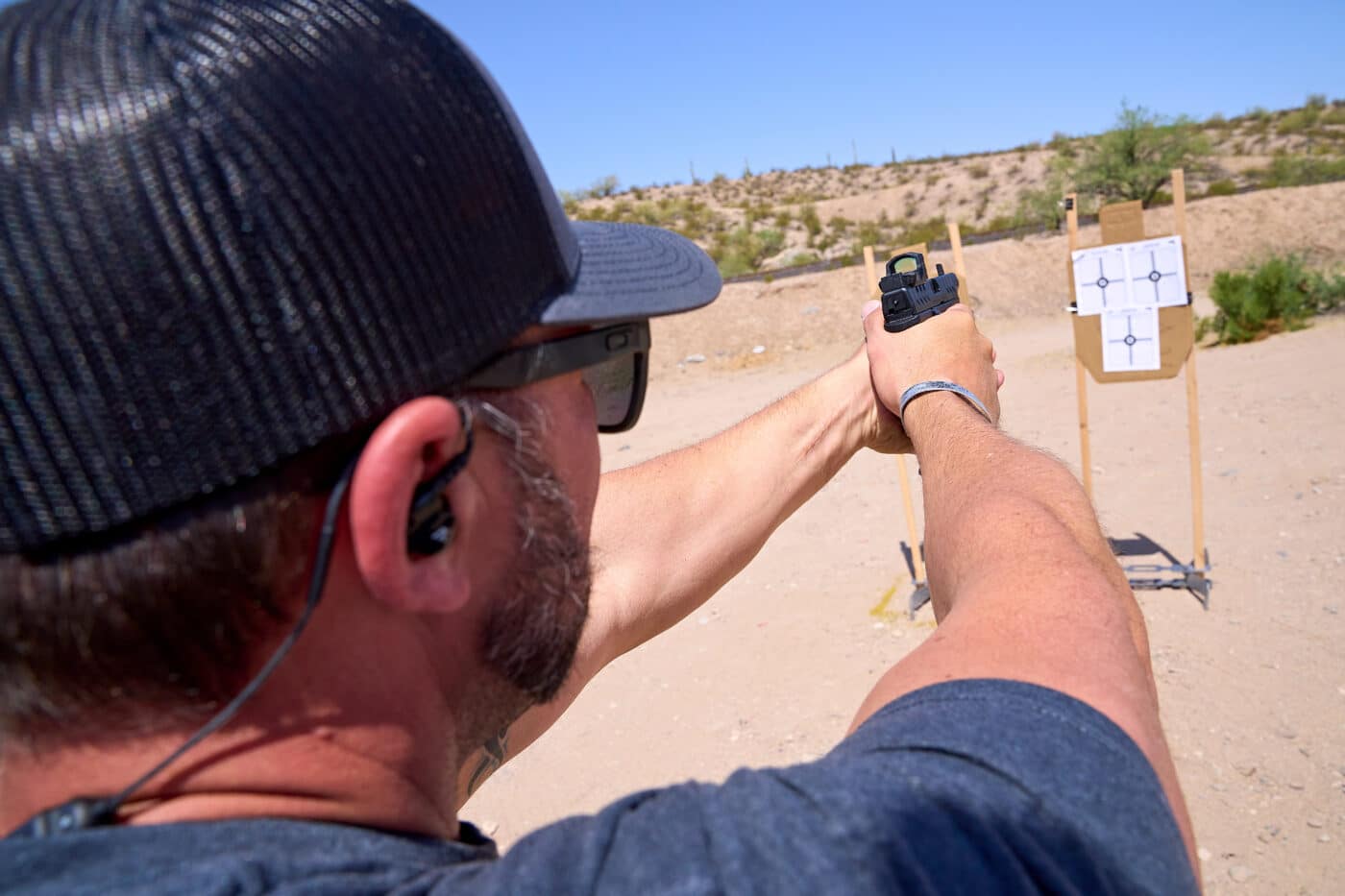 Now, we are not going to hold a pistol sideways, or at least I hope not, but give your body a chance to relax and allow your primary hand to be at a slight cant, say 5 degrees. This small movement allows you to relax your muscular and tendon structure and will ultimately allow you to isolate your trigger finger better.
How Many Ways to Hold a Pistol
There are several grip techniques you can also try that may benefit your shooting post-injury, or even just to advance normally. One of my favorites I learned in DEA firearms instructor school was gripping the pistol grip from side to side like a vice rather than death gripping it from front to back.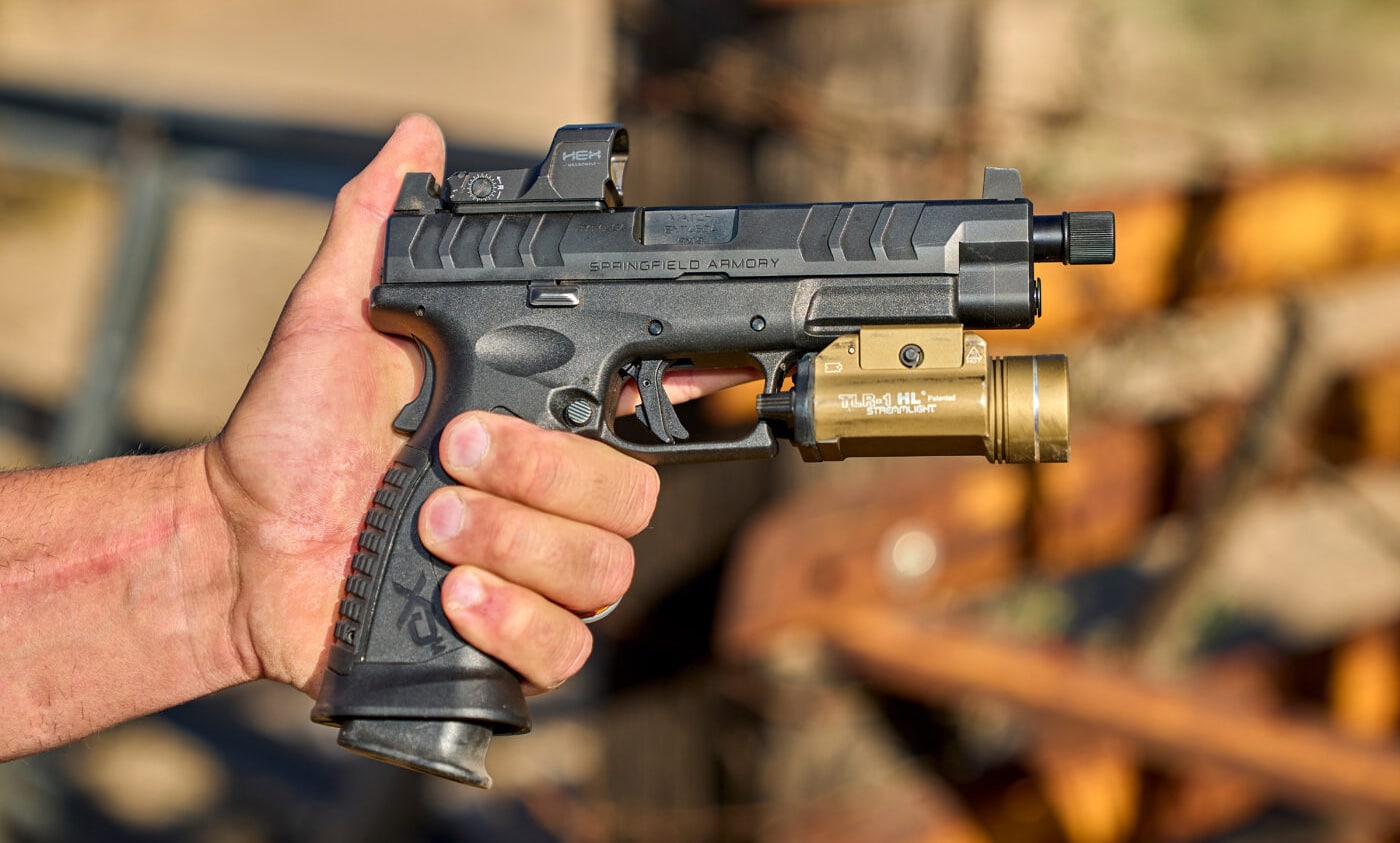 Another thing to try may be pinning the triggerguard with your off-hand pointer finger to provide more stability while using the vise grip. Another thing to think about is how locked-out your arms and elbows are, which can cause you to tuck your head and "turtle" a bit. Relax your shoulders and allow your elbows to bend slightly so they can act like shock absorbers on a car rather than a rigid bone-on-bone impact device.
Stay Patient and Positive
There is a lot to work on after an injury. Remember to stay patient and allow yourself to recover bit by bit. Think consciously about all of your actions and positions while regaining your skills. Remember, these can all be worked on with dry practice in a safe place with no ammo needed.
And finally, don't be afraid to cheat a little bit. Maybe downsize to a 9mm if you're a .45 kind of person, or look for the softest-recoiling ammo to train with instead of high-pressure ammo. All of this will help you get your range groove back. If you want to really make it easy, try a 9mm 1911 like the new Garrison model. It will make life fun and easy out on the range with its minimal recoil and lower cost on ammunition. And finally, set small, achievable goals to make your range experience more fun and less like work. You'll be back in the swing of things before you know it!
Editor's Note: Please be sure to check out The Armory Life Forum, where you can comment about our daily articles, as well as just talk guns and gear. Click the "Go To Forum Thread" link below to jump in and discuss this article and much more!
Join the Discussion
Featured in this video
Continue Reading
Did you enjoy this video?
57