You have your gun; you have your ammo. That's all you need, right? Wrong. There is a whole host of shooting gear that you should have, from something as simple as a shooting rest all the way to an emergency trauma kit. But what should you buy?
"Buy once, cry once" are words that you'll hear spoken many times in the firearms world. From guns to accessories, you'll find that in the long run it pays to spend a little extra for peace of mind. And TAB Gear offers the kind of quality you should demand, while still hitting some competitive pricing.
After using TAB Gear for over a decade, I've come to rely on them for sewn goods as they've proven themselves in all conditions. Recently, TAB Gear was generous enough to send me some of their newer items to share with you.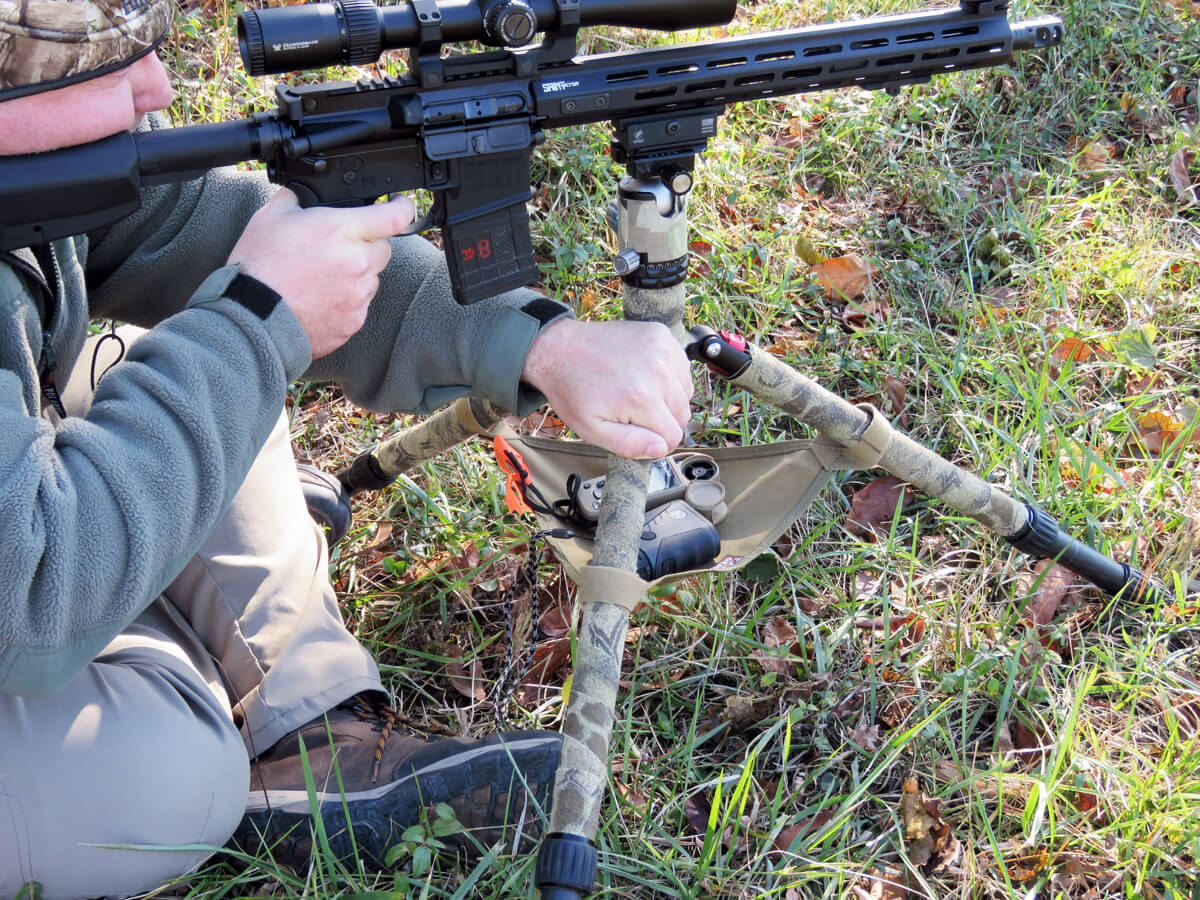 Tripod Shelf
This item is so amazingly simple and functional I wonder how I've gotten by without it all these years. Made from 1000-denier Cordura, it forms a triangle-shaped shelf attached to the legs of a tripod, secured via Velcro One-Wrap straps. Once attached, you have a shelf with 12" sides that's large enough to hold just about anything you'll need close at hand while on glass or behind the rifle.
It easily folds up with the tripod when you're on the move and has enough slack that it can ride up the tripod's legs if you need to widen the footprint for stability. Super light and durable, you can leave the shelf attached and forget about it until you need it. The tripod shelf retails for $25 and comes in three solid colors and three camouflage patterns.
Bleed Kit
If you're using firearms, a trauma kit is one of those must-have items and TAB Gear offers a solution for that. Their Bleed Kit is available as two options — just the outer pouch or as a complete kit that includes some very high-quality products.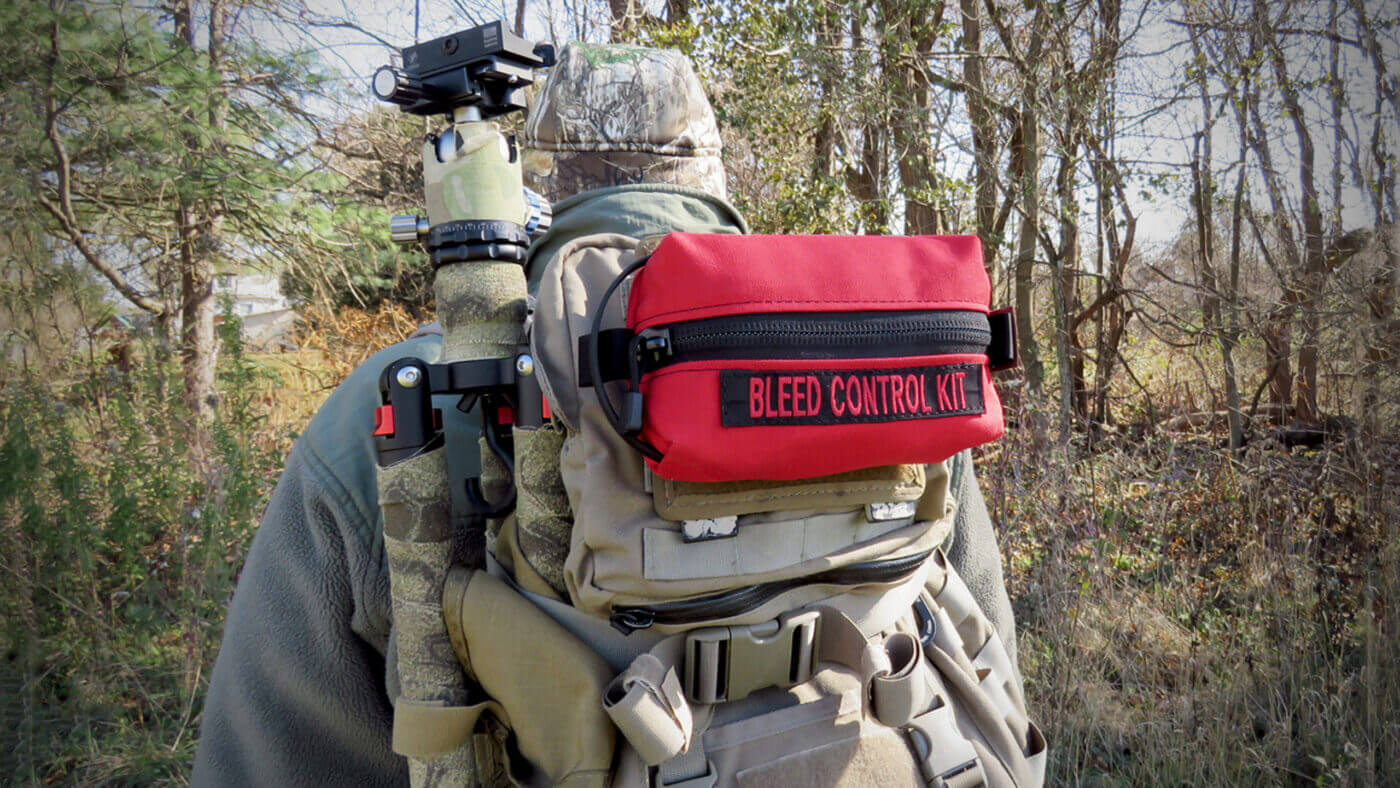 The outer pouch is made from red 1000D Cordura, with a YKK zipper and a Biothane pull handle at one end. The backside of the pouch is covered in Velcro so that it can be secured where it's easily accessible when needed.
The full kit is packed with the following:
CAT Tourniquet
Combat Bandage
QuickClot Combat Gauze
Compressed Gauze
Hyfin Chest Seal
Mylar Blanket
Nitrile Gloves
Even with all of that packed inside, there's some room left if you wanted to customize it further. The pouch will set you back $30, while the complete kit is about $140.
Silent Ammo Carrier
Ammo management can be a hassle. I can't tell you how many times I've been digging in the bottom of my pack for another box of ammo. The Silent Ammo Carrier (SAC) is designed to help you organize your ammo to make life just a little easier and more efficient.
More than just a simple zippered pouch, the inside of the SAC actually has two compartments that segregate ammunition or spent brass. The front of the pouch features heavy-duty elastic loops for spare ammunition to top off magazines and MOLLE webbing on the back for multiple mounting options.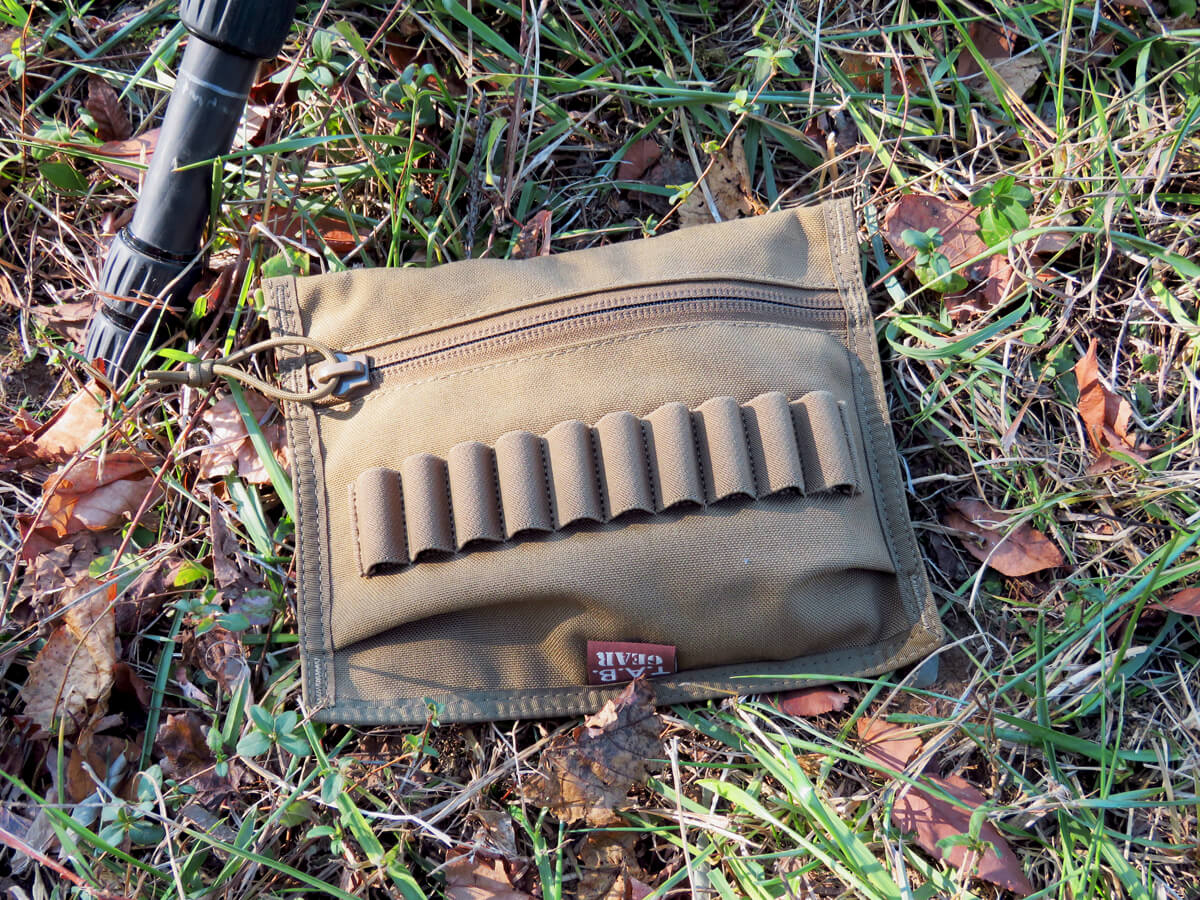 The SAC is 7"x4"x2" with the ability to easily hold 100 rounds of .308 ammunition and mitigates rattling and damage while inside your pack or range bag. The Silent Ammo Carrier is available in multiple colors and retails for $50 on the TAB Gear website.
Rear Bag V2 (Large)
A good rear bag will follow you everywhere because of its overall versatility in a multitude of situations. I've been using TAB's first-generation bag for quite a while, but when I saw they had another version, I had to try it. The dimensions of the V2 rear bags haven't changed: the large is 9"x5"x2", but the heavier poly beads have been replaced with lighter fill to bring the weight down to just 3 oz. Velcro One-Wrap straps are used instead of nylon webbing so that you can easily strap the bag to the forend of a rifle to use as a front bag.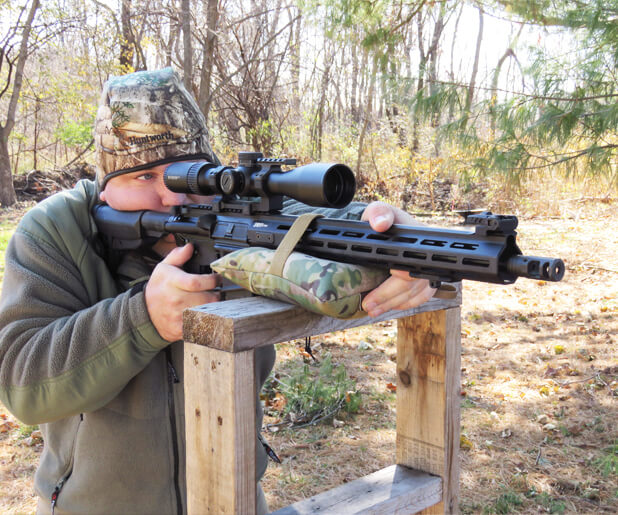 Gross adjustments can be made by standing the bag on different ends, while fine-tuned adjustments are done by simply squeezing the bag. Sometimes lightweight bags don't do well as rear bags because the fill crushes and doesn't hold its shape under recoil. I haven't found this to be the case with the V2; it holds its shape well under the rifle, almost as good as my legacy bag.
The large Rear Bag V2 is $39 and available in multiple colors and camo patterns.
Closing Thoughts
Good gear is worth its weight in gold, and for me it doesn't get much better than TAB Gear. Essentially bombproof and made in the United States, I can't think of a better place to get shooting accessories. Check out TAB Gear before your next range trip.
Editor's Note: Please be sure to check out The Armory Life Forum, where you can comment about our daily articles, as well as just talk guns and gear. Click the "Go To Forum Thread" link below to jump in and discuss this article and much more!
Join the Discussion
Featured in this video
Continue Reading
Did you enjoy this video?
38